What are Motion Graphics?
Motion graphics are videos with animated graphic elements. They are created by animating vectors, illustrations, or other image and text elements to convey a message or a story.
Traditionally, motion graphics are 2D or 2.5D animations. They may fake a 3D animation look, but the actual assets being animated are 2D elements such as vectors, illustrations, or pixel art.
Motion graphics stand apart from GIFs, Lottiefiles, or other image-based motion files because they are fully featured videos. They can include sound effects, voice-over or narration, and music.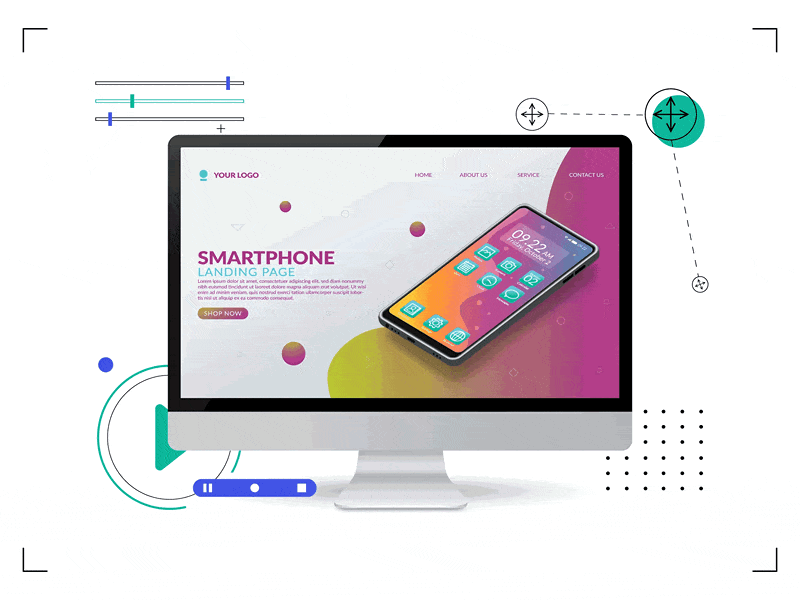 Another great benefit is that motion graphics are also not limited by the compression required to create a GIF or a Lottiefile, creating a much crisper and sharper result to really wow your audience.
Motion graphics can be used to explain a product or service in detail, to either educate existing customers or push prospective customers to purchase, but the possibilities are endless.
You can also create ads, graphics for your website, or even signage at a live event. Send screenshots or renders of your software, website, or app and create a world-class explainer or virtual tour to captivate investors and clients alike.
Even a simple presentation can be turned into an incredible video asset using motion graphics.
With Design Pickle Motion Graphics services, you get:
Custom motion graphics
Unlimited requests
Unlimited revisions
Fast turnarounds
Slack communication
24/5 live support
On-brand assets
Zapier integrations
Centralized file storage
Unlimited Brand Profiles
Multiple user access
Stock library access
Easy in-app feedback
No contracts
The term "motion graphics" does not usually refer to highly realistic or cinematic video productions. Instead, it refers to animated graphics that have a distinctly commercial usage.
For that reason, you may notice that 3D animation, special effects (VFX or visual effects), or any VR work are not included — at least, not yet. So if you want something that looks like a Pixar movie or are looking to make something look photoreal then you'll need to find a proper 3D animation artist or visual effects artist.
If you're ready to put your brand in motion with animated visual content, go ahead and request a demo from Design Pickle today! Or dive deeper to learn what motion graphics are.
How do Motion Graphics Improve Marketing?
Motion graphics are an effective way to drive meaningful marketing outcomes and deliver results for your business.
Whether it's running paid ads, adding a motion graphics video to a landing page, or explaining your product or service via video, motion graphics boost your message and increase effectiveness.
Motion Graphics Improve Landing Pages
Adding a video can boost your conversion rates by 80%. In part, because 95% of a message is retained by the viewer when consumed via video as opposed to written formats.
Motion Graphics Improve Paid Ads
Using motion graphics in your ad campaigns can generate a 48% higher sales rate than with traditional static ads. Motion graphic videos also generate 1200% more shares than static text and image ads combined.
Personalized CTAs in Motion Graphics
Personalized CTAs convert 202% better than default or generic CTAs, and with unlimited requests and revisions, you can add unlimited CTAs to your motion graphics videos, compounding the success.
Customers want motion. Hubspot reports that 90% of customers say that video assets help them make a buying decision. If you want to stand out from the crowd and make your message memorable, motion graphics can help you accomplish this.
Read up about the 10 types of motion graphics you can create with Design Pickle. With Design Pickle's Motion Graphics plan you get unlimited requests, unlimited revisions, super-speedy turnaround times, and so much more. There's never been a better time to level up with Motion Graphics!
5 Steps to Help You Get Started with Motion Graphics 
Motion graphics might be an unfamiliar style of creative content for your team. It can be intimidating at first — we get it!
Video production can sound like one of those high-cost, complex pursuits that can take more time than it's worth. But that couldn't be further from the truth.
Absolutely anyone can make an incredible animated video with Design Pickle's Motion Graphics plan, and we're going to break down exactly how to determine what type of animated video you should start with, how to outline and write that animated video, and how to guarantee you set yourself up for success before submitting your motion graphics request.
Step 1: Define Your Desired Outcome
First, you need to identify what type of motion graphics video will best serve you and your business. Start by looking at your customer journey. Here are the best questions to ask yourself and your marketing team:
Do you already have amazing ads that are hitting your target conversion rates?
Do your landing pages trigger the prospect to buy and accurately set the expectations around your product or service that leads them to make a purchase decision?
What about your onboarding process and educating your existing customers about new features, updates, or products?
Are you retaining the number of customers you need and expanding existing customer revenues to continue to grow your business?
Do you need to convey information on platforms that have limited character counts?
Do you need to leverage visuals to quickly and clearly showcase features and benefits, events, promotions, or other details?
The answers to these questions will heavily impact what type of motion graphics video you should create first.
If you need help driving traffic to your site or landing pages, consider crafting your first animated ad.
If you need to boost the conversion rates of your site or landing pages, then an animated explainer could be exactly what you need.
If you need to educate your existing clients or inform them of updates or new products or features, an animated UI/UX or Product Explainer could be just what the doctor ordered.
We're not going to do a deep dive into content strategy and video marketing funnels today, but it's worth answering these questions to identify the most effective place to start your motion graphics journey!
If you want to get in-depth, break out a large whiteboard and list out your funnel stages and the videos you currently have filling your funnel. Next, define the KPIs associated with each. Where do you see the most opportunity for improvement?
If you're already running amazing ads that convert well, you'll certainly benefit from motion graphics and creating animated ads, but you might benefit more and see the true value created when you implement them elsewhere first!
Step 2: Draft a Script
Second, now that you've identified the type of motion graphics video to create, it's time to start writing the script!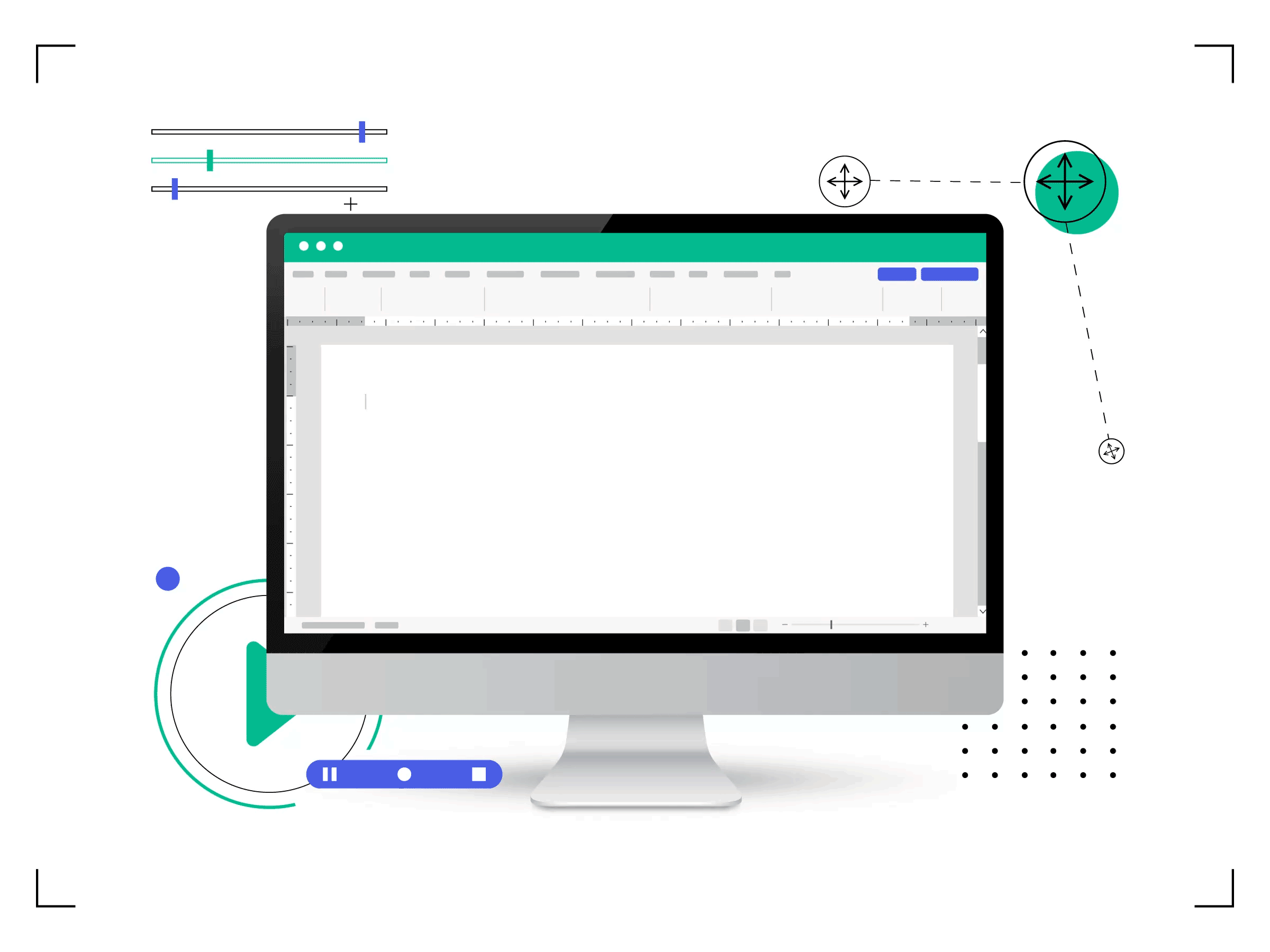 You don't need to buy any special software or learn how to format a screenplay. You just need to break out a blank document and write down what you want your audience to learn and what actions you want them to take as a result of what they've learned.
Do this in one of two ways.
If you're a visual thinker and communicator: Create a table with 2 columns. In one column write "Narration" and in the other column write "Visual." Next, pair each of your lines of narration with a description of what you want to see when that copy is being read aloud in your motion graphics video.
If you're a more analytical thinker: The other way you could tackle the writing process is to simply write out your narration as text in a blank document and then find inspiration for the visuals you'd like to see (more on inspiration in a moment).
If you're unsure about the visuals, don't worry, because, in many ways, a rough verbal outline is an ideal place to start.
Step 3: Find Inspiration
The third step will be finding inspiration for your video. Unless you've done animated videos in the past, your first motion graphics request can become the baseline for future motion graphics videos, serving as video brand standards for you and your business.
Animation styles differ greatly. Some can be high-energy, fast, and aggressive, others are smooth, fluid, and calming, while some are outright captivating and mesmerizing.
Pop open a new window and take to Google, YouTube, or even Instagram and look at animated ads, explainers, and other types of motion graphics videos. Identify the ones you like, and then break down what you like about them.
Did you like the text? The transitions? The color palettes? Did you like the imagery? The sound effects? The storyline?
Specify the elements that stand out to you. These elements could be how you want the viewer to feel, what you want them to remember, including more psychological direction in addition to specific design direction. This will be crucial for communication with your motion designer once you start requesting animated graphics of your own.
Step 4: Gather Audio Sources
This step can be completely optional depending on what type of motion graphics video you're creating, but for maximum impact, don't skip this! You need to gather your audio sources. 
There are plenty of royalty-free libraries online for music and sound effects. For videos with narration, commission a voiceover artist whose style resonates with your brand or with the project.
If you're feeling ambitious, you could do the voiceover yourself! Grab a microphone (don't sweat it, even using the in-line mic on your iPhone headphones can create good audio if you're in a quiet environment) and record your voiceover track.
Step 5: Submit Your Motion Graphics Request
The fifth and final step is to gather all of the material you've assembled in Steps 1 through 4 and create a request to send to your Design Pickle Motion Graphics Artist.
In the Design Pickle Platform, fill out your request form with these details.
Your request type
Your script
Your inspiration — and place your notes about what you like best about it in the request description
Any audio assets
Then, simply submit the request!  Your artist will get to work and let you know if they have any questions. Soon, you'll have an amazing motion graphics asset that will boost your engagement and differentiate your brand and product from the digital noise!
Don't have a Motion Graphics subscription? Learn more about Motion Graphics by Design Pickle or get started with a Motion Graphics Artist.
How Do I Create a Successful Motion Graphics Request? 
Motion graphics are complex pieces of creative content. While we broke down what goes into preparing and creating a successful motion graphics asset, we also want to break down some of the best practices to ensure you're setting yourself, your business, and your motion graphics artist up for success.
Submitting a motion graphics request isn't that different from a custom illustration or graphic design request on the surface, but there are a lot of nuances that can help you achieve your desired result faster and with fewer rounds of revisions.
When Submitting a Request in the Design Pickle Platform
When starting your request, use the word "animated" in your request title. The platform will pick up that term and automatically assume that you're requesting a motion graphic deliverable.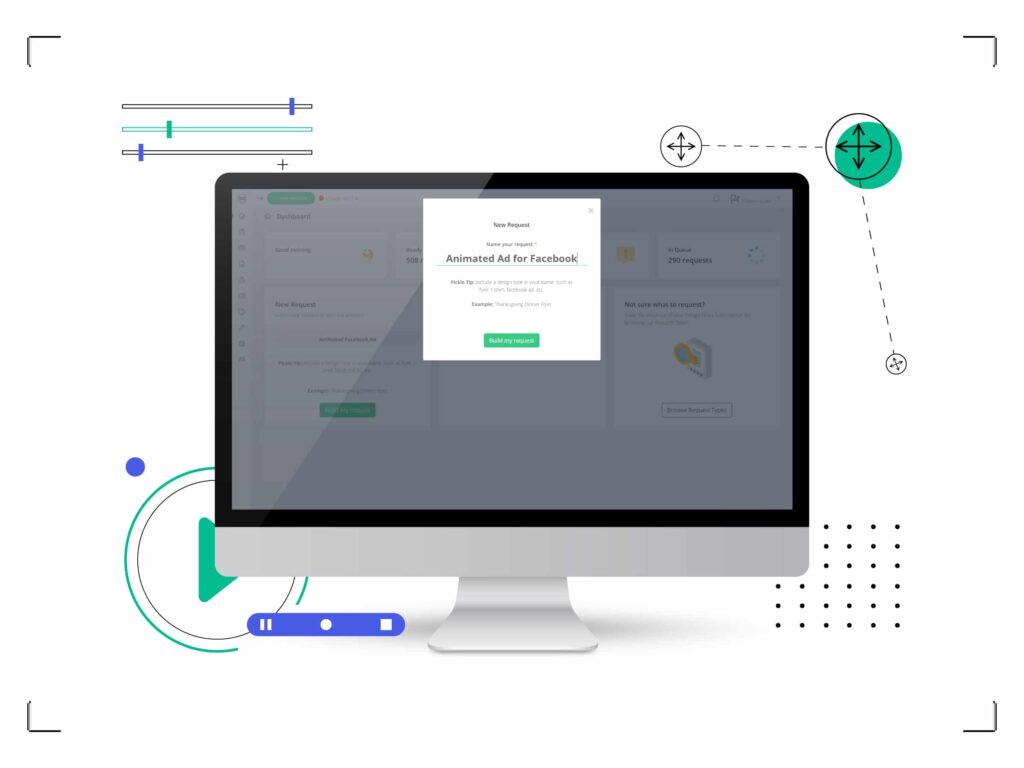 Examples include:
"Animated Ad for Facebook"
"Animated Explainer for my business"
The request form will then be able to guide you by recommending the right request type, file sizes, and file formats. (Yup, like magic!)
Next up, determine your file size. Remember that you can always request a motion graphics video in another size at any point in the future, but if you need both in 1920×1080 and 1080×1080 — standard vertical mobile and square post sizes — be sure to select both of those options with your request, along with the file format.
When it comes to the finished file, the MP4 file type is your best bet. However, you'll want to choose MOV when you need your animated asset to be transparent (like a PNG in still image design work).
For maximum clarity, break down your request into sections in the description field.
First, give an overview of what you're looking for. Tell the artist where in your buyer journey and for what target audience the motion graphic request is for.
Next, link to your script (you can also upload it or copy and paste it in if you prefer), and be sure to explain your script format if you formatted it in any specific way.
Then, in the description, include a link to your inspiration. Be sure to include the list of things you loved about the inspiration so your artist has the best insight into your animation preferences possible.
We recommend putting your script in the copy box if it's going to be visualized as animated text at any point in your ad.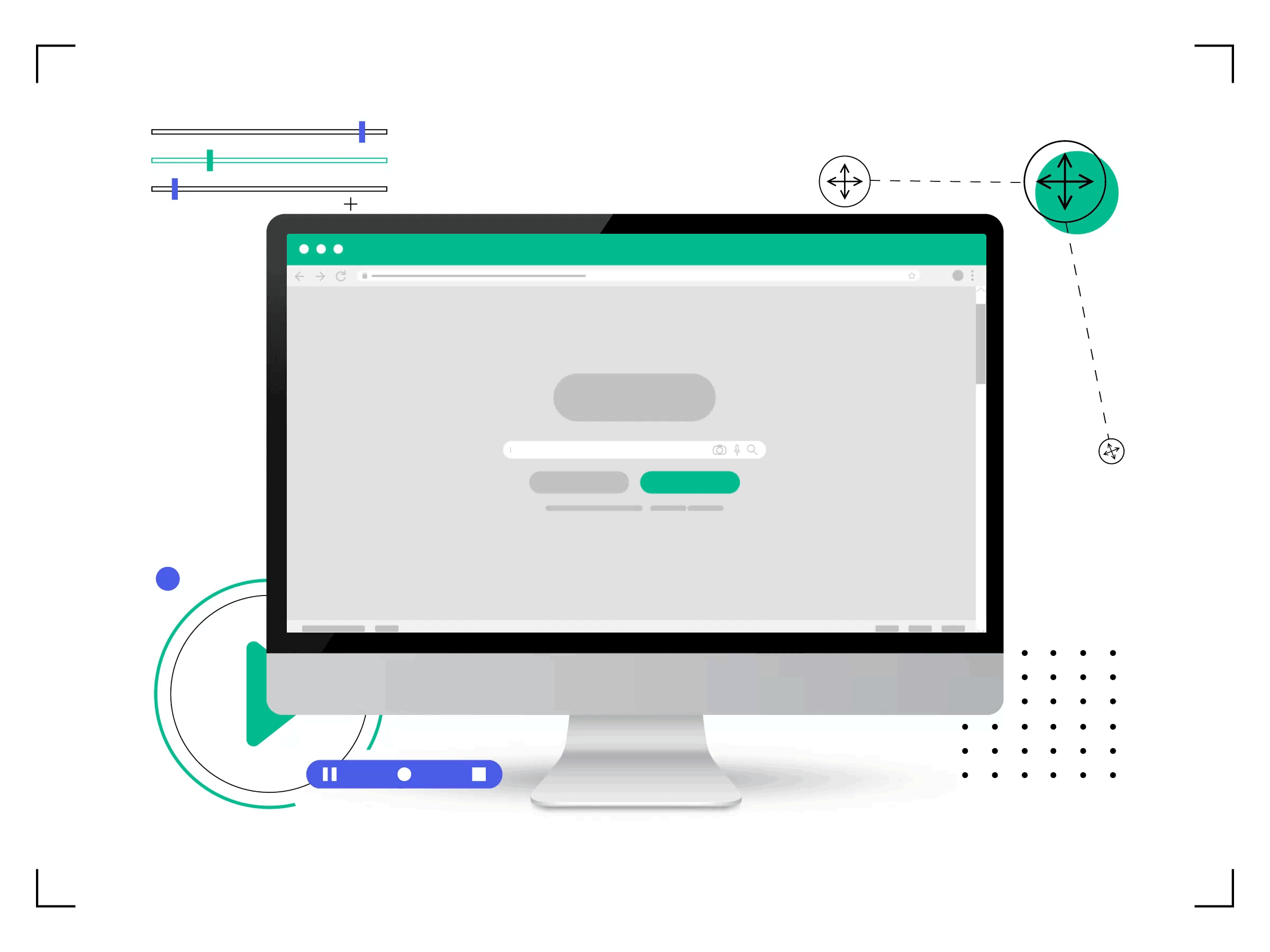 Lastly, you can browse for stock assets that you want your motion graphics artist to use. Upload remaining assets like music, sound effects, or voiceover files and set the priority for your request before you submit it!
How do I communicate revisions? 
Motion graphics can be so layered and so nuanced that it's not always possible to get them perfect on the first try. Animated video production is a collaborative process, and Design Pickle makes it easier than ever to effectively and easily communicate your revision requests to your motion graphics artist.
Using Design Pickle's Motion Graphics Annotation Tool
When you receive your motion graphics deliverable and you want to make a change, just open it up and click on "Request Revision." Next, click on "Add comments to delivered files" — and this is where the real magic starts.
Follow these simple steps to annotate:
Draw boxes directly on the video to highlight specific pieces of the visual you want to change.
Leave comments at specific times to make sure your artist has the maximum amount of clarity as to what you want to be changed and on which timestamps
How to provide effective feedback for your designer
Like any robust feedback tool, Design Pickle can only be as effective as the communication within it. We strongly recommend that you get as specific as possible with your revision requests.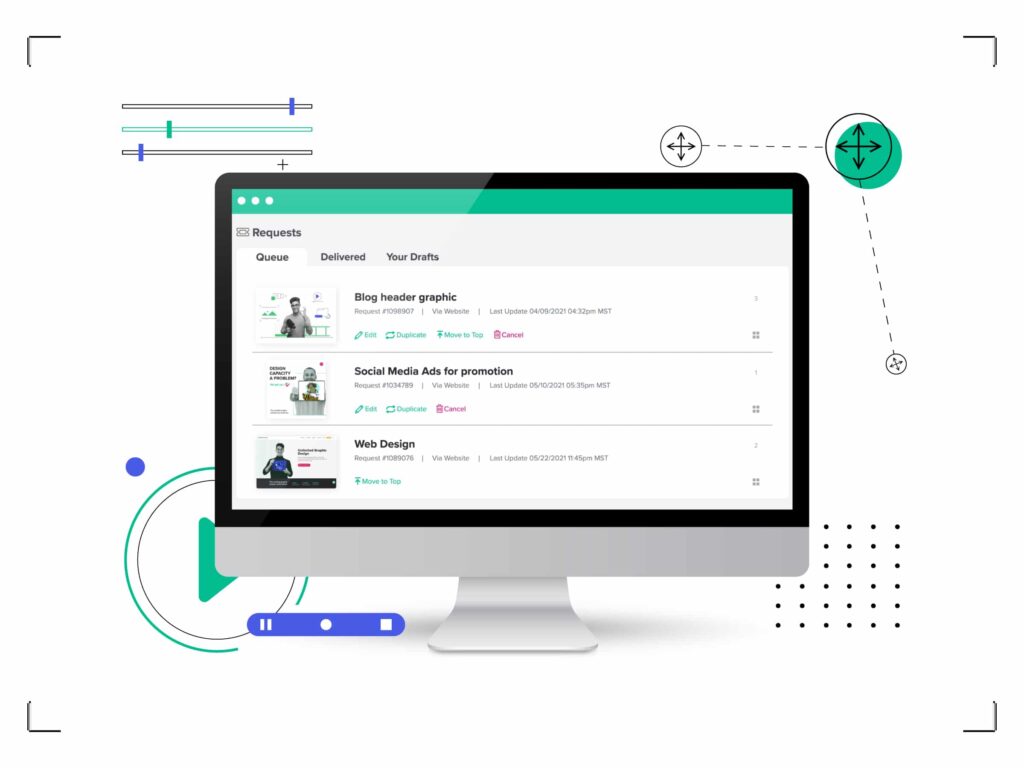 If you do not like that the llama at 0:33 seconds was blue then draw a box around it and leave a comment at 0:33 stating, "I do not like the blue on this llama, make them a green-blue color instead."
If it's a transition or animation style you want to be revised, be specific with that too. Leave comments at the correct time and use the visual annotation tool to draw around the elements you don't like.
Don't be afraid to get descriptive, either.
"This transition feels too abrupt and fast. Change it to something smoother and more fluid."
"I like the way the boxes pop in, but when they swipe away it doesn't feel right, have them pop out instead."
It's OK to describe how an animation makes you feel, so long as you can pinpoint what it is you don't want. If you just tell your artist, "I don't like it, it makes me uncomfortable," that doesn't give them much of a clue as to what to do next.
Rather, feedback like "The hard, jagged lines of this animation make me uncomfortable; can we use rounded, soft lines instead?" is more ideal as it specifies actual visual elements of the design.
And of course, if you need some extra help or are having trouble finding the right words to communicate effectively with your motion graphics artist, you can always just ask them if they understand or if you should use a different vocabulary. You can also reach out to our world-class customer support team 24/5 if you want even more help!
4 Great Places to Find Inspiration For Your Next Motion Graphics Creation 
The majority of people will run across an animated ad on their Instagram feed on any given day. Google, Apple, Nike, and other major brands advertise on national television and online using expertly crafted motion graphics ads. You can find inspiration truly anywhere in today's mediascape, but here are a few of our favorite places to find inspiration for your next motion graphic video!
1. Google/YouTube
Seriously, just Googling "beautiful motion graphic ad" will generate such a wide variety of amazing results from gifted artists all across the world you may not even need to keep reading this list.
We've found some of our favorite animated ads and motion graphics explainers using this method. You can also find whole YouTube Channels dedicated to motion graphic trends and styles that you can pull from to make sure your Motion Graphics Artist knows exactly what your animation preferences are.
2. Instagram/Facebook 
Remember when we said you're most likely going to see an animated ad on your Facebook or Instagram feed? We were serious! But you can use screen recording on your device to record that ad and then share the video file with your motion graphics artist as inspiration. Since a lot of Facebook and Instagram ads aren't usually posted by the companies that run them, look for the "sponsored" tag and if you like it, record it and add it to your pile of inspiration!
3. Vimeo 
Vimeo is a bit different from YouTube and has fostered a more portfolio-based and professional user base. Lots of agencies and major brands have work listed on Vimeo that you can view and pull inspiration from. We've found everything from amazing ads for MasterCard to beautiful videos for Reddit while browsing around on Vimeo.
4. Streaming Services 
Ok, we know this one is a little far-fetched, but remember when we said animation was all around you? Well, it is! While most animated moves are 3D animation and require teams of hundreds of incredibly talented people collaborating to tell their stories, the principles of animation, storytelling, composition, color, and so much more are all at play.
If you're not interested in doing a deep, cinematic breakdown of Frozen II next time you fire it up on Disney+ for your kids, look up some of Pixar's shorts from years past.
They tend to be made by smaller studios and some are 2D, which can make them more approachable as sources of inspiration for your 2D motion graphics requests!
Learn More About Motion Graphics with Design Pickle
While our Pickle jar is full of talent from across the globe, the Design Pickle Creative Hub is full of resources about the creative life we live every day.
Follow us on YouTube or explore our blog to find out more about where to find motion graphics inspiration and templates, different examples of motion graphics to improve your marketing strategy, and even how to create motion graphics in five steps!
Interested in a Motion Graphics subscription? Check out our pricing or request a demo today.