Facebook ads across industries have an average conversion rate of around 9%. When we talk about conversions, we don't mean just purchases. A conversion could be anything on the other side of a Call-To-Action button, like a newsletter subscription or account registration.
While this conversion rate is already fairly good — better than Google's — there are ways to make Facebook advertising even better. Video ad formats can help drive up conversions on your Facebook ads.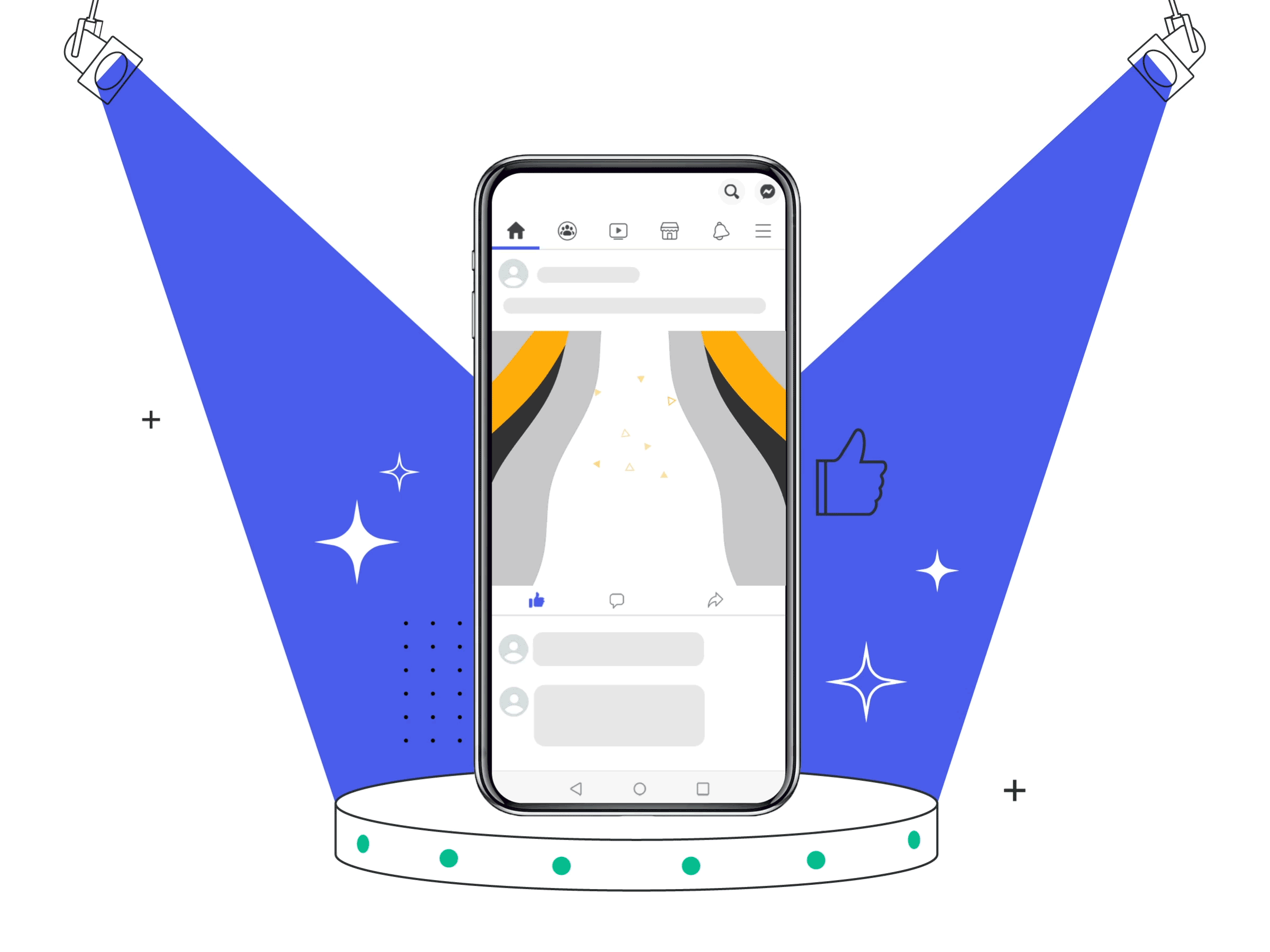 What Are Animated Video Ads?
Animated ads are ads that feature one or more moving elements. Even ads with simple animations can be called video ads. Even the most minimally moving element can be enough to capture the viewers' attention, which is why the Facebook business suite itself recommends turning still image ads into Facebook video ads using a tool they call Create to Convert.
5 Ways Animated Facebook Ads Help Your Business
Facebook ads have come a long way from their early days of still images. With an imaginative range of formats, Facebook ads have now become more interactive and more engaging.
The Facebook business platform has expanded and its video advertising tools have become smarter and easier to use with time. Marketers simply have to become familiar with video creation best practices and take the opportunity to publish animated Facebook video ads that can drive conversions through the roof.
Let's take a closer look at the key benefits of integrating animated ads into your Facebook business page's ad arsenal, as well as your video marketing strategy.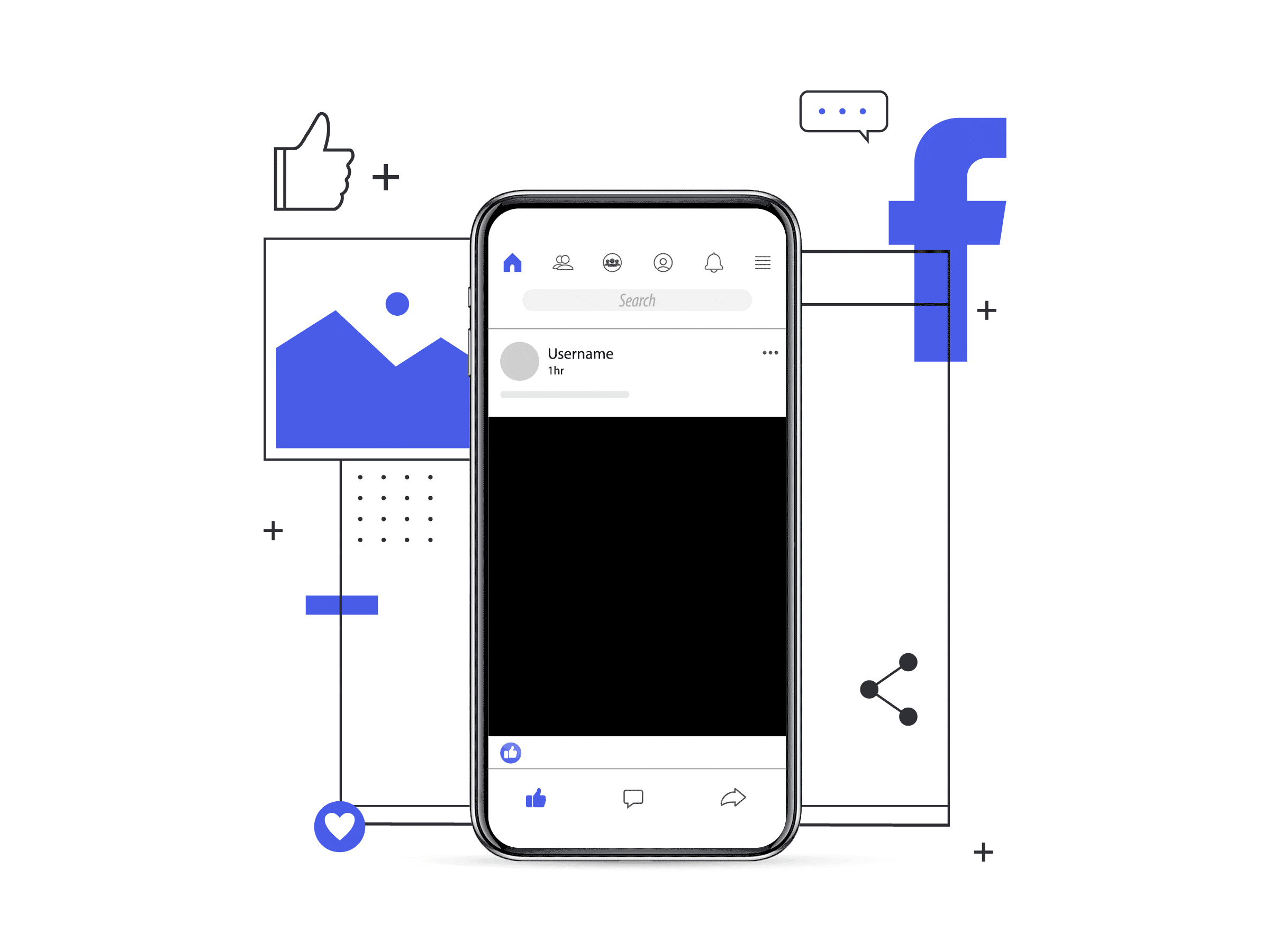 1. Animated Facebook Ads Create & Build Trust
An animated Facebook ad tells your target audience that you have spent some time and thought to create it. Even if you've used the simplest of animations, an animated ad can be a huge value-add for your potential customers. Just like a well-ironed shirt, an animated Facebook video ad implies professionalism. In addition, it can help establishing brand recognition by bringing all the elements of your brand together in one single video ad without spending a big budget.
2. Animated Facebook Ads Put Your Product or Service in the Spotlight
A well-thought-out animated ad can put your product or service on the map — well, on your consumer's mindmap. When done right, a video ad can stop the scroll, draw attention and work its way into people's memory, all while emphasizing the perks and key features of your product or service.
3. Animated Facebook Ads Engage Your Audience More
If you start creating animated ads, you'll be able to simplify vital information about your product or service. This enables viewers to digest data rapidly, bridging the gap between scroll and click and turning them into potential consumers.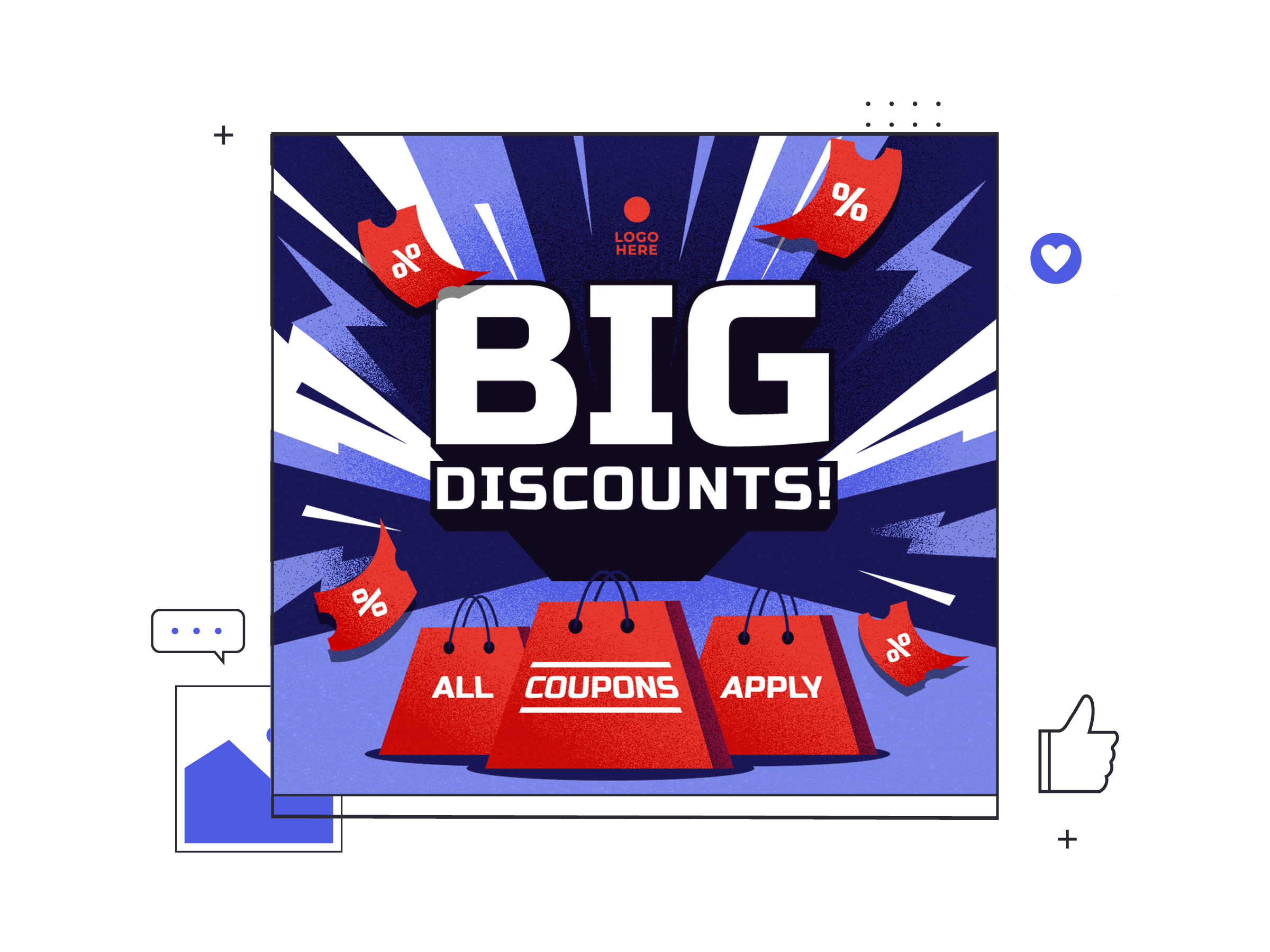 4. Animated Facebook Ads Increase Conversions & Sales
Are you using social media platforms to advertise your brand? You should know that animated ads are more trustworthy, more engaging, and universally appealing. It can't be all that without measurable results! Do you want to increase your conversion rate by 50%? Yes, we thought so. Moving ads are the way to go to create Facebook ads that will carry your lead generation game to the next level!
5. Animated Facebook Ads Get More Social Shares
According to a BuzzSumo analysis of 25 million posts, high quality video content is the most shared content on Facebook.
Animated Fb ads are information-rich and easy to digest. This seems to be a good recipe for ads that get organic shares! Dynamic content is so effortlessly understandable, people are encouraged to spread the word, not just by liking and commenting, but also by reposting and sending.
Are Animated Ads Better?
It's official: Your social media ads need a little motion to get your audience's attention and set your engagement in motion as well!
The appeal of dynamic ads is largely visual — in fact, a 2016 study shows that 85% of viewers watch Facebook videos with the sound off. That's why you don't have to worry about mounting a full-scale production process for your animated ads. The simplest ones are sufficient, as long as you create video ads that are well-planned and well-executed!
While there's a time and place for beautiful static ads and graphics, there's no denying the results that more engaging formats such as animated ads manage to get. Here are 5 animated examples of Facebook video ad examples that are stunning and effective!
5 Animated Facebook Ads for Inspo
Grammarly
Smart writing assistant Grammarly does it write with this cute, explanatory ad. With a few quick words and a few simple motions, they manage to showcase exactly what their platform offers.
Headspace
With minimal text and imagery, meditation app Headspace entices you to sign up for a premium experience so you could get rid of that annoying feeling of awkwardness.
The New Yorker
If you're a publication as time-honored and renowned as The New Yorker, you probably know there are only so many ways you can advertise your subscription price. This ad is a simple slideshow with illustrations of different people, showing off the wealth and breadth of the publication's readership and scope.
Spotify
A wordy animation is perfect for an ad about podcasts. With striking, solid color blocks, this Spotify ad is succinct and on-brand. All you have to do next is open up your Spotify app and listen.
Mailchimp
Powerful marketing platform Mailchimp understood the assignment! This wacky, grungy, and meticulously put-together ad is sure to bring you all the way to the CTA.
5 Tips & Best Practices to Create Stunning Video Ads
As we mentioned earlier, even the simplest animations can be a huge value-add. You don't have to break the bank or feel like you need to hire the next Da Vinci. Even if we're talking medium, content is still king! With that in mind, here are five fail-proof tips for creating stunning dynamic video ads using the most engaging formats that will send your video views and conversions through the roof.
1. Use High-Quality Assets
You can't communicate good quality content with pixellated, irrelevant, hard-to-absorb images. These days, there are tons of industry-standard resources with a huge library of stock videos and images online, like Unsplash, Adobe Stock, Envato, and more. You can also use your own photos or video footage as long as they are good quality. Check out this article for inspiration and templates for your motion graphics projects.
2. Design with Mobile in Mind
More than 75% of all videos — a staggering three-fourths — are played on mobile devices. That's why you have to create ads with mobile users in mind. It's a fact that can be easy to forget when you're sitting in front of a computer in full work mode. But don't forget that during your spare time, you're more likely to be viewing, and sharing, content using your smartphone.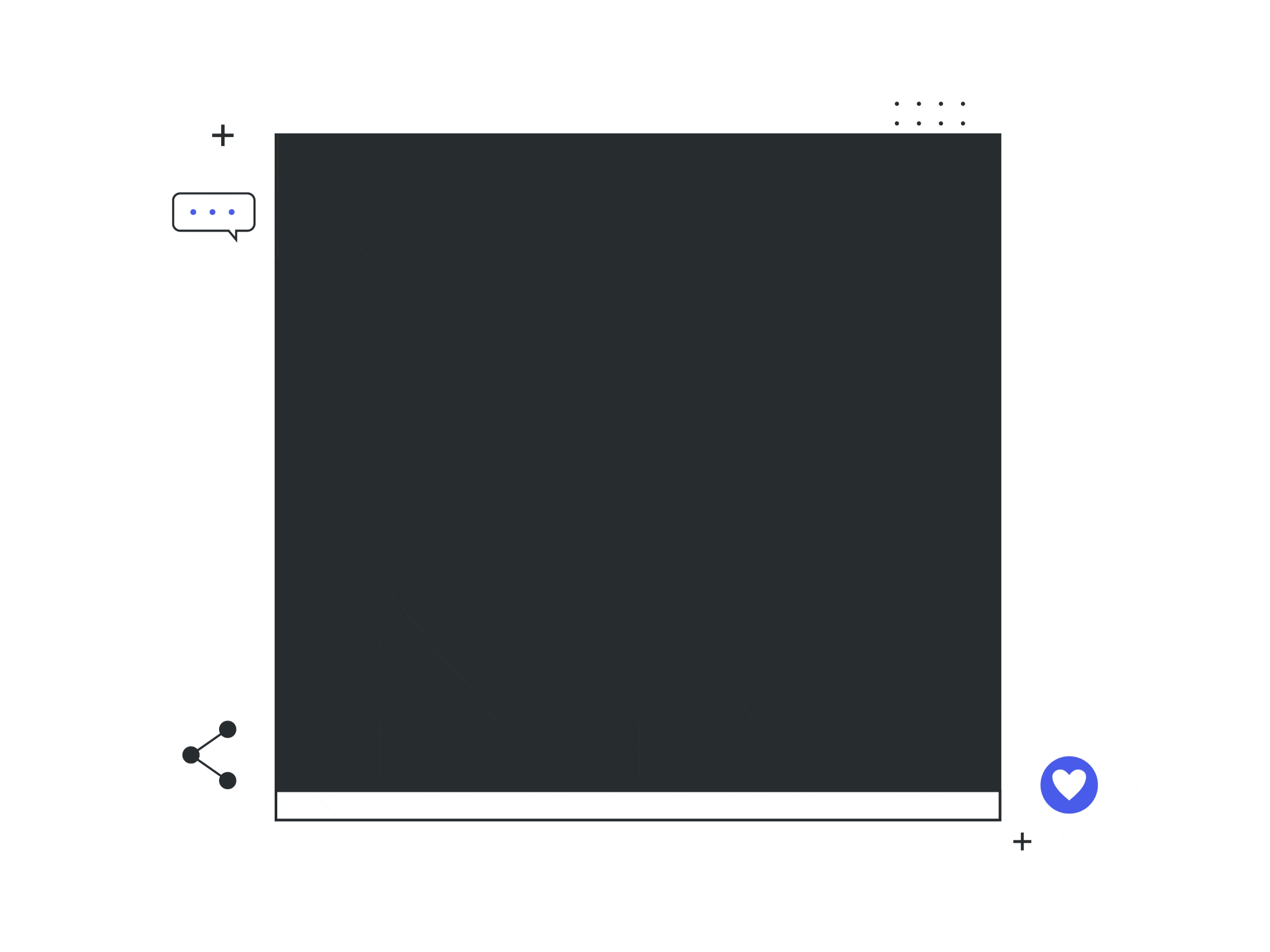 3. Let the Animation Do the Talking
Sure, you can animate words — that's called kinetic typography, and it can be pretty engaging. But when you're planning your video ad, remember to take an occasional step back from ad copy or scriptwriting to ask yourself: Can I show this instead of telling it? Sentences like "Then, you'll go to the next screen" and "Tap the upper left button" can actually be best conveyed by motion rather than words.
4. Use a Powerful CTA
A pretty ad is backed by a smart strategy: You can't get results without a powerful call to action or CTA. Use motion and the power of storytelling to bring your audience smoothly and decisively to a decision point. Avoid vague statements and hard-to-find CTAs. Your audience is more likely to click, subscribe, download, register, or purchase if, at the end of the ad, you tell them exactly what to do next.
5. Eyes on the Prize
The medium of motion is a powerful delivery tool. But it's only as powerful as the message it delivers. If you're talking about a product or service, make sure your Facebook ad's flow highlights and emphasizes the best details. Remember, the best details may not be your personal favorites — they are the things that your audience will respond most strongly to.
Final Thoughts
Just because it's easy means you have to do it yourself. Design Pickle believes in making motion graphics as accessible as possible. When you sign up for Design Pickle Graphics Premium, you get:
Custom motion graphics
Unlimited requests
Unlimited revisions
Fast turnarounds
Slack communication
24/5 live support
On-brand assets
Zapier integrations
Centralized file storage
Unlimited Brand Profiles
Multiple user access
Stock library access
Easy in-app feedback
No contracts
Satisfaction guarantee
Watch this video to find out what you can create with Design Pickle's Motion Graphics design services: