Motion graphics animation has become one of the most powerful tools for marketers and content creators everywhere. Movement is simply captivating — that's why motion graphic videos generate as much as 48% more views than their static social media counterparts.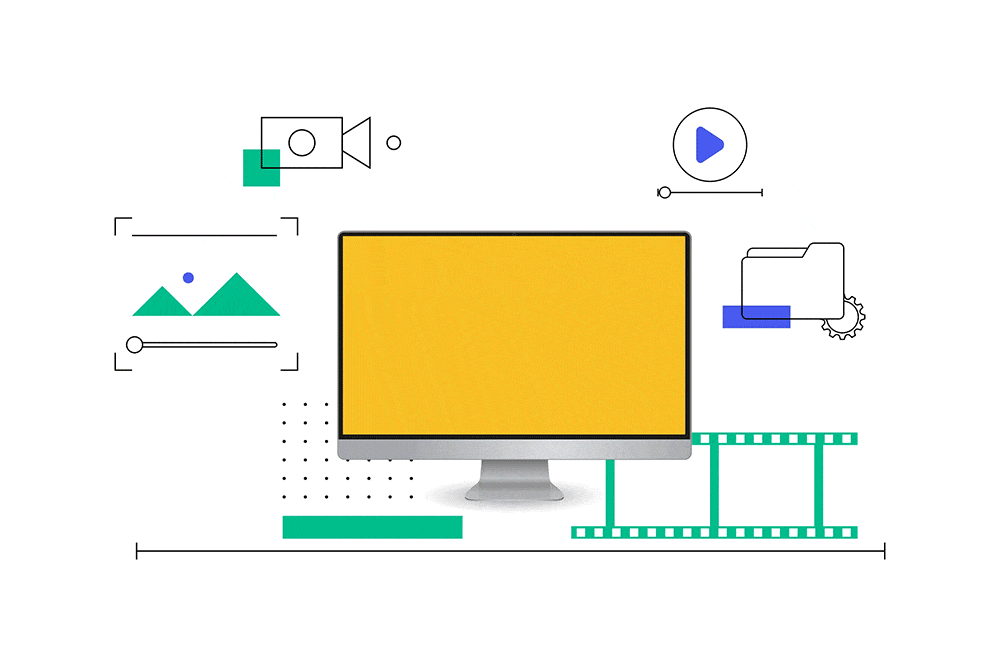 Motion Graphics Definition
Basically, motion graphics is animated graphic design. Pretty easy to remember… but what, you may ask, is the difference between graphic design and animation? In the technical sense, the terms motion graphics and animation can be interchangeable. After all, any form of moving graphic design is "animated," and animated movies are, in essence, graphic elements in movement.
But while animation is a broader umbrella term that covers everything from feature films to TV commercials, the term motion graphics is used in a more granular fashion. Animation as a specific art form focuses more on cinematic effects that usually include emotional aspects like a Pixar film. Motion graphics, on the other hand, are at their core visual aids to illustrate a point or teaching hard-to-understand ideas. They are not strictly character driven and are generally associated with setting abstract objects, text, and other graphic elements in motion.
Typography for a movie's opening titles, a fancy loading screen for an app or website, a moving logo — these are all examples of simple motion graphics. Learn more about the types of motion graphics here.
History of Motion Graphics
Did you know that the earliest examples of animation date back to ancient times? There's evidence that some paleolithic cave paintings were created with movement in mind. This early example goes to show that while many things have changed through the ages, the human love for visual storytelling remains.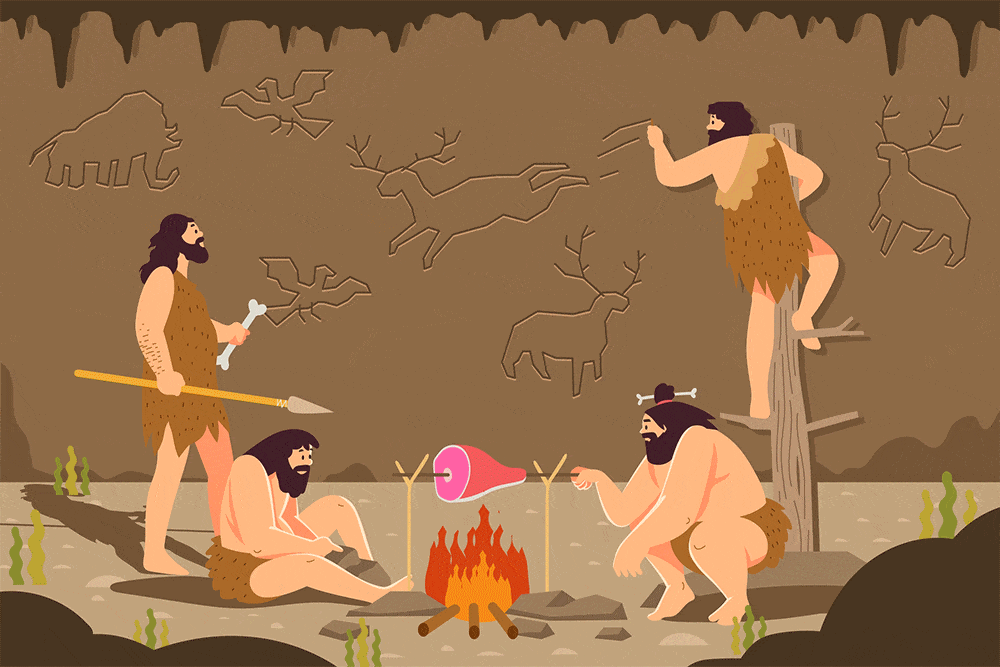 From flickering cave paintings in 30,000 B.C. to the praxinoscope in 1888 to the rotoscope in 1917, animation techniques have definitely come a long way. Today, we can even interact with animated graphic design elements in virtual or augmented reality! Motion graphics videos have evolved considerably for the better!
Motion Graphics Examples
Marketing videos can attract up to 300% more leads. That's why the practice of including motion graphics across various digital marketing campaigns has become so widespread. Let's explore the different ways marketers and graphic designers use motion graphics as a visual aid in media.
Storytelling techniques

Stories or narratives are some of the most effective forms of communication. Storytelling is as old as humankind. Today, we have stories that have been passed down from generation after generation, molding our thoughts and lifestyles.
Kurzgesagt – In a Nutshell is a Youtube channel that excels in the storytelling form of motion graphics. They take complex scientific subjects and make them easy for all audiences to understand. With 1.77 million subscribers, their channel's efficacy and relevancy are without a doubt proof that motion graphics are excellent vehicles for conveying information in a visually appealing, compelling, and clear way.
Creating Awareness Videos

Video content creation — or vlogging — has become more and more competitive in the past decade. Content creators are leveraging tools and platforms that are even more effective than mainstream news channels, like explainer videos.
With 10.3 million subscribers on YouTube, Vox has proved itself to be one of the internet's grandmasters of motion graphics video content. The animated video above, with its many animated charts, maps, and diagrams, creates awareness and boosts knowledge without overwhelming you with information. Motion graphic videos ensure the viewer is captivated and informed, illustrating abstract concepts in a way that can be easier to process and remember.
Product Videos
Video explainers are indispensable for brands with new product launches. They help product reveals become more immersive and practical by highlighting important features and breaking down complex procedures and hard to understand ideas.
Oculus Quest has made virtual reality, or VR, accessible via a headset. Unlike smartphones, which have been around for years, a VR headset is almost a totally new experience for consumers. With motion graphics, the Oculus team was able to combine user expectations and user experience in a single video that's both instructional and promotional.
Branding
Brand videos, or corporate audiovisual presentations (AVPs), can be more effective with motion graphics. While the right music, narration, and video footage are also important, moving graphics can really drive the point home.
Just like with product videos, motion graphic elements can elevate brand videos. Elements like maps, arrows, and charts can help viewers visualize technical information, while animated typography is effective in communicating verbal information like brand goals and core values. The result is a video that attracts new leads, retains loyal customers, and fosters internal brand awareness.
Uses of Motion Graphics
Motion graphics can be seen almost everywhere these days — so much so, we might not even notice the presence of animated shapes in mainstream media. It certainly adds both beauty and functionality to visuals, but at the same time, it flows so naturally that viewers almost expect it. So where do we usually see motion graphics in action?
On TV
Motion graphics have been on television for decades now. Remember those little strips under the news reporter where other current events are flashed? Those news tickers, also called lower thirds graphics (because they're always in the lower 1/3 part of the screen), are an indispensable part of info-rich news shows.
The sports industry makes heavy use of motion graphics. The NBA and NFL integrate graphic animations into their onscreen scoreboards, creating a smooth viewing experience perfect for epic replays.
Marketing & Advertising
As technology advances, the marketing industry is speeding farther and farther away from the world of static ads and presentation. Every element is movable!
Videos are a powerful tool for generating sales — well-thought-out motion graphics can make them unbeatable at giving you a competitive edge in your industry. It's always a good idea to choose animated text and other interesting visual effects when you create ads. Using animated ads on Facebook can help you engage your audience, increase social shares as well as conversions.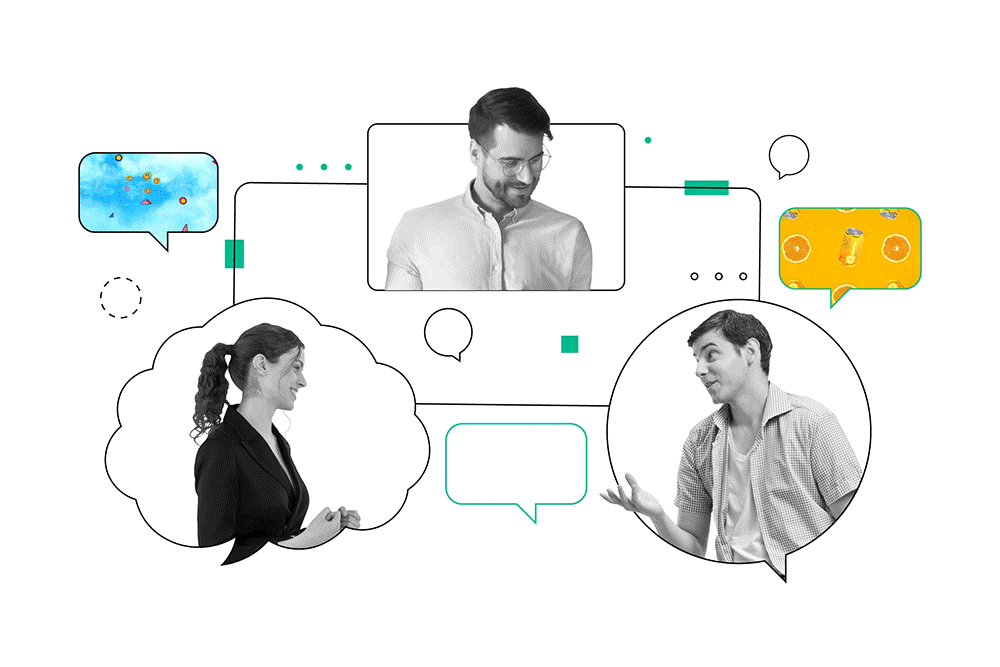 If you want to come up with personalized graphics for your brand or your own motion graphic video, you can go the DIY route — or partner up with Design Pickle so you can skip the learning curve and leverage a team of experienced Motion Graphic artists and animators. Learn a little more about the Premium plan that includes Motion Graphics (and the amazing Motion Graphics revision tool).
Websites & Apps
UI animations and web design have also come far in the past decade, by leaps and bounds. Millennials will remember the early days of "dynamic" websites with sparkly custom cursors, flashing GIFs, and animations that wouldn't show up unless you downloaded an external Flash player.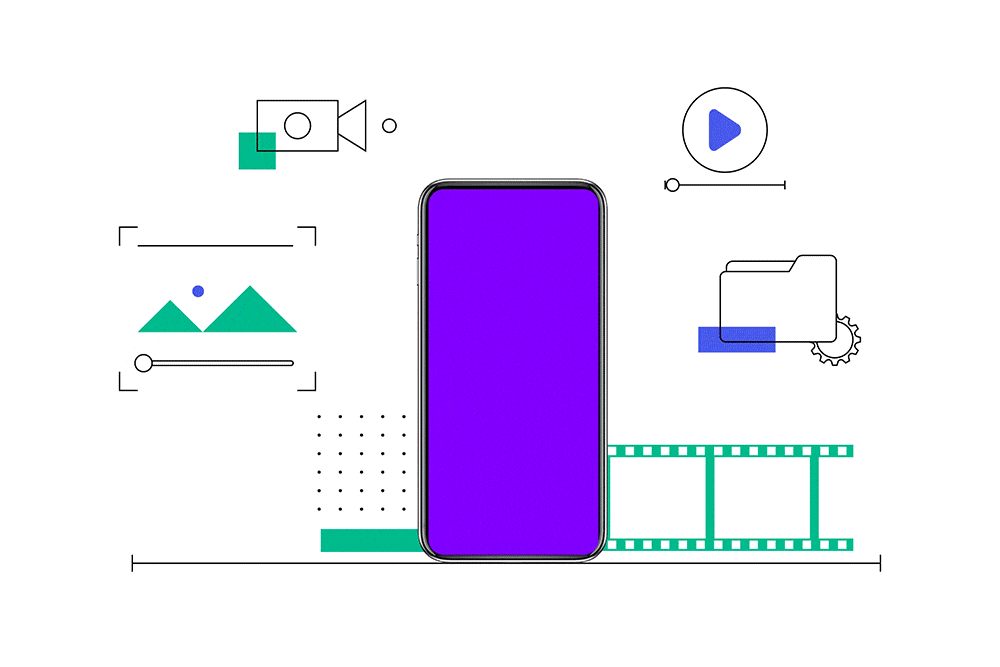 Most websites today can, fairly easily compared to the olden days, build beautiful, immersive frontend experiences with motion graphics elements like loading bars, dropdown navigation menus, parallax animations, and more.
By creating a smoother, more seamless user experience, motion graphic designers can help websites look more professional and authoritative.
Motion Graphics Templates
When it comes to marketing content, there's no rule that says you have to build everything from scratch. There are many free templates available online to create motion graphics that will help you come up with on-brand, situation-specific animated content.
Whether you're just getting started and not familiar with a motion graphics software yet, or you're a pro, we've included three motion graphics templates below to help get you started!
You can also check out this article to learn how to make animated graphics.
Envato
With a vast library of digital assets, Envato is a useful tool for web designers, developers, marketers, and other creatives across the globe. Get this template here.
Motion Array
Motion Array has a premium collection of After Effects templates that can help you build animated ads, whether you need the whole video or just a part, like the title sequence or transitions. Get this video template here.
Premium Beat
Shutterstock's PremiumBeat is better known for royalty-free audio, which is their main product that you can use as background music for your motion graphics videos. But you can also download free post-production assets from their blog! Get this template here.
Wrap Up
Looking for customizable motion graphics? In just a few seconds, Design Pickle can plug in to provide you with on-demand and personalized motion graphics. Check out Design Pickle's Motion Graphics services in this video: