"Design Pickle has been able to take a lot of the stress off so I can focus more on strategy."

Brandon Gaffney, marketing director at Regent Bank
With a background in graphic design, Brandon Gaffney knows what he's looking for when it comes to creating eye-catching collateral that converts. 
As the marketing director of Regent Bank — an Oklahoma-based community bank whose primary customers are small- to medium-sized business owners — part of Gaffney's role is to ensure that's exactly what his marketing team delivers. 
Unfortunately, this became increasingly tough when Gaffney was faced with an agency that didn't meet expectations with design work.
"When I started [at the bank], we were outsourcing all of our marketing to an agency," says Gaffney, who, as a designer himself, eventually took over all of the design tasks, from websites and graphics to video and production, all while fulfilling the duties of his own role as marketing director.
Soon, however, it became clear that additional graphic design support was needed so that Gaffney could focus on his strategic role as marketing director. 
Making the Decision to Outsource Design
That's where Design Pickle came in. 
"I was still a one-person team, which is why I reached out to Design Pickle," Gaffney says. "I needed help with some of the day-to-day graphics, like building brochures and guides."
Gaffney had seen Design Pickle ads for a total of four years, always keeping the service in the back of his mind as a possible solution to his creative bottleneck. But it took the design demands of his one-man marketing team to take the next step and outsource his creative output to Design Pickle's subscription workforce.
In August 2020, Gaffney subscribed to Design Pickle Pro, giving Regent Bank access to design for advanced infographics, same-day delivery, and real-time designer collaboration.
In particular, sales enablement tools such as infographics, brochures, sales sheets, and guides have been key in the work that Regent Bank does, which is focused on business banking and quickly expanding into mortgages and insurance.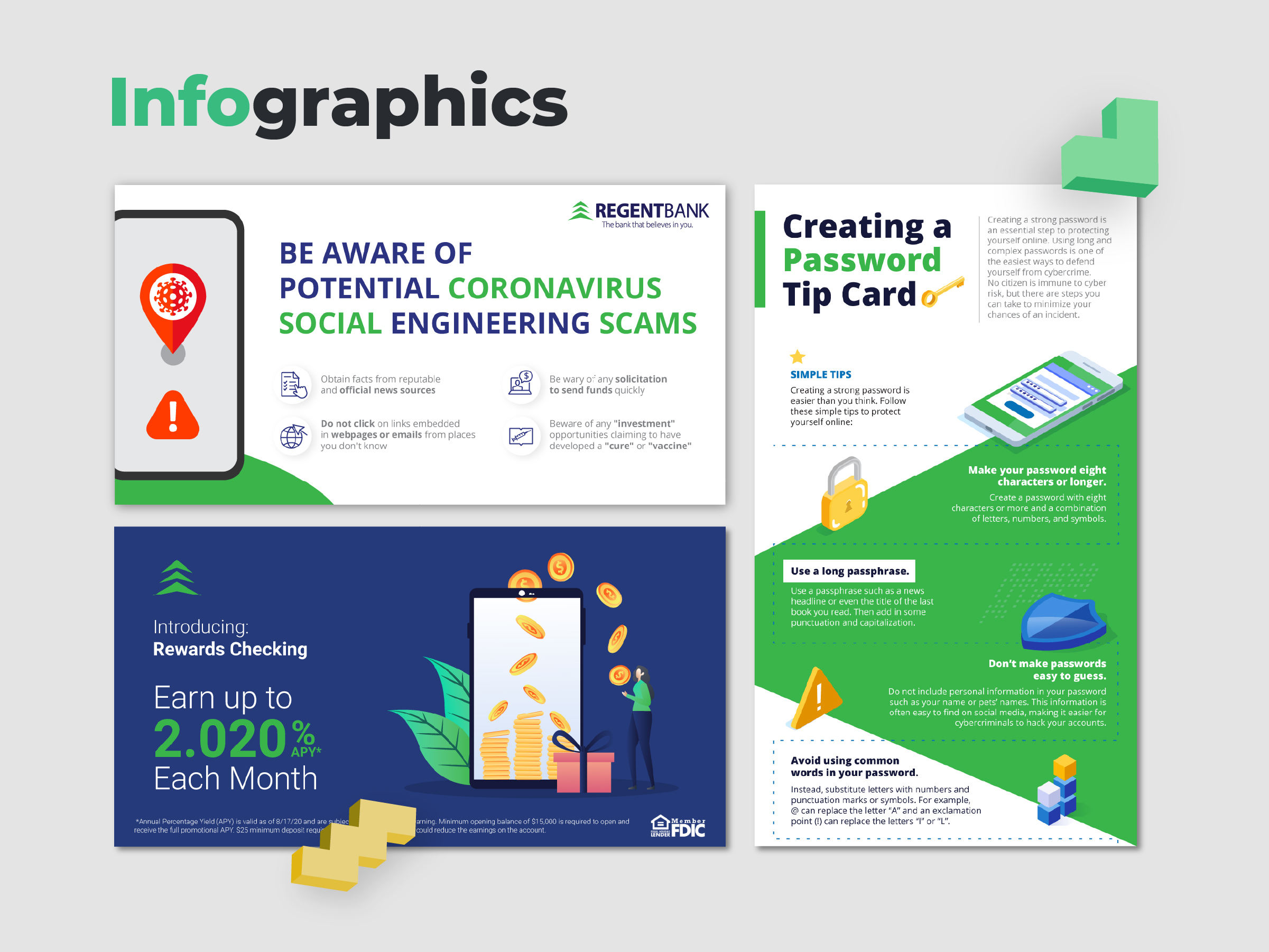 "I've been pleased with a lot of the brochures and guides," Gaffney says. "My designer has been really, really helpful with offloading a lot of the brochures, sales sheets, guides, and different stuff like that."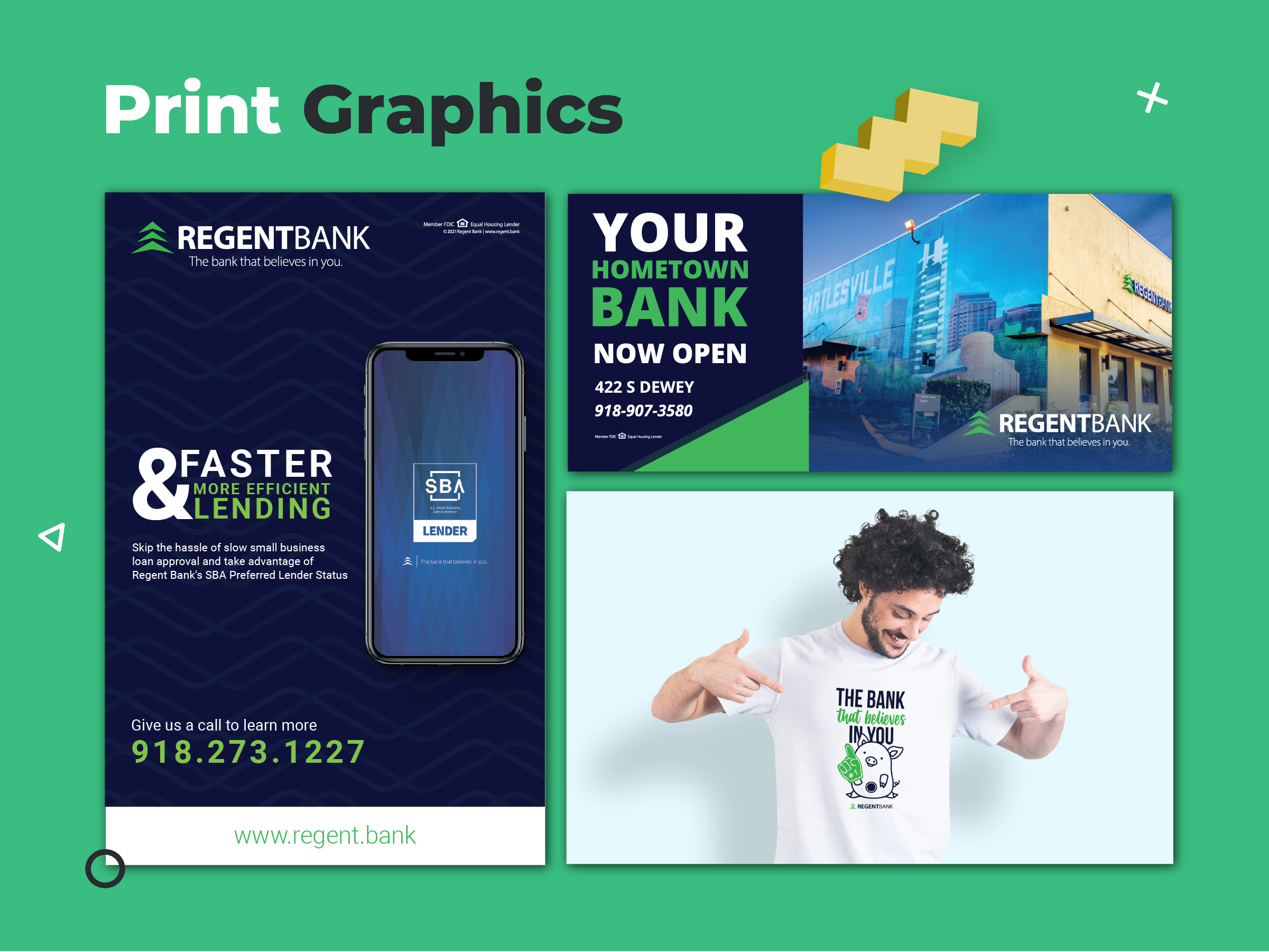 And when it comes to timely creative needs (such as those for the holidays), Gaffney notes Design Pickle has been crucial in saving time spent on signage, email graphics, and social media posts for Regent Banks' five branches.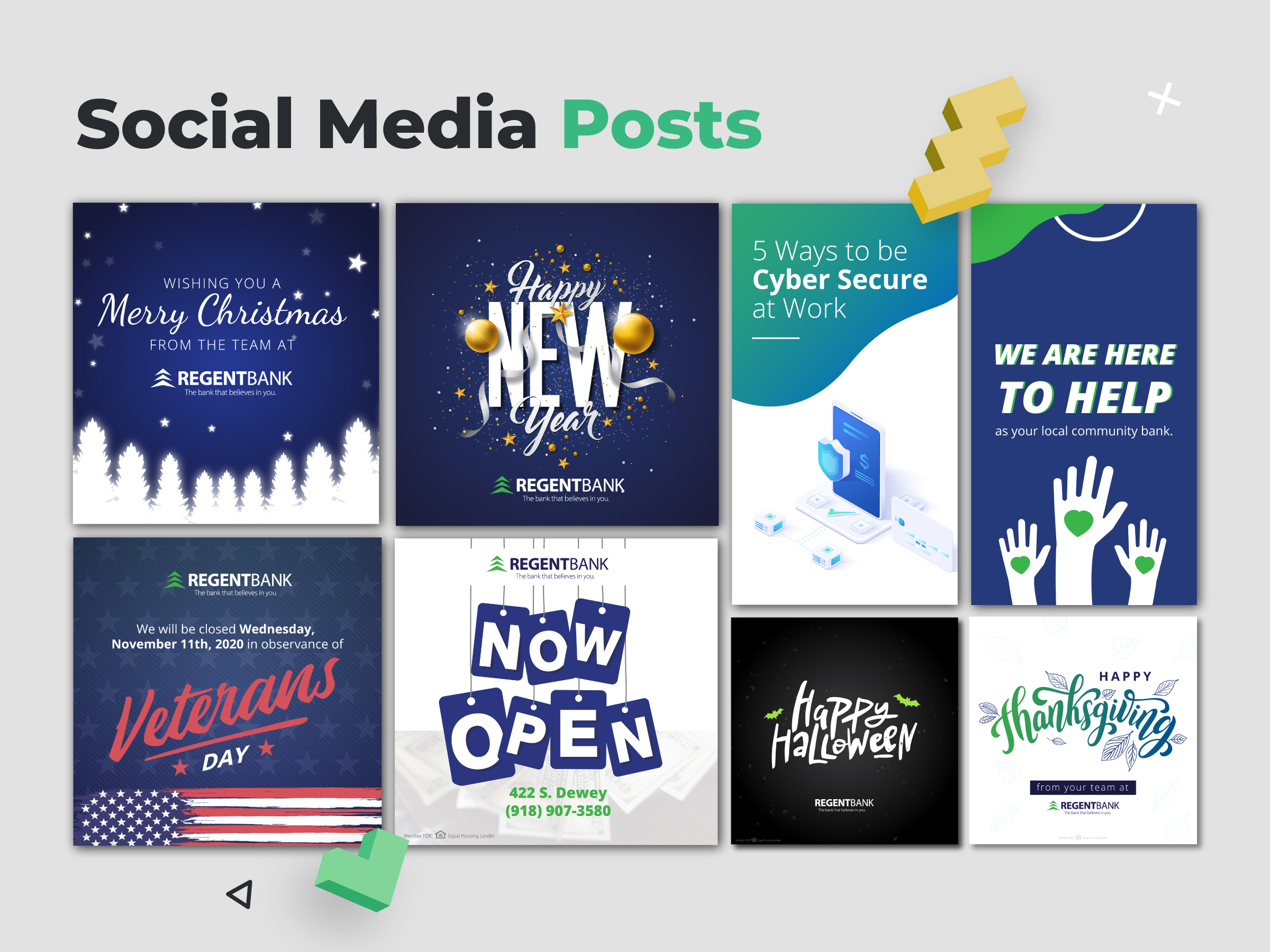 "I can just bundle them all into one little request like, hey, I need them in these different formats," Gaffney says. "And so, stuff like that has really helped."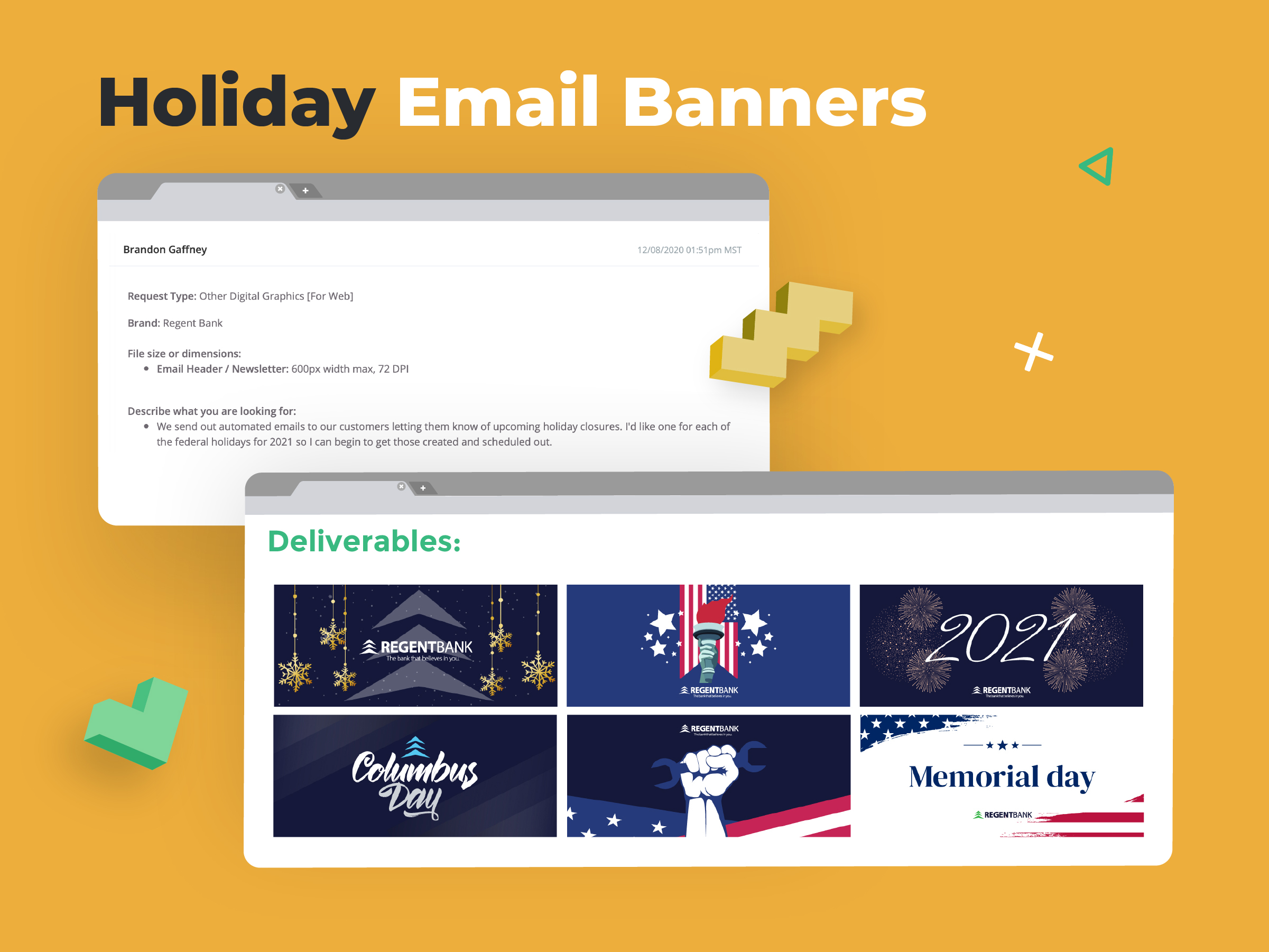 Creating More Time in the Workday
As any marketing executive knows, a key part of the job is to have the time to focus on big-picture items and strategy that can result in company growth. Design Pickle has allowed Gaffney to do just that.
Gaffney notes that alleviating stress and giving him back time — two invaluable factors — have been benefits of using Design Pickle.
"Design Pickle has been able to take a lot of the stress off so I can focus more on strategy," says Gaffney, noting that outsourcing to Design Pickle has allowed him to get more done, which increases his own productivity in other marketing-related areas.
In fact, Gaffney estimates that around 15% to 20% of his workday is freed up because of Design Pickle. This is time Gaffney now devotes to learning, strategizing, and managing, including training his co-workers on the best approach to properly request a design from Design Pickle.
Plus, he is now able to pivot more quickly when last-minute requests or needs come his way — as they so inevitably do in the marketing world — since he's not bogged down by the day-to-day demands of design.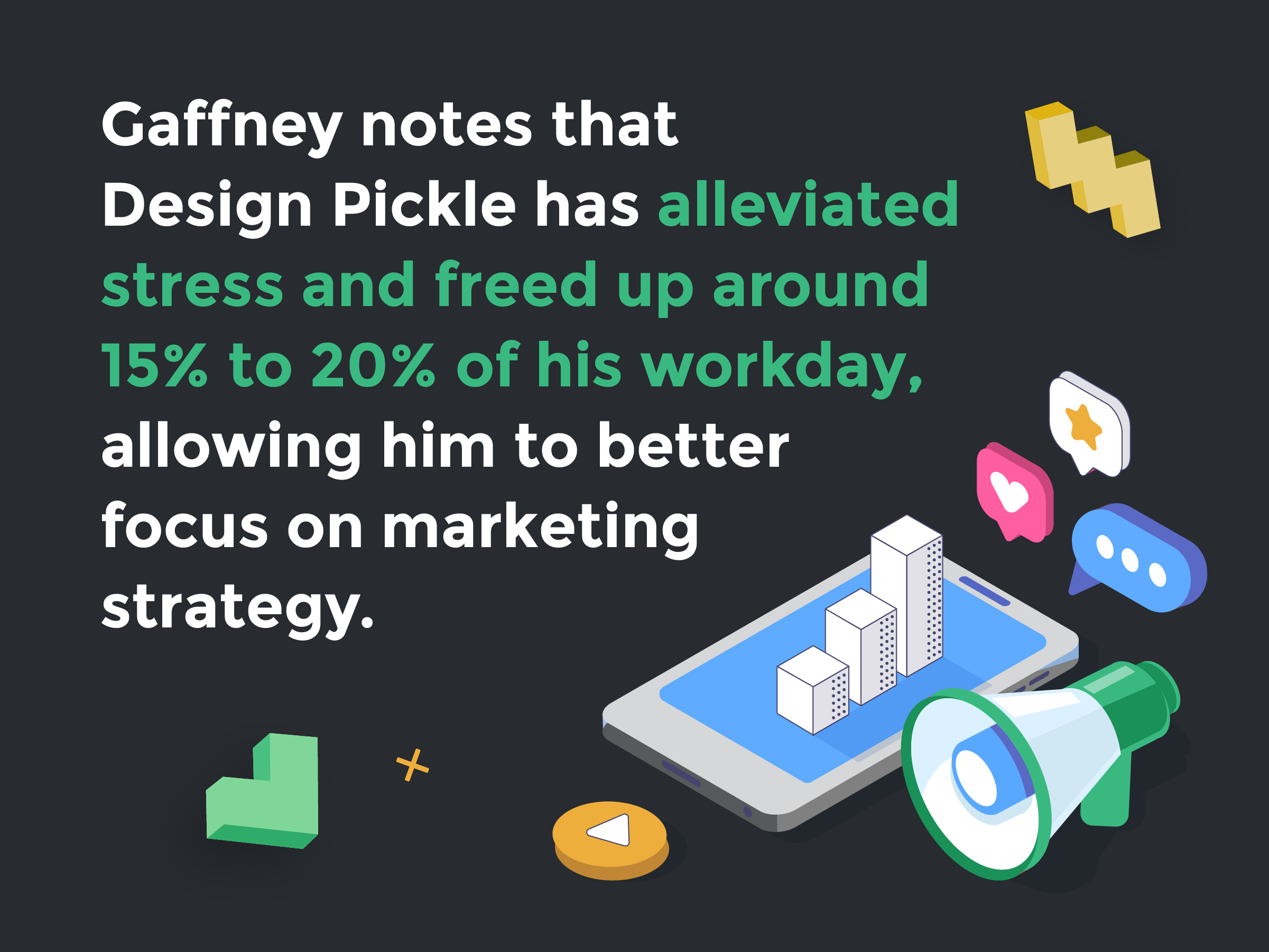 Enhanced Communication and User Experience
As a designer himself and an admitted "perfectionist," Gaffney was careful to manage his expectations. At the same time, he knew what kind of instructions a designer would appreciate. His designers reciprocated, and communication via Slack (thanks to his Pro subscription) has been smooth. 
"I've had two designers since I started and they're both really, really great to interface with," Gaffney says. 
The ability to chat with his designers has made Gaffney feel like he has employees with whom he can cultivate a productive, professional relationship. Plus, the real-time chat feature helps Gaffney be able to more effectively coach his designer about technical, bank-related details, quick feedback, and more.
For example, since he works for a bank, Gaffney must ensure that all marketing collateral is FDIC compliant. When he began working with Design Pickle, he instructed his designer on the importance of including compliance and regulation details, such as FDIC disclosures, on graphics. Now, these highly niche industry details are second-nature to his designer and are included on all deliverables, ensuring that Gaffney's marketing materials are not only eye-catching but also compliant. 
In particular, Gaffney discovered that attaching inspiration or sample images really helped the design process. 
"Nine times out of 10 when I attached an image close to what I wanted, I got a better result than if I didn't attach any kind of reference point."
During Gaffney's first six months as a Design Pickle client, he saw the Design Pickle Platform be overhauled into a new look and feel with an updated, more intuitive user interface to increase the overall user experience.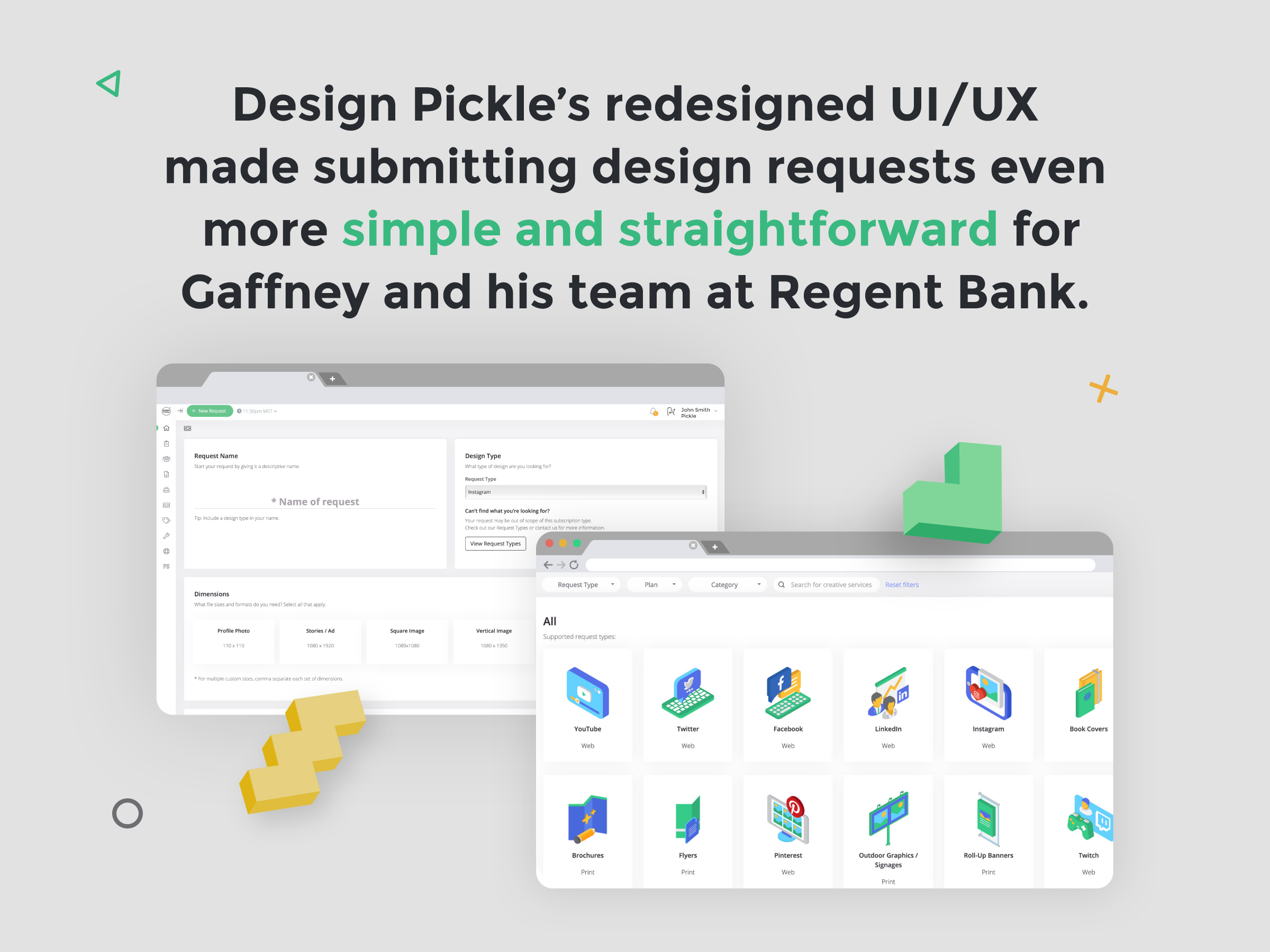 Gaffney embraced the change and found that the redesigned UI/UX made submitting design requests even more simple and straightforward for himself and his team. 
"The interface was surprisingly easy to use," he says.
The simple interface has helped Gaffney have clearer requests, which then prevents unnecessary back-and-forth with his designer.
Plus, he has a streamlined process for submitting requests, which he has implemented among his team members. Thus, Gaffney knows exactly what information and assets he needs to collect before he submits a design. To sum it up: Gaffney makes Design Pickle work for him so he can get the most out of his subscription.
Something to Write Home About
Gaffney has gone on to refer Design Pickle to others, particularly pastors looking for a simple, affordable way for their churches to get social media graphics, email headers, and church collateral.
"I've got a couple of friends who are pastors of small churches, and they are either looking for a designer, or they don't want to because most of the design people here are going to cost — with benefits — at least $35K for a decent designer," Gaffney says. "And that's just kind of bottom-level. So, it'd be $35K plus benefits … and so I told them about Design Pickle."
Overall, Design Pickle has proven to be a highly useful addition to Gaffney's virtual toolbox, freeing up some of the marketing director's workload and time to focus on the greater task at hand — making Regent Bank look good through a well-crafted marketing strategy (and great design, of course). 
Design Pickle can help you more effectively lead — and get results for — your marketing team, just like we did for Gaffney and Regent Bank. Check out our pricing here, and schedule a free, custom demo with a Product Specialist to see how you can get the most out of our service here.