Summer 2022 Release: Big Dill Enhancements
These Design Pickle enhancements are the perfect way to pump up your productivity for the rest of the year!
This summer we released a ton of new product enhancements – and we think they are a pretty big dill! Check out all the features we're high-fiving our product team for, and learn how these will help you boost productivity and get more out of your Design Pickle subscription.
Check out this sizzlin' recap video:
Have a few more minutes? Let's dive into the three biggest Design Pickle enhancements of the summer!
Improvements to how you organize and manage your queue
Queue management
Say goodbye to extra clicks! Now, you can manage and organize your list of requests faster. These new features not only enable you to do more without clicking into each request, but you can also manage requests in bulk actions.
Queue management enhancements include:
Move requests to the top with just one click
Download your creative assets directly from your queue
Duplicate a request so you won't have to fill in all the same details all over again
Cancel a request you'd like to remove from your queue
Delete drafts and archive completed requests in bulk
Thumbnail Preview
Find your completed request at a glance with the help of a thumbnail preview. Your designer will upload a thumbnail preview once each request is complete; until then, you'll see a placeholder image.

Rate your request
Rate your archived requests right from your queue! Plus, you can now reopen a completed request and give your designer a new rating! Your rating and feedback will help us in serving you better.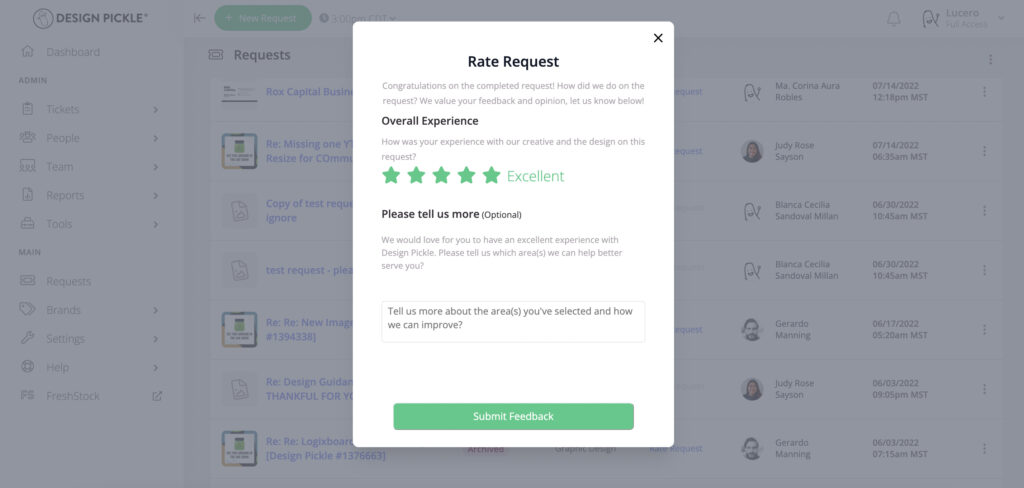 CSV file export
It's easier to sort all your active, archived, and canceled requests by exporting your queue to a CSV file. This allows you to create a backup of your request data – with links! – to each request, making audits a breeze.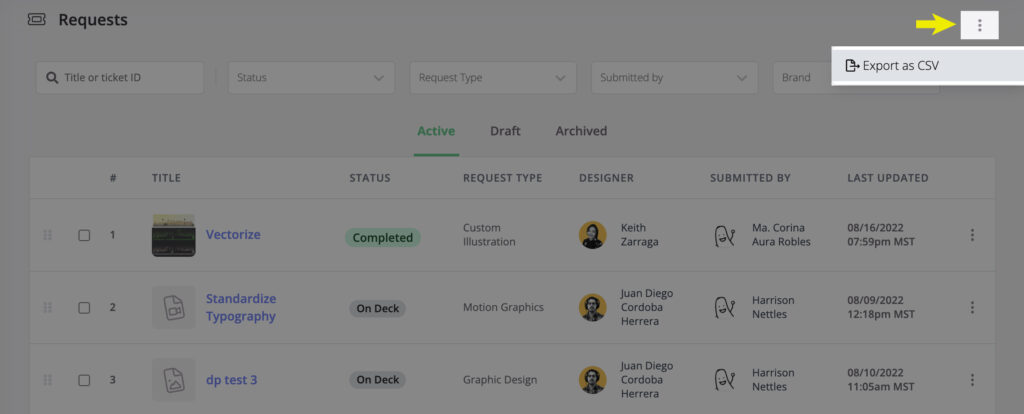 New enhancements to the revision experience
Optimized Revision Experience
When we saw how life-changing the revision experience was for motion graphics requests, we couldn't wait to implement it across graphic design and custom illustration requests. If you're scratching your head about our Motion Graphics solution, learn more about that here.
No need to stress about conveying ridiculously detailed specifics! You can now add annotations over (or within) each design to provide in-context feedback for graphic designs and custom illustration requests. This feature ensures that there is less ambiguity between you and your designer(s) during the revision process, reducing back-and-forth communication about requests and deliverables.
Providing more precise feedback should result in fewer revision rounds, faster time for final assets, and greater productivity. Say hello to improved efficiency!
Canva file delivery is now available on Premium plans!
Canva file delivery for graphic design
Like the cherry on top of the Summer release, you won't want to miss the productivity boosting new feature in our Graphics Premium plan.
With Canva file delivery, get your creative to market even faster. You can now request a Canva-ready file format on graphic design requests which can be edited inside your Canva account to:
Speed up your turnaround times by making simple edits on your own to increase your productivity.
Templatize commonly used assets and make on-the-fly minor tweaks to get your creative in the market with more efficiency.
Streamline team collaboration and brand consistency on finished designs without a meeting or email thread.

This is only available to Premium customers under the Graphic Design scope including:
All print collateral
All social media
All web & digital graphics
The best news – no paid Canva account is required.
What's next?
We couldn't wait, so here's the cherry on the cherry. Canva file delivery is now available in beta for Presentation Design requests! If you have a Graphics Premium subscription, give it a try and share your experience with us.
Already a Design Pickle user? We're glad to have you in the Design Pickle family and we want to make sure you get to know these new features. Connect with your Account Manager to learn more.
Not in the Pickle Jar yet? Check out our on-demand demo to learn more, or schedule a free consultation with our team to see if a creative subscription is right for you.
That's a wrap! Stay tuned for next quarter!