Russ Perry, CEO and founder of Design Pickle, is one of the 40 talented honorees selected by the Phoenix Business Journal this year as the 2022 40 Under 40 cohort.
SCOTTSDALE, AZ – Each year, a panel of judges carefully selects 40 honorees who, through their leadership, have positively impacted society by creating a better place to live and work.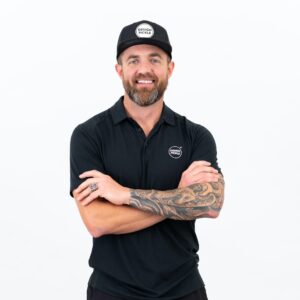 "It's a huge honor to be a part of this cohort. I know this group shares in the countless days, nights, and weekends it takes to bring a vision of value to life, while creating an impact on the lives of so many that help us get there. Here's to the 2022 Class of 40 Under 40!"
– Russ Perry
Russ' story leading up to this award is relatable by so many marketers and business owners – he found himself in a "pickle" trying to grow his small creative agency with more clients and design requests than he could reasonably accommodate, but a limited budget meant more headcount was out of range. This is what led to the first iteration of Design Pickle, a flat-rate and affordable subscription graphic design solution.
Perry's dream evolved from a one-man show (handing out lunchtime pickles at the 2015 Infusionsoft conference) to consistently ranking on Inc.'s 5000 Fastest Growing Companies. He recognizes that the Design Pickle model is the new model for how creatives and clients can work together with improved experiences and outcomes on both sides of the coin.
Proving that design talent is universal and the right designer for your job could be anywhere, Russ has disrupted an entire industry while simultaneously pioneering a new business model that has become indispensable for the very industry it disrupted. In the last seven years, Design Pickle has created more than 80 jobs in the valley and established a global workforce community of 500+, completing over 1.25 million design projects.
Russ is proud of what he has set in motion with Design Pickle's mission of changing lives with creativity and continues to do so as he gives back to the up-and-coming generation of hopeful entrepreneurs.
Congratulations to Russ for being chosen as one of these talented honorees, and for achieving his goal of creating one of the most powerful tools in the creative services industry before the age of 40.
###
ABOUT DESIGN PICKLE
Design Pickle is a subscription creative services company powered by custom technology and a global subscription workforce. Design Pickle's all-in-one creative services include graphic design, custom illustrations, presentation design, and motion graphics. Founded in Scottsdale, Arizona Design Pickle was created to deliver reliable, affordable, and scalable creative content to any business. Since its 2015 inception, Design Pickle has completed over 1.25 million creative requests. Visit designpickle.com to learn more.
ABOUT 40 UNDER 40 AWARD
This award program is designed to recognize forty professionals under the age of 40 from around the world that demonstrate leadership and exemplify a commitment to their profession.