"I was able to focus on operations and creating the best business model that I could without having to spend time diving into heavy graphic design." – Shaina Weisinger, Repurpose House
About
Repurpose House helps brands boost their marketing capabilities by repurposing their digital content. By creating traffic-driving mini content pieces, brands can get more clicks and more clients.
Founder Shaina Weisinger started out with a video production business called Wake Brand Media, which was where she first started using Design Pickle's service. She then moved on to Podcast Memes, helping podcast producers develop and market their brands, until she realized that solely targeting podcasters wasn't working out.
Finally, true to Shaina's passion for micro-content and repurposing brands, Repurpose House was launched in November 2018. With an average of one new customer a day, they've gone a long way from Podcast Memes.
Shaina "repurposes" digital marketers' existing content to boost engagement. Existing blog posts, videos, PDFs, whitepapers, and podcast episodes are turned into short videos and one-off graphics. These mini content pieces would then be able to direct traffic toward the main content.
Challenges
Though Shaina is also able to do graphic design, she prefers not to get down to the nitty-gritty of pixel pushing herself. She feels she could use the time to focus on operations and create the best business model possible.
For example, Repurpose House needs plenty of graphics that only have to be duplicated with minor edits. Doing this in-house would be both tedious and overwhelming.
How Design Pickle Helped
Unlike most clients, Shaina started Repurpose House fully knowing that Design Pickle would be there to help. By starting a business with this capability, she and her team were able to launch operations with maximum efficiency.
Shaina says, "Pretty much simultaneously, I was able to create processes, create the website, and have Design Pickle create all of the marketing assets we needed to use across many platforms and campaigns."




Design Pickle makes it easier for Shaina to work from inspiration. She would take screenshots of sample marketing materials she likes and send them to her designer.
Repurpose House also uses Design Pickle for internal graphic design needs, like case studies, one-sheets, and other marketing assets.
Results
Shaina has successfully used Design Pickle to help build an entire business.
Design Pickle is an integral part of Repurpose House's operations. 95% of the templates Shaina shows her clients are created by her dedicated graphic designer. By delegating the heavy (design) lifting and spending more time on creative concepts, Repurpose House can keep doing what they do best — help clients and fellow marketers fulfill their online potential.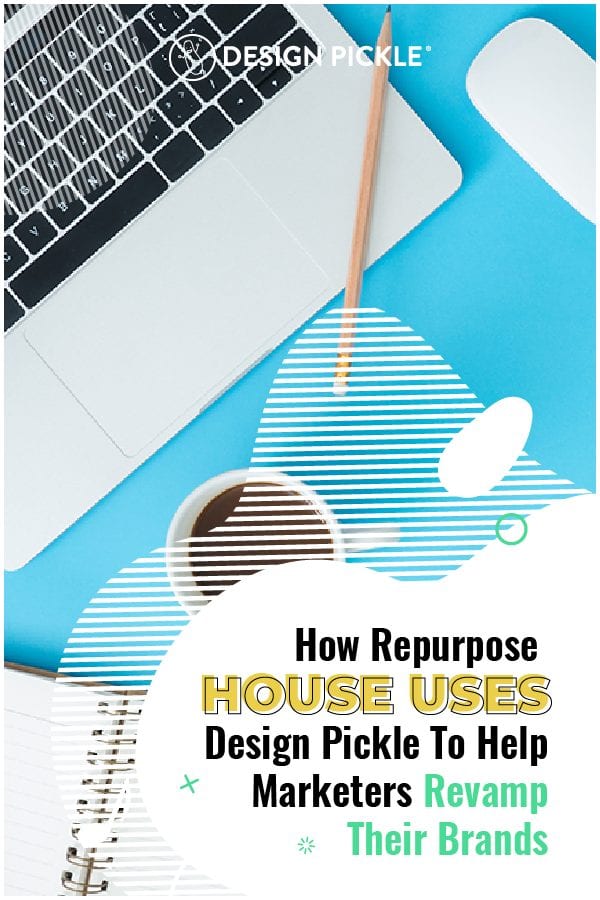 If you're interested in starting your own company and need some graphic design help to get you going, we'd love for you to try out Design Pickle. Click here to sign up.