"We reached out to Design Pickle, and after we settled in with a designer, sales started to increase every month."
– Jim Rutske, Cargo Czar
About
Cargo Czar is an Amazon Professional Seller with thousands of items in inventory. They specialize in e-commerce solutions, helping companies develop their own brands and launch products worldwide.
A friend- and family-owned business, they branched into Merch by Amazon and other print-on-demand (POD) platforms more than a year ago. The income from POD skyrocketed, prompting Cargo Czar to look for graphic design help. According to co-founder Jim Rutske, "The income from the POD sites went from cute and fun to OMG really quick!"
Challenges
The boost in demand meant needing plenty of good designs, fast. The quality, quantity, and speed required became overwhelming.
At first, Jim believed he could design any simple graphics on his own, but when the demand grew really fast, he struggled to come up with the quality and quantity needed. Designs used to take two hours each—hours that could be spent on other important tasks.
How Design Pickle helped
Cargo Czar can now request and receive eight professional designs in the time it used to take them to create only two.
Upon signing up for Design Pickle, Jim went through an hour of learning how to use Jar, and put in his first ten requests. The hour of client "training" was worth it: Jim can now spend as little as an hour a week on design.
Aside from merch, Jim also puts in requests for print materials, product manuals, and various website graphics. He taught his two sons how to create requests themselves, thus adding value to the subscription of this booming family business.



The company is also very happy with the creative rapport they've built with their assigned Design Pickle designer. This relationship is useful: when pressed for ideas, Jim is confident that he can put in "half-baked" requests with a cry for creative help, and his designer would deliver a finished design.
Of his assigned designer Jessie, Jim says: "I have really gotten to know him over the last year and without question I owe every one of my top sellers to him… I have yet to find something our designer couldn't do amazingly well."
Results
Sales have increased every single month during their Design Pickle subscription.
Print-on-demand design needs, client work, promotional materials…These are no longer things Cargo Czar has to struggle to finish on their own. With all of the time saved, they can now focus even more on helping their clients build online empires.
Not only is time saved; quality goes up, too. With much better typography and graphics, a few of their Design Pickle-designed products have even been in Amazon's top sellers.
Jim can't imagine it being much easier.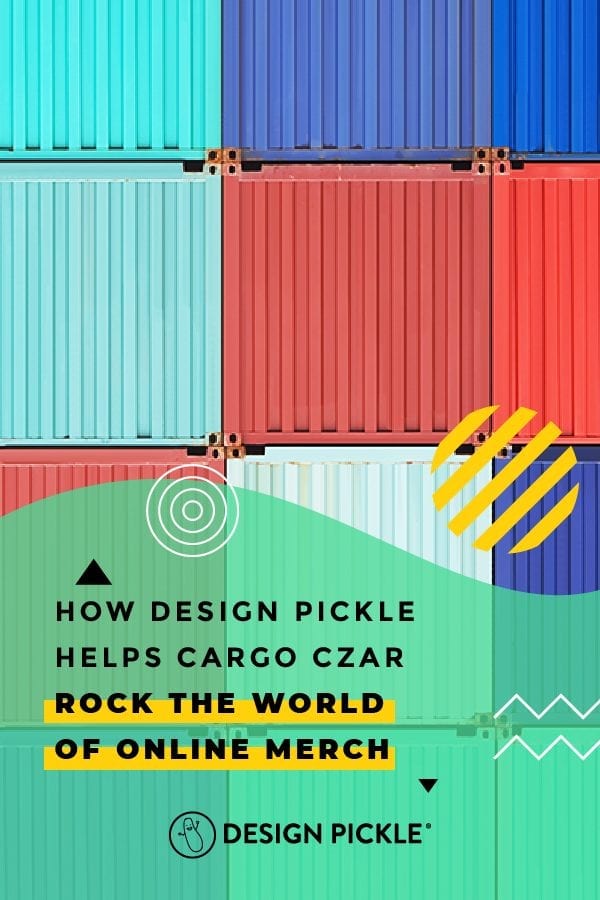 If you're into merchandise or marketing and you're tired of pushing the pixels (or your freelancers!) yourself, then maybe Design Pickle is for you. Click here to sign up.