So you've built a beautiful new website full of stunning graphics and features. But why is your bounce rate so high? And why can't you get a higher ranking on Google?
The likely culprit — your website hasn't been optimized for speed and performance. Website optimization is a crucial part of web development and maintenance, yet it's often overlooked by marketing teams. Failing to optimize your site seriously kills conversions and your overall visibility.
In this week's 5 Things Thursday episode, marketing guru Bryan Butvidas offers five steps to take that will optimize your website. Watch now so you can start increasing your site's speed — and improve user experience:
---
Video overview:
1. Set up a content delivery network (CDN)
A CDN is a group of servers that provide fast delivery of digital content. This allows for a quick transfer of assets needed for loading your website content (such as HTML pages, javascript files, images, videos and more). Bryan recommends Cloudflare!
2. Google Development Tools
Google Development Tools help you keep tabs on how well your website is performing on Google. It also reveals any Javascript errors, image load times, and overall site load times. The higher your score, the lower your bounce rate — leading to more conversions.
3. Minifying your Javascript and CSS
Increase your site speed by removing any unnecessary space or characters from your code. This can drop your load times by up to 30%. There are plenty of free tools that minify your code with the press of a button (such as Minifier.org).
4. Optimize your HTML
When copying text from a Word doc and pasting into your website, extra code from Word comes along with it. This unnecessary code causes lower load time. To avoid this, make sure to place your content into a plain text tool first (such as Notepad) before adding to your site.
5. Optimize your images
Adding large images seriously kills your site's load time. Aim to keep all of your website images under 100kb — and if you're adding multiple images, try to get them under 50-40kb. Pro tip: make sure your in-house designer optimizes your images for the web. Your designer from Design Pickle team can also optimize or resize images for you in batches — so you can prevent mega load times for all of your pages.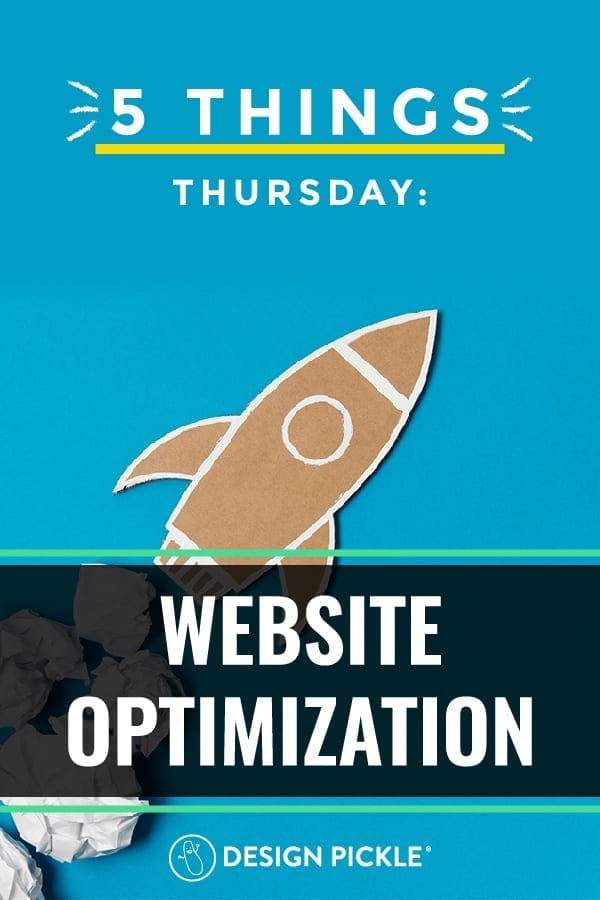 ---
Even if you have high-speed internet, don't assume that your viewers do. In this day and age, people are most likely looking at your website on their mobile devices. That means they could be on a 2G network — or worse. Optimizing your website for speed, performance, and conversion makes the browsing experience better for any potential customer. Follow these 5 tips and you'll be on your way to higher rankings and higher conversions!