In an era of global uncertainty, flexible business solutions that help companies scale are more important than ever. For businesses that need creative help (which is pretty much every company!), traditional hiring models are becoming more and more obsolete.
These traditional models — using an agency, finding a freelancer, or hiring a full-time employee — don't provide the flexibility companies need in today's business landscape. Luckily, there is a new solution for outsourcing creative work that's flexible and scalable: the subscription workforce.
Design Pickle was the first company to create and adopt the subscription workforce model in the creative industry, and businesses everywhere can benefit from utilizing this low-risk, fixed-cost model to achieve their content creation goals.
What is a Subscription Workforce?
When Russ Perry founded Design Pickle in 2015, his vision was simple: to make graphic design more accessible for businesses while creating a steady stream of work for designers. The subscription workforce was a natural byproduct of this vision.
Designers became the heartbeat of the subscription workforce, giving them access to a variety of design projects and a regular workload. Meanwhile, customers gained access to a pool of world-class creative talent without having to go through the rigors of hiring in-house or searching freelance marketplaces.
By outsourcing creative production to a subscription workforce that can produce work faster, better, and at a more cost-effective rate, businesses can scale in a way that is near-impossible in traditional hiring models. This not only leads to increased productivity — without the risk and expense of hiring in-house, looking for freelancers, or onboarding an agency — but it also frees up additional resources that can be invested in a company's core competencies.
To put it simply, a subscription workforce:
Allows businesses to break free of traditional contracts and outsource help with minimal risk
Provides flexible plans at predictable prices
Gives you the benefits of in-house designers without long-term commitment
Think of it this way: A subscription workforce is like adding a whole department to your workflow, with the benefit of a ready-made system backed by smart-working technology and customer support and with the least amount of financial risks and HR headaches. It's certainly a revolutionary departure from the constraints of traditional outsourcing methods.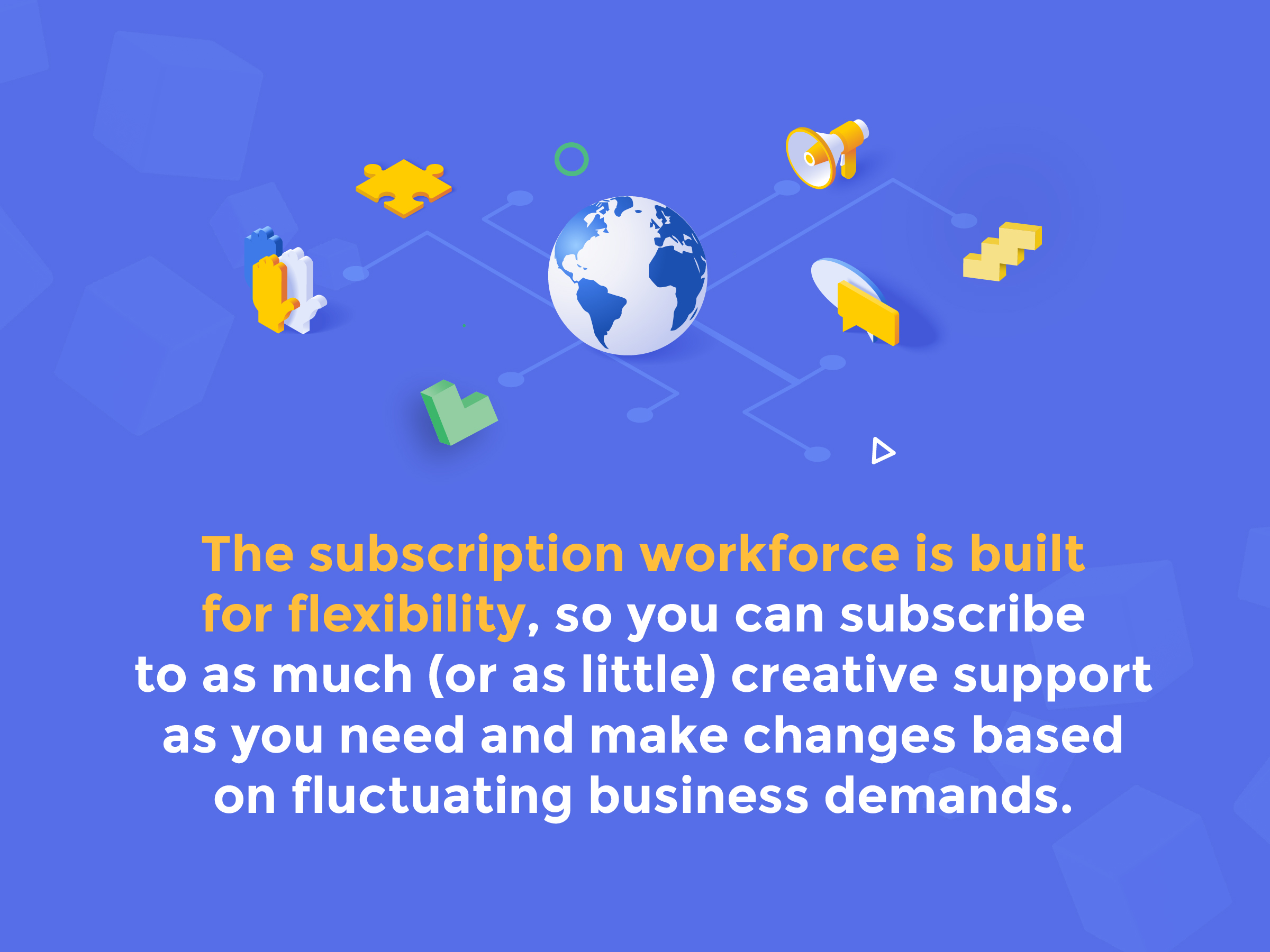 How Does a Subscription Workforce Work?
A subscription workforce operates just like any other subscription service you might have (think Netflix or Spotify) — for a monthly or annual flat rate, you gain access to a product or service. However, the key distinction with a subscription workforce is the workforce element. With a subscription workforce, businesses gain access to highly skilled team members. This model makes specialized labor more easily accessible to businesses than ever before.
The subscription workforce is built for flexibility, so you can subscribe to as much (or as little) creative support as you need and make changes based on fluctuating business demands. This means you don't have to commit to a long-term solution or risk having unnecessary expenses.
If your budget suddenly fluctuates — maybe last month you needed a lot more designs than you do for upcoming months — you won't be stuck with the costs of an overinflated roster of employees or an agency on retainer. Instead, you simply add or remove subscriptions to best fit your business needs.
But what really makes the subscription workforce stand out is its ability to do all of this without sacrificing the stability of creative deliverables. With a global workforce of professionals and seamless technology to better enable creative production, the subscription workforce ensures that there is always someone skilled to get the work done.
For the workforce itself, access to benefits and professional development opportunities create a fulfilling work environment for long-term opportunity. This creates a stable foundation, ensuring that neither customers nor workers will ever be left high and dry.
The Increasing Value of Business Flexibility
The world is changing fast. Since 2020, quarantine restrictions across the world resulted in businesses constantly updating their strategies to stay current. In fact, agility in decision-making is considered one of the most important features differentiating successful companies from not-so-successful companies during the pandemic.
In this context, flexibility is one of the most valuable features a business can have. When the next world-altering news story comes out, you'll need to be prepared to react in real time. A subscription workforce can aid in your preparedness and make a difference in your bottom line.
Imagine an entire segment of your workforce being able to easily expand if you need extra help, or decrease if you're in a slower season. This is a game-changer for any company, and it's possible for yours with Design Pickle. Learn about Design Pickle's solutions for entrepreneurs, and for more powerful business growth strategies, download The High Growth Playbook for CEOs.