Are you making the most of LinkedIn for boosting the visibility of yourself and your business?
With over 450 million members, LinkedIn is a great platform for building your network and managing your professional identity. But for some reason, many people have equated that with "boring", "straight-laced", or "resume"—where it's all about words and said language.
While you do obviously want to convey a good impression, you don't want to put people to sleep!
LinkedIn may not be Instagram or Pinterest in terms of visual content, but if you want to have a page, profile, or posts that jump out and grab people, you need to go beyond words and look at how you can spice it up visually.
In a recent Copyblogger podcast, they asked the question, "Are you doing the right things on LinkedIn?" In their interview with Alex Rynne, one of the key points was that visual is the new headline.
In a sea of words, content with compelling visuals gets 94% more views than content without them. Besides that, good visual content can help your LinkedIn profile have that extra edge over others, especially if it helps to make you more interesting.
Here are some strategies for visually rocking LinkedIn:
#1. MAKE THE MOST OF PROFESSIONAL PORTFOLIO
If you haven't been using this feature yet, you need to catch up! Professional Portfolio was introduced in 2013 and allows you to add rich visual media.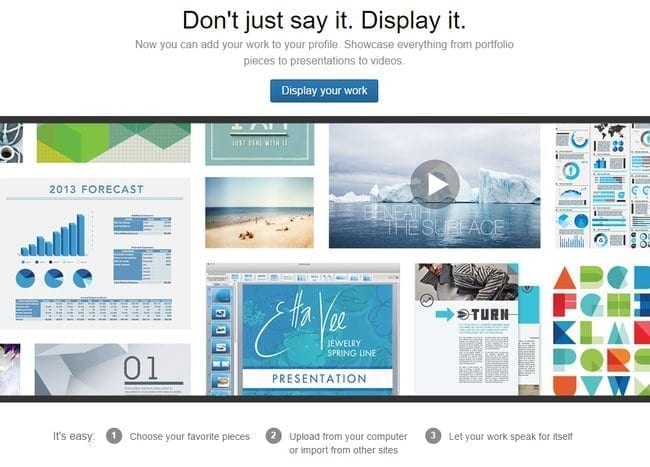 You are able to add content in the form of images, audio content, videos, and Slideshare presentations. Use these on the experience, summary, or education sections of your profile to attract attention and provide a higher level of interest than words alone can give.
How many supporting pieces of content do you have that would be better showcased visually? You can upload files or display items visually with a link. This might include portfolios, ebooks, and articles you have written too. Have you written a book? Consider uploading an image of the cover to add more interest. Basically, if you can show something visually instead of through text, do it!
Here are some other ideas for showcasing visual content in your portfolio:
Use Slideshare to create slides of testimonials about you.
Create a video reel of presentations you have given.
Give a video summary of yourself for the summary section.
Showcase screenshots of tweets which can act as testimonials or say something about you that you'd like people to know.
#2. PROFILE AND COVER IMAGES
Surprisingly, many LinkedIn pages and profiles still do not utilize the profile and cover images. If you haven't done so, this is important. Your profile picture can a trust element. Say you were on LinkedIn looking for a person in a certain profession or even digging into the person behind a business you're interested in—are you going to go for those who have a profile image or those left blank?
The chances are you'll feel more comfortable with the profile picture because it seems more like the person is being open—as long as it's a decent photo! Avoid things like wearing sunglasses, too many dark colors, and full body shots that will diminish your face in the profile picture.
Use the cover image to display a high-quality picture which helps to say something about you. (See Design Pickle founder, Russ Perry's profile below):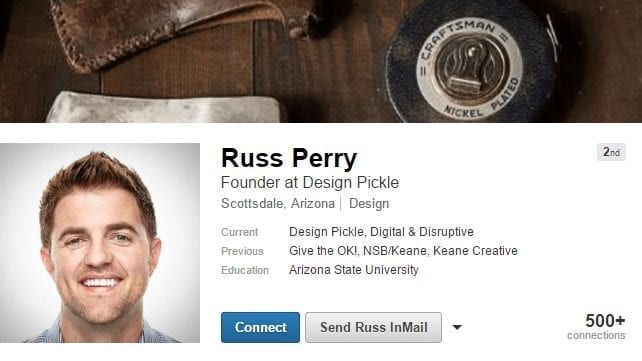 As for business pages, the same thing applies. Use a profile picture and cover image that reflects your business and consistently demonstrates your branding so that you will be instantly recognizable to people who have already seen you around. Complete profiles say something about you; a) you are transparent about who you are and what you do and b) you pay attention to detail!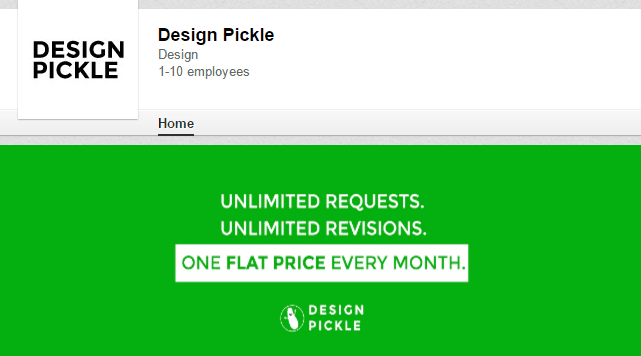 #3. USE IMAGES FOR PUBLISHER ARTICLES
Are you using LinkedIn Publisher yet to share useful content and build visibility? (Check out this great article from Social Media Examiner about how to use it).
One of the features of using Publisher is that the last three articles you published appear on your personal profile or business page (depending on which you published under). To help these really pop, make sure you choose a header image for each article you publish that represents the topic you are talking about and is consistent with your brand image.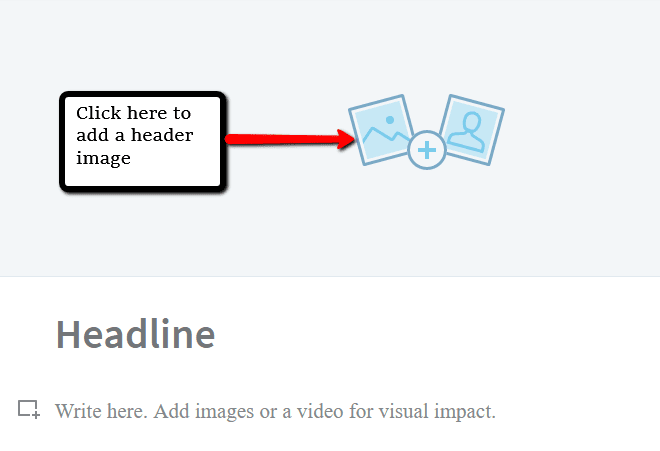 #4. INCLUDE YOUR TEAM
There are some great examples out there of brands who include team activities or "get to know you" type content on their LinkedIn pages.
Ideas might include:
Interviews with team members (including photos, of course!).
Quick photo posts highlighting events.
"Behind the scenes" shots showing how your team is getting work done or preparing something new.
This is another way to humanize your brand, and images are there to help. People love to put faces to names and to see what kind of people work for the companies they are looking at. It's another way to foster trust and a kind of "social proof" that you do have good people working for you!
Virgin Media often includes team updates or interviews on their page. Sometimes it's related to encouraging new hires to come onboard (a great use of LinkedIn too, by the way. It's not necessarily just for the customers you are "selling" to!). They also have a variety of interviews and even manage to work them into significant events on the calendar, such as the National Inclusion Week post below.


#5. DEVELOP SOME SLIDESHARE SKILLS
We mentioned earlier that using Slideshare on LinkedIn is a good idea. Besides giving you the opportunity to make your profile or page pop, Slideshare is actually owned by LinkedIn—meaning it's easily integrated.
Head to the "Interests" tab at the top of your page and you will get a drop-down for Slideshare. From there you can easily either share current Slideshare presentations to LinkedIn or upload presentations you've already made to Slideshare.
Here are some tips for that:
You can upload webinar slides and embed the video recording onto a Slideshare presentation.
Tools like Canva have slide templates and allow you to create professional-looking slides.
You could create short, themed portfolios using Slideshare presentations.
Make sure you're really showcasing your best work. Don't put up any old "death by powerpoint" show!
FINAL THOUGHTS
While you may not necessarily think of LinkedIn as one of the traditionally visual social media platforms, the truth is—if you want to stand out—you need creative visuals and graphics to really rock it.
Content with compelling visuals gets 94% more views. Images can help boost your perceived trustworthiness as well as your brand image.
Multimedia elements are also great for spicing up your pages and profiles. In a world with so much readily-available content, it helps to be able to stand out from all the words.