Social media is a fast-changing game. Even without a global pandemic turning the world upside down. Social platforms revolve around a 24-hour news cycle, distributing and responsive to information regarding the world around us. From pop culture banter to political debates held on Twitter, social media is a constantly active discussion board.
Typically, this leads to great content for marketers. To position their brands as culturally aware and relevant, communication managers often tailor their social media output to mirror the news their audience cares about.
But what do you do when the news everyone cares about is rooted in a global pandemic? Naturally, people look to each other and their communities in times of crisis. The internet has long been a place to air anxieties, share information (or misinformation), and offer comfort. It is during these times, perhaps more than ever, that your brand needs to mobilize a communication and social media strategy.
And while unprecedented events, such as the Coronavirus outbreak, will require you to improvise and learn as you go, there are steps you can take to ensure that your brand is best prepared for current and upcoming challenges.
Pivot. Pivot. Pivot.
It is a social media best practice to plan content calendars in advance. As much as possible, communication managers anticipate trending topics, holidays, and relevant events to center their content around. When a crisis hits, however, it's essential to reflect on existing plans.
More than likely, the campaigns and content you had planned will be better suited for another time. Acknowledging the needs of your audience should become your communication priority. If you continue to release content without addressing a crisis, you risk appearing negligent and tone-deaf, something that will alienate you from your audience.
Instead, use this time to practice transparency. Let your audience know that you hear their concerns or worries and support them during this time. Protocols and cultural sentiment will continuously change in a time of crisis. Check your scheduled content at least once a week, and adjust as needed.
When news surrounding the Coronavirus pandemic revved up in March, our team shifted the focus of our Instagram and Twitter feed. Our tone on social media has always been lighthearted, friendly, and humorous. It was important to us that we preserved our brand voice but applied sensitivity. To position ourselves as a source of comfort and inspiration for our community, we began creating materials, such as stress relief guides and work from home tips, to post on our platforms.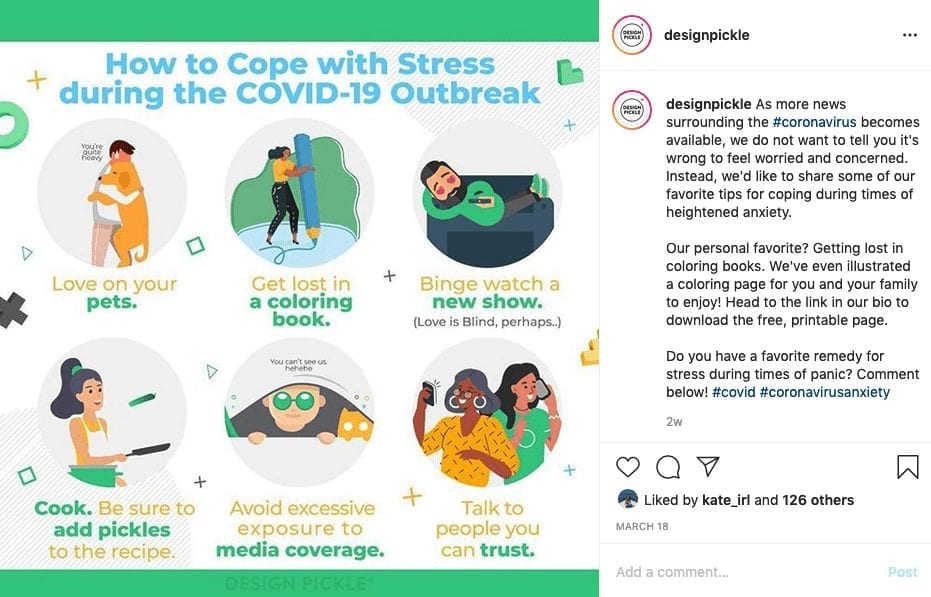 Build Community Through Conversation
At the core of social media is a conversation, especially during uncertain times. While marketing professionals usually focus on metrics and conversion, we encourage you to step away from click-driven content during times of crisis. Instead, shift your priority to being a part of conversations taking place on Twitter, Facebook, Instagram, LinkedIn, and even TikTok. Use your platform to build community and share or amplify the voices of your audience.
We engage our followers by monitoring trends specific to the community and leading or joining a discussion. For example, as the COVID-19 outbreak forced the world to self-isolate, we asked our Twitter followers to provide advice on working from home.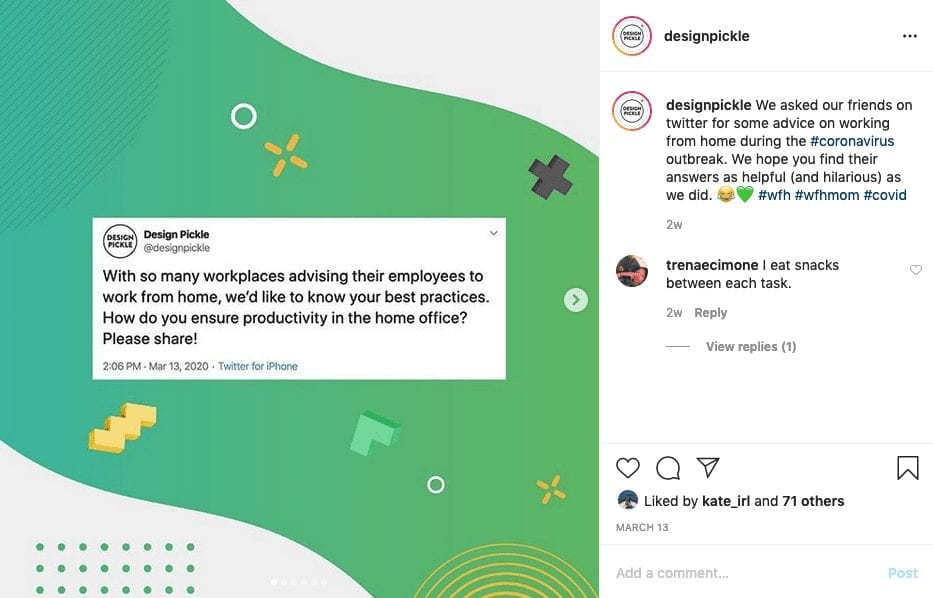 The conversation resulted in humorous and helpful tips that we later shared on our Instagram.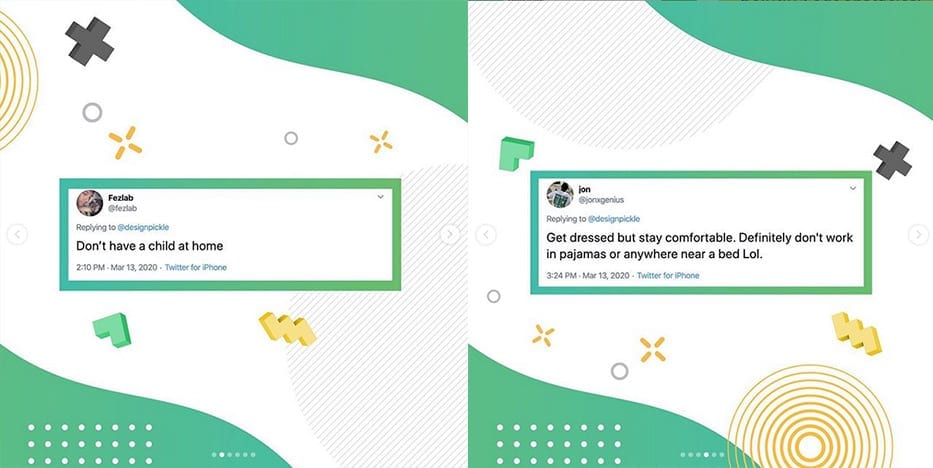 It's also important to note that changing times may cause businesses to slow and budgets to tighten. Social media content created solely for sales often appears as self-serving and inappropriate. With that said, this does not mean you can not sell your products or services. Use your owned channels, like email, to drive conversion and send product offers layered with empathy. Leave social media for storytelling, supporting, and sharing entertainment.
---
Related Articles
33 Facebook Ad Examples to Inspire Your Creativity
Bulletproof Creative Processes for Sales and Marketing
The Millennials' Guide to Marketing to Gen Z
---
Lend a Hand Where You Can
During a global crisis, it's almost certain that every business industry will face an impact. And while many brands will oddly insert themselves into conversations, there may be an opportunity for your brand to be of assistance.
Design Pickle is a remote-first company, providing virtual graphic design services to customers at a flat monthly rate. As more and more businesses shifted to home offices in the wake of the COVID-19 outbreak, it made sense for our company to mobilize our efforts to reach this crowd.
From remote work guides and blogs to product discounts, we focused our attention on being helpful leaders in the virtual workplace. We revamped our copy on several ads to demonstrate the value our services had during this time. We also reaffirmed our commitment to the creative community.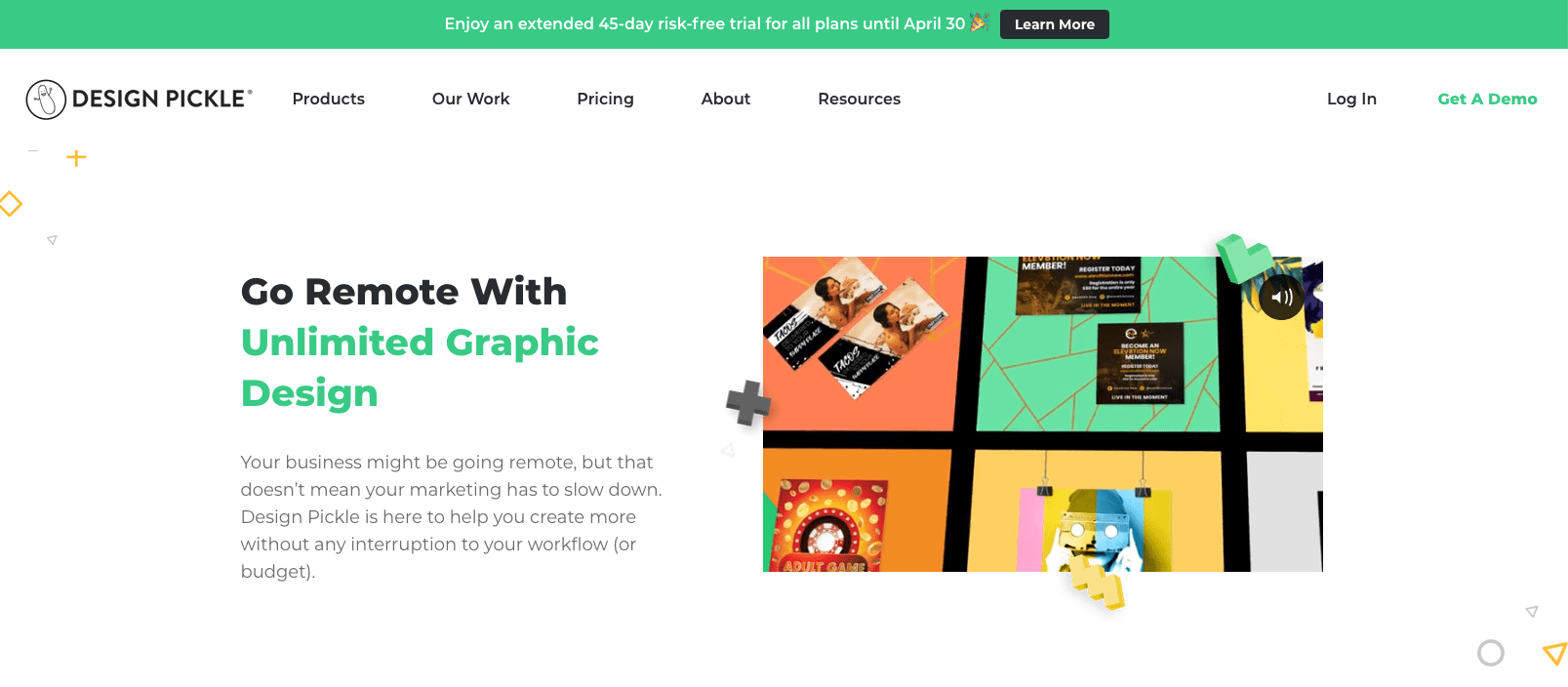 Collaborate
As mentioned throughout this post, people seek community during times of crisis. Look for ways to leverage this on your social media platforms. Create content aimed toward mass involvement, such as a personal development challenge. You can also provide recommendations on activities that people can do on their own (or virtually) and discuss them.
The COVID-19 outbreak brought forth a high demand for virtual summits as conferences and events were postponed or canceled. This created an excellent opportunity for collaboration among industry leaders. Your professional networks strengthen through shared space, content, and effort. Audiences receive an experience they may have been unable to have without the collaboration.
This week, we sponsored the virtual DUDE Fest Remote Workforce Summit 2020 in response to the pandemic. We joined 13 thought leaders in various remote-first industries to provide expertise on how to thrive with a virtual team. The event aimed to be both informative and entertaining and provided an additional opportunity to engage with our audience.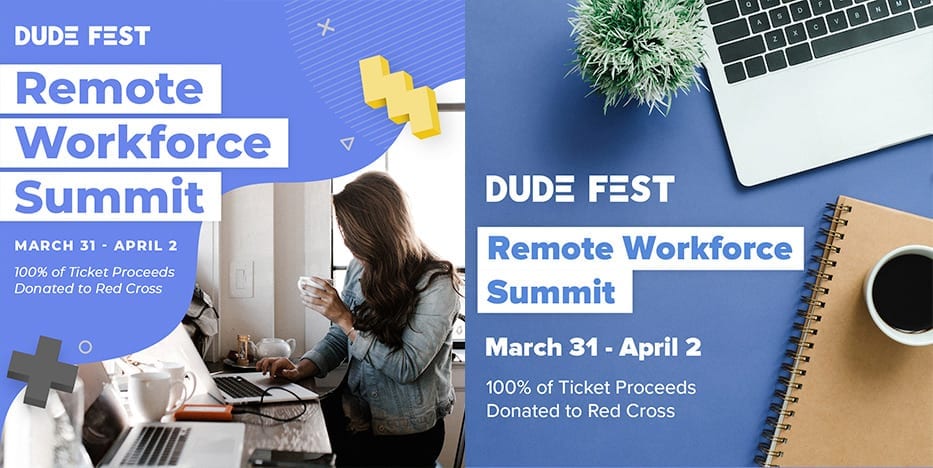 Final Thoughts
No matter how much we plan for the future, it is inevitable that unprecedented events will cause us to rethink our social media gameplan. However, by practicing transparency, promoting community, and seeking ways to be most helpful to our audience, we'll be ready to deal with the disasters that come our way. As always, Design Pickle is available to help troubleshoot your creative challenges such as designing graphics for your social media, and encourage you to keep moving forward.