Every month Design Pickle emails their community a single question regarding business, health, marketing, or technology. The survey data is tallied and turned into an informational blog (just like this!) based on the answers provided.
This month, we wanted to know:
How much time do you spend on social media each day outside of work?
The survey results were surprisingly polarized; 28% of the community reported 1 hour or less of social media use each day outside of work, while 38% of the community reported 3 hours or more of non-work-related social media use.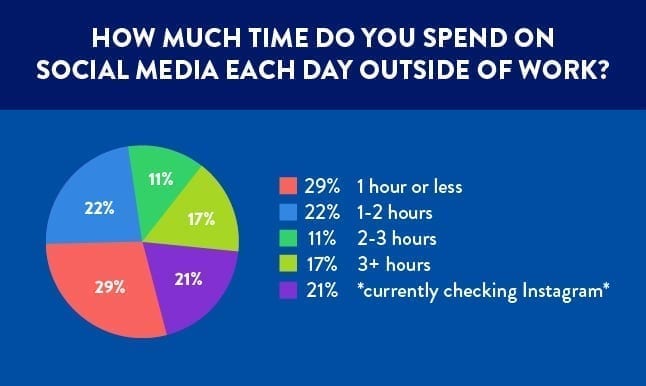 Comments ranged from "It's my life"  to "I only use social media for business reasons." Some admitted to constantly checking social pages all day long, while others say they don't even own personal pages and only use social media to advertise their business.
But how much is too much time spent on social sites? Are there psychological implications for pursuing social platforms too often? How do you know if you've become "addicted" to social media use?
Social media use, by the way, includes any online platform used to share and receive information from other members of that community (think Instagram, Facebook, Twitter, Snapchat, LinkedIn…).
The number of people using social media has skyrocketed over the last few years, especially amongst older adults. The Pew Research Center reports that nearly 7 out of every 10 Americans who use the internet use Facebook, just one of many popular social media sites. And 75% of Facebook users and 60% of Snapchat and Instagram users report to checking the site every day. 
Unfortunately, depression in the United States has increased with the rise in social media use.
While there is currently no official diagnosis for 'social media addiction,' a large-scale cross-sectional study published in Psychology of Addictive Behaviors found that "correlations between symptoms of addictive technology use and mental disorder symptoms were all positive and significant."
PubMed compares addiction to using social media to substance abuse, noting that "Behavioral addiction such as internet addiction is similar to drug addiction except that in the former, the individual is not addicted to a substance but the behavior or the feeling brought about by the relevant action."
Recently, parents have even begun checking their kids into rehab for their smartphone "addiction".
In other words, it's complicated.
Social media 'abusers' are not actually addicted to the internet, per se, but they may become addicted to the feeling brought about by using social media. Chamath Palihapitiya, Facebook's former vice president for user growth, went so far as to say, "the short-term, dopamine-driven feedback loops that we have created are destroying how society works."
Dopamine is a chemical in the brain associated with reward and reinforcement. When something positive happens to us (e.g. we eat a delicious pickle or get a "like" on a new post), dopamine is released to "reward" our behavior. This dopamine "reward" essentially reinforces that behavior, or teaches the brain to continue seeking those positive experiences. Therefore, compulsive social media use turns into:
Notification. Dopamine Release. Rinse. Repeat.
That isn't to say we should avoid the notification-driven "high" altogether. Rather, we need to determine the difference between healthy and addictive behavior on social media and seek professional help when a healthy behavior starts to become addictive.
Common signs of addictive behavior include:
Spending most, if not all of your free time engaging in the behavior

Continuing despite negative or harmful consequences

Neglecting responsibilities (work, parenting, or otherwise) to spend more time indulging

Feeling like you

have

to engage or

can't

cut back

Feeling lost, anxious, depressed, or panicked when/if you can't engage in the behavior  

Difficulty focusing on anything else

Experiencing withdrawal symptoms when trying to quit

Endangering yourself, your family, or your financial health to indulge
If you identify with any of these behavioral addiction warning signs, please seek professional care as soon as possible.
The definition of "too much" social media is different for everyone, but any behavior that endangers your safety or forces you to neglect responsibilities needs to be addressed immediately.


Behavior addiction can be treated through rehabilitation programs with a therapist or in a behavioral addiction treatment center. Treatment programs are not one-size-fits-all, so you may need to consult online resources for choosing the best treatment program for you. Scope out available resources in your area by searching "behavioral addiction treatment program near me" or "behavioral addiction therapists near me" on a search engine. Do your research and read client reviews before making a decision!
If you don't quite identify with the above criteria, but do feel like your social media consumption is distracting you from personal growth, start taking steps to gain complete control over your behavior.
5 steps to regain control over your social media use:
Download an app like

In Moment

or SPACE 

to track your usage on social media sites and set time limits on individual platforms. Seeing the amount of time you spend on social sites each day may be the wakeup call you need to

log off.

Watch

Signs You Are Addicted

(episode 20 of The Russ Perry Show)

and download the accompanying action guide. Russ Perry is the author of

The Sober Entrepreneur

, a book on his experience as an entrepreneur struggling with – and overcoming – addiction.

Watch

Why our screens make us less happy

, a Ted Talk by Adam Alter explaining some of the psychological effects of prolonged screen time with helpful tips for creating "stopping cues" for social media use.

Turn off social media push notifications on your phone and block pop-up notifications on your desktop computer. The fewer notifications that come across your screen, the less distracted you'll be from the task at hand.

Become more mindful of your behavior on social media. Ask yourself, "What is the reason I'm on this app? Am I using this as a distraction to avoid something else in my life? Am I just bored?" If you aren't purposefully using social media in a way that makes you experience joy, close the app and focus your attention on the present moment.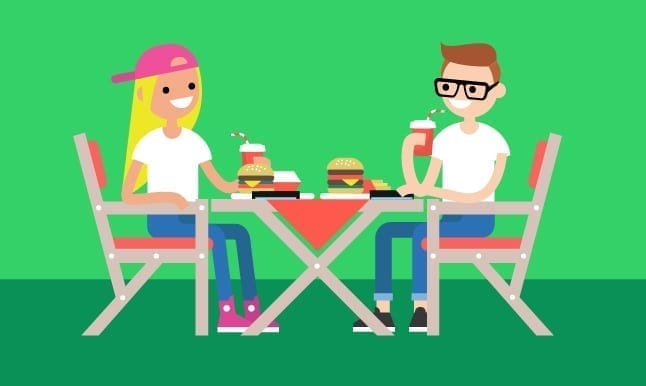 If we don't take steps to control our social media consumption, social media will start to consume us.
Use social media sparingly, with intent, and only when you feel completely in control of your behavior. If you feel like your behavior on social apps is borderline addictive or obsessive, talk to a healthcare provider about treatment options.
Less time on social sites = more time to be social and experience new sights. Party on, pickle people!