So you've gone through the steps of brainstorming, planning, and launching a social media campaign with compelling content. And you've learned about campaign pitfalls to avoid. Congratulations! You're off to a great start.
But it's only a start.
Creating a marketing campaign is not the time to set it and forget it. It's about ensuring your content is engaging for the duration. If you make a few adjustments post-launch, you're sure to see a difference in performance and return on investment.
The more attention and TLC you show your campaign, the more results you'll see. Below are seven areas to prioritize in order to get the most mileage from your social media campaign strategy.
1. Make adjustments based on audience engagement.
You've set up your content calendar, you've created your content for the posts, and you've started launching. Now, though, be ready to make tweaks to your posting schedule, the content itself, and your overall strategy — all based on the way your audience is responding to your social media content.
This is the golden rule of social media campaigns. You can do all the planning in the world, but some of the decisions about when and what to post will have to be game-time decisions. That's because you won't know how your audience will respond and engage with the campaign's content until they're already seeing it. For example, let's say your tweets with customized GIFs are getting more engagement from your audience than your tweets with a link to a blog post. That should signal you to incorporate more GIFs into your social content for the rest of the campaign.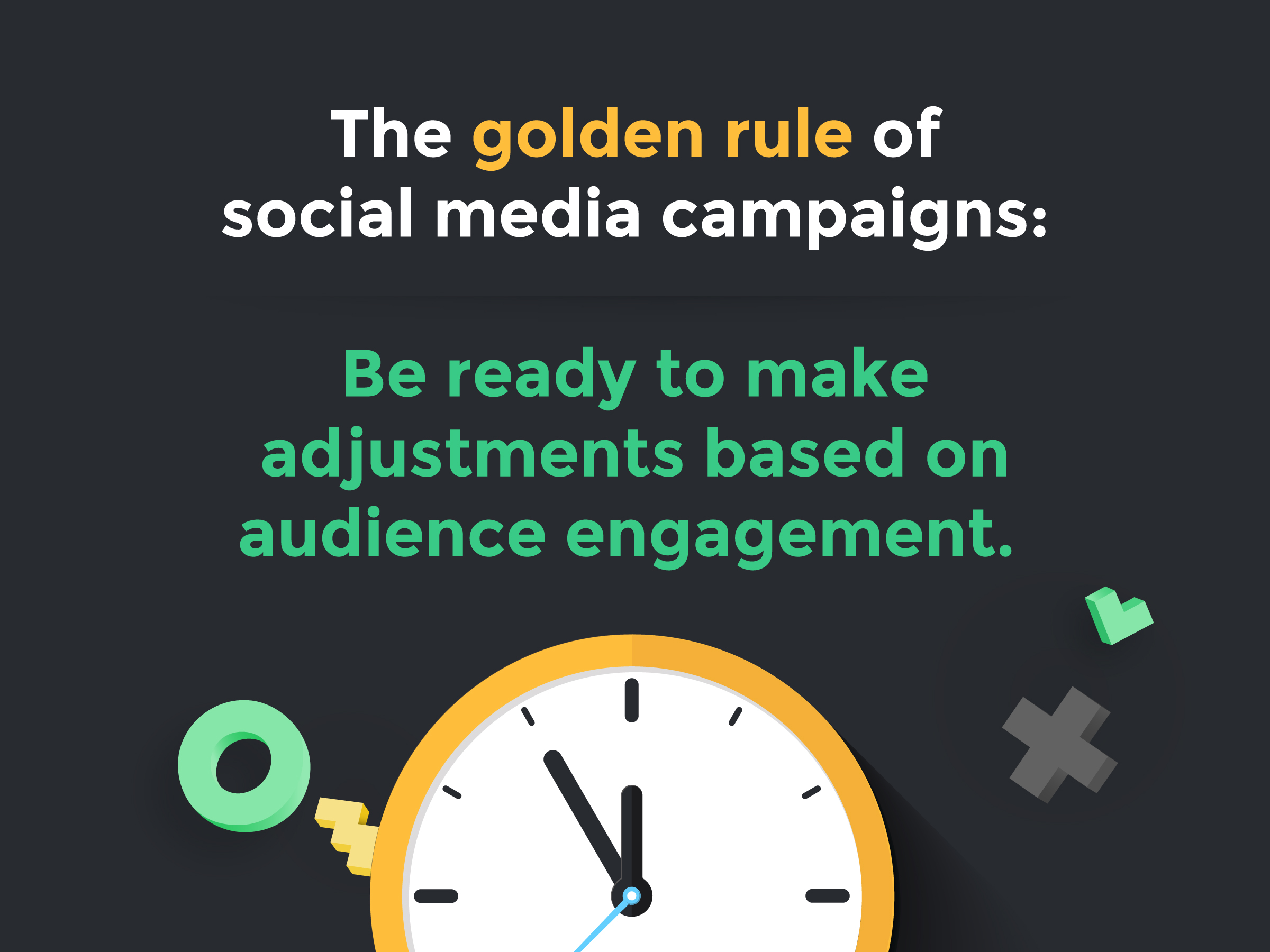 2. Choose an engagement manager.
Designate one person who will be in charge of engagement. That individual will be the point person for all types of communication with readers and viewers, including participating in public groups or starting exclusive groups where you can share news and insider information with fans. Your engagement manager should also understand social media basics like posting, tagging, and how to properly use hashtags.
3. Pay attention to key metrics.
You set goals for your campaign in the planning stages. You might want to raise brand awareness, drive more traffic to your website, or increase page followers by 5%. Keep a close eye on the key metrics associated with your goals as the campaign unfolds. You should monitor those analytics at regular intervals depending on how often you are posting content.
Remember, though, to be patient. It could take a few posts to start to see engagement patterns emerge. For example, it might take six posts before you can learn that your target audience interacts more often with social media in the evenings rather than the mornings.
4. Boost posts to target segmented audiences.
By monitoring the engagement metrics, you can see if there are any patterns around who engages with your social media content. If you notice that, for example, women between 25 and 30 who live in a specific city are connecting with your content or converting more than other groups, it could be worth it to boost posts in order to reach more users who fit that profile. Facebook ads, YouTube, and Instagram make it relatively easy to pay extra to promote your posts to specific audience segments. Do the math to make sure the ROI is worth the extra you'll spend on the boost.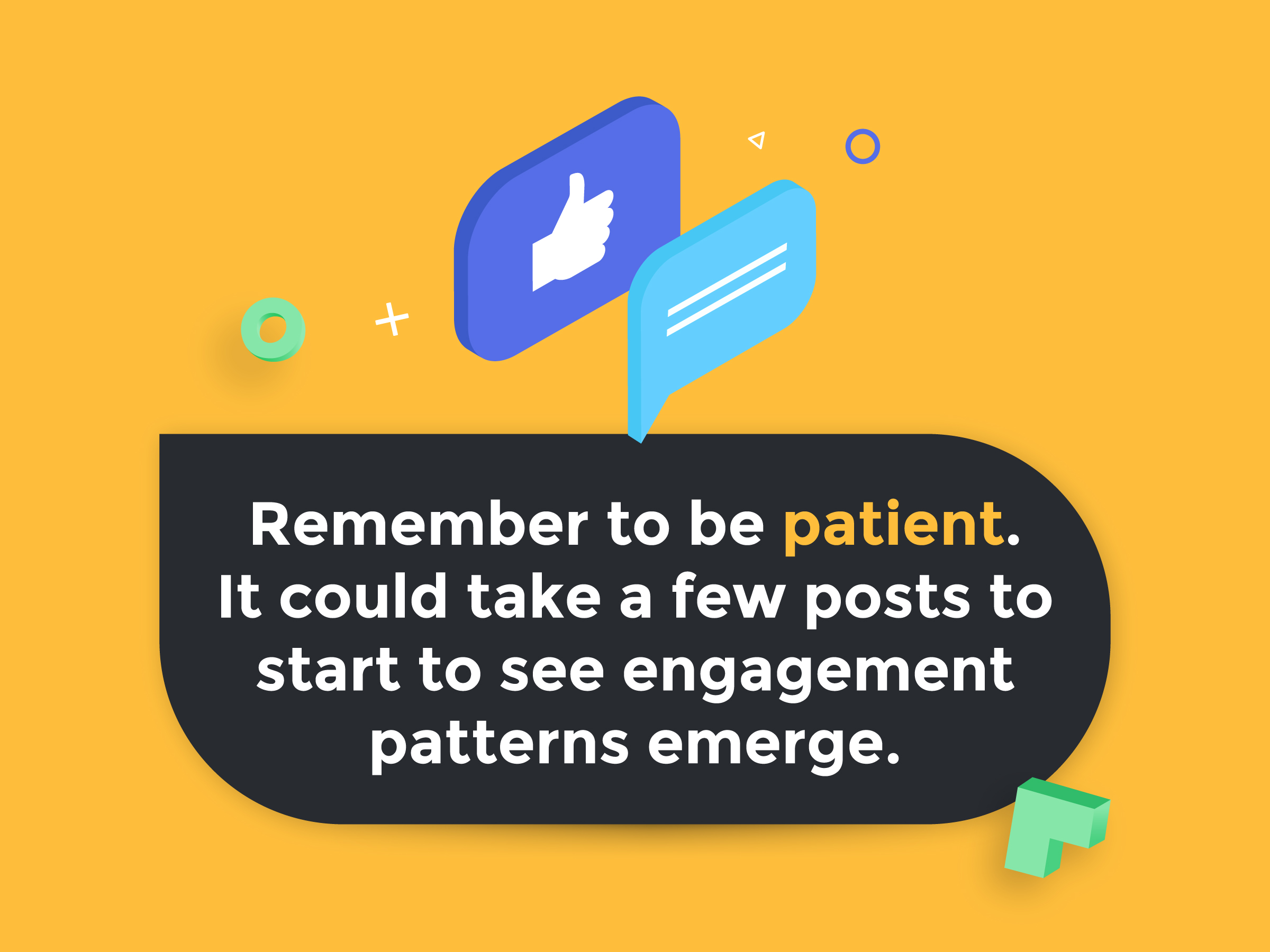 5. Stay true to one design concept.
Every digital marketing campaign needs an overarching theme. As you work with design talent to create pieces to augment and amplify your current campaign, keep a consistent look. Don't muddle your campaign with colors or elements that stray from the campaign's original theme. Also, keep in mind your company's own branding (colors, fonts, etc.).
6. Turn on the visuals.
Is it any surprise that a photo, even if it's just been taken with a phone, gives a 35% retweet push on Twitter? As part of your ongoing marketing campaign strategy, look for ways to incorporate more visual cues into the content you plan to publish. You could ask your designated Design Pickle graphic designer to put together a theme-based infographic or an eye-catching graphic for your social media, for instance. You could also pepper blocks of copy with emojis.
7. Respond to comments.
One good way of quickly gaining social media momentum is to react when people comment or direct message your team. Ensure you engage your audience as long as possible by responding to comments and messages to encourage emotional responses. After all, research on social media engagement indicates that users tend to respond best when content moves their "feelings" needle.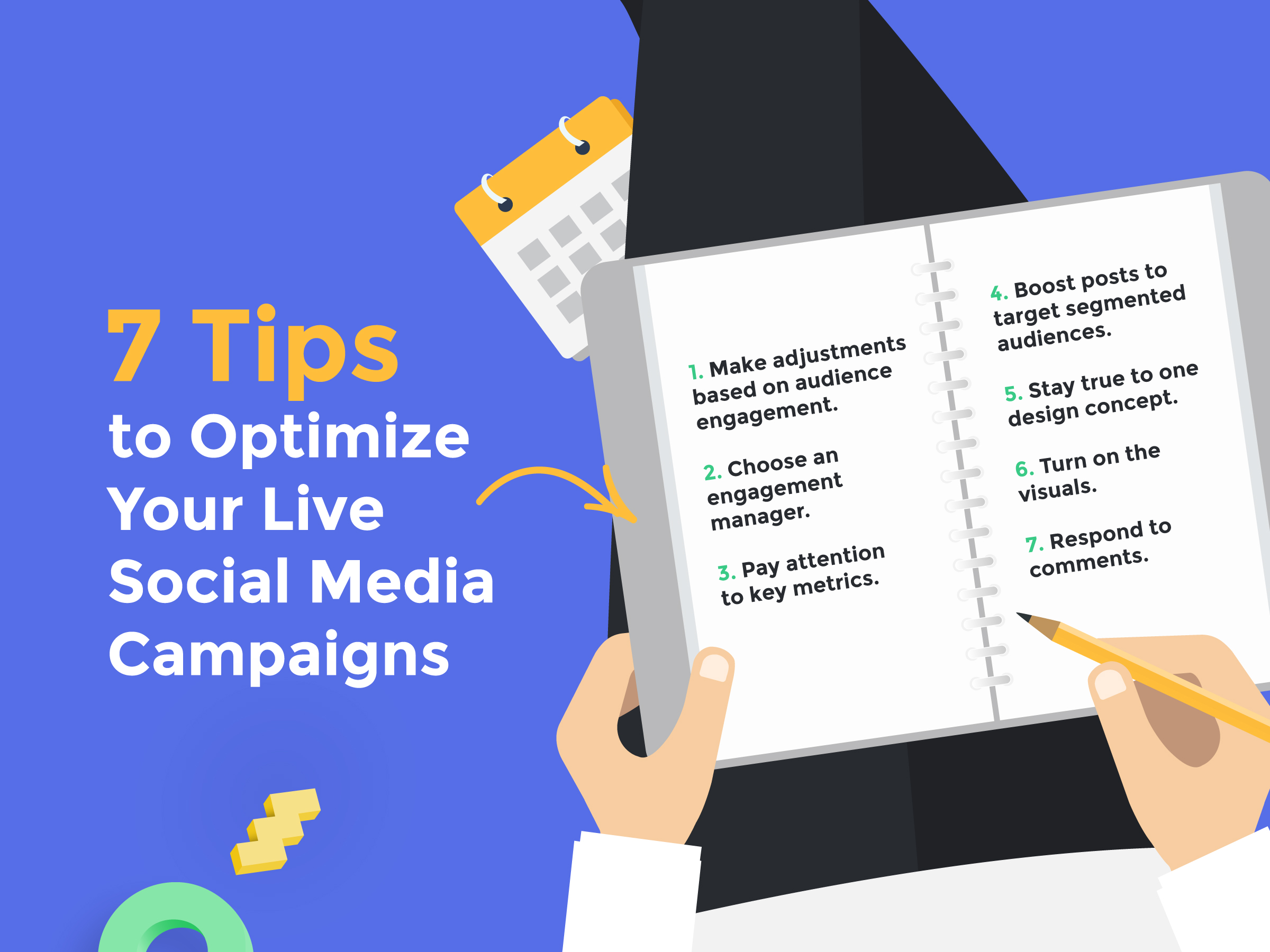 Final Thoughts
Social media campaigns don't stop needing your attention once they've launched. In fact, you can mine the real gold once the campaign is underway. Don't miss out on seizing those opportunities!
Design Pickle's flat-rate subscription service means you can make unlimited requests for social media content (and other marketing collateral) to support all of your social media campaigns — whether you're planning to launch or maximizing as you go.
We can help you be a bigger part of the social media conversation. Check out our plans or schedule a free custom demo with a Product Specialist to see how you can get the most out of our service.