As an entrepreneur, you'll go through a lot of firsts. Your first client. Your first logo. Your first hire. Inevitably, you'll need to launch your first major social media marketing campaign, too.
Social media campaigns can be key components of a digital marketing strategy. Campaigns are coordinated efforts to achieve a business-related goal (such as bringing more leads into your sales funnel), and they're a great way to reach your audience where they already are: social media. In a campaign, you'll create related content to deliver to audiences over a set period on one or more platforms.
Sound daunting? Not if you look at it as a gift. You have the opportunity to come out strong like Tracey Nguyen, the CEO of BOWO Creative. As an agency owner and entrepreneur, Tracey has used Design Pickle to power up her content on Pinterest and Instagram. She's also used our graphic design service to promote her podcast to generate interest, engagement, and leads.
Want to rule your corner of the web with an irresistible, compelling marketing campaign? Make the process less nerve-wracking and more enjoyable by starting strong. Follow these five steps to rev up audience engagement and make a memorable impression.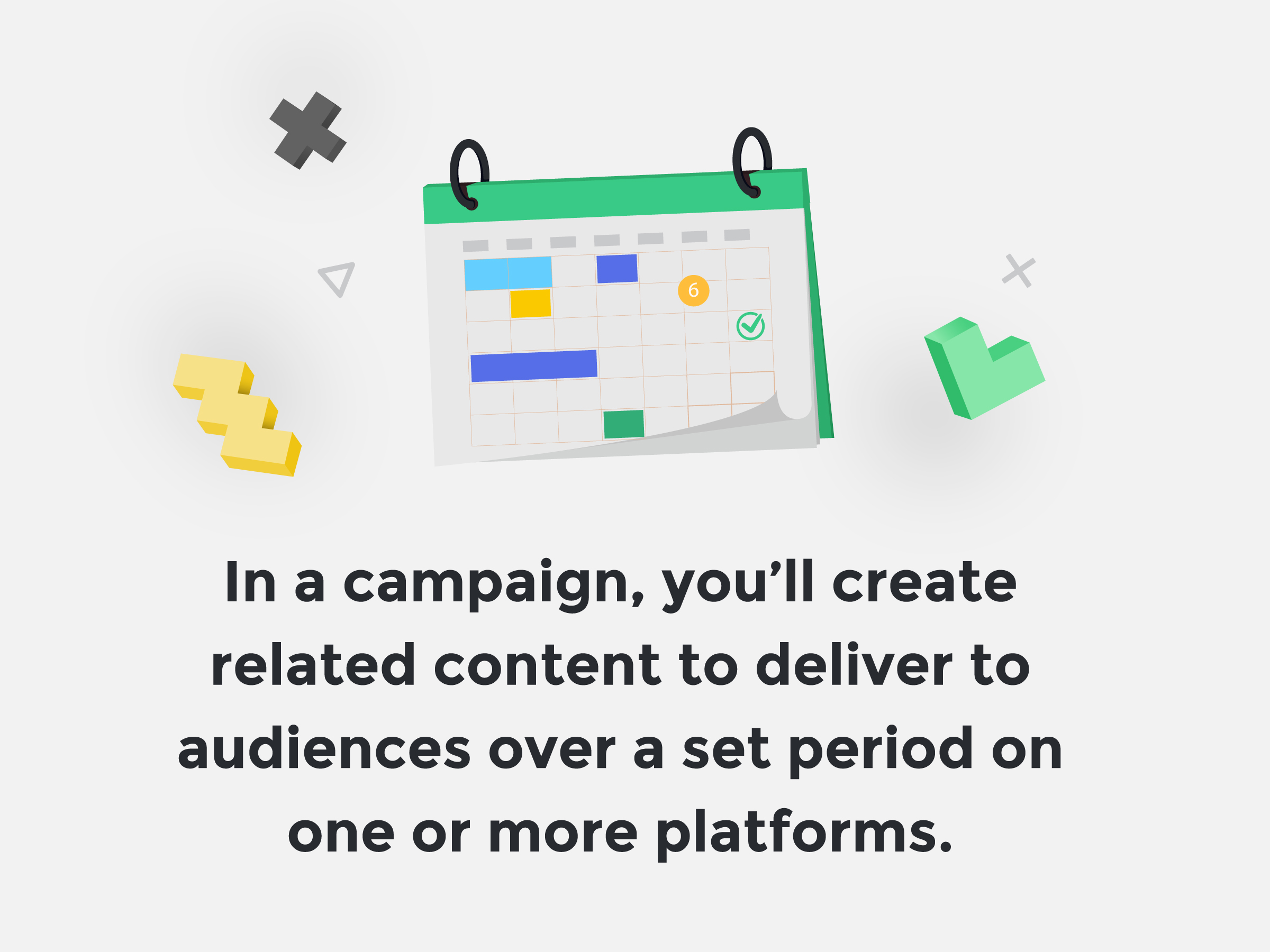 1. Determine your goals.
Decide what you want your social media marketing campaign to achieve, keeping in mind that it should be related to a business objective. What are your objectives? What actions do you want the audience to take next? Set SMART (specific, measurable, attainable, relevant, time-bound) goals for your campaign, and identify measurable key performance indicators (KPIs) you can check off. For instance, maybe you want to get your content in front of 2,000 new users. This would be a trackable goal you could focus on and measure against.
2. Know your audience.
You could come up with the most compelling content in a campaign, but it won't help you achieve your goal if you don't get that content in front of people who find it relevant and engaging. If you don't already have buyer personas identified, now is the time to do it. Buyer personas represent your ideal customers, including their demographic information, their values, and, most importantly, their problems that your offerings can solve. Bonus points if you can research which social media platforms are most important to those personas.
3. Brainstorm and build a content calendar.
It's time for imagination! Solidify the guiding theme of your campaign, and determine what the posts themselves will consist of. Make sure to think about the content type (video, images, text, links to blog posts, etc.), unifying branding decisions, graphic ideas, platforms to target, and what the call to action might be.
Once you've gone through the brainstorming stage, it's time to put those ideas into action. Create a plan for what the campaign will look like, and come up with a calendar to determine the cadence and what content will be released on specific days. For example, you might decide to push more generalized content at the beginning of the campaign and target engaged users in later weeks.
4. Set a budget.
Every social media campaign requires the parameters of a budget. Knowing how much you'll spend upfront ensures you won't overdo it. Start with an overall dollar figure you can spend, knowing that if your marketing campaign plan works, you'll get a return on the investment. Think about how much it might cost to:
Create the content: Will you require help from a designer or copywriter?
Manage the content: You can outsource this task by hiring a project-based, freelance, or part-time social media manager to publish and monitor the campaign.
Optimize the content: You will likely want to allocate spend to optimize and boost posts to reach the audience segments who are most relevant or engaged — which will happen down the line after the campaign is launched.
5. Test and iterate.
When your social marketing campaign is in motion, conduct testing. Test everything from different graphics to the types of emojis you use. Use what you learn to iterate and grow your brand presence. Just be sure you give trials about a week before making any tweaks. Over time, you'll collect a wealth of data to help drive future campaigns.
Once you've worked your way through these five steps, you're ready for the next stage. Check out the next blog post in this series about common pitfalls to avoid in your campaigns.
Pulling together a successful first-time social media campaign might seem like magic, but it's more about taking the right steps than waving a wand. And be sure to partner with Design Pickle to whip up some mesmerizing graphics!