For many, the freedom of working from home can feel like bliss. The absence of a commute, office distractions, and a flexible environment can inspire creativity and newfound productivity. For others, it can feel more like an abyss, with a lack of structure and a cat that sits on your keyboard.
The reality is, modern professionals are going remote. Whether it's their company's business model or the result of a pandemic, more and more people are having to transform their personal spaces into home offices.
And with any transition, there are challenges. Luckily, the home office is not new territory for Design Pickle. With a global team and remote-first company culture, we have long equipped our employees with the tools to be productive wherever they are working. To help you make the change from a physical office to working from home, we've compiled tips from our team on making remote workdays effective and enjoyable.
Make a Schedule and Set Boundaries
Chris (Digital Marketing Director):
"When I first started working remotely, the hardest thing was staying on task. I'd look around my house and think, 'Oh, I really have to do the dishes. I'll do that first, and then I'll start to work!' One thing would lead to another, and then I'd be wasting half a day doing chores instead of actually doing my job. So, to remedy that, I developed a pre-work ritual. It was simple. Get up, put on your clothes and shoes — just like you would do if you were going to a physical office — and then prioritize tasks for the day. Sometimes I even put them on my calendar and make sure I stick to my time limits."
Kate (Brand Director):
"Your family members or housemates might take your 'work from home' status as 'fun free time!' However, you are working — so it's important to set up boundaries and let them know what when you are at your workspace during certain times, you are there to work and not be disrupted if possible. If your dad is living with you, make sure he doesn't crawl on the ground in the background of a video call. (Wait, no one else? Ok, nevermind)."
Alec (US Operations Specialist):
"When you can add structure to your day and dedicate time to do specific things, distractions drown out. Whether the routine is going for a walk before you begin working or time blocking your actual work day, getting into a rhythm organizes what could be a very chaotic way of life. Also, enjoy the things you can't do in your normal workspace. Weather permitting, work outside and take in the sunshine — this is something that isn't usually possible for people who work in an office."
Colton (Content Production Manager):
"Never work in your jammies or from your bedroom. Have a dedicated space for work that is separate from your day-to-day."
Tori (Community Manager):
"In a one bedroom apartment, you really have to get creative to make a designated workspace. As much as you can, surround yourself with items that really signify 'work.' I like to work at a table and have my laptop, notepads and sticky notes around, just as if I was in the office."
Over-Communicate
Kate:
"If your team hasn't already set up an internal communication system, use software like Slack to stay in touch. Some people might be new to communicating remotely, so it's helpful to set up some guidelines, like which channels to use, how to ensure you don't miss messages, and always over-communicate!"
Alec:
"Communication is hard face-to-face and it gets muddier when everyone is remote, so don't feel bad for over-communicating something to make sure everyone is on the same page."
Tori:
"Our team uses video-chatting services, like Zoom, on a regular basis and it helps provide the *virtual* face-to-face contact that's missing when you're remote. A lot of the time, it's easier to just jump on a call to talk out an issue, rather than communicate via email or instant messaging."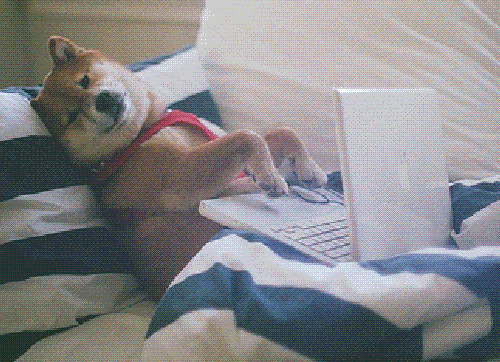 Create Your Own Methods of Focus
Max (Video Production Supervisor):
"I find that my music choice can really help me stay focused on particular tasks. I'll switch it up from anything to jazz to 80's synth. Switching the genre feels like it helps my brain reframe for different tasks — but I also have to be careful not to spend too long searching for my next playlist."
Tori:
"I learned that silence is pretty distracting to me. I'll start focusing on noises outside or get lost in my thoughts. Having background noise, like a TV show I've already seen or chill music helps me zone in on what I'm working on."
Break Up Your Work Day
Justin (Marketing Specialist):
"Give yourself a commute. If possible, take a 15-20 minute walk in open air, or schedule exercise before or after work."
Jess (Strategic Partnerships Manager):
"Make sure to make time for lunch or a mental break, like you would in an office — it's easy to power through the to-do list when you're home, but it's still important to take time for yourself."
Dress for Success
Alec:
"Be prepared to be camera-ready every day. Practice good hygiene — even when no one is around to judge — for your health and in preparation for the all-of-the-sudden video call."
Tori:
"It's tempting to work in pajamas or ditch your pants, but it can also encourage lazy behavior. While I don't get business casual to work in my living room, I do make a point to differentiate my lounge clothes and work clothes."
BONUS: Some Tips from Our Twitter Followers

@EvanDC: "Have a cat. They're always super helpful. Also… This might not be confirmed with actual real world data."
@EvanDC: "Setup shop at a table, away from the tv. I always think I can work with the TV on. Then 3 boxsets later…. Ooops."
@ItsMeKatyB: "Good wifi, power supplies plugged into multiple locations (desk, couch, bed), and cozy pj pants."
@jonxgenius: "Get dressed but stay comfortable. Definitely don't work near in pajamas or anywhere near a bed."
@jaredbrick: "#wfh with Skype calls, MSFT Teams chatting and shared docs and email, not so tough!"
Final Thoughts
As you adjust to new circumstances, we hope you're finding your rhythm. Working from home requires self-discipline, so allow yourself to craft a routine that works best for you — there is no one recipe for success.
As a remote-first company, we know a thing or two about surviving and thriving with an online workflow. Download our list of Tech Tools for Remote Work here. You can also check out Design Pickle's solutions for entrepreneurs to find out more about how a creative subscription can contribute to your brand's growth.