Part of a CEO's job description is to go above and beyond. And it's definitely not easy. What's easy is forgetting small but important details. Losing hold of transitory but potentially million-dollar ideas and worst of all, getting burned out.
With the help of simple productivity tools, though, some people seem to knock the socks off the job. We asked 4 CEOs for their favorites.
Trainual is made to help businesses scale. It gives organizations a place to document their processes and policies so that onboarding and training become easier. Founder and CEO Chris Ronzio shares his top productivity picks:
Headspace. Headspace is an app that simplifies meditation and sleep — things that aren't always as easy as we think they should be. Chris uses it in the mornings to get rid of mental noise and start the day fresh.
Todoist. Great ideas and little responsibilities have a way of slipping the mind. Todoist is a solid to-do list app that helps Chris keep track of thoughts and tasks.
Trello. Trello is a simple but powerful list of lists, and it's Chris's all-time favorite app for organizing project priorities. Lists can be used kanban style or function as simple categories, while entire boards can be shared within teams.
Evernote Document Scanner. Keeping paper records can be overwhelming, not to mention hopelessly messy. Digitizing documents results in security and ease of access. Chris uses the Evernote Document Scanner so that his documents are immediately uploaded to his Evernote account's cloud storage. He says, "Every piece of paper that comes into my life goes through it."
Apple AirPods. Sometimes you need to disconnect and keep yourself company. As Chris puts it: "When I put them on, people respect my privacy." This is ideal for solo work and solo workouts. Chris likes listening to podcasts while running — his favorite is Good To Be Home.
A power bank or portable charger. Entrepreneurship is nothing like a regular nine-to-five: you're often on the go, and you're expected to be connected constantly. That's why for Chris, a portable power source is a must-have.
Off The Grid is the motor-driven adventure brand spearheaded by Josh Patterson and Bobby Klein. While many other outdoor apparel brands don't support motor-driven adventures, Off The Grid is here to fill that gap. CEO Bobby Klein sighs, "Oh, productivity… my best friend and worst enemy." We feel you, Bobby! Here are his top picks:
Gmail star system. Gmail enables users to mark emails with a star. Bobby uses this system to mark emails that require responses. This way, he can make time to respond to the starred list later without missing anything.
MailTrack Pro for Gmail. MailTrack lets you know if and when a recipient has opened an email from you. No, it's not creepy: most of the time, notifications remind Bobby of things he needs to follow up on. It's also helpful for gauging the interest of sales prospects. And it goes both ways, sort of: there's also a feature for reminding Bobby of unacknowledged emails.
Reminders (iOS/Mac). Bobby and his business partner use Reminders to keep on top of all the little details, especially when Off The Grid is participating in races or shows. It's convenient because Reminders can be accessed via both iPhone and Mac devices; lists are shareable and therefore collaborative; locations and time-sensitive reminders can be set via Siri.
Screen Time for iOS. Screentime is a feature of iOS 12 that delivers real-time reports on how much time you're spending on your devices and its apps. Screen Time also enables guardians to manage children's devices. It's a win for self-discipline: you can set time limits for certain apps, so you don't accidentally spend half the day on social media.
Oliver Keller,
Synlio
Synlio helps property managers and service providers manage communications for swift and easy procurement. CEO Oliver Keller reminds us not to forget to be dynamic, by quoting French philosopher Albert Camus: "The society based on production is only productive, not creative." That said, here are Oliver's top picks:
Slack. Slack is a feature-packed collaboration system that's now an integral part of Synlio. The whole organization uses Slack to communicate, share files, and more.
Google Drive and Docs. Like Slack, Google Drive is another of Synlio's standard tools. It's a place to collaborate and to keep all relevant files in one place.
Zoho Suite. For Customer Relationship Management (CRM) and other business needs, Synlio uses Zoho, an online office suite.
Quickbooks. Oliver personally sees to Synlio's accounting needs. Quickbooks is a smart, robust accounting software that helps him do just that.
Evernote. Evernote is an all-around note-taking app. To Oliver, it's his digital "personal file cabinet."
Grammarly. Grammarly works as you write to check spelling, grammar, punctuation, and more. Oliver uses it to help keep his communication materials succinct and professional. Light and non-invasive, this plugin does its job while letting you focus on the task at hand.
Russ Perry,
Design Pickle
Hi, mom! Design Pickle is an intuitive, scalable, flat-rate graphic design solution for any entrepreneur, business, and enterprise team. Founder and CEO Russ Perry shares his top productivity picks:
Any 20-minute timer. Russ thinks of his 20-minute timer as "bumper rails in the bowling alley" — with it, he knows how long he's been doing something, and if he's straying off task. Any timer would work, but Russ prefers to use his Garmin smartwatch.
A printed daily agenda. Old school, but effective! This also doubles as the day's note sheet. Every night, Russ would transfer relevant items or leftover tasks to his journal.
A journal. A physical journal is a simple way to store massive amounts of timely information, from sudden ideas to a rolling list of action items. Russ has had multiple journals over the years and has tried the Bullet Journaling method. Mostly, he does whatever he can to capture as much data as possible.
SaneBox. What Russ calls "a rock-solid system to keep on top of important emails," Sanebox is an email management software that's great at setting email priority.
Email inbox. We spend a lot of time in our inboxes, and having an external to-do list app can sometimes be confusing. Russ opted to simplify and use his inbox (enhanced by SaneBox) as a digital to-do list.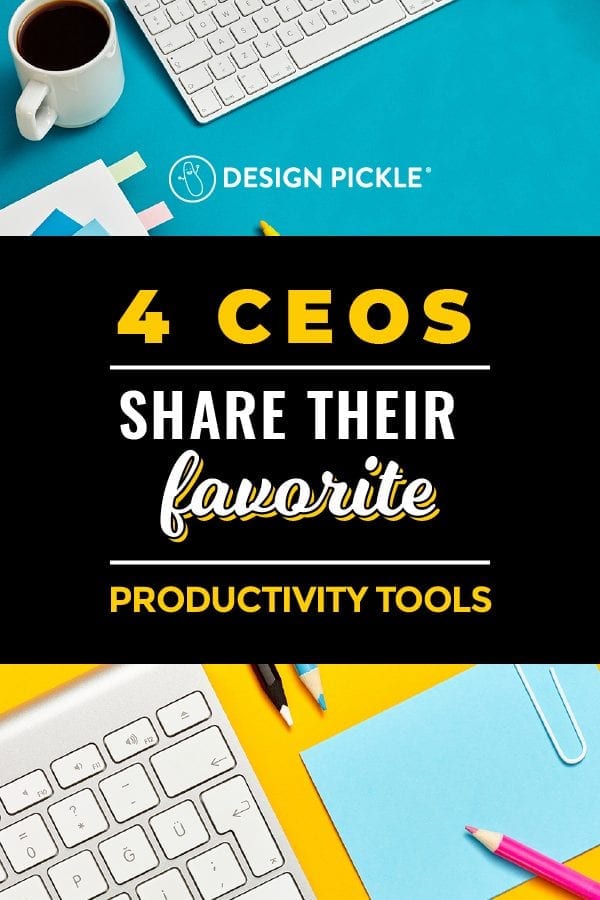 ---
Looking to automate a few processes and regain a little sanity? Take a leaf out of these four guys' books and try a new productivity tool, stat! If you're feeling overwhelmed in the design department, sign up for Design Pickle today and find out why we're the most helpful graphic design company in the world.