Banner ads are E-V-E-R-Y-W-H-E-R-E online these days. The average small business typically spends $9,000 – $10,000 per month on Google Adwords alone (source: Wordstream).
Unfortunately for them, banner ads have gotten a bad rep on the marketing streets the last few years. Due to an increase in ad-blocking software, automated ad-clicking bots, and a rise in native advertising, marketers are starting to turn away from display banner ads.  
Fortunately for you, there is one secret to creating banner designs that convert – relevance.
Display ads can look spammy when the audience has no prior knowledge about the product or service being offered, especially if they have never interacted with (i.e. purchased from) the brand in the past. By designing banner ads that are relevant to your targeted audience, your ad will stand out in the world of online advertising.
Let's take a look at 5 companies who are staying relevant, rockin' banner ads, and turnin' profits.
Banner Design Spotlight #1: Oakley.
In 2015 Oakley launched a One Obsession campaign that highlighted various athletes "obsessed" with their sport. The banner ads created for this campaign showcase the athletes wearing Oakleys on the field and in real-life.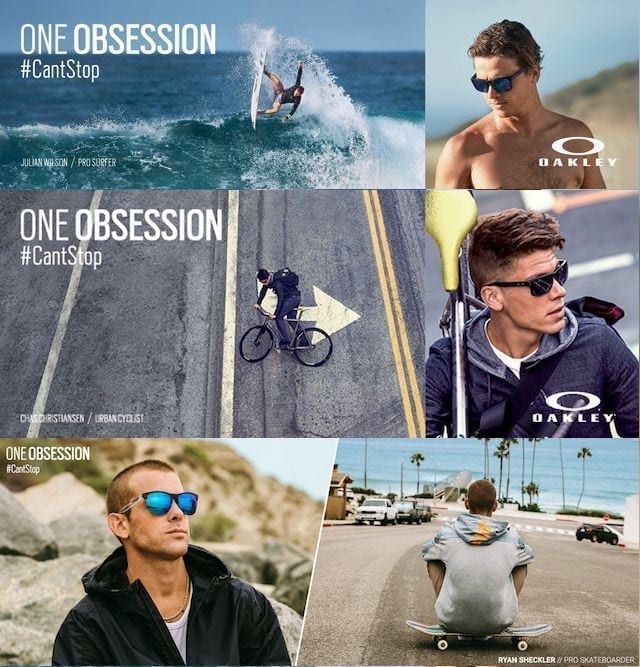 Photo Cred: Oakley Oakley nailed this campaign by advertising more than just sunglasses; they are advertising the lifestyle – the feeling – that comes from wearing these sunglasses. Maybe you will never be a competitive surfer or a Tour de France winner, but you sure can feel like an elite athlete by looking the part (i.e. – wearing the shades).
Fake it til you make it, right?
Notice how none of the athletes in these banner ads are smiling or looking directly at the camera. Each athlete appears to be completely focused on something outside of the camera view, maybe even something intangible (i.e. pondering their next move). The intriguing look of focus on the athletes' faces and the artful camera angles make us feel like we are not just looking at a picture, but rather, experiencing it.
Also, notice the use of the hashtag #CantStop on each of these photos. Anyone who has seen the One Obsession videos (click here to watch the playlist on Oakley's YouTube channel… #chills), will recognize this hashtag and associate it with living the lifestyle of elite athletes. These banner designs would work well in a retargeting campaign for anyone who watched the One Obsession #CantStop campaign videos.
Try it: Instead of taking perfectly centered, posed pictures, snap a pic of your product/service being used by real people in everyday, real-world situations. Show your audience that there is more to your product than simply the product – there is an entire lifestyle that comes along with it. If you offer a service, try capturing the lifestyle of a person who benefits from using your service, i.e. a snapshot of what life could be like if you became a member/customer/affiliate.
Banner Design Spotlight #2: Dollar Shave Club.
Remember those old toilet paper commercials where someone pours blue liquid onto three squares of toilet paper, comparing how their brand holds up against "leading competitors"? Dollar Shave Club joined their fellow toiletry advertisers by embracing the art of comparison (sans mysterious blue liquid) in this banner design.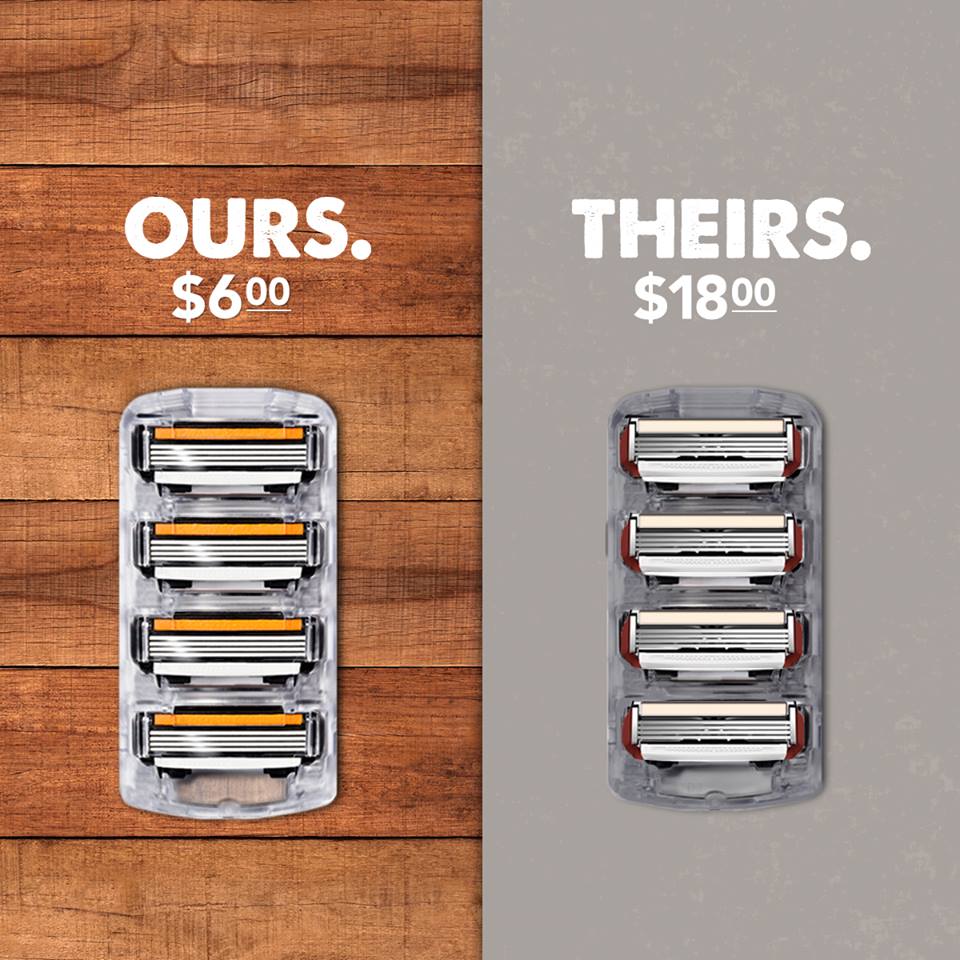 Photo Cred: Dollar Shave Club This banner design artfully balances similarity (similar product, similar packaging, same design font) with contrast ($6 vs. $18, natural wood background vs. plain grey background) to show that the products only differ in price – not in quality or features.
Try It: Create a banner design comparing your product or service to a similar, competing product or service (or common alternatives). Contrast vibrant colors or textured background with dull, unassuming colors like grey or beige to highlight the differences between you and your competition.
Banner Design Spotlight #3: Sephora.
The makeup mecca. The cosmetic castle. The fashion fortress. Or, as most of us refer to it, Sephora.
Sephora has been slayin' the online advertising game since they first stepped on the virtual scene back in the early 2000's. Relevance is pertinent to a fashion-forward brand like Sephora, who needs to stay top-of-mind for their loyal following of over 10,000+ Beauty Insiders.
Over the years, Sephora has capitalized on pop-culture references like swiping right to get "matched" with your perfect *insert cosmetic product here*.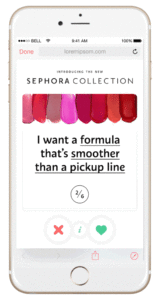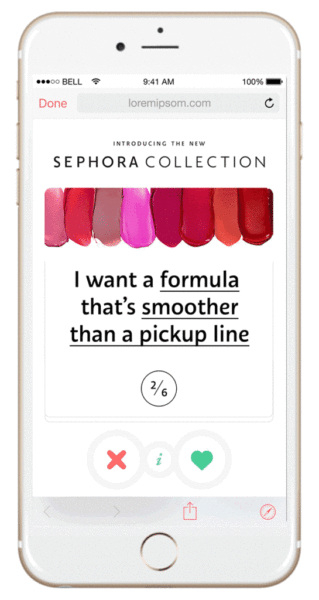 Photo Cred: Sephora The Tinder reference in this banner ad is relevant for the 46 million people using the #swiperight dating app, as well as those who know the concept but haven't actually used the app themselves.
Couple the Tinder reference (no pun intended) with the trendy iPhone screen displaying a gif of Sephora's mobile site and this banner ad becomes relevant AF for those in need of a date-night glam sesh.
Try it: Think of a reference that the majority of your audience would understand and appreciate. Are they into 90's hip-hop? Do they watch reality TV? Leverage your audience's interests by referencing a person, group, app, phrase, or behavior that is relevant to them. Don't reach so far for a reference that your banner design won't make sense to an uncultured bystander, though; be sure your message is complete with or without knowing the context of the reference.
Banner Design Spotlight #4: Chipotle.

Photo Cred: Chipotle Chipotle brought the heat with this spicy, politically-charged banner design. Chipotle prides themselves on providing "the very best ingredients raised with respect for the animals, the environment, and the farmers," so using copy that plays into their role in sustainable farming was muy bien.
The seemingly boring design choice of grey hues for this banner ads actually helps to emphasize the message that there is more to a burrito than simply the burrito itself (i.e. sustainable burrito-ingredient farming practices).
Chipotle's designers artfully sized the copy "Genetically Engineered by Mother Nature" to fill in the space between the two rounded edges of foil, creating the illusion of a full burrito. They even rotated the Chipotle logo to make an exclamation point.
Using a play on 'genetically engineered' ingredients – a popular buzzword surrounding the current food-growing sustainability crisis – keeps this banner design relevant to their health-conscious audience.
Try it: Use words to create shapes or fill in for existing shapes in your banner design. You can stretch a word to fit a certain shape (like the word "question" snaked into a question mark) or use multiple words to fill the outline of an interesting shape (like words of thought in the shape of a human brain). Changing the fill of an image to words can create a visually interesting (i.e. 'clickable') banner design.
Banner Design Spotlight #5: Starbucks.
Ahh, Starbucks. The star of the morning show responsible for 22.4 billion dollars' worth of caffeination last year alone (source: Statista).
One of the reasons this luxury coffee company grew to become a household name – besides the fact that their caramel frappuccinos are to die for – is due in part to online advertising efforts.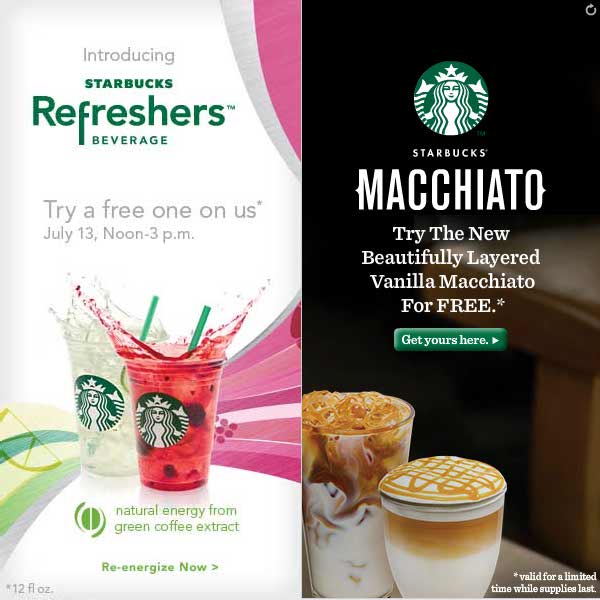 Photo Cred: Starbucks Notice how these two banner designs are similar in layout, both adhering to the Starbucks' branding guide, but the design elements and copy differ to reflect the 'tone' of each drink.
The Refresher beverages are light and fruity, so the drinks are designed with a splash as if someone had just done a running cannonball dive into the cup. The neon background colors and supporting copy – "re-energize now" and "natural energy" – add to the refreshing, energizing vibe of the banner design.
The Macchiato beverages, on the other hand, are sophisticatedly drizzled with caramel and artfully swirled, eliciting a serene feeling of luxury and opulence. Vastly different from the neon greens of the Refreshers, the Macchiato palette is a blend of sultry gold, beige, and cream. The supporting copy – "beautifully layered" – adds to the rich, elegant vibe of this banner design. *cue smooth jazz*
Notice how Starbucks advertises new flavors relevant to the seasons; the Refreshers are being promoted on July 13, a hot summer day that could use a refresher.
Besides offering the most relevant flavor of the season, these ads stay relevant because of the free beverage offer, as well. Free never goes out of style.
Try it: Design your banner with details that accentuate the vibe of your product or service. Stay within the boundaries of your company's branding guide, though, by making only subtle changes to supporting design elements. Elements to play with include color scheme, font style, stock imagery, texture and gradient, product placement, and copy choice.
You can also try including an offer in your banner ad to promote clicks. If you don't have the budget to offer a free product like Starbucks, try offering an informational download, a free trial, or a discount code.
Looking for more banner design inspiration?
If you're still struggling to find inspiration for your next banner design, download our Digital Design Library absolutely free.
The Digital Design Library is a collection of over 200+ work samples from actual Design Pickle clients. Get inspired by other banner designs, creative design elements, and visually interesting layouts. Click the image below to start your download!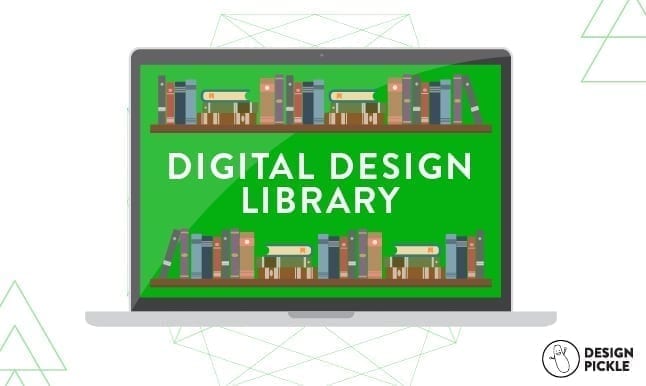 Check out our graphic design services to get an idea of all the different kinds of graphics Design Pickle can help you with.
---
All banner designs in this post are for observational purposes only. These images are copyrighted and/or trademarked by the individual company and are not affiliated with Design Pickle in any way.