Flyer designs can arguably be classified as the most iconic graphic design medium of all time. We've been using flyer designs for decades to advertise new products and services, promote sales, and invite people to upcoming events.
Printed flyers are displayed in storefronts, tacked onto bulletin boards, sent by mail, and even distributed by hand in some cases.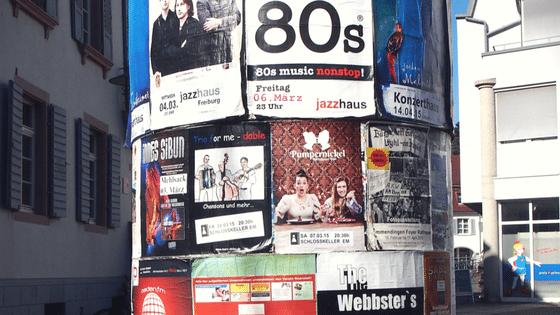 A digital (PDF) version of the flyer may be emailed to a contact list or resized as an image (JPG) to share on social media sites like Pinterest, Instagram, or Facebook.
In a world cluttered with promotional flyers, it's tough to create a flyer design that catches the eye of your audience. That's why we've created 7 tips for taking your flyer design to the next level so you are sure to grab the attention of your audience and motivate them to perform the desired action.
Tip #1: Create your flyer design with the audience in mind.
If you need a quick visual on the importance of designing a flyer with the audience in mind, take a look at the flyer design crafted for last year's Design Pickle customer appreciation party: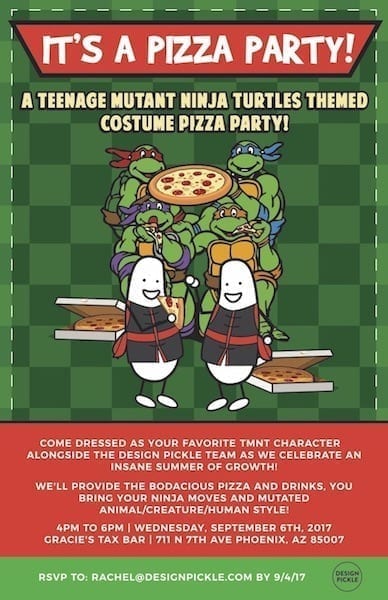 From an outsider's perspective, receiving a flyer design with a 90's cartoon may seem unprofessional or (excuse the pun here) cheesy. Some people may not understand the Ninja Turtle reference or feel comfortable dressing up for a pizza party.
For Design Pickle clients and friends, though, this reference made sense. Design Pickle has a proud reputation of carrying out quirky, typically "themed" events (we do wear pickle costumes to every trade show, after all) that the community has come to expect and appreciate. If we had thrown a typical customer appreciation party in business casual attire, our customers would probably be underwhelmed at the lack of creativity – and they probably wouldn't recognize us in khakis.
Craft your message with the audience in mind; without careful consideration of who will be receiving or consuming your information, you might end up crafting a message that your audience doesn't identify with at all.
If you aren't quite sure who you should keep in mind while designing, start by finding your ideal customer. It's essential to know who will be consuming the information before determining how to design a flyer that portrays the message and call to action.
Speaking of…
Tip #2: Include a call to action.
A call-to-action (CTA) is one specific action you'd like your audience to perform after consuming the information on your flyer design. Do you want them to make a purchase, register for an event, call a phone number, or visit a website?
The CTA of your flyer design should correlate with your current marketing strategy. For example, if your current marketing efforts are focused on boosting credibility, the CTA of your flyer might be to "leave us a review" with the name of your business and website address to leave a review.
If you are trying to increase registration for a specific event, your CTA might be "register for the event" with contact information and a specific date to register by.
Don't confuse your audience with more than one CTA; choose one desired action and craft your flyer design around that action.
Tip #3: Make the message clear.
A great flyer design conveys a message to the audience in just a few seconds. If it takes more than a few seconds to understand what the flyer is about, the audience will lose interest and completely miss the CTA.
Clarify your message by incorporating visual cues. Bold, underline, highlight, or position design elements in your flyer to draw attention to the most important information.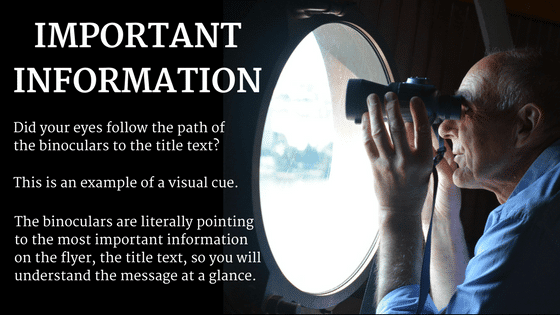 A clear message also means providing all of the details and resources your audience will need to perform the desired action (CTA). Include details such as location, date, time, price, required attire, amenities available or included, or where additional information can be found.
Tip #4: Choose your fonts and colors wisely.
Choosing between thousands of available font styles and color schemes for your flyer design can feel a bit overwhelming if you don't have a complete branding guide in place.
A branding guide is a set of pre-selected fonts, colors, design elements, layouts, logos, and sample copy that your entire team can reference when creating graphics (like flyer designs).
Having a branding guide in place will literally "guide" your team (even if the 'team' is just you) through font selection and color choice to promote brand consistency across all of your business graphics. Download our free guide to creating a complete branding guide if you don't already have one in place.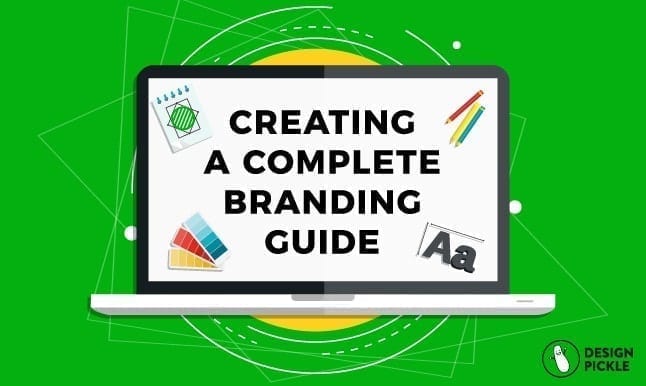 When it comes to choosing font styles, don't use more than two typefaces in any flyer design. Using more than two typefaces on a single flyer will interrupt the flow of the text, shifting focus away from the actual message of the flyer.
Choose a color scheme for your flyer design based on the message. Use primary colors for a children's design, bright neon colors to mimic a nightlife party scene, shades of green to represent health, or black and white to make a classy, bold statement.
If you're designing flyers on a budget, try printing black ink on colored paper. The contrast of black ink against colored paper is a cost-effective way to capture the attention of your audience.
Tip #5: Create balance.
The layout is just as important as the font and color choices of your flyer design. If your flyer design is too crowded, your audience may be turned off from reading the information altogether.
Capitalize on the white space in your design to create balance. A lack of color can emphasize other elements in the design, make a bold statement, or create a minimalistic look. Try spacing the letters of your text further apart to create a lighter, spacier feel to the design.
*BONUS TIP* To ensure your design doesn't get cut off during printing, design your flyer with at least a 3mm (.125") page bleed.
Use the rule of thirds to help you find balance in the background photo or photos you use in the design. Divide the image into thirds horizontally and vertically to find the intersection of thirds, and place the focal point of the image at one of the intersections.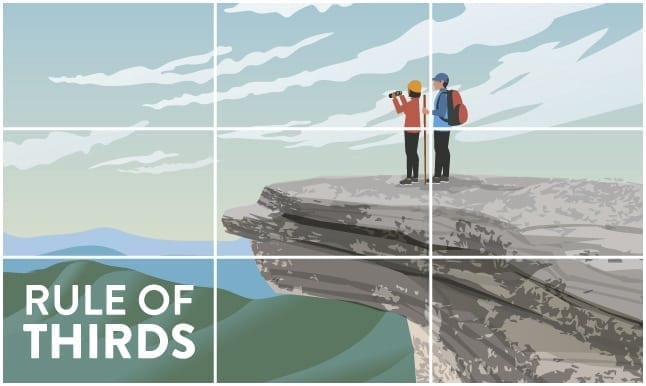 The human eye finds the intersection of thirds to be the most interesting and balanced focal point. Using the rule of thirds can also help create space for title text and supporting copy of the image.
Tip #6: Keep it professional.
The best way to ensure your flyer design will look professional is by using only high-quality photos. Background photos on a flyer design tend to get stretched and repositioned to fit the accompanying text, so choosing high-quality (or high-resolution) photos is a must to ensure you end up with a clear picture instead of a pixelated mess.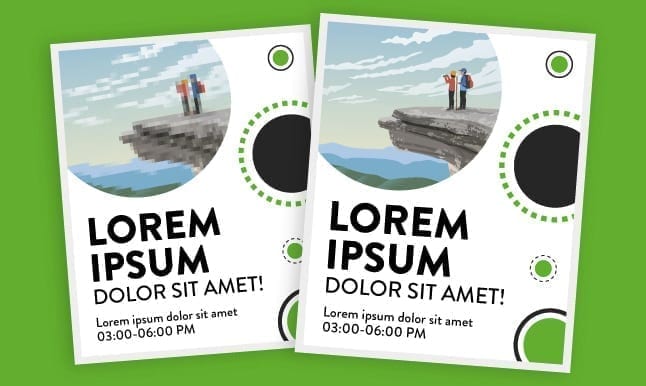 Notice how blurry the stretched image is in the first flyer design example compared to the clear, high-resolution photo in the second example. There are lots of online design tools that can help you craft a professional-looking flyer design. Find high-quality stock imagery, design elements created by professional designers, or even pre-made layouts that are absolutely free and legal to use.
You can also try outsourcing your flyer design – and all other production-level graphics – to our team of professional graphic designers. Design Pickle offers unlimited design requests and revisions and has completed over 200,000 designs to date for businesses across the world.
Tip #7: Digitize distribution.
Distributing printed flyers is a relatively inexpensive way to share information, but the cost of paper, ink, printing fees, and postage can add up quickly if you are distributing to a large audience.
Luckily, the internet exists.
Expand the reach of your message for little to no cost by digitizing your flyer design and distributing across the web.
Send a copy to everyone in your email contact list that will find the flyer information relevant and useful! Simply upload as a PDF attachment and use the body of the email to set the stage for the CTA on the flyer.
You can also resize your flyer design to fit the specifications of relevant social media sites like Twitter, Pinterest, Instagram, LinkedIn, or Facebook, and share amongst the following you've built on those platforms.
If you don't have a large social following (or any followers at all), check out our best practices for growing your social media following on the blog now.
Looking for more flyer design inspiration?
If you found our 7 tips for creating promotional flyer designs helpful but would like to see a few visual examples before starting your next project, download a free copy of our Digital Design Library today!
The Digital Design Library is a collection of over 200 design examples created for actual Design Pickle clients. Click the link above or image below to get started and stay inspired.