Presenting is one of the most powerful skills in the working world. Whether you're at the top or the bottom of the corporate ladder, or you're a solo entrepreneur or a microbusiness owner, all it takes is a good presentation to bring your career up to the next level. Here's how you can improve your powerpoint slides that can foster your spoken presentation skills.
Great presentations are the ultimate communication tool: they explain key ideas, defend, sell, propose, convince, and ultimately, change lives.
That's why, no matter what industry you're in, your level of competence in the world of Microsoft PowerPoint can make a huge difference in your productivity — and profitability.
If you're out to learn more about how you can improve your presentations, you've come to the right place. We're here to help you review the fundamentals of creating visually appealing MS PowerPoint Presentations.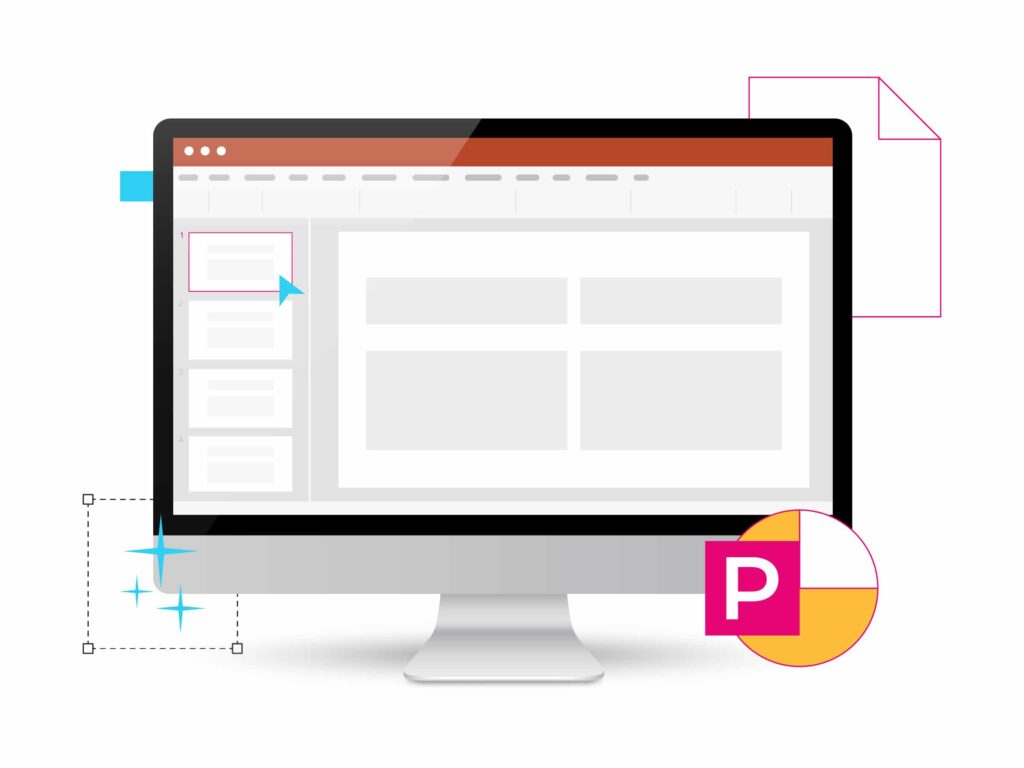 1. Keep PPT Slides Simple & Clean
Too many words, Text heavy slides. Blocks of tiny text spilling almost outside of the screen. Slightly irrelevant graphics and images. We've all seen those bizarrely cluttered presentations — perhaps been guilty of creating them ourselves.
Don't be anxious about deleting more and more text or visual elements from your presentation slides. The only solution to clutter is to unclutter. Simplify your approach when planning out an outline and design language, and throw more things out than in.
Keep paragraphs to a minimum. You're making a Powerpoint presentation, not an essay. The fastest way to distract your audience from your own presentation is to put a thousand-word paragraph into a single slide. Don't be that guy! To create a compelling presentation, eliminate unnecessary text and consider having only one idea per slide. If it can't fit on the screen, it should go in the speaker notes. Keep that in mind for your next powerpoint presentation.
Limit the use of bullets on a single slide. If we can't use a ton of paragraphs, then we can turn them into a bulleted list, right? Yes, but not always. Too many bullet points can be just as cluttered and unpleasant to the eyes. And make sure to use an appropriate font size so that they're visible from distance. The most effective powerpoint presentations include four to five bullets per slide, which will command the attention of your audience. You can reload 'em bullets on the next slide, cowboy.
Try not to use a ton of images in one slide. This is only forgivable if you're presenting a collage. One powerful image in a single slide is enough to represent what you're talking about. The goal is to minimize distractions that can be misinterpreted by the audience.
2. Use Your Brand Colors and Elements in Your Presentation
Whether you're making an internal or external company presentation, adhering to your brand colors is a great way to maximize your impact on all stakeholders.
To make sure you create a great powerpoint presentation, keep your brand guidelines at hand and in mind. The resulting content slides will be all the more effective, fostering brand awareness in clients, customers, and employees. Read more about designing effective presentations here.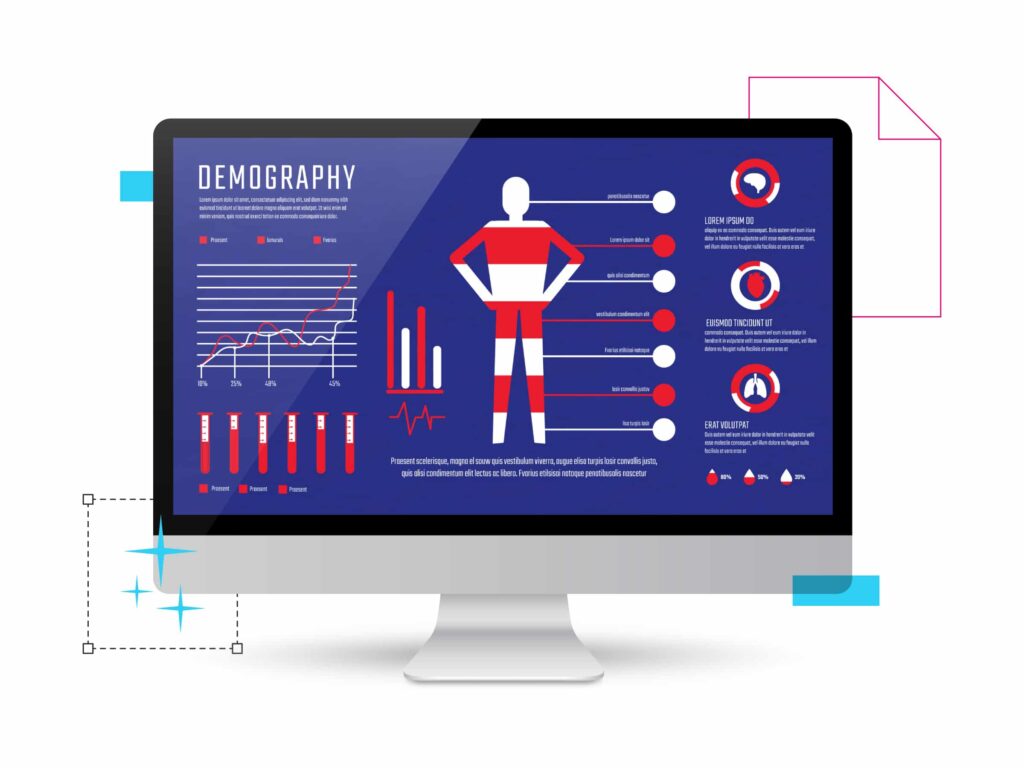 3. Create an Industry-Specific Presentation
Brand coherence is one thing. But another thematic design decision you can make can be based on your topic or general industry instead.
Your familiarity with the industry to which you belong is an important factor in determining the look of your entire presentation. It helps build trust and position you as an authority on the subject you're discussing.
In this article, we discuss four different presentation design styles that can be tweaked according to occasion and industry — corporate, clean, creative, and modern. The time and effort you take to customize and improve your presentation will show through as passion, dedication, and expertise!
4. Customize PowerPoint Slides for Your Audience
Apart from designing for your brand and for your industry, you can also go heavy on your audience's preferences. Do your research: What aesthetic does your audience respond to? What kind of media do they usually consume, and along with it, what styles of imagery and typography should you use to capture their attention?
This strategy can ensure that your Powerpoint presentation can command the full attention of your audience. By tapping into their interests and expectations, you can communicate your message more effectively and easily.
But remember: It's still a good idea to integrate your audience's "aesthetic" with your own brand elements. Your own brand identity is too important to get lost in translation! This is one of the most important powerpoint presentation tips you'll ever get.
5. Use Original, High-Quality Presentation Templates
If you're having a hard time starting everything from scratch, you can always download high-quality PowerPoint presentation templates online. Websites like Slidesgo and Slides Carnival are great resources for free, ready-made templates for both Microsoft Powerpoint and Google Slides. Find the most suitable PowerPoint template for your project and use it to impress your audience.
And if you're looking for free Google Slides templates, we created a few just for you which you can download here!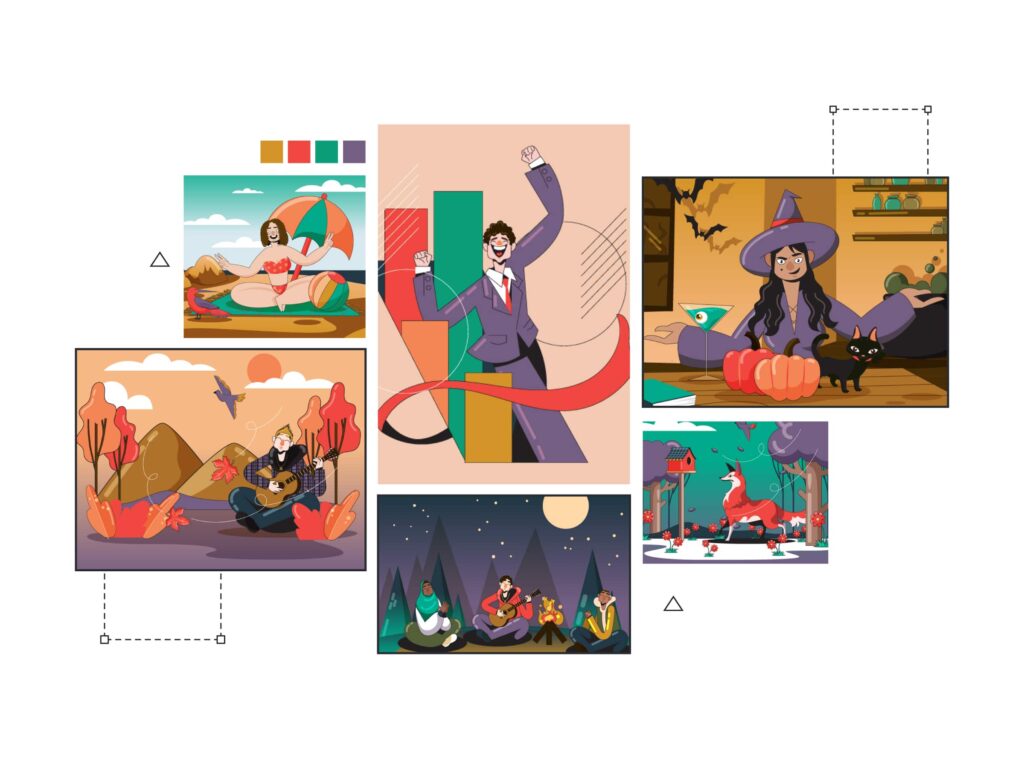 6. Replace Bullets with Graphics
We've turned long paragraphs into bulleted lists. We've limited the number of bullets to four or five per slide. Can we declutter any further? Of course we can!
By using photos, graphics or other important visual elements instead of textual bullet points, you can command all the more attention while presenting. The relevant pictures onscreen can help spark your audience's imagination, bringing more focus to your speaking in real-time.
7. Use Animations in Your Presentation to Capture Attention
When it comes to using PowerPoint's animation capabilities, it's better to keep things simple. Just because you can make slides and images spin, flip, and dance, doesn't mean you should!
But it's still a good idea to become highly familiar with PowerPoint's different animation options. When used correctly (and tastefully), animation can be a great visual aid for delivering a highly impactful presentation. You can use animations to reveal creative ideas one by one within a single slide, introduce team members one at a time, or dramatically unveil a new product or concept.
8. Add Illustrations to Your Slides
Depending on your brand, industry, and topic, the kind of graphics you choose to put in your slides may vary. Sometimes, photos and videos are more relevant, especially when your content shows off your actual products or services.
But if you're talking about abstract concepts, like brand values, process flowcharts, or complex ideas and data, you may find that custom illustrations are the best way to create consistency and communicate with your audience. Don't be afraid to introduce these key elements into your presentation.
9. Use the Power of Motion Graphics in Your Presentation
Motion graphics can help your create a better PowerPoint presentation. When used in infographics, charts, and graphs, animated elements are engaging and informative, allowing you to communicate complex information in a short amount of time.
This means, of course, that the best and most convincing animations are highly customized to your content. Luckily, Design Pickle Graphics Premium subscribers have access to unlimited requests for presentation design, motion graphics, custom layouts and custom illustrations, which we're going to talk about next.
Check out our articles that discuss what motion graphics are and where you can find the best customizable templates!
10. Use White Space in Your Slides
We'll tell you a secret: Blank spaces in a design aren't wasted space. Whether it's a printed poster or a slideshow presentation, the purposeful use of white space doesn't mean a design is "unfinished."
"White space" or "negative space" is a design term that refers to blank areas in a layout. It's not necessarily white; rather, it's the background of the design, no matter the color or pattern, that is left uncluttered.
When used properly, white space will draw your audience's attention to the most important parts of your slide, creating maximum impact and easing the flow of information.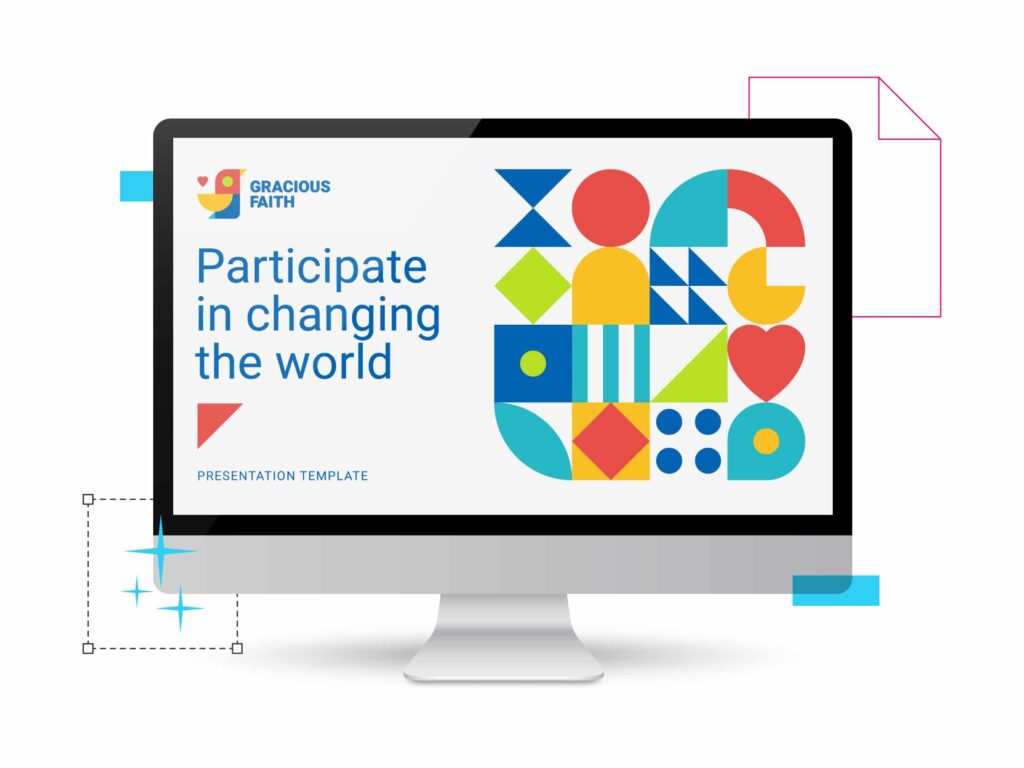 11. Align Objects Properly in Your Presentation
Making a good presentation is not that easy. You've been up all night with a presentation layout and it still doesn't look right. It happens! But seasoned designers know that there's one thing — just one weapon in the whole design arsenal — that will turn any presentation into a smooth, professional work of art: Alignment.
You may just need a few clicks and nudges to properly align all slide elements, and it could result in a night-and-day difference.
Align objects according to an imaginary grid and margin system that stays the same throughout the whole presentation. This will promote clarity and exhibit authority: bad alignment can make your audience feel like the presentation has been rushed or is unfinished.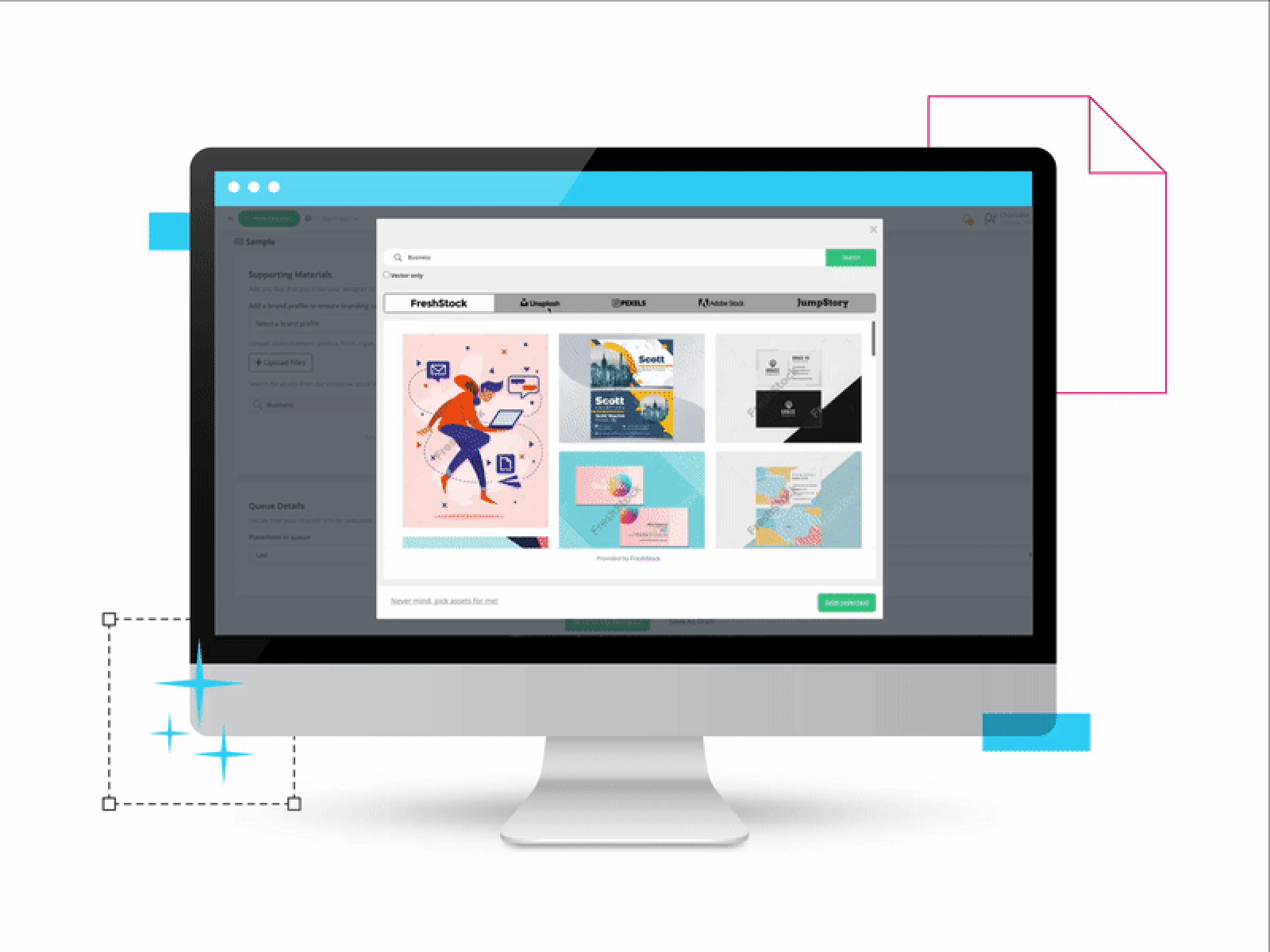 12. Use High-Resolution Visuals
With the wealth of free and premium resources and other elements available online today, there's no excuse to be using grainy, pixelated, low-resolution images or clip art in your Powerpoint presentation. When your images are clear, your message can come across even clearer.
To create better PowerPoint presentations, you can get photos and vector graphics from a host of different websites, like Unsplash, Adobe Stock, Pexels, and more. Along with the image quality, however, you should also make sure that all visuals are relevant and on-brand. The last thing you want is some weird image that doesn't vibe with your message or fit in with your audience's mood.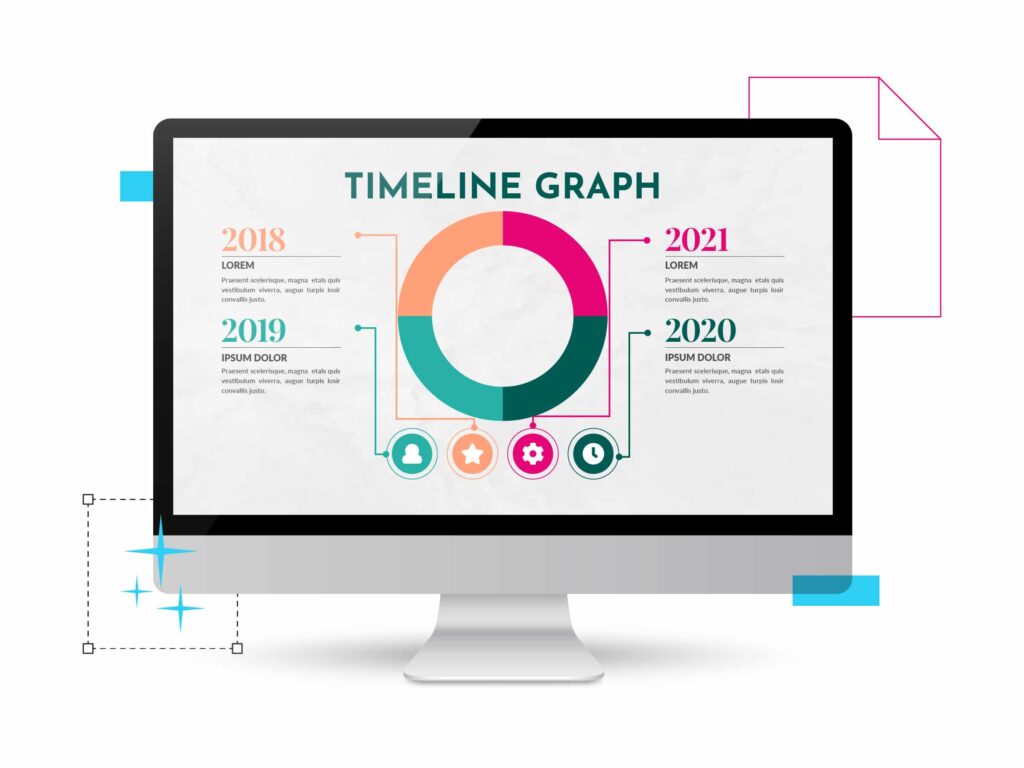 13. Visualize Data with Graphs
Complex data, especially those that involve many numbers and variables, can be hard to comprehend even when you're sitting down and studying multiple documents. Imagine having to digest that information from a slide show!
That's why we have charts and graphs that can help illustrate data in easy-to-digest chunks. You can actually use PowerPoint's built-in charts and graphs to automatically pull data from your existing spreadsheets. It's a superpower that we'd all be wrong not to use!
However, when creating graphs and charts for your presentations, remember your actual goals. Most of the time, you don't have to show all the variables. If you're trying to convince your audience of a certain idea, simplify your information to show in your powerpoint slide only what's relevant to your chosen call to action.
14. Improve PowerPoint Design with the Rule of Thirds
Looking to further improve your PowerPoint presentations? The rule of thirds is a composition style where the main element is situated one-third or two-thirds of the way across the canvas, whether horizontally or vertically. It's been used across visual art forms for centuries, whether for paintings, photos, videos, or graphic design.
Putting the main element dead center can get old. The rule of thirds is also effective in drawing the eye to the subject. The result is natural and visually pleasing.
15. Avoid Unnecessary Text & Clutter
Before calling it a day, make it a habit to check every single slide you've made. The last thing you want is to present a half-baked, bad powerpoint presentation, right? Apart from typo and fact checks, you also want to review your slideshow for any visual clutter, duplicate slide, extra bullet point and extra text.
Again, if you remove information from the slide deck, it can always go in your speaker notes! If you go the extra mile in ensuring that every single slide has maximum visual impact, you're well on your way to accomplishing a truly powerful and on-point presentation.
Ready to Take Your PowerPoint Presentations to the Next Level?
We know our powerpoint tips sound like a lot of work, what with everything else you have to do. We all have our areas of expertise, and even if presentation design isn't yours, you still deserve to be able to efficiently deliver your marvelous ideas to your target audiences.
That's what Design Pickle's Presentation Design services aim to help you with — win over your audience with engaging and on-brand presentations that stand out from the competition. Check out our plans today!