Julia Aparente is a Graphic Designer at Design Pickle. She just joined the team in February and works from her home in Las Pinas, Philippines with her 7 dogs. Julia was named Rookie of the Year at PickleCon. Witnessing her reaction, full of emotion was humbling. We asked Julia to share a bit of her story, why she loves art, and what drives her every day.
Choosing Art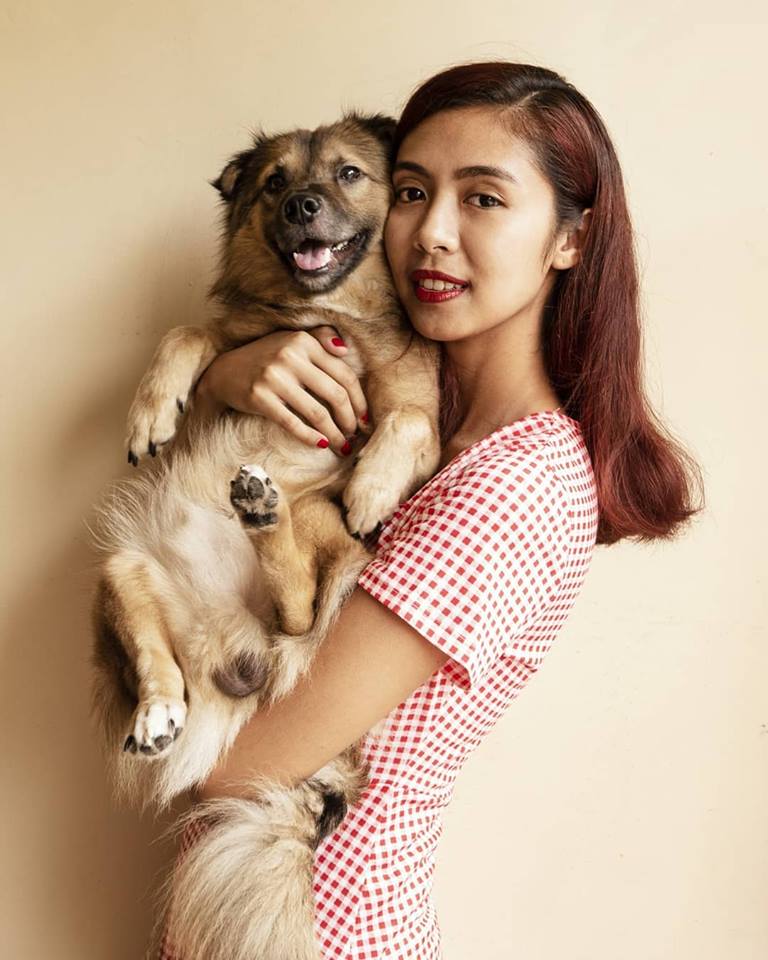 Julia and one of her precious pups
My journey to Design Pickle started in middle school. When my Art teacher exhibited my artwork in the school's hallways, I sensed that I must have crafted something that pleased the senses, for others to appreciate. And this became the foundation for me to pursue my interest in art. Over the years my love for art grew and became more pronounced. When it came time to go to college,  I chose to study Multi-Media Arts.
At first, my parents felt pretty reluctant about my choice of major. They were hoping that I would engage in a more serious course of study and perhaps just treat art as a leisure pursuit, not a vocation. Little did they know that it could be both, simultaneously. After discussing over a few dinners, they eventually agreed and trusted me with my decision. My journey continued.
In gratitude to them, I was very focused and worked extremely hard at school. When I received my first Dean's List award, all the hard work totally paid off. It helped reinforce my feelings that I made the right choice. Winning the award gave me almost the exact same feeling I felt when my art was first displayed by my teacher in Middle School. Seeing my parents happy and proud of me made it even more incredible!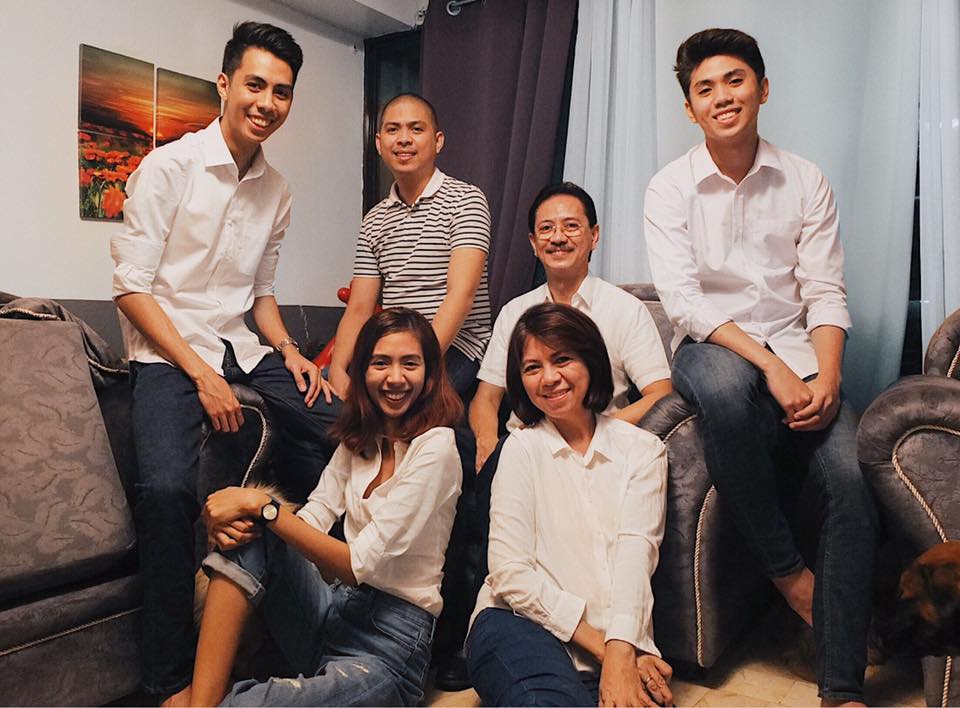 Julia and her family
Falling in Love with Graphic Design
After experimenting with different forms of art, I fell in love with Graphic Design. And the rest, as the cliché goes, is history. I was consistently on the Dean's List until I graduated from De La Salle – College of Saint Benilde, with honors in 2013.
Immediately after graduation, I worked as a Junior Graphic Designer for an Australian Firm. I spent about two and a half years there, further honing my skills while getting praise from my pleased clients for jobs well done.
The experience and training gained from working at a fast pace with a long continuous queue of requests from clients were all worth it. I am very grateful that I had been trained to quickly produce high-quality work while working with a diverse team of different personalities.
Having honed my skills and feeling prepared to go solo, I left the company to venture into a full-time freelance career designing for different brands mainly in the Philippines. In mid-2016 I also established a home-based, self-named online gift shop, Julia Aparente Love-Crafted Designs. It was so gratifying to make art with my computer and mouse as well as making art using my bare hands.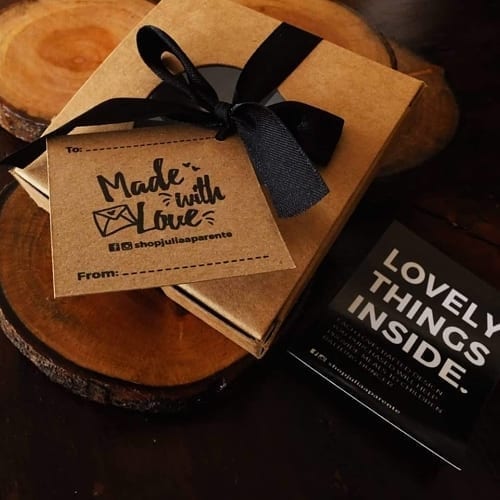 Julia's online business, Love-Crafted Designs
My Journey to Design Pickle
Fast forward to February 2018, a friend introduced me to Design Pickle. Design Pickle was hiring home-based graphic designers. This job would let me continue working from the comfort of my home letting me be with my seven dogs. Perfect! I was so excited!
Just a few days after applying, I found myself getting ready for a Skype interview, nervous but positive. By the grace of God, it went well. It was a fun three-day interview and training. And it was a quite the learning experience.
Every Pickle I met was so passionate about the core values: Friendly, Smart-working, Service, and Truth. I said to myself "I want to be part of this family". The Lord's answer to my prayer was swift and simple. In a matter of days, I found myself being welcomed into the Design Pickle Family as a Graphic Designer February 20, 2018.
Was it an easy and perfect start? No, it wasn't. For the first three days, I didn't finish my queue until 10 in the evening. I was exhausted. But was it worth it? Of course it was. And it still is. After a few days on the job, I was able to adjust and managed my time better. I was slowly learning the process until I finally managed to be calm and feel comfortable and confident in my work.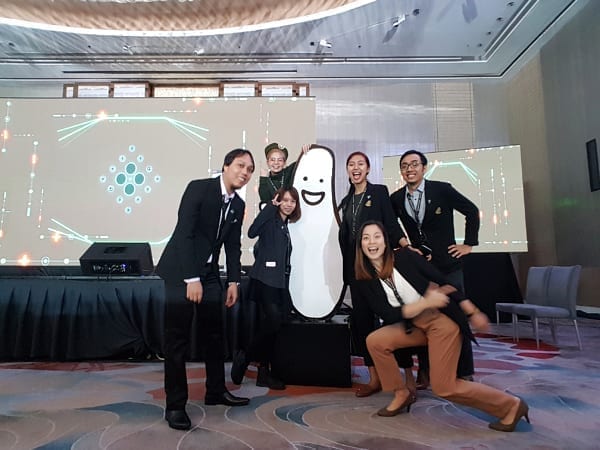 Team Cha at PICKLECON!
One big reason I feel this way stems from being on Team Cha, I'm so grateful for them. Having them by my side is like having a guardian angel guiding me in everything I do. They don't just help me with technical issues but they are also amazing at making me laugh and making me feel good about myself. They are my inspiration. That team is one of the reasons it is easy to get out of bed in the morning.  
Growing with Design Pickle
Two months into the job I was named April's DILL (Details, Interest, Learn, Love) of the month. It felt marvelous, being appreciated and recognized when I was just a new member of the family. That was also the day I realized that I want to be part of this company for the long run. So, I continued to give my best every day, taking the core values into action. Were all my clients positive, kind, and clear with their instructions? Nope. One can only wish. There are moments I have to pause and take a deep breath. That's reality.
Not everyone will appreciate your work. Sometimes you are not a match and that's okay. Those instances are overshadowed by the clients I do match with. It's magical. When my client and I are a great match, it feels as if our brains are in sync. Getting praise and feedback from my clients is just an added bonus. One of them even calls me a "Ninja Magician" because I deliver his requests swiftly and with exceptional quality. I already consider them my friends, whom I will ask how their weekend went and share mine right after. Again, I kept working, continued to be the best that I can be, to be as friendly at all times as possible, and to be the teammate that Team Cha can count on.
My PickleCon Experience

Then, PickleCon 2018 happened. 200 Pickles in one place! Everyone was so friendly and welcoming, I didn't find it hard to mingle with folks and make new friends.
On the second day, we were asked to write down our goals and dreams. We were then asked to share it with others. It was right there where I realized that self-love is essential.  In order to be of service to others and to spread love to my surroundings, self-love is necessary. I also learned so much from my colleagues' personal experiences and goals. It was the best conference that I've ever attended in my life.
Being a home-based designer, you don't often get to see your co-workers. At PickleCon I met so many neighbors and made many friends. Knowing I have some great folks nearby I can spend time with in person (and not just through my computer) is so satisfying.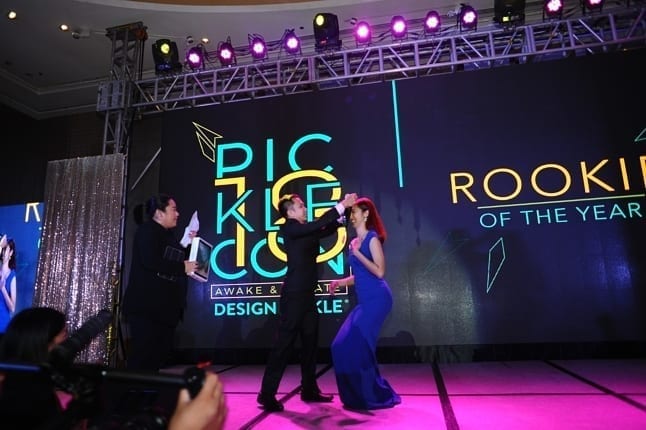 Julia and Oliver, last year's Rookie of the Year
The very last event of PickleCon was the Awards Show where I was awarded the Rookie of the Year. I still get teary-eyed whenever I play that scene in my mind. I'm still very much in awe and feeling so appreciated. Having my colleagues, managers, and Russ Perry personally congratulate me warmed my heart.
Today my heart is bursting with gratitude, love and most importantly, peace. I know that I will wake up tomorrow and the days to come with a smile on my face, ready to meditate and have a glass of green juice. I will continue to love myself more in order to spread love to others. I will continue to learn and share my knowledge and skills with the world. I will continue to be a trustworthy and enthusiastic teammate.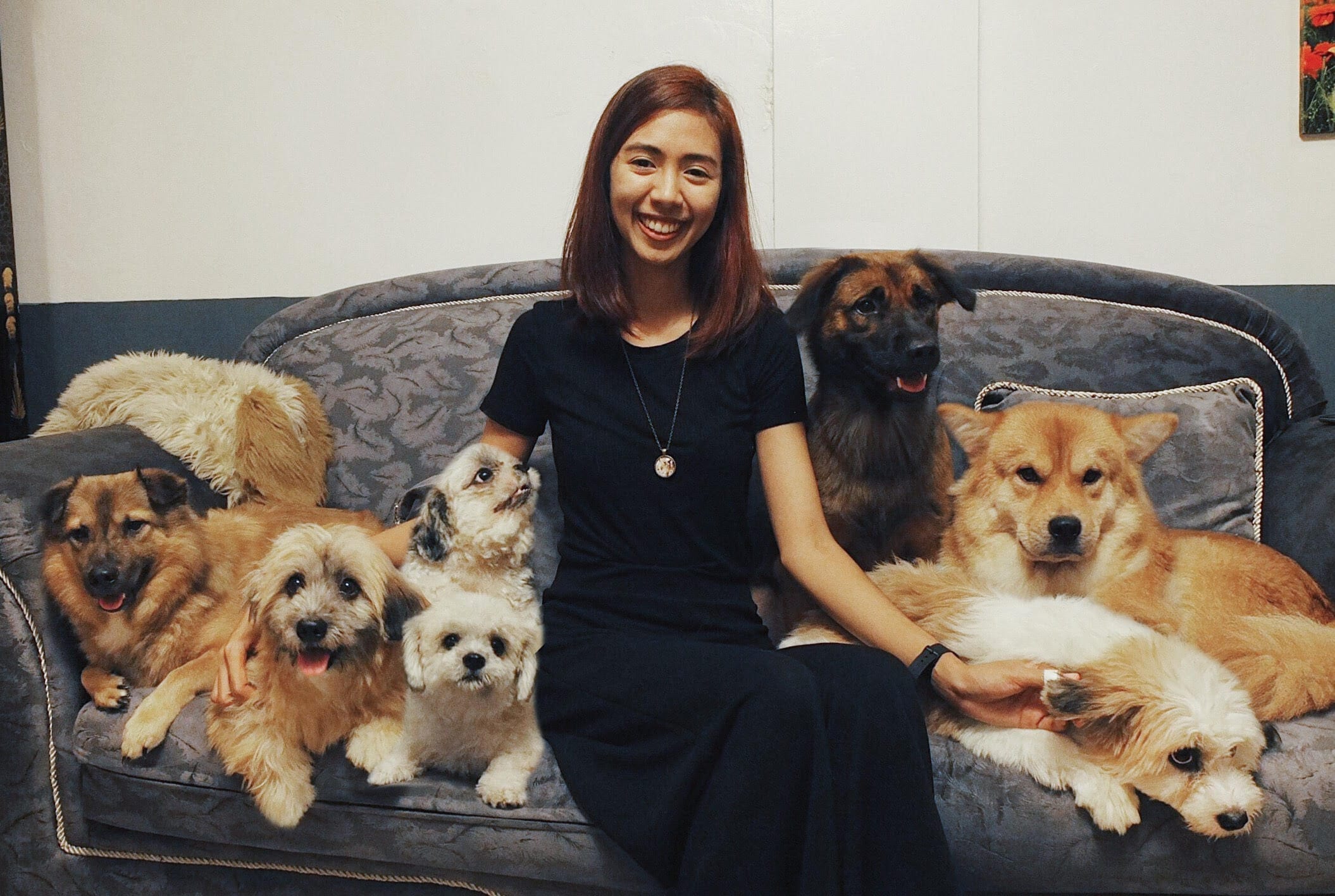 Julia with her seven (!) dogs
I hope to achieve my next goal of being a Team Leader soon. It's exciting to imagine having a group of talented and skillful designers to lead and inspire. I hope my story will motivate them and bring out the best in them. I am certain though that there will be trials and challenges, lots of them. There will be mistakes to be committed and lessons to be learned. But that's what life really is about, right?
The future is frightening and exciting at the same time. But there's one thing I am sure of: I know that Design Pickle, whom I now call my second family, will be with me to support, guide and help me to be a better version of myself every day. The Journey continues.