In the ever-evolving digital marketing landscape, social media platforms have become crowded arenas for brand expression and engagement. As we all know, TikTok has surged as a dynamic space, offering small creators and businesses an opportunity to showcase their services, values, and charm through short yet compelling videos. Creating content is a lot of work and can be very time-consuming. That's why Design Pickle is a popular partner for brands and creators who need to make eye-catching vertical-format video content for social media.
Whether you're an aspiring TikTok sensation or simply looking to enhance your content, we'll show you the ropes for getting stellar, quality vertical video content for TikTok, Instagram, and Facebook reels with a subscription from Design Pickle. From concept to creation, these animations and tools will help you stand out in the chaos of these fast-growing, overly-saturated apps. Most importantly, we'll show you how to explain your vision to a Design Pickle designer effectively.
First – if you're new to the Pickleverse, it's important to understand a little about who we are. Design Pickle was founded to solve the universal problem that you've probably found yourself in – getting quality designs done, at scale, within your budget, can be a pain, or, well, a pickle. That's why we're the OG of CaaS. We were the first to offer design services as a subscription, empowering brands and creators of all sizes to get paired with talented designers and enjoy a flat-rate predictable cost structure. Fast-forward 8 years later and we're still pioneering a better creative process, although there are a lot of copy cats out there now, and a lot of places for brands and creators to get content delivered.
Design Pickle is different, and there's a reason brands have so much success partnering with us to deliver high volumes of great content, like vertical videos for TikTok, Instagram Reels and Facebook Reels. This type of content is hugely important to brands right now, and algorithms are favoring frequent posters. It makes a partnership with Design Pickle a no-brainer, as long as you know how to maximize your ROI!
There are a few key steps that will set you up for success as you set out to make great TikTok content and killer Instagram and Facebook reels for your brand.
Step 1: Organize your idea
First, you will need to decide what you want to create. You have an array of options when it comes to motion graphics. Here are some of the most frequently shared from brands on TikTok that you can craft using Design Pickle.
Animated logos – use these as bumpers at the beginning or end of your clips
Animated text – add these over video assets instead of using TikTok standard text option when editing
Graphic loop – create a fun animated loop or meme
Animated ads – animate a product or service with added animated text in less than a minute.
Animated titling – similar to option 2, create a more fun and branded title over your short clips.
Video stitching – piece together multiple footage clips and add transitions and text.
Check out our motion graphic sample work for a visual on each HERE.
Once you have a solid idea of what you want to create, here is a quick checklist of items you should gather before you create your brief. Proper materials are key when explaining your vision and avoiding added revision time.
Links to Inspiration
Sound you want your designer to use (please check Instagram and TikTok's copyright agreements and use royalty-free music to avoid being flagged)
Files needed to be incorporated (logos, characters, photography, etc.)
Pro Tip: if you need your designer to manipulate existing images/illustrations, please upload the working files! This will ensure the highest quality for static AND motion.
Copy/Paste ready text
Size(s) needed
Branding needed
Footage needed to be incorporated
If you don't have footage, our designers can search through video stock like Envato.
Once you have this information, you're ready to go! Let's go through a sample request together using a simple how-to animated recipe video for a simple cocktail.
Step 2: Build the Request
Our designers require clear guidance, especially when it comes to motion graphic content.
Simply instructing them to 'emulate the 'Wipe-It-Down' challenge' without further context wouldn't suffice. Even if your designer is familiar with the intricacies of video transitions and the latest trends on this platform, it's still super important to communicate your vision clearly (including visual examples and inspiration if you have it).
As an example, let's build a request for a quick animated recipe explainer video clip using previously illustrated images and images from Freshstock. We want the team to animate the cocktail shakers and other bar tools below to pour ingredients and shake them into a cocktail glass. We've even specified which cocktail recipe to feature in the video with copy.
Here is the cocktail we'll be making in animation (which was originally created by an illustrator as a flyer request).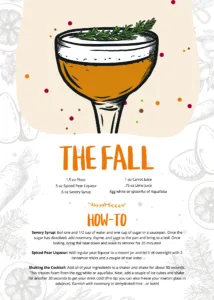 First, pick the BEST request type for your project. This helps us identify which designer would fit this project. For anything that requires motion, you'll want to select motion graphics as the asset type.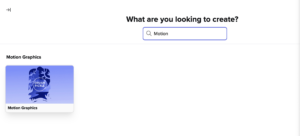 Always start a request by naming your request with an identifying title. Otherwise, you'll be sifting through your queue, wondering which "animation" or "untitled request" this is. (Do your future self a favor and don't skip this step!)
Next, fill out your file sizes. Luckily, we already have some preset dimensions for each request type, making it easy for you to click and go! In this case, we already have our dimensions for Tiktok on hand.
Bonus: if you want your final files to be delivered in more than one file format or dimension so you can post across your social eco-system, go for it! There's never been a better way to scale your content production than with a simple click of a button like this.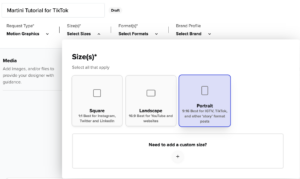 Onto the file type! The BEST upload type for vertical videos in reels or on TikTok is an MP4 file. If you want the ability to edit this later in Adobe, you can also request the raw or source files! Get unlimited file formats and always get access to source files for no extra cost.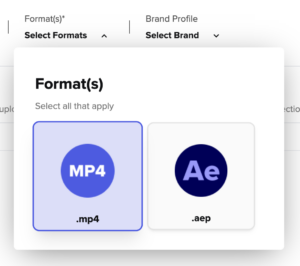 If you need or want to match a brand vibe, simply upload a brand profile for your designer to reference. We've made it super simple to create a brand profile in-app (for as many brands as you need), to include things like colors, fonts, logos, iconography, templates, and more. Your brand profiles will stay in your account until you delete them, so you can save time in the future by selecting an existing brand for your designer to match.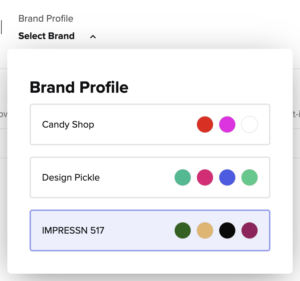 Now, let's WRITE OUR CREATIVE BRIEF. As mentioned at the beginning of this post, all designers need clear guidance. How will we effectively explain what we want, especially if we already have something in mind? When writing your brief, you can use these 7 main points as a basic prompt.
What is this request and what actions are needed?
Where is it going and what will it be used for?
How long does it need to be?
What does the final product look like?
Are there specific movements, transitions, text, colors, or fonts that should be incorporated?
What imagery is my designer using or referencing?
If I can't explain a particular concept, is there a reference I can link to show what I'm looking for visually?
Here's exactly how our brief was submitted, answering the key discovery questions above:
Where is it going? What is this request and what actions are needed?
I'd like to create an animated tutorial for TikTok. This will include animating the images I have attached to move as if a person were creating the cocktail, but it will only be the objects. I need a background and text added as well.
Where is it going? How long does it need to be?
The final video should be anywhere from 30 seconds to 1 minute (you can decide what works best or what falls into place).
What imagery or footage is my designer using? (Is it something you have, something from our stock site, or something our designer needs to search on Envato?)
I have attached the bar tools I would like you to animate. Attached is the cocktail that needs to appear at the end of the video and what the final cocktail should look like. Please mimic the background in the cocktail card file as the background for this video.
Are there specific movements, transitions, text, colors, or fonts that should be incorporated?
In the first scene, please move the cocktail shaker into the frame and have the lid taken off and placed down next to it (getting it ready to have ingredients poured into it). At this time, the text should drop in at the top of the video and say "How-To: The Perfect Fall Cocktail". I've attached a reference for the text style I want.
In the second scene, the text should disappear, and this text should be dropped in "1.5 oz of Pisco" at the top. Then, take the jigger/measure from the image and pour a liquid into the jigger (the jigger should be above the cocktail shaker as if someone was holding it) and then pour it into the cocktail shaker.
Add as many lines of detailed direction for your designer to follow as you need, like this:
If I can't explain a particular concept, is there a reference I can link to show what I'm looking for visually?
Here is the style of movement I like, and you can mimic it.
This one also kind of simulates the pouring for the end video.
Click "Send to my Designer" after uploading instructions and files to the request. And now we wait! In the next step, I'll review my results and how we'll upload them to TikTok.
Step 3: Upload and tweak in TikTok!
It took an estimated 2-4 days to get this motion graphic completed, which is typical considering its complexity. I also had one minor revision. Once I was satisfied with the final deliverable, I downloaded the MP4 file from Design Pickle, so it's ready to be uploaded on TikTok, Facebook and Instagram! Today we'll focus on how to upload, tweak and finalize your video to post in TikTok.
Open the app, click the white "+" on the bottom navigation bar. Select the "camera" option at the bottom to upload a video directly or record anything in between. Select the correct time limit you need for this video.
Next, find a sound that works for you. It's best to use audio directly from TikTok so you don't run into copyright issues and risk your audio getting taken off my video once I've uploaded it. Plus, lots of audio trends quickly, and users can browse new content by audio, so your video can gain new (free) impressions by hopping on an audio trend.
Once you're in the editing experience, you can trim, splice, add effects, or add text to your video. If you don't need any of that, you're set to review and add a short, witty caption, and pick your cover frame. Don't forget to use hashtags and add a location to reach your target audiences.
Here's a quick video showing you how EASY it is when you have a finished product from a partner like Design Pickle! You're set! Watch your views skyrocket.
Have questions regarding Design Pickle's capabilities or services? Book time with one of our experts today!