Adobe After Effects is an industry-leading software for motion graphics, visual effects, and digital compositing (i.e., combining and editing visuals from different sources).
Visual effects and motion graphics are a lot like world-building: The possibilities are endless. And to address the millions of things you can do with digital graphics, each software has its own specialties, strengths, and weaknesses. This means that the best software for you might not be the ideal solution for someone else.
With its versatile features, lifetime support, and compatibility, Adobe After Effects is pretty much considered the industry standard. But people look for alternatives for various reasons — the cost of subscription, the learning curve, or the limited 3D capabilities. Everyone's different! So if you're looking for options, consider these 8 After Effects alternatives.
After Effects Alternatives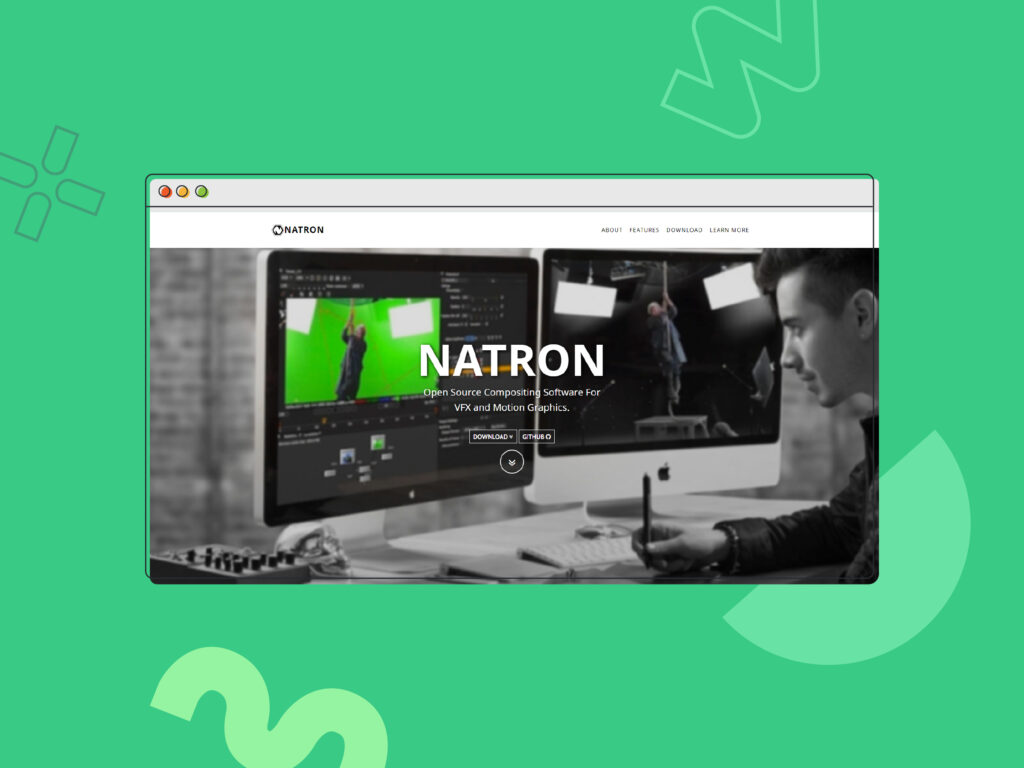 1. Natron
Free | Cross-Platform (macOS, Windows, Linux)
Natron is an After Effects alternative for pros. Packed with features, this open-source tool is great for motion graphics and visual effects — and did we mention it's free?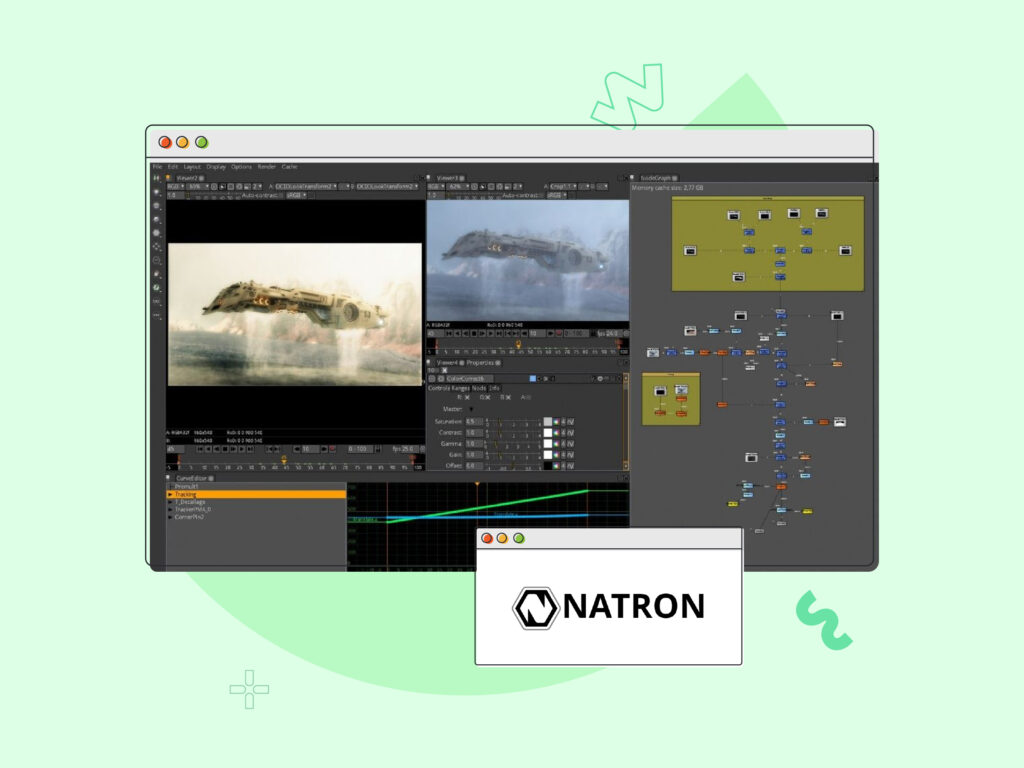 Natron's interface and functionality are similar to the much more expensive Nuke (#6 on this list). With a growing, community-fed library of plugins, Natron supports 2D and 2.5D effects and animation, but it doesn't support 3D.
The more you know: Natron uses node-based compositing, which is different from After Effects' layer-based compositing. Nodes vs. layers really is a matter of preference, but the general idea is that node-based editing is a stronger option for big, complex projects with many objects and effects.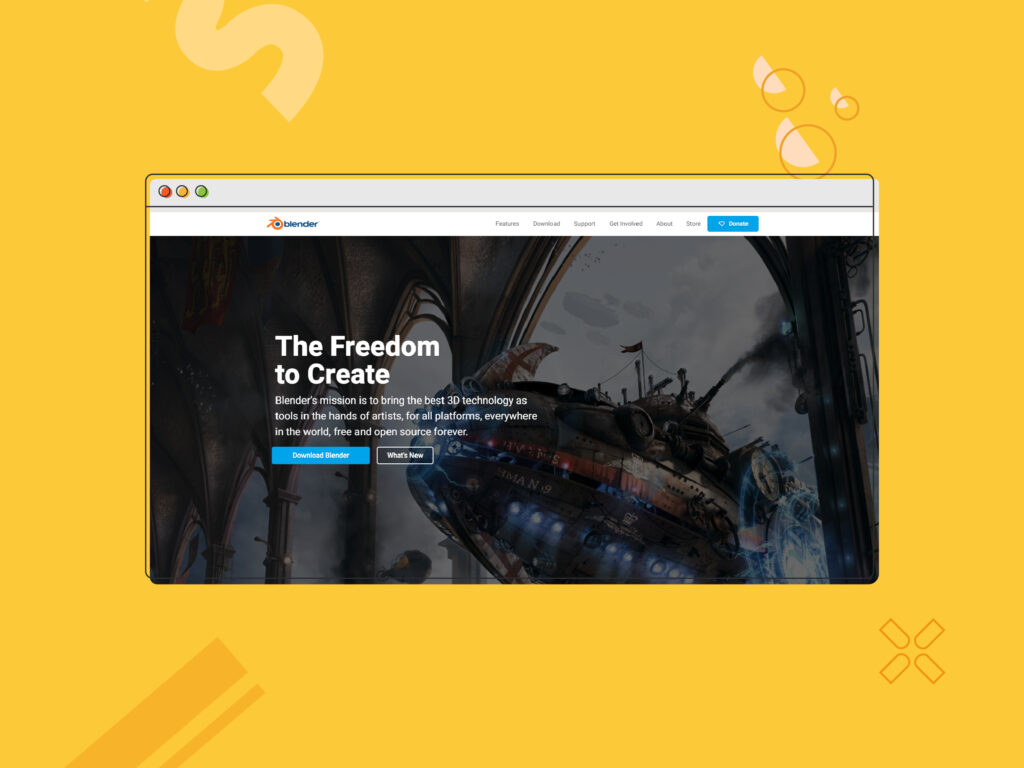 2. Blender
Free | Cross-Platform (macOS, Windows, Linux)
Blender is another free, cross-platform, open-source software. Versatile and adaptable, Blender is first and foremost a 3D tool, used for modeling, sculpting, and animating 3D objects.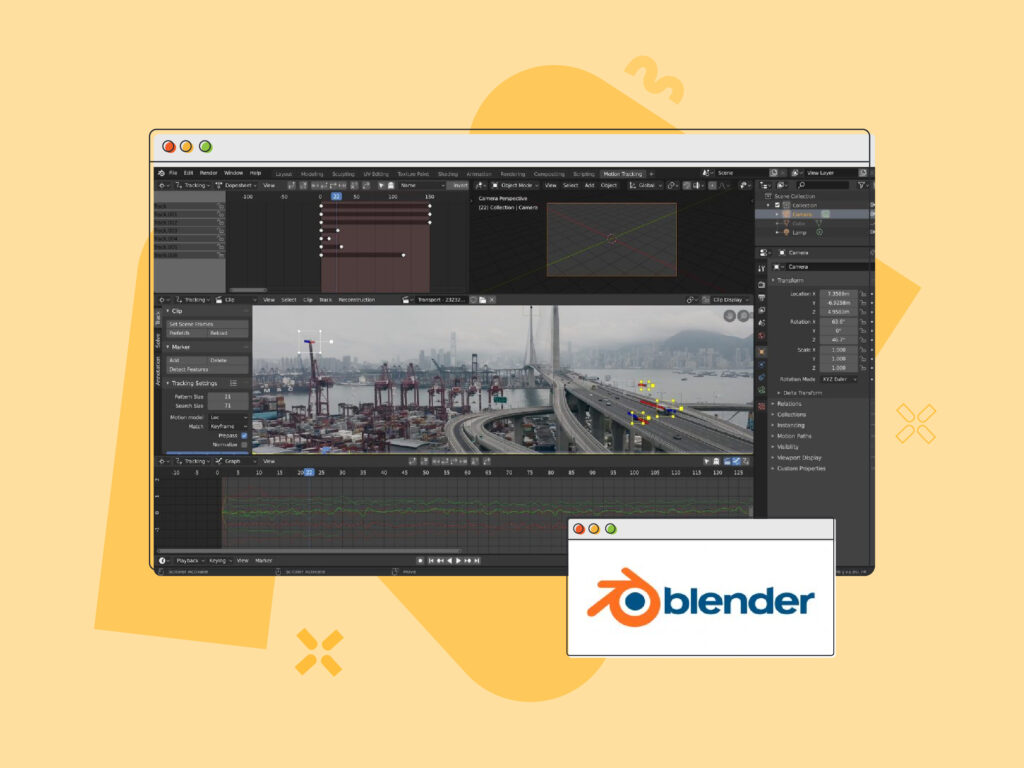 Blender is not as strong an option for 2D work — but it's possible! And while the learning curve can be steep for industry newbies, Blender has loads of thriving user communities online. Blender is an extremely flexible tool for visual effects and video editing, making it a true (costless) contender for would-be After Effects users.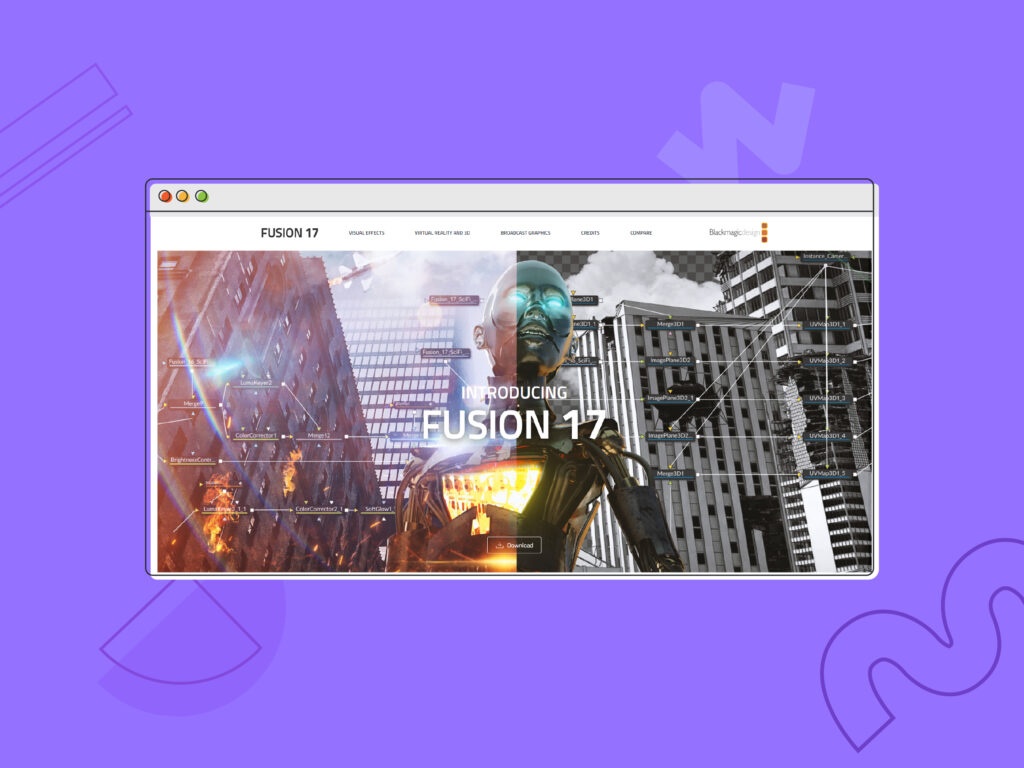 3. Blackmagic Fusion Studio 17
$295 one-time purchase |  Cross-Platform (macOS, Windows, Linux)
Fusion is a truly industry-standard software that's been used to make VFX for movies like Guardians of the Galaxy, The Hunger Games, and American Horror Story. Fusion's node-based system is designed to make the editing process much lighter and faster for huge projects.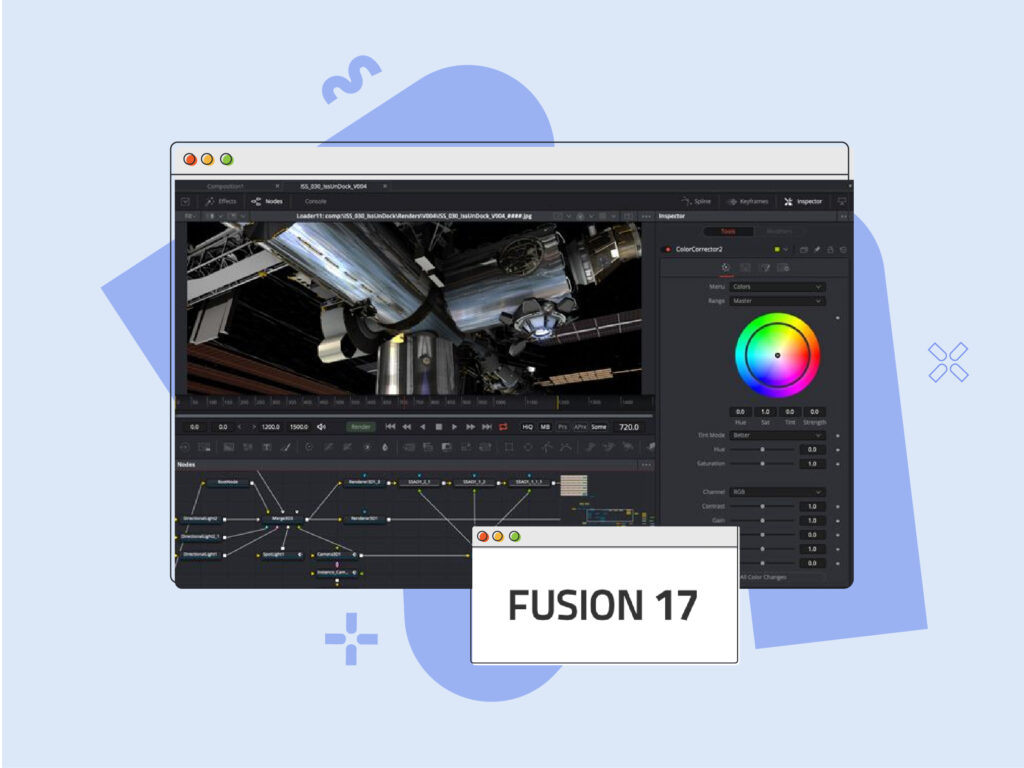 Capable of generating broadcast-quality graphics and animations, Fusion is great for artists who specialize in 3D. It also supports 360-degree workspaces for VR (virtual reality) projects.
DaVinci Resolve 17, also by Blackmagic Design, is a free alternative, boasting many of the same awesome features for video editing and motion graphics.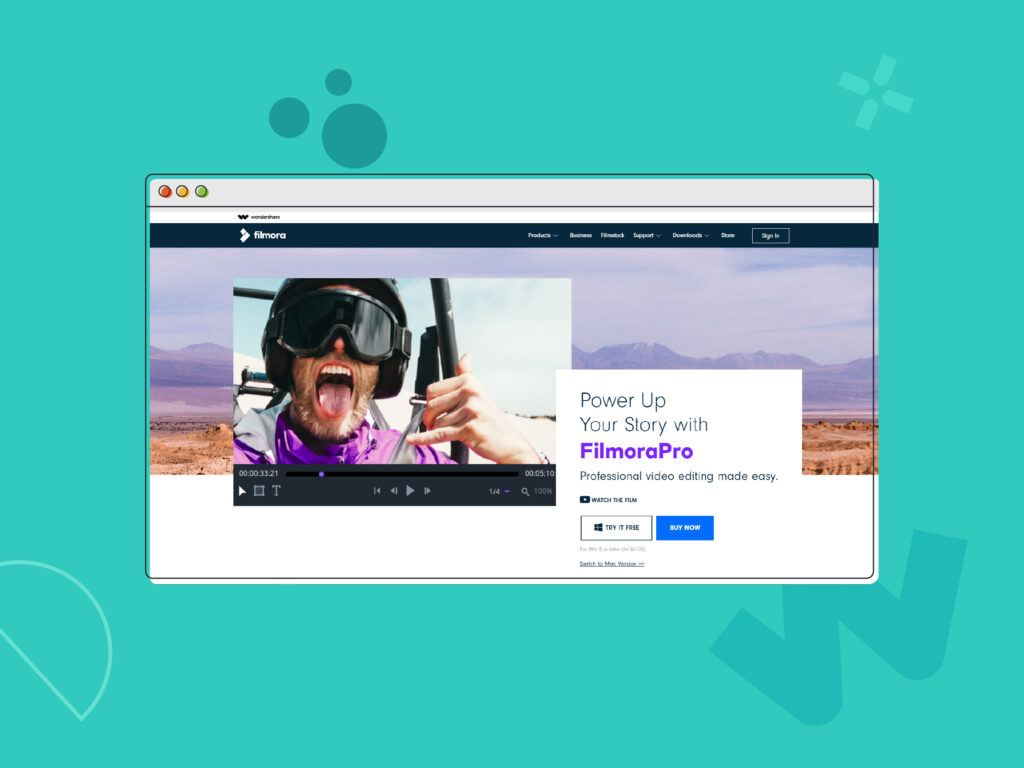 4. Filmora Pro
$149.99 one-time purchase | Free Trial Available | Windows + macOS
Wondershare Filmora Pro is an advanced but user-friendly editor with basic audio options and a customizable interface. While supporting motion graphics, special effects, and color correction, its video editing capabilities also make it a good alternative to software like Adobe Premiere Pro or Final Cut Pro.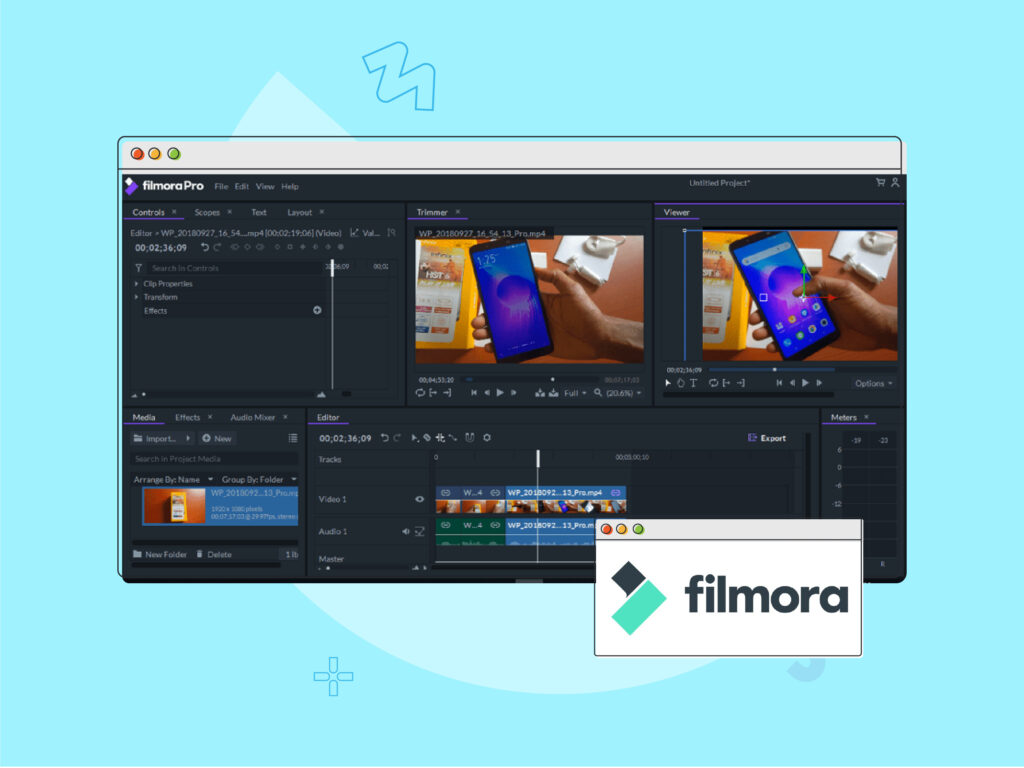 A simpler and more affordable option is Wondershare Filmora X, with a beginner-friendly interface and many basic motion graphic features.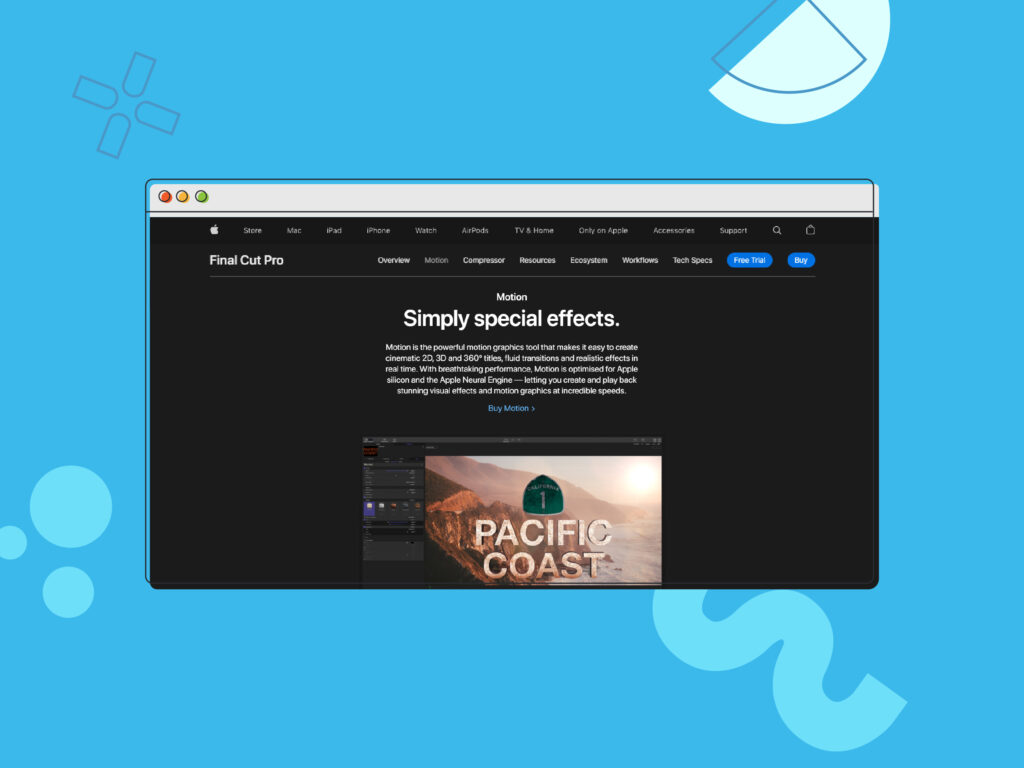 5. Apple Motion
$49.99 one-time purchase | macOS
Whether you're working with 2D, 3D, or 360-degree VR graphics, Apple Motion is the app for you. A lightweight and visually stunning editor, it's capable of creating "fluid transitions and realistic effects in real time."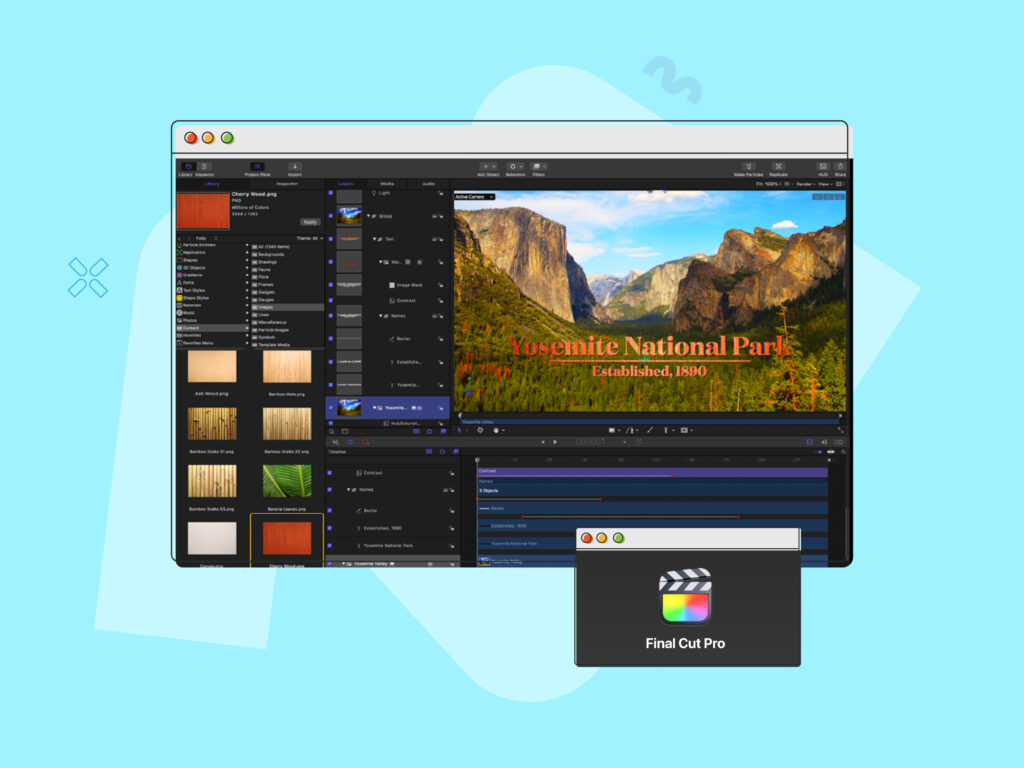 With Apple Motion, you can easily create 2D and 3D animation for titles and credits, use drag-and-drop animations, and access many built-in effects and filters. It's also a great companion app to Apple's Final Cut Pro.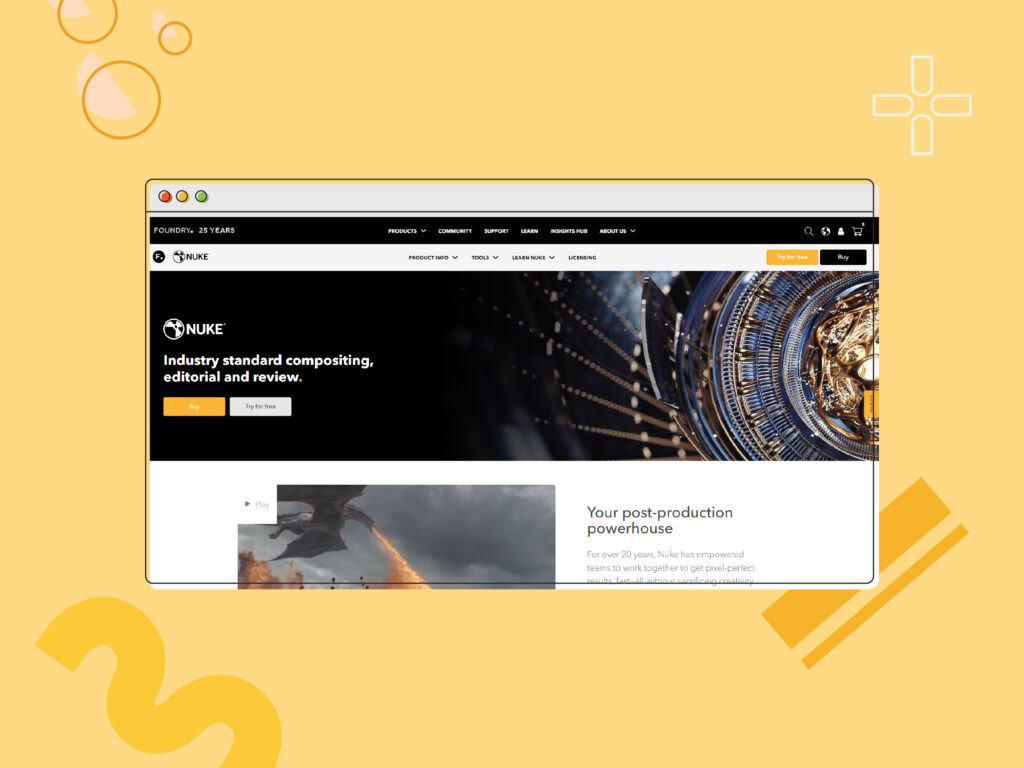 6. Nuke
$5,248 one-time purchase, or $1,829 per quarter | Cross-Platform (macOS, Windows, Linux)
Feature-packed, easy on the hardware, and great for editing color quality, Nuke is a powerful compositing tool that allows for team collaboration and huge productions.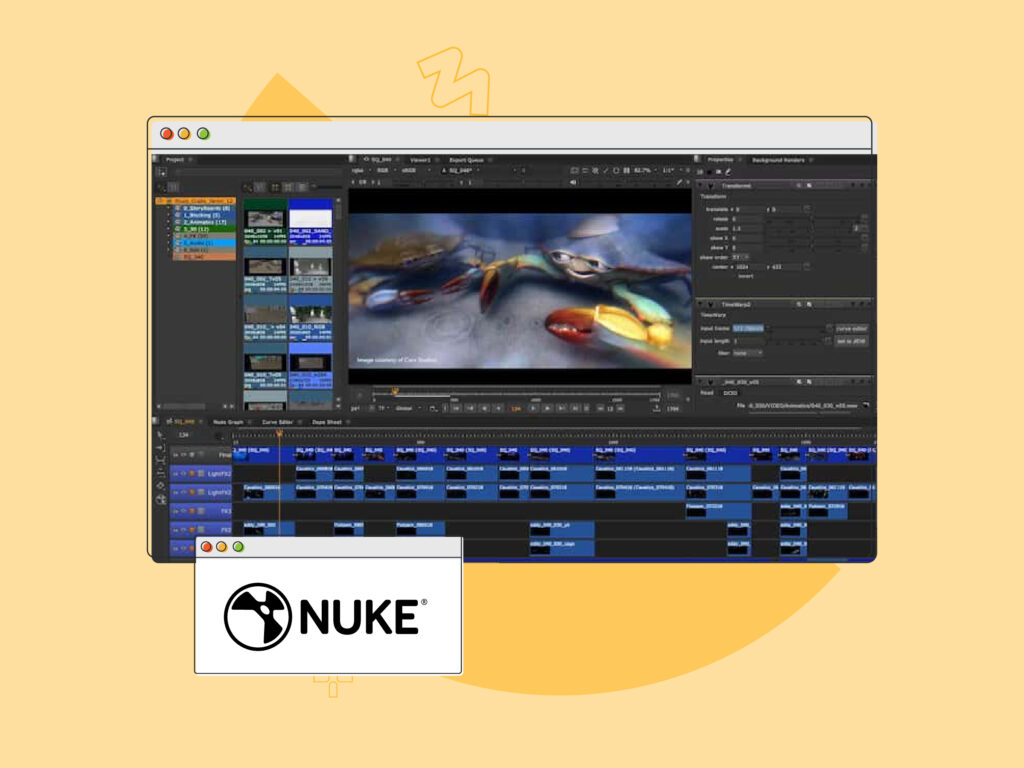 Nuke has been used in the production of a stellar variety of films, such as Guardians of the Galaxy Vol. 2, Star Wars: The Last Jedi, Blade Runner 2049, and even Studio Ghibli's very first feature-length 3D animation, Earwig and the Witch.
A film industry favorite, yes, it is on the pricey side. But don't worry — students get an amazing 90% off, and there's also a cheaper version of the platform geared towards lower budget productions: Nuke Indie.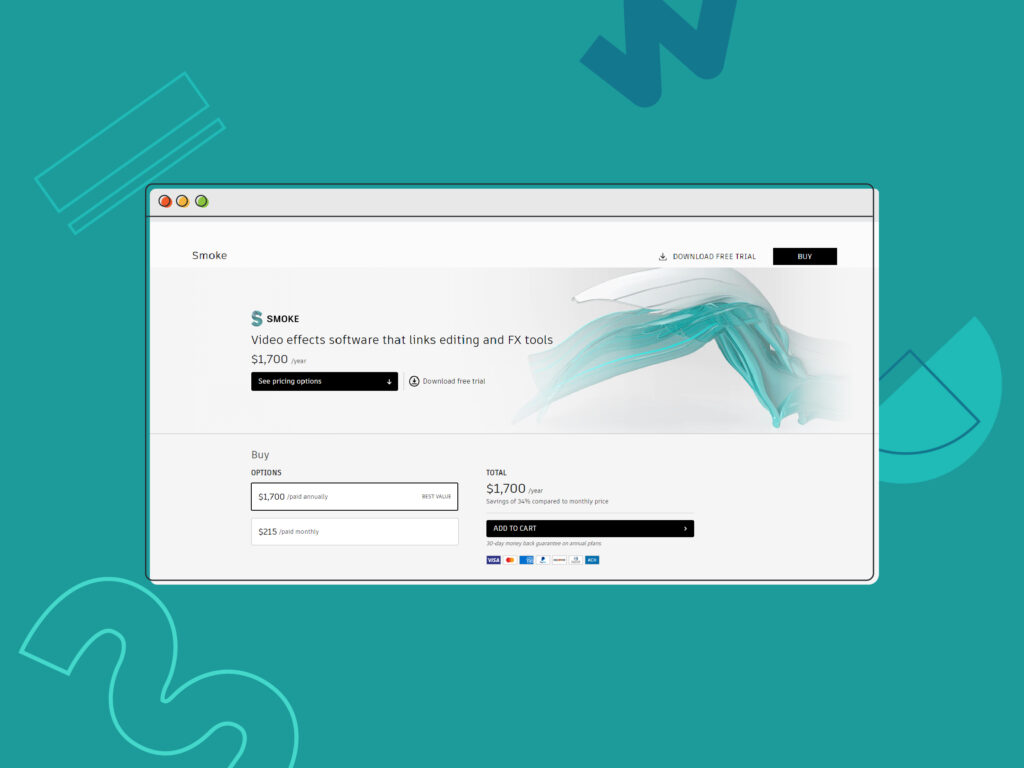 7. Autodesk Smoke
$1,700 per year | macOS
Like Apple Motion, Smoke is exclusive to the Mac OS and compatible with Final Cut Pro X. And like Filmora Pro, it combines VFX tools with video editing capabilities.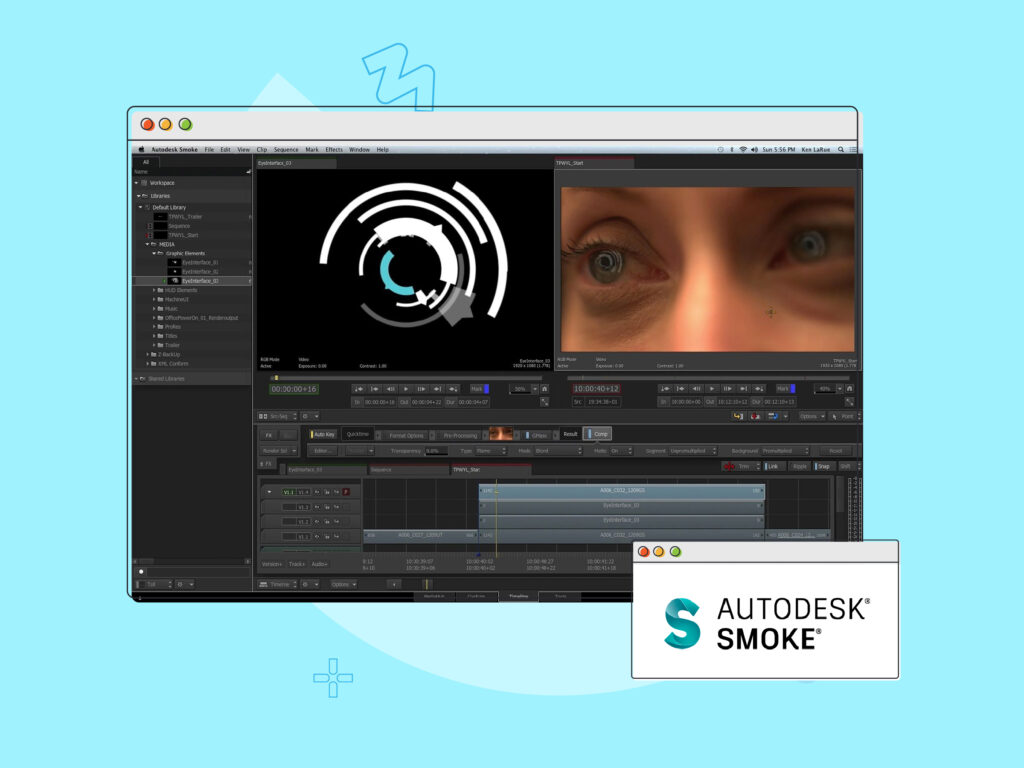 Smoke's timeline-centered interface is sure to be familiar to After Effects users. While its node-based compositing functionality may seem new, it allows you to create visual effects without leaving the timeline for streamlined workflows.
While pricey, Smoke is nonetheless powerful. Its 3D text and animation capabilities are a joy to post-production specialists for big-budget productions, and indeed, Autodesk products have been used in the making of full-length animated films like Coraline and Paranorman.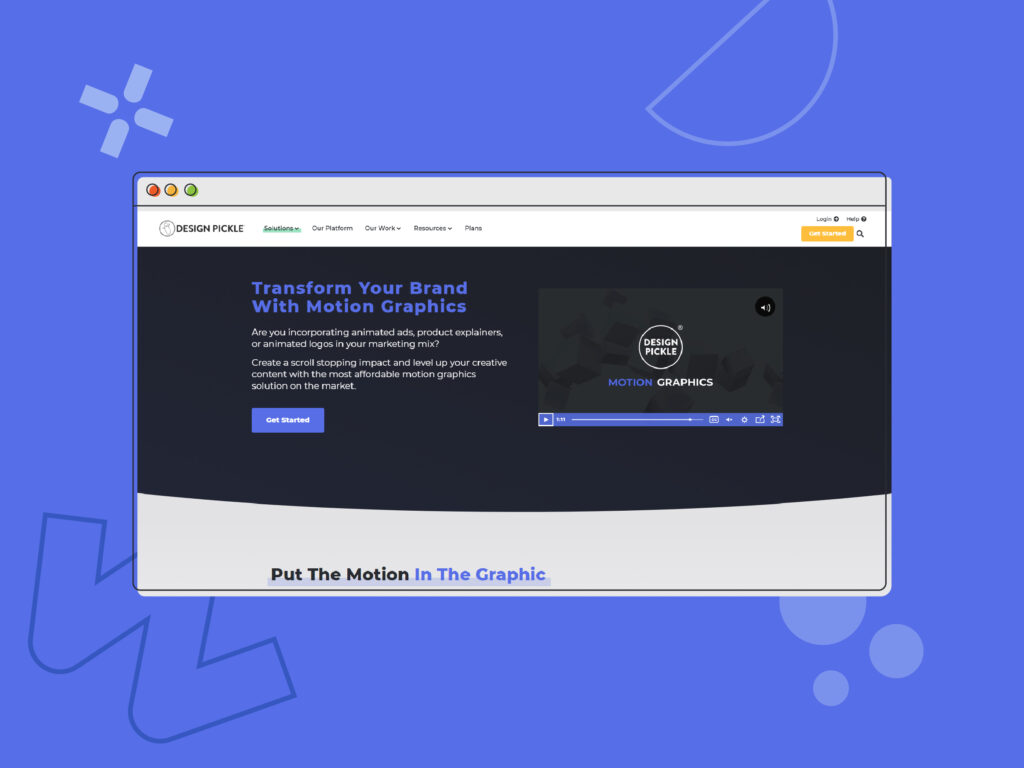 8. Design Pickle Motion Graphics 🥒
$1,695 per month | Unlimited requests — motion graphics are created for you!
Whether you get a free or paid After Effects alternative, there are other huge investments you need to make along with it: time and work to first learn the software, then time and work to actually create the motion graphics you need.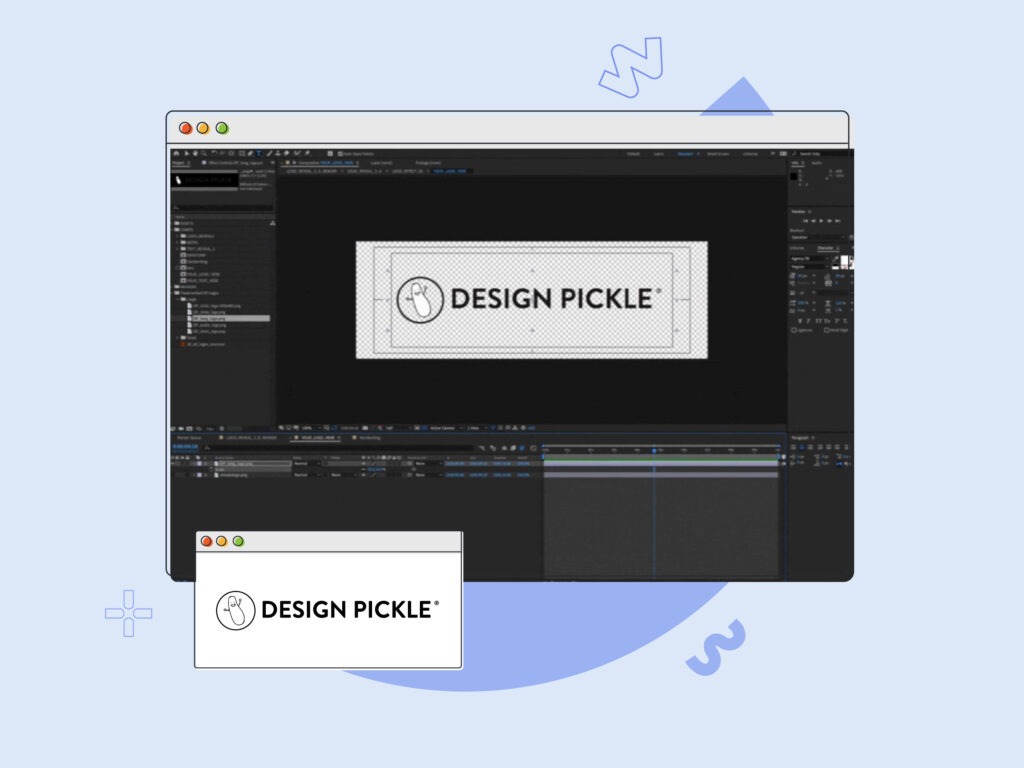 Sure, you can always hire an in-house motion graphic designer — but that can set you back almost $4,000 per month.
Design Pickle offers unlimited motion graphics and graphic design services for much less — $1,695 per month. Get 2D motion graphics that can elevate your marketing materials, from presentations to website graphics to social media. You don't need to learn the software and spend hours upon hours to get the job done!
At Design Pickle, our professional motion graphic artists use After Effects and other programs in the Adobe Creative Cloud Suite to generate awesome visuals for our amazing clients around the world.
With Design Pickle Motion Graphics, you get:
Custom motion graphics
Unlimited requests
Unlimited revisions
Fast turnarounds
Slack communication
24/5 live support
On-brand assets
Zapier integrations
Centralized file storage
Unlimited Brand Profiles
Multiple user access
Stock library access
Easy in-app feedback
No contracts
Satisfaction guarantee
Ready to put your brand in motion with animated visual content? Request a demo today, or read more about 10 types of motion graphics you can create with Design Pickle.