If you've ever worked with a traditional freelance graphic designer or agency, you know the drill. First, you give them your ideas, parameters, and preferred deadline. Next, they return a piece to you. Then, you have to make a big decision: Do you ask for revisions on your marketing materials or not?
This question isn't as straightforward as it might seem. Revisions can eat into your timeline and your budget. If you're being charged by the hour, several marketing project revisions can make your graphic design services budget disappear.
Now, what if you could eliminate those worries by enjoying unlimited requests and do-overs? Imagine the relief you'd experience knowing that your designer wouldn't send you a huge bill itemized for every hour, request, and revision? Rather, you'd simply get the best graphic design collateral for the same flat rate each month.
That's what you get with Design Pickle. In fact, our unlimited revisions (and requests) philosophy is one of the reasons client Cyn M. raved on G2:
"Unlimited revisions make it easy to get exactly what I want. I load up the queue late in the day, and projects are back in my inbox the next morning. This is truly a great service and solves a TON of roadblocks."
Unlimited Graphic Design Services Really Means Unlimited
In case it isn't clear, our "unlimited" policy extends to more than just revisions — it means unlimited requests for projects as well. As long as the design project falls within the scope of your Design Pickle plan, there's no cap on the number of items you can request each month.
We get it — you want to know what the catch is. Can you honestly keep making requests and asking for revisions on custom marketing materials without having to pay more? You can, and there is no catch! As long as you haven't decided to prioritize different graphic design projects, you can expect your designated designer to act on your requests and get revisions back until you're satisfied.
That's the beauty of a flat-rate, subscription-based graphic design services provider: No fuss, no muss, and zero fretting. Being able to send project requests and revisions through our streamlined system allows you to develop the best materials possible without any friction.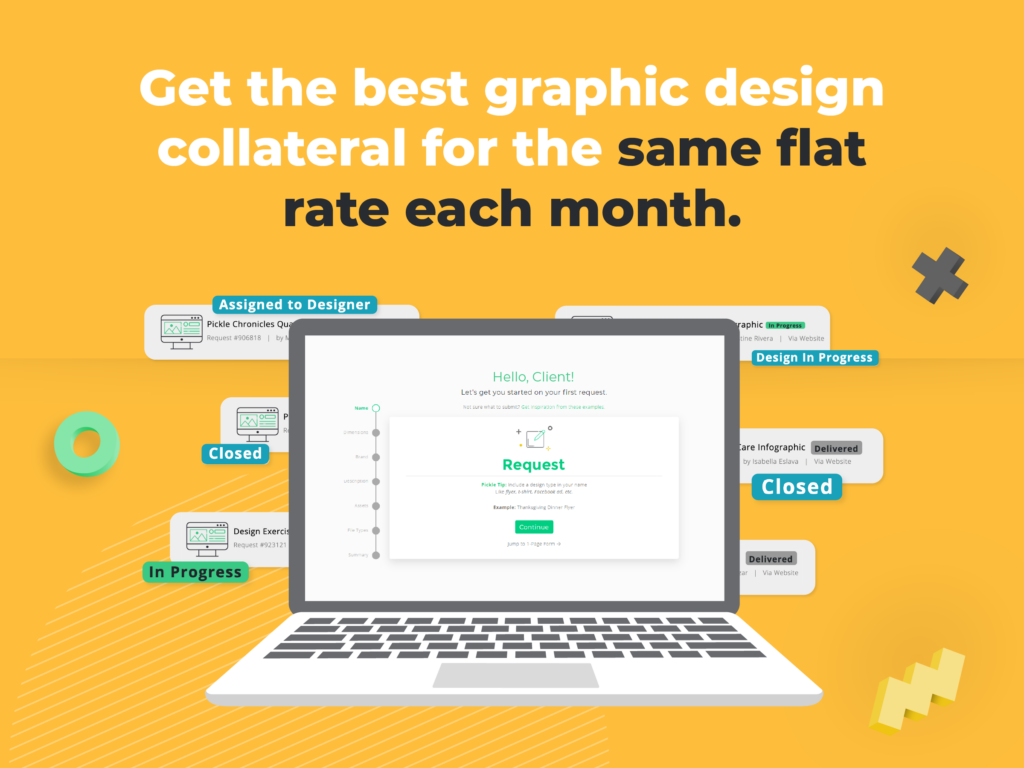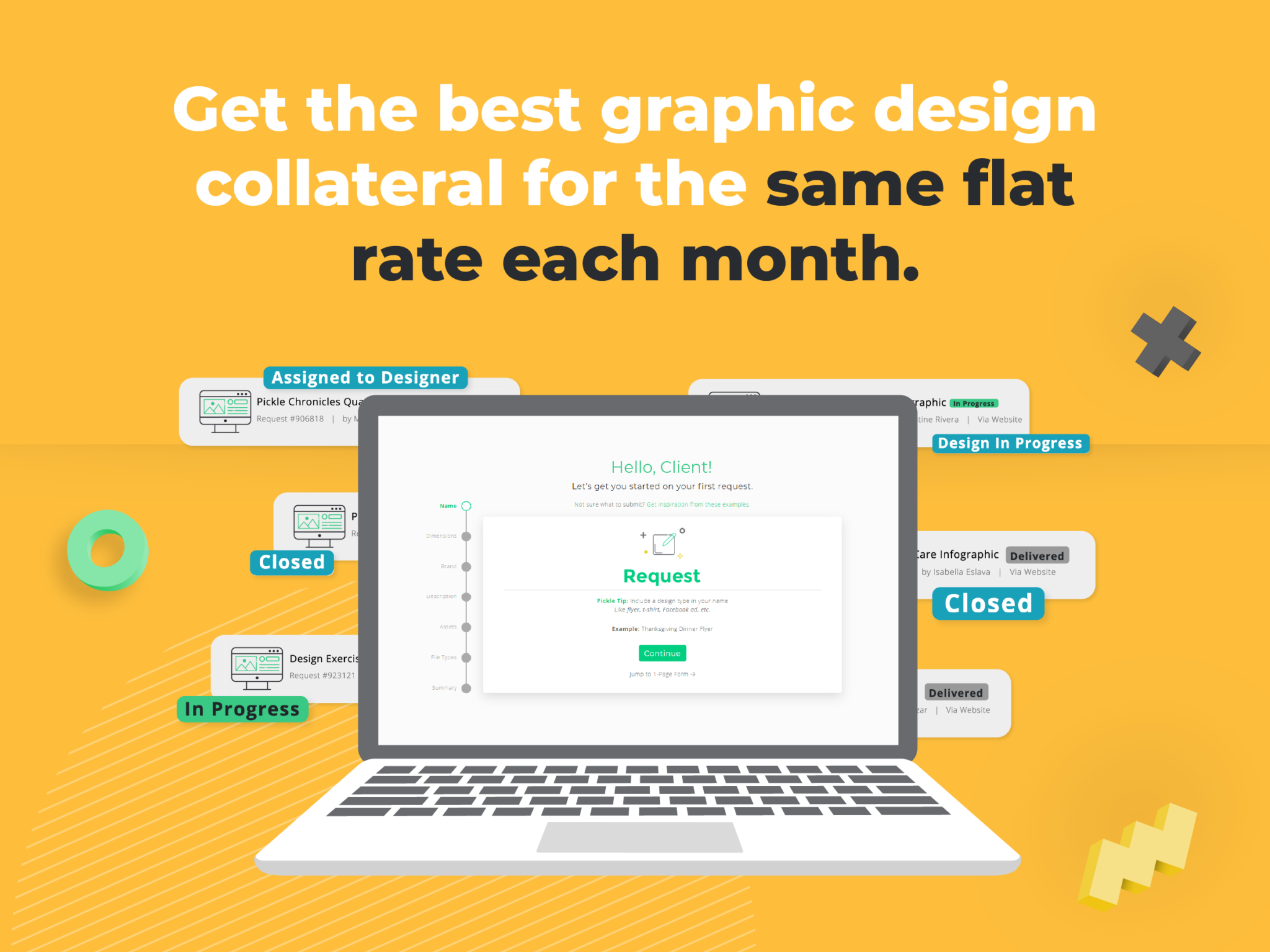 Revisions Made Even Easier
Everyone on the Design Pickle team recognizes the usefulness of revising content. But in traditional graphic design models, there's usually a couple of holdups along the way.
First, let's say you have several people in your office who need to look over creative projects to provide input. It's easy to have others on your team provide revisions as needed with Design Pickle. Simply add more users so anyone on your team can check originals and revisions — you can add up to 10 users per Design Pickle subscription at no additional cost. Why deal with headaches when you can remove all the barriers to getting graphic design services on a fixed budget?
Next, the very act of making revisions on graphic design projects can be cumbersome. Trading files and leaving comments for feedback can get messy. To ease this usual back-and-forth, Design Pickle has two built-in features to help streamline the revision process: Annotations and a Feedback Widget.
The Annotations feature allows you to add comments directly on your designed graphics. This way, you can give your designated designer more precise revisions.
Meanwhile, the Feedback Widget allows you to leave a note for your designer (or their team lead). Whether it's a kind word or constructive criticism, this tool guarantees the right person will see it. The Feedback Widget also has a star-rating system for quick feedback.
With these communication tools — and Design Pickle's commitment to providing unlimited requests and revisions at a flat rate — you will be able to create excellent design products without compromising your vision.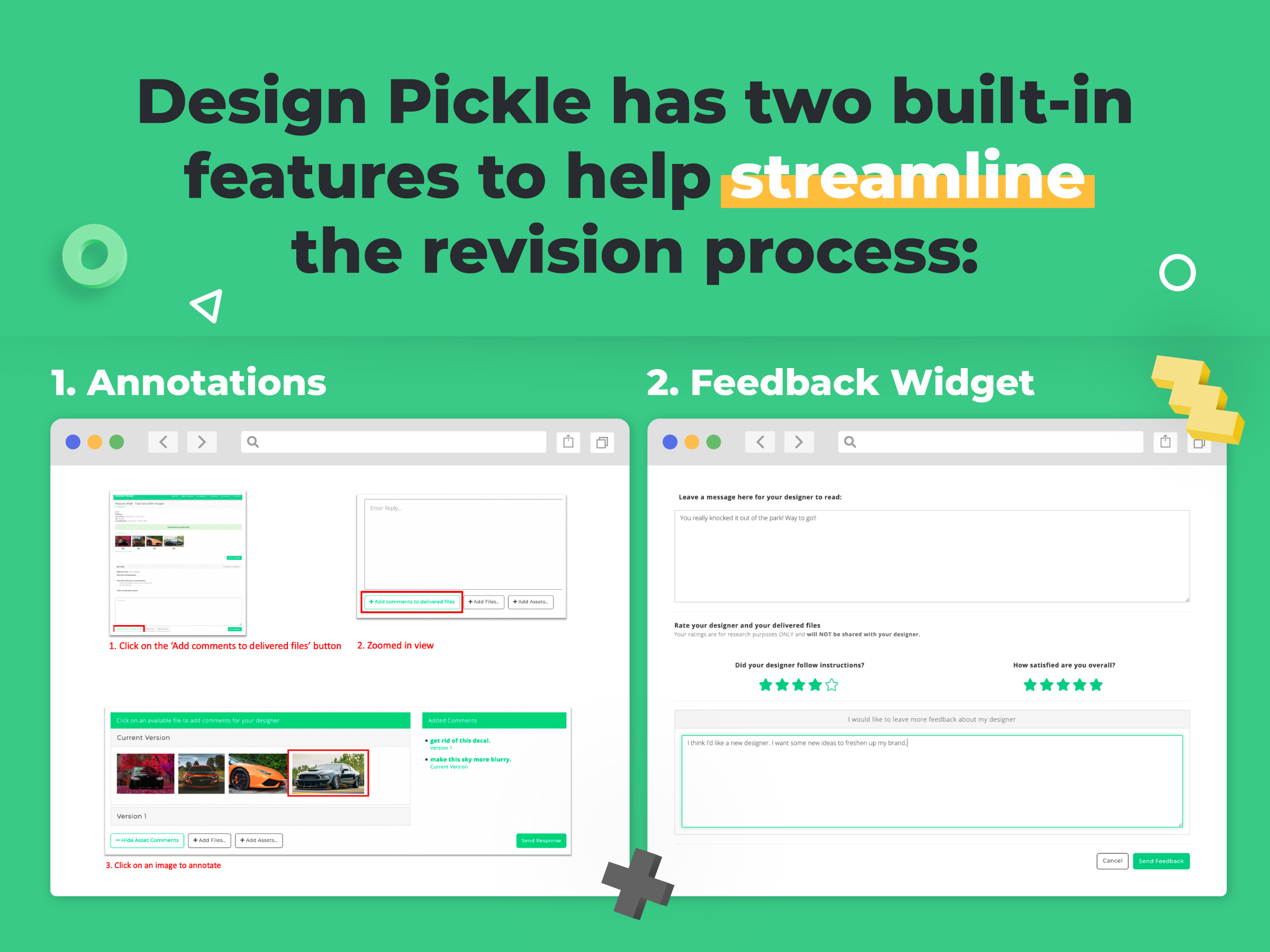 Designer-Client Communication Is Key
Ultimately, our goal is to foster the smartest, fastest project communication management methods and workflow between you and your designated designer. Our unlimited revision system works so well due to this seamless communication between each client and every designer.
From the moment your account is fully activated, you'll have the ability to communicate with your graphic designer through our Design Pickle Platform or email. You'll also be able to connect your account to the apps you use most (like Google Drive or Slack) through Zapier integrations. Even better: With a Pro plan, you can communicate with your designer in real-time via Slack and connect your Design Pickle account to your own software with our API integration. That way, you receive your design requests in the place that works best for you.
To scale and grow your business, you should get your creative content in the most intuitive and budget-friendly way possible. Fostering a harmonious working relationship that produces outstanding content is what drives Design Pickle's super-friendly, tenacious team members.
Get inspired by what we've created for other businesses, and then check out our plans. You can also contact us for a free, custom demo to see how we can level up your content through our smart-working unlimited service model.