In the past year, the impact of COVID-19 has reverberated across industries — from restaurant workers losing business for months due to shutdowns to concert venues closing their doors indefinitely to millions of workers adjusting to working from home.
Marketing departments are not immune to these circumstances. As it becomes clear that COVID-19 isn't going away anytime soon, companies are looking for innovative marketing strategies that will enable them to cope with long-term uncertainty.
Read on to discover how you can free up $30K to $60K per year for your marketing department by outsourcing your creative production needs — and for additional insight, download The Revenue Marketing Playbook.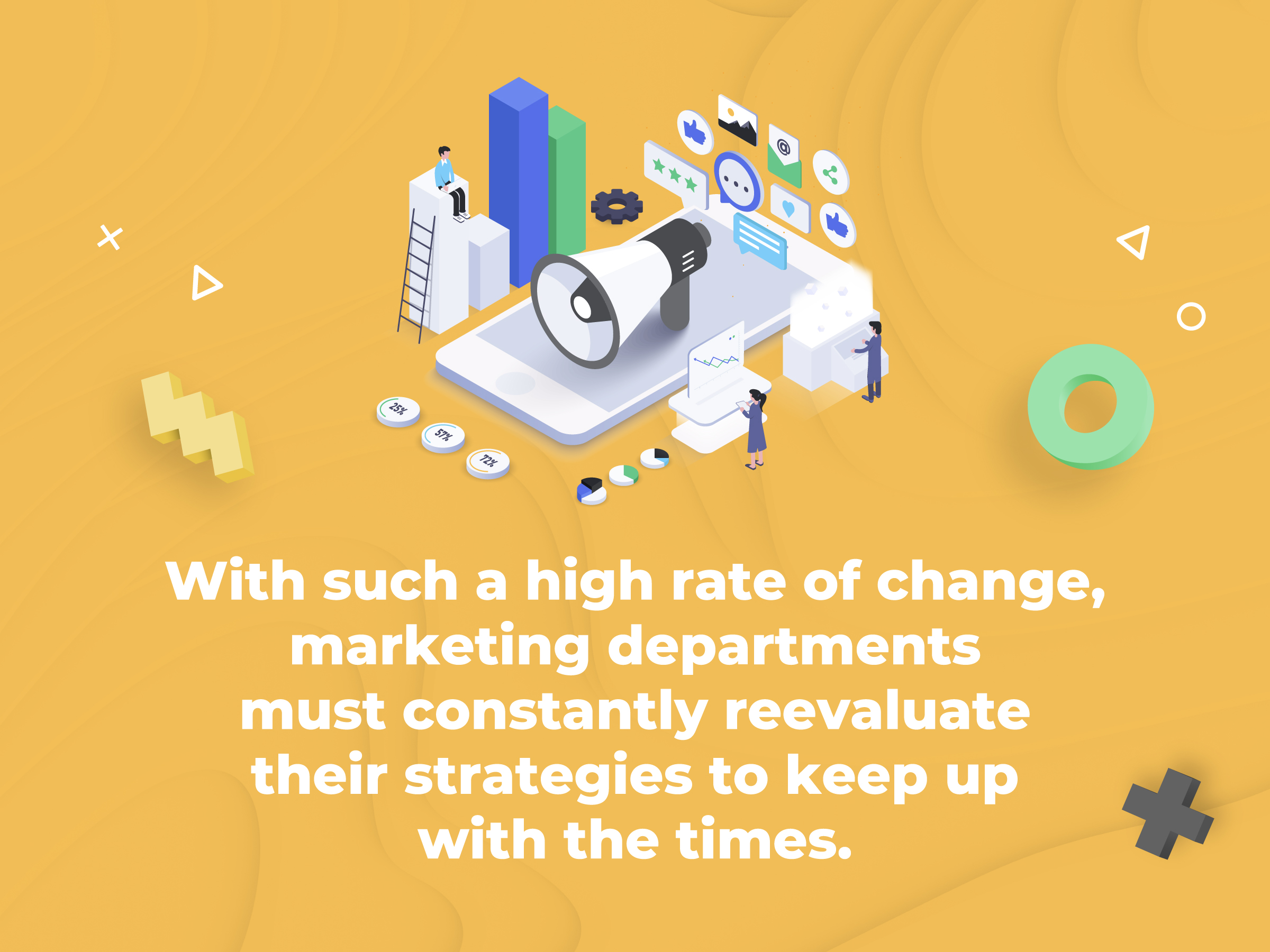 Companies are Preparing for Long-Term Uncertainty
In light of the COVID-19 pandemic, it's been said that the marketing industry went through an entire decade's worth of change in just five months. With such a high rate of change, marketing departments must constantly reevaluate their strategies to keep up with the times.
In light of this, many CEOs are expecting marketing department executives to focus on data-driven strategies so they can react to changes in real time. Because of the uncertain circumstances, it has become increasingly important for brands to invest in quick consumer insights. Plus, many companies have implemented daily meetings to keep all team members up to date in a rapidly changing world.
For many companies, COVID-19 has also encouraged investment in marketing strategies that may be new and challenging for marketers. For example, with live events out of the question (or at least significantly changed from what they used to be), marketing departments have increased investment in virtual events, web content, and webinars, among other online strategies. This puts many marketing departments in unfamiliar territory.
As companies adapt and invest in new, more flexible marketing strategies, the next question is: How well do these strategies respond to consumer expectations and behavior?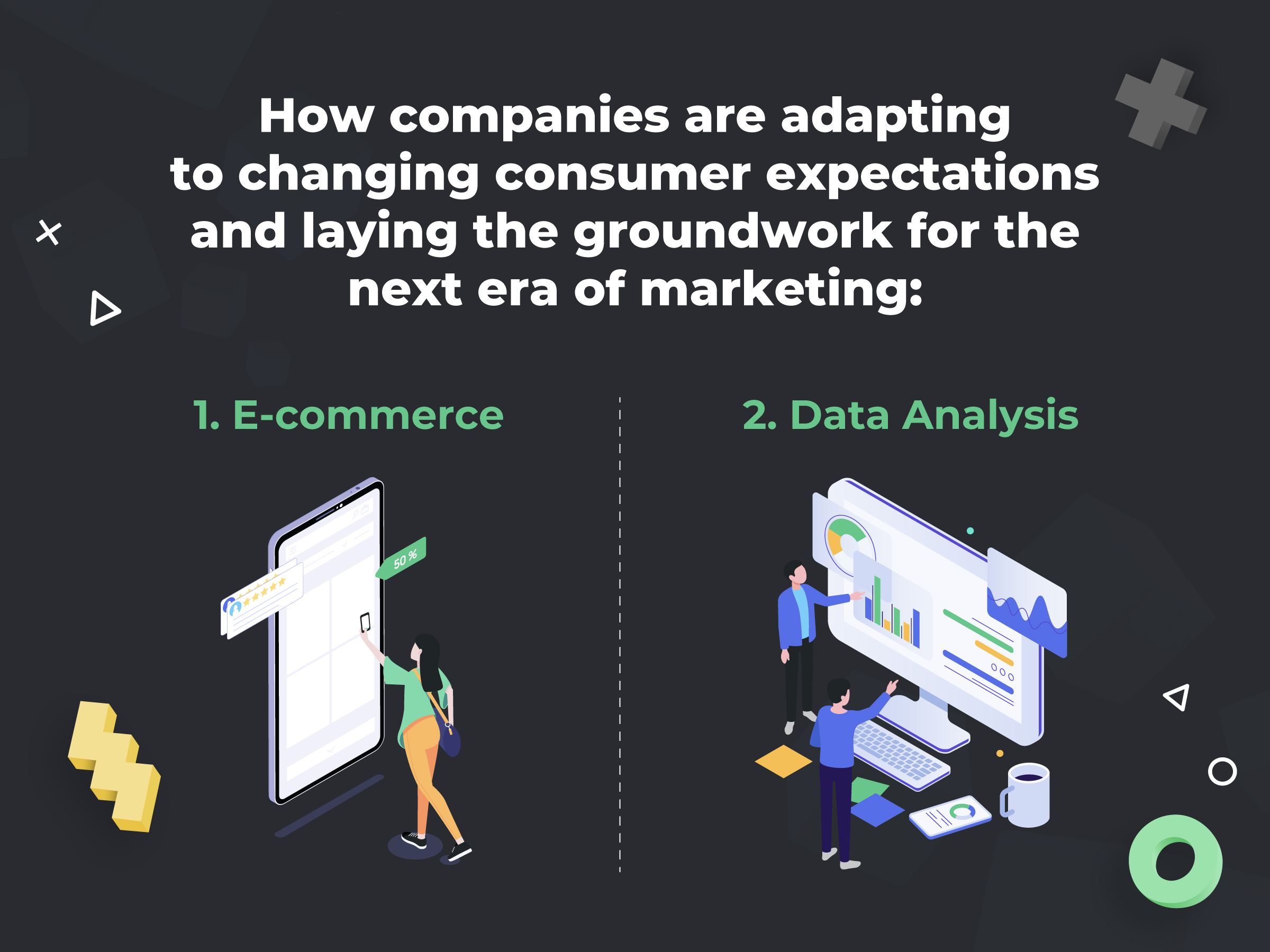 Consumers' New Expectations for Marketing
COVID-19 has changed the way individuals consume both products and content — and these changes are here to stay.
By necessity, consumers are spending more time indoors and online. More than ever before, consumers are constantly exposed to marketing messages online, making it even harder for a single brand to stand out among the competition.
Plus, experts anticipate that the expectations consumers have established during this time period will extend to a post-COVID-19 world, which makes companies' response to the pandemic all the more important. For example, consumers have gotten used to a more seamless integration between online and offline processes, and they will expect this level of convenience in the future.
So how are companies adapting to these changing consumer expectations and laying the groundwork for the next era of marketing?
E-commerce is one area where marketing investment has reflected consumer behavior. Due to social distancing protocols, more consumers are shopping online, causing a 30.4% increase in global online sales in 2020. To keep up with these changes, companies have poured money into e-commerce and digital advertising. In 2020, brands were projected to spend $58.5 billion on e-commerce advertising since online shopping has spiked in popularity.
Data analysis is another increasingly important element of marketing. One proven way to increase online engagement is to create marketing messages tailored to each consumer's needs and wants. In fact, 72% of consumers will only engage with a message that is customized to their interests. But to target consumers accurately, companies need data. For this reason, marketing departments are increasingly centering their strategies on real-time consumer data.
Simply put, consumers expect more from brands, and these expectations will probably stick around in the future. But meeting these expectations is costly. How can marketers keep up with consumer expectations without breaking the bank?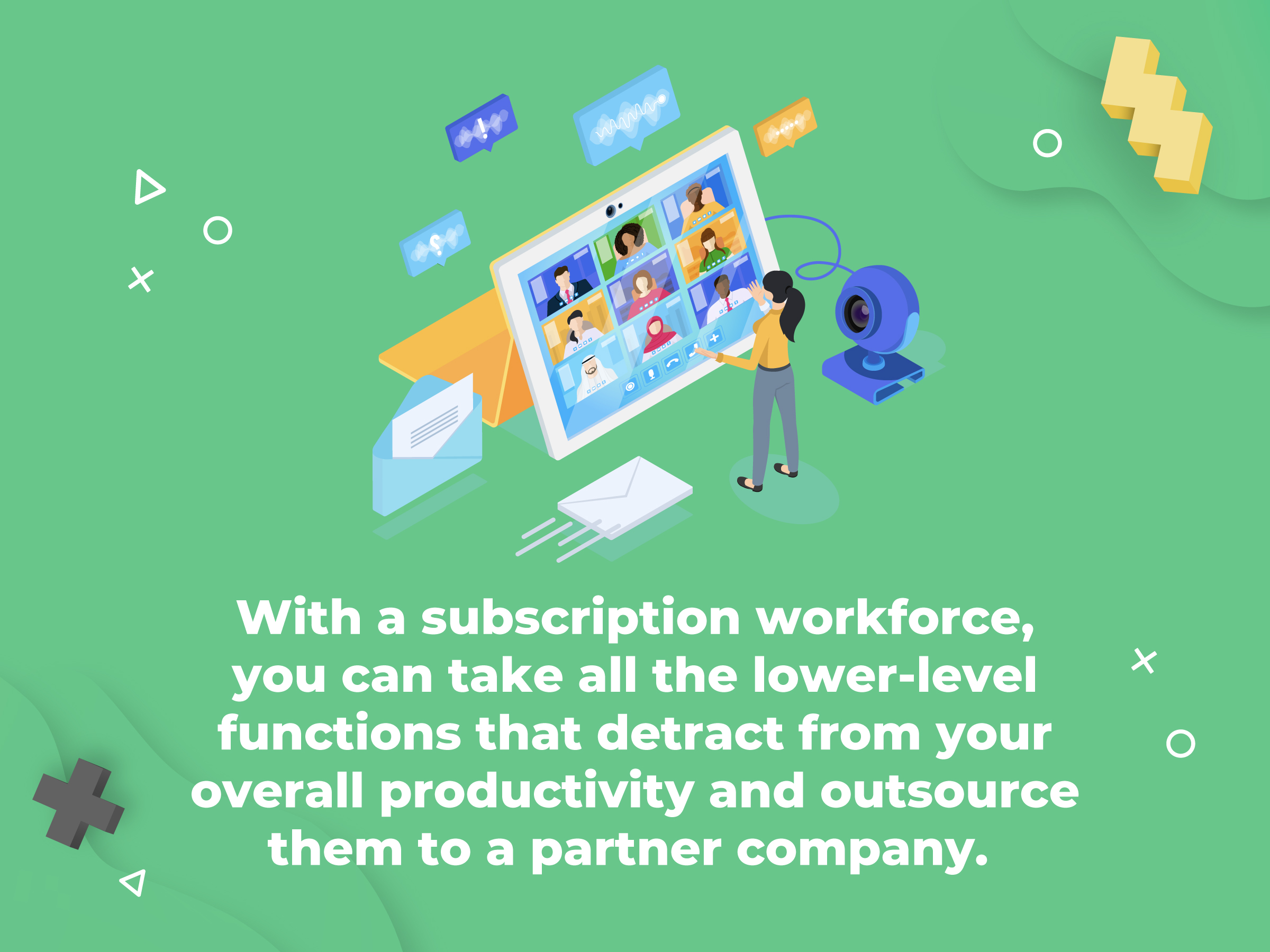 Increasing Flexibility and Cutting Costs
COVID-19 has hit the accelerator on the rate of change within the marketing industry, leaving marketers scrambling to keep up. Strategies that have been sufficient for years are suddenly not enough. As discussed above, marketing departments must invest even more resources in data analysis and personalization to stay competitive.
But as you add more functionality to your marketing strategy, you run into another problem: your budget. Since marketing budgets are often cut first during economic downturns, company leadership may not be prepared to invest in marketing during a recession.
So marketing department leaders have to be strategic. How can you increase your ability to meet all these new expectations and keep up with the constant changes without increasing your costs?
As the head of marketing, your top priority should be focusing on high-level functions and overseeing your long-term marketing strategy during these chaotic times. While functions like these must be performed in-house, there's no reason for your marketing team to do everything independently.
This is where the subscription workforce can make a monumental difference in your marketing department's functionality. With a subscription workforce, you can take all the lower-level functions that detract from your overall productivity and outsource them to a partner company. Your partner will take care of these things for you, often at a lower cost — enabling you to focus more of your time and money on the important tasks that drive your revenue.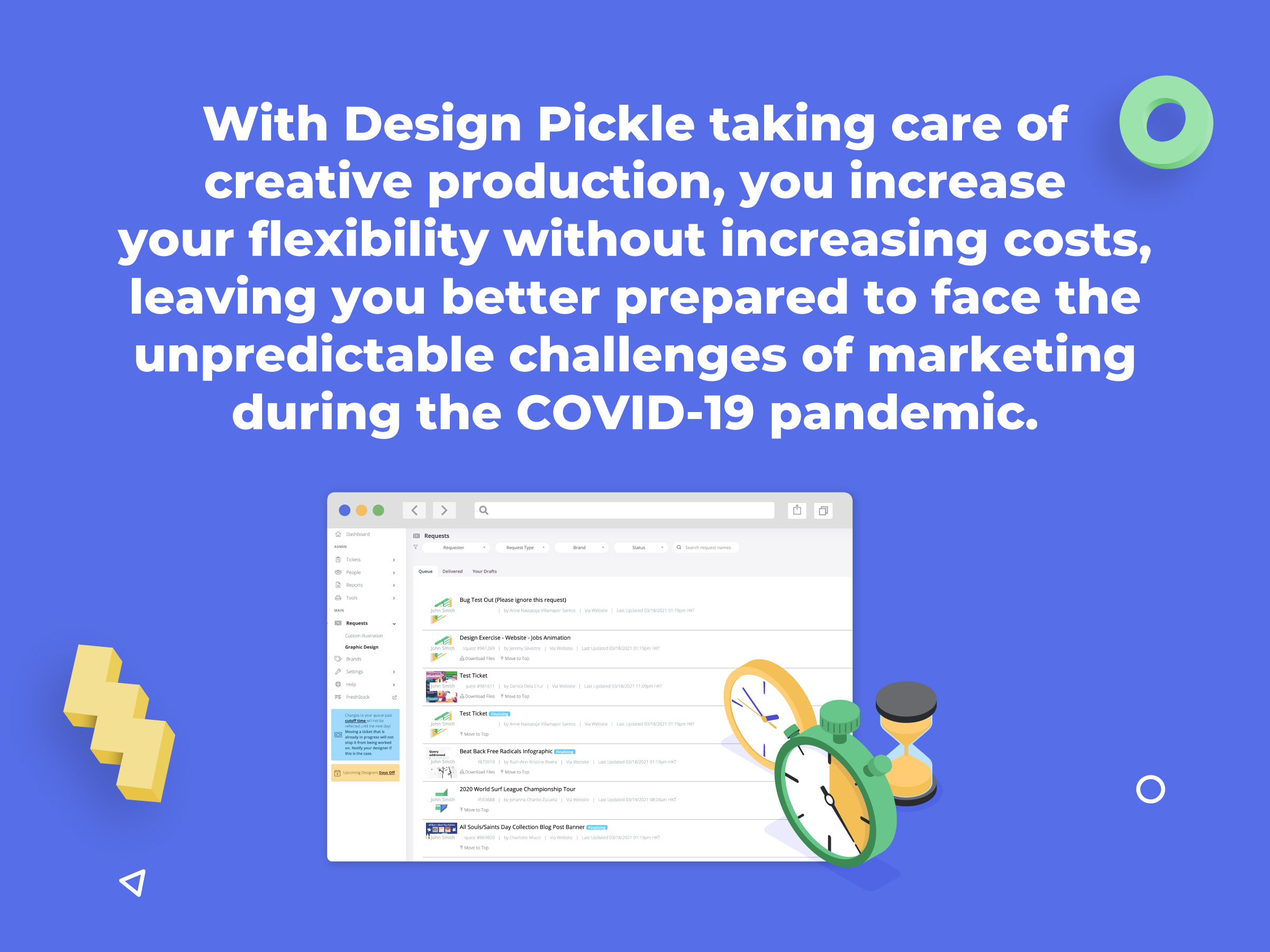 A Subscription Workforce for Creative Production
Seasoned marketers know that professional design is key to making your marketing messages stand out in an oversaturated online environment. But with all the new expectations you have to meet, you may not have the time or the resources to spare on creating world-class design content in-house — nor should you.
This makes graphic design the ideal function to fulfill through a subscription workforce like Design Pickle. You can get unlimited requests and revisions in less time than it would take to find an in-house designer — and with a flat-rate subscription. In fact, Design Pickle has same-day turnaround times. This helps marketers get their message to market much faster than by traditional graphic design methods.
In today's uncertain circumstances, speed is everything — and that's exactly what a Design Pickle subscription gives you. With Design Pickle taking care of creative production, you increase your flexibility without increasing costs, leaving you better prepared to face the unpredictable marketing challenges during the COVID-19 pandemic.
Learn more insights about how outsourcing your creative production needs to a subscription workforce can free up $30K to $60K per year by downloading The Revenue Marketing Playbook.