Are your Facebook ad campaign files a mess? You may have a team of awesome creatives and marketing strategists, but it can still be a pain to weave all that content together in a way that saves time and money while earning those leads.
Dave Ball is Design Pickle's Director of Paid Acquisition. For this week's Five Things Thursday, he shares 5 ways he organizes Design Pickle's ad content. Watch now and maybe pick up a few campaign-changing ideas:
---
Video overview:
5. Have as few Facebook campaigns as possible
Let's start at the campaign level: You can have a lot of individual ads, but you want to limit the number of Facebook ad campaigns based on objectives. And it's as simple as creating one campaign per segment of your ad funnel: one campaign for branding, one for traffic, another for conversions. We also use a set we call the Playground, but we'll get into that later.
4. Name each ad set based on its target audience
Within each campaign are multiple sets of ads. At the ad set level, you want to name each set based on who you're targeting. If you've got a retargeting audience or a lookalike audience, let that be clear in the ad set name. That way, groups of ads can be kept organized within broader campaigns.
3. Name each ad according to its type
The first thing you need to know about each individual ad is its type. So specify the ad type in your naming conventions: Image, Carousel, Video. Append to this a brief description of the creative and perhaps a version number or date, and you're all set. A quick glance at the ad's name will give you the ad type, a clue as to its contents, and the date of creation.
We also prefer to specify the landing page we're sending people to at the very end of the ad name. For example, this is an image ad of a dancing pickle, created on June 6th, 2019, and it will be sending people to Design Pickle's pricing page. The name will look like this: image-dancingpickle-06062019.
2. Have a "Playground" for testing
Now about the Playground: it's a whole campaign specifically meant for ad testing. Facebook has this habit of suddenly changing algorithms just when you think you've got it figured out. So let's say you've got a few new ads your boss tells you to test. Those go in the playground campaign. If they're performing well after two weeks, you can move them into your already performing campaigns.
1. Automate your ad creation workflow
We've got a great creative team, but it can be a hassle to keep asking them, for example, which videos are ready to post as ads. Sure, we've got a master Airtable, but it's chock-full of other stuff, which is time-consuming when I only want to know a single thing.
What we did is connect the Airtable to Slack via Zapier, so that every time a new video is posted, we're notified with its name, type, contents, purpose, and download link. Then we can get the new ads into our playground as quickly as possible. Simple automations like this really help us move ads with speed and precision.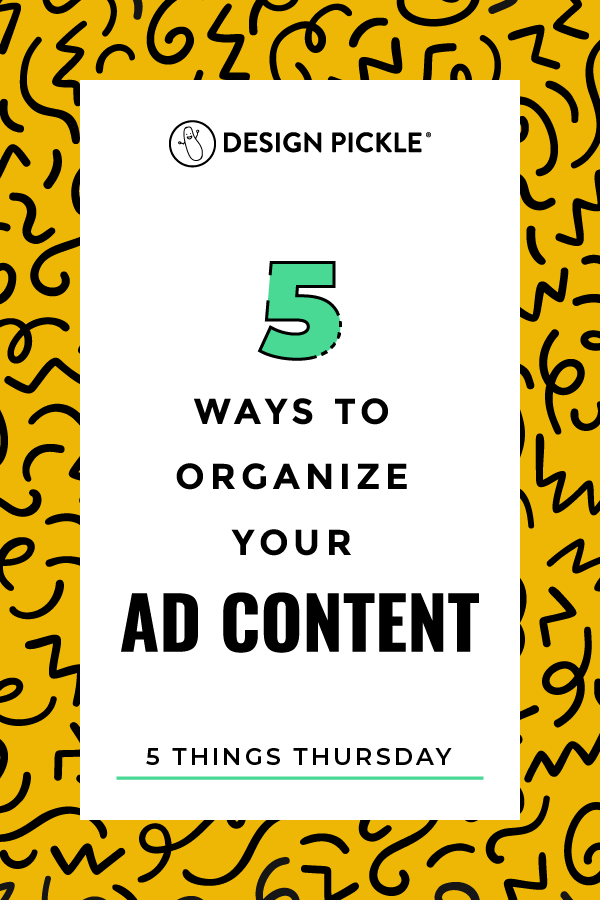 ---
So, what naming conventions, automations, and testing techniques do you use when organizing your ads? Let us know in the video comments — and be sure to subscribe so you don't miss next week's 5 Things Thursday video!