Great presentations inform, educate, persuade, and even inspire. Perhaps it's the fusion of live audio and supportive visual elements. Maybe it's the perfect blend of audience interactivity and speaker control. From small businesses to freelancers, most people often need to create presentations for various reasons. Whatever it is, a well-designed presentation is still one of the best ways to pitch ideas, showcase facts, or sell products to potential clients.
When it comes to your presentation decks, it takes two important aspects to tango: the content and the design. Many of us struggle to create sufficiently engaging, informational, memorable presentation slides. How do you strike a balance between professional and engaging? How do you avoid crossing the line from data-rich to overwhelming?
Read on to discover the six elements of an ideal and engaging presentation — or watch and listen to the video below to get the best presentation design tips!
You already have a deck but want to improve it further? Check out these proven tips on improving PowerPoint presentations from actual designers!
1. A Compelling Introduction
First, it's important to let your audience know why they should care — or remind them why they already do. The beginning of your presentation is for provoking emotion, eliciting surprise, and engaging people enough so that they want to know more.
Don't forget to introduce yourself to establish authority and familiarity. But don't spend too much time talking about yourself unless the presentation is about you.
You can set the mood by starting with a relevant story or situation. Again, imagine that your audience is asking you why this subject matters. Communicating the main idea or the key message in the beginning will help you draw attention and keep your audience engaged.
But it's not time to make your final pitch yet. Prioritize authenticity over immediate hard-selling for a successful presentation.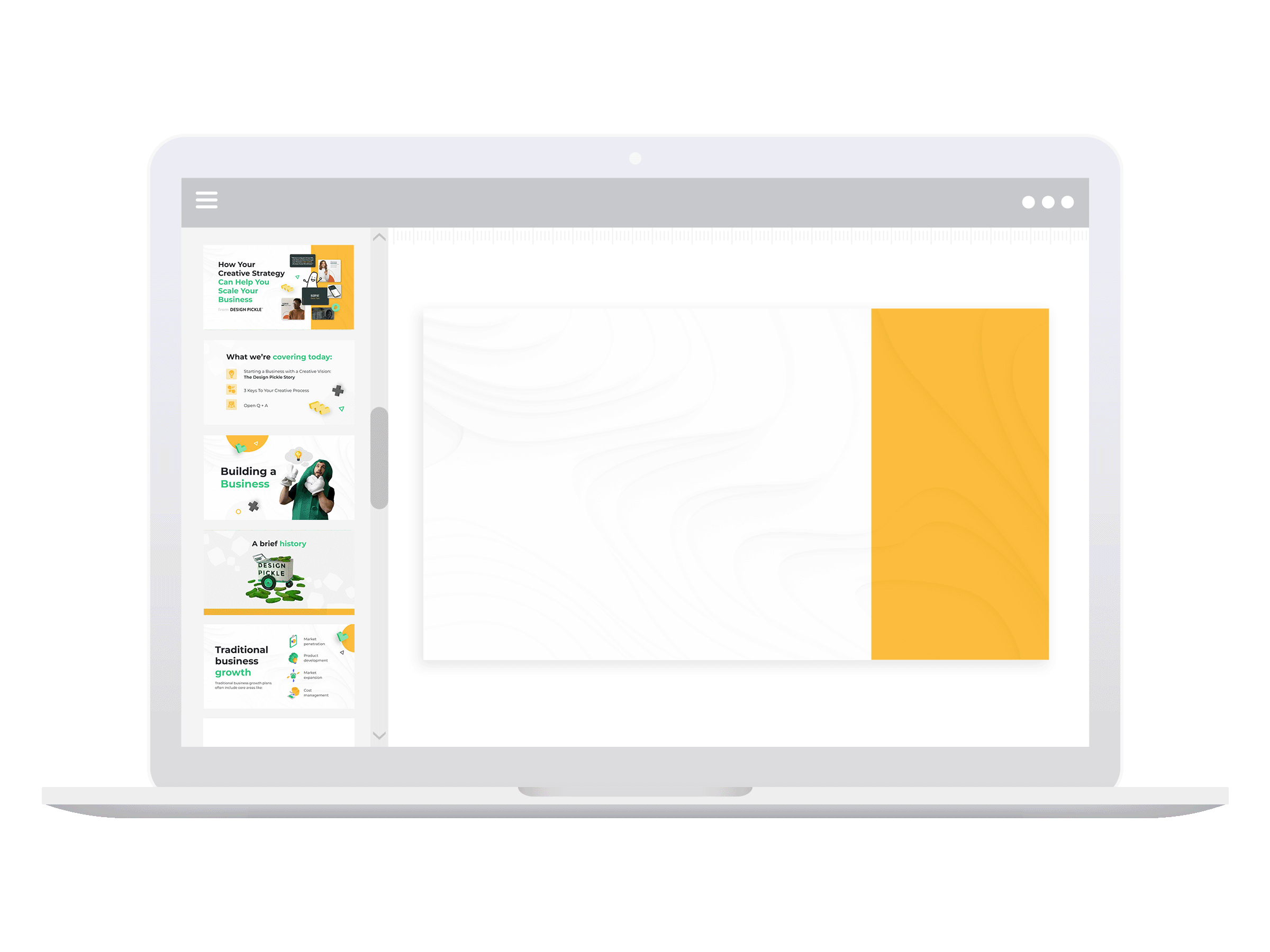 2. Charts and Infographics
People are drawn to moving stories and organic, conversational approaches. That's why your presentation starts with a compelling introduction. But if you aim to have your audience come to a decision by the end of your presentation, they will want to go through a more logical, data-driven thought process. It's your job to walk them through that.
Pull facts from reliable sources such as peer-reviewed articles or books. As much as possible, avoid making statements you can't prove.
Use charts, graphs, and infographics to illustrate facts more effectively. For example, pie charts may be better visual aids than simple percentage numbers. A line graph is the best way to show numerical information that changes over time.
Use the simplest possible chart or graph design. Remember that your presentation is usually a visual aid on a large screen. Tiny text or complex details might be lost on the audience, so use large shapes and high-contrast blocks of color for maximum clarity. Remember, it is more important that your audience can understand the data at first glance than the aesthetics of your charts.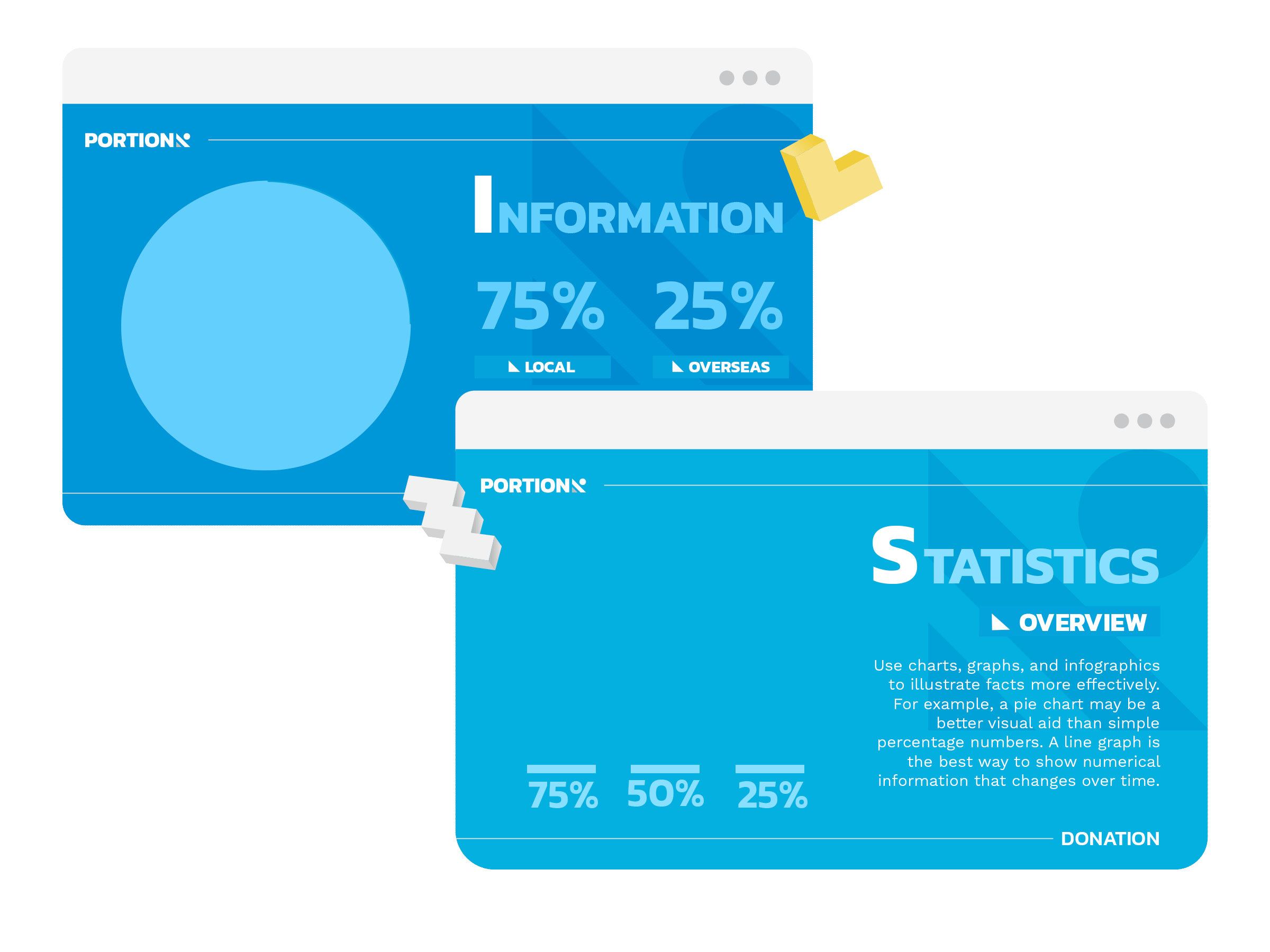 3. Large Text
Your presentation's slideshow is not a set of pages from a textbook. Slides support your presentation. It's not something for you to read out loud, nor should it compel audiences to take too much time reading instead of focusing on you.
Set a minimum text size. A 30- to 40-point font size generally works for headers, while "smaller" text can be around a 20-point font, but there are no strict guidelines.
You can adjust text sizes depending on the setting of your presentation slides. For example, err on the side of too-large text when you have senior audience members. If it's a webinar and people will be on their screens, slightly smaller text may be acceptable.
Limit your ideas to one major concept per slide. Use simple sentences or phrases. Remember, the audience shouldn't spend too much time reading the slide behind you. With that in mind, you can set your own maximum number of words per slide. Negative space, or white space, is your friend, don't hesitate to use it generously.
Bullet points are going out of fashion. If you absolutely need bullets, you may have too much text on the slide. Consider using bullets for main points only and avoid text-heavy slides. The goal is to showcase keywords that reinforce — not dictate — your delivery.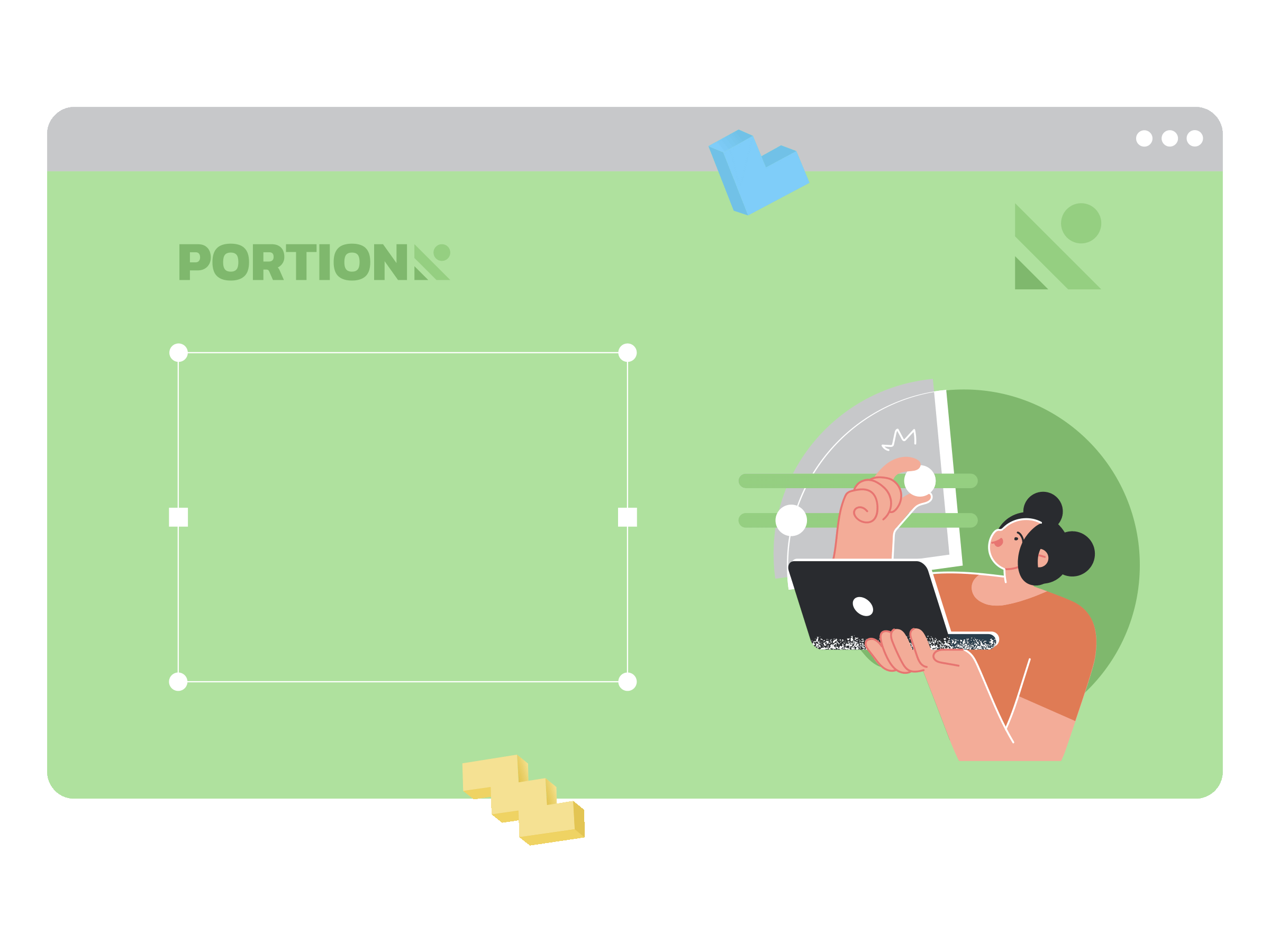 4. Overall Simplicity
No matter how complex your subject is, the presentation should be kept as simple as possible. Limit the number of slides and the time you spend presenting each slide. Practicing your delivery will also help you prevent digressions or going overtime during the actual presentation.
Begin with an outline — or if it's difficult for you to brainstorm with a purely textual outline, a concept map. Don't be afraid to start out messy and simplify as you go.
Is your topic truly complex? That's still no reason to overload your slides with hard-to-read details. Instead, you can create accompanying printouts to distribute to your audience so they have an in-depth resource to refer to during or after your presentation.
Read more about presentation do's and don'ts here.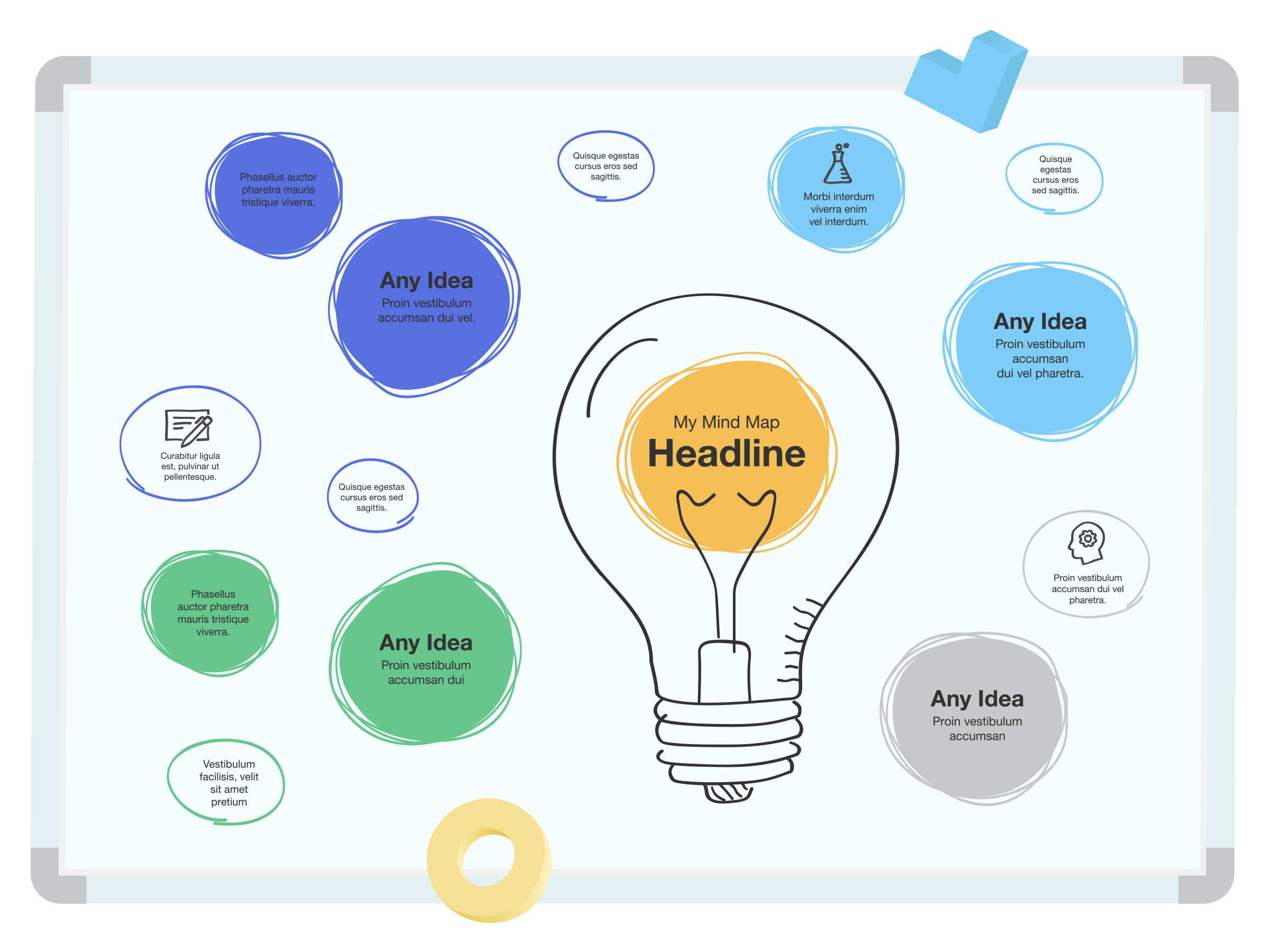 5. Consistent Design
Your presentation design must be consistent across all slides. Color scheme, fonts, and brand elements should appear to follow the same rules from beginning to end.
If you have a branding guide, use it as a starting point for designing presentations. In the absence of one, let your topic and audience demographic be the basis of your decisions and visual consistency. (Need help creating a branding guide? Download a free step-by-step guide!)
Just because you can do something in a presentation doesn't mean you should. There's no need to use all the free clipart and stock photos or showcase your wide variety of font combinations. Resist the temptation to add too many animations, transitions, and sound effects.
A professional-looking presentation template gives you authority. Things like careful alignment, thoughtfully selected graphics, powerful visuals, color palette of your brand, and highly readable elements make your presentation much more believable.
6. You!
Lastly, you are the most important part of a great presentation. Be confident and prepared — this takes practice and research. Internalize your subject and polish your public speaking skills. You don't need to commit to an absolutely perfect delivery.
There will be technical difficulties and little bloopers now and then. But poise can be practiced. Learn to chuckle at your own mistakes because the show must go on!
Learn to connect with your audience. Even if you're the one standing front and center, the presentation is about them, not you. Show them that you're sensitive to their time and concerns. One way to do this is to let them know, during the introduction, when you'll be taking questions (the best time is at the end of your presentation).
Author and entrepreneur Guy Kawasaki advocates the 10-20-30 Rule, which means the entire presentation should be exactly 10 slides, presented in a maximum of 20 minutes, while using a minimum of 30-point size text. While 10-20-30 is by no means a strict requirement, it's definitely a good rule of thumb if you want to keep things short and sweet.
Ready to Craft Your Next Presentation?
Fear of public speaking is one of the most common phobias in the world. So for some people, being expected to present, write, and design a good presentation can feel like way too much. Even though it is possible to use a presentation software or a pre-made PowerPoint template to create your own presentation, you may still end up with an inconsistent slide deck that could cause losing your audience's attention.
Design Pickle's Presentation Design service can help you create professional, visually compelling slideshows that will wow your audience. You'll take care of the content and delivery — we'll handle creating presentations that are on-brand, compelling, and credible.
Presentation Design gives you access to unlimited custom decks, free presentation templates, same-day design concepts, real-time Slack communication, editable slide formats, Microsoft PowerPoint or Google Slides, animations, and so much more. Check out our Graphics Pro plan to find out more.