Hey DIY (Do-It-Yourself) Designer,
I've experienced life through many lenses as a graphic designer. I studied design at Arizona State University; I was employed as an in-house graphic designer; I founded two creative agencies; I've sold millions of dollars of graphic design services; I've hired (and fired) graphic designers for over a decade. And – most recently – I launched a disruptive way for anyone to purchase graphic design services.
If you're reading this, it's a safe bet you want to get better at working with and creating kick-ass designs for your brand, company, or yourself!
Or, perhaps you have a lot of design experience but want a few ideas on how to work smarter.
Either way – you've come to the right place. 🙂
Graphic design can be tough. Seriously, you are creating something from ideas – brainwaves – in your head. It's tough to communicate what you see in your brain, and it's even tougher to use electrons, microprocessors, and clicks of a mouse to bring it to life.
But fear not; the Design Pickle team has compiled a list of the best graphic design resources, tips, hacks, and professional-level software you can use to level up your graphic design skills and create the next digital Picasso.
We call it the DIY Graphic Design Toolbox and we've painstakingly created this document to help you go from zero to creative hero.
The DIY Graphic Design Toolbox Includes:
Graphic Design Show and Tell

to show you all the different ways you can use graphic design for your business

Graphic Design Tools That Don't Cost a Pretty Penny

to highlight the best FREE graphic design tools available

Power Up with Paid Graphic Design Tools

to highlight the tools that are actually worth investing in

Speaking Graphic Design as a Second Language

to help you communicate clearly with an outsourced graphic designer

Marketing School for the Graphic Designer

to learn the ins and outs of marketing your graphic design
The tools in this guide are easy to implement and have been tested over the years of graphic design experience.
I wish you easier – and more profitable – creations ahead!
—
Russ Perry
Founder of Design Pickle
Take The DIY Graphic Design Toolbox Home With You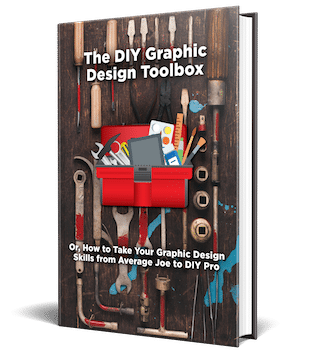 Enter your email address to download a free copy of the DIY Graphic Design Toolbox to always have it handy for your next project!
Graphic Design Show and Tell
Designers are visual people. This section will show you some examples of graphic design you can use in your business before we tell you how to build your very own graphic design toolkit.
The graphics in the examples below are designed for 7 different platforms but are all similar in design.
Consistency in aesthetics is important; you want your company to have strong, identifiable branding so your customers will instantly recognize your brand and pay attention to your marketing efforts (i.e. your message).
The details of each design will vary depending on the platform; a graphic designed for an Instagram post, for example, will be sized differently than a graphic designed for Pinterest, but the overarching look and feel should be consistent across all platforms.
Ready to start building the toolbox you need to DIY greatness? Let's start with all of the free tools you can start collecting – and implementing – today.
Graphic Design Tools That

Don't

Cost a Pretty Penny
Now that you're filled to the brim with inspo, it's time to put pen to paper (or finger to trackpad).
Thanks to the internet, we have access to thousands of free tools that can help bring your marketing to life – without costing you hours of work or leaving you with an amateur-looking design.
If you've never had any formal graphic design training and feel that programs like Adobe Photoshop and Indesign are too complicated for you (or too timely to learn), these free tools will help you fill the gaps of your design knowledge and skills.
Save time, stress, and money with these FREE design tools:
If you're a one-person marketing machine but have minimal training in graphic design, Canva will be your new best friend. Canva has thousands of templates, stock photos, and design elements for every kind of marketing campaign, printed and digital.
The best part about Canva is that the software is built for graphic design rookies (i.e. drag-and-drop tools, easily adjustable filters, and expansive image libraries). With Canva in your back pocket, you can create professional-looking designs in no time at all!
Consider Google Fonts the "phonebook of fonts." It's a huge directory of typography that users can search through using keywords and filters.
Best part? It's totally free. Free to search, free to download, and free to use any font in your marketing. You can search for the perfect font style, download it to your computer, and add it to your website for a whopping zero dollars.
Pro tip: Pairs well with WhatFont, a free browser extension that gets font information about the text you're hovering over with just one click!
Want to learn how to create your own fonts? Check out this guide to create your own fonts in 5 simple steps!
How long have you agonized over choosing just the right color to match the stock photo on your ad? Too long if you haven't been using Pictaculous. Pictaculous takes the guesswork out of color-matching and saves you from thinking pink font on an orange background looks okay (trust us, it doesn't).
Here's how it works: upload an image to Pictaculous, whether it's a photo, logo, or previously-used marketing graphic. Pictaculous puts it through their magic color machine, and POW – out comes a suggested palette of five colors (with HEX codes), plus a few other user-sourced suggestions for you to consider using in your design. Bye bye, eyesore graphics!
Say you want to add notes directly to a graphic you made (or had a designer make for you). Taking a screenshot and marking it up will be the easiest way to call out your changes, right? Eh, not usually. You have to take the screenshot, open it in a new program, mark it up, save as a new file, and send – total pain in the ass.
That is – until Awesome Screenshot came dancing into our lives. *jazz hands*
This free browser extension cuts out the extra open tabs. It lets you take screenshots and mark them up ON THE SPOT, directly in your browser (freeing up extra space on your hard drive and in your brain). You can share annotated images with one-click uploads, so you're really doing everyone a favor by using this tool; don't be surprised if you start getting thank-you notes.
You know how easy it is to edit photos on Instagram, right? BeFunky is just as great at primping your pictures for the internet to see, but BeFunky is used on your desktop and comes with hella more capabilities than Instagram.
The free photo editor is perfect for marketing ninjas who work are capable with PowerPoint but are still intimidated by PhotoShop's complexity (and price). Edit photos, add filters, create collages, and design your own marketing materials for free (headaches not included!).
Here's a hard truth about marketing: at some point, you are going to need a stock photo. When you do, you're going to be appalled at how much a generic photo of sunset costs.
With Compfight, you can search for an image using keywords and filtering by "Creative Commons" license, so you know you're seeing free images. Even better, Compfight's algorithm is engineered to put the best images at the top of their search results, saving you from spending hours scrolling through the deep abyss of the world wide web.
Ready to take your infographic game to a whole new dimension? Take your project from 2D to insanely interactive with Infogr.am.
Infogr.am is a free online design tool that specializes in transforming data into interactive visuals. Blow the mind of your audience by adding graphs, maps, and even playable videos – without having to do any of the coding work involved. Infogr.am also makes it easy to share your creations on social (taking one more thing off your to-do list).
Power Up with Paid Graphic Design Tools
So you've tried all of the free graphic design tools in the world, but your graphics still look like… you made them yourself.
It's time to amp up your DIY graphic design and add a professional-looking touch.
Consider the list below to be the power tools in your graphic design toolbox – the best paid tools for the job. From design programs to outsourced companies to productivity apps, your DIY toolbox must include the best tools for you and your team if you want the job done well (even if that means spending a bit more).
It's a bird… it's a plane… it's… ADOBE CREATIVE CLOUD!
Seriously, Adobe Creative Cloud is like the Superman of paid graphic design tools (Need proof? Check this out).
The Creative Cloud is a collection of graphic design applications that you can use to bring your designs to life. The Creative Cloud apps are the A-list celebrities of the graphic design world. Adobe offers Photoshop for photo editing (duh), Illustrator for creating vector graphics, and InDesign for creating print graphics.
All of the Adobe apps work together, so if you've got a project that needs photos, vectors, and page layout, you'll need a few of the Adobe programs. Purchasing the entire creative cloud will set you up for total graphic design domination – i.e. your designs will look professional AF.
If you're still a budding graphic designer, don't fear the cloud; Adobe's got you covered with tutorials for beginners on their website. You can also browse Lynda.com for crash courses in Adobe tools (it's like going to design school for free!).
Hands down, Sketch is one of the best UI design apps of all time.
Whether you're designing your company's new website or finally bringing your app idea to life, Sketch can help you design a rad, unique UI experience for your customers. Sketch can be used for any graphic design project involving a screen and user experience.
If you've worked on a Mac before, Sketch's Toolbar, Navigator, and Inspector will all look very familiar. The program is intuitive and based on the typical Mac user experience, so it's perfect for beginners who know their way around a Mac (and easy to figure out for those who don't).
An add-on tool called Sketch Mirror shows you how your design will look on different devices (i.e. for the random Android users in your database).
Finally, Sketch is hella cheap compared to Adobe CC. So… there's that.
Stop us if this looks familiar: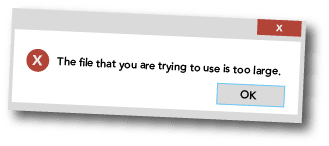 Ugh. Did you get a wave of frustration just from reading that message? Same.
When designing graphics for the web, you're usually dealing with huge file sizes that are a pain in the ass to send or upload. Instead of getting annoyed every time you have to send a file, open up the Kraken Image Optimizer and yell "RELEASE THE KRAKEN!" (okay, so you don't actually have to say the words, but it makes the process way more fun and your coworkers will love it).
Kraken Image Optimizer is our #1 stunna for optimizing and compressing large images to make sharing and uploading files a breeze! Your images will look sharp and your file sizes will be shrunken like a new cotton sweater in the dryer.
*waves, smiles.* "Hi Mom!"
#FACTS: graphic design takes time, effort, and a steady supply of pickle juice (err, coffee) to keep your energy up. You have other priorities to take care of, especially if you're a one-person marketing machine.
#FEELINGS: When you're in a pickle with your marketing or graphic design project, you're going to want to simply give the work to someone else. Amiright?
#SOLUTION: Design Pickle lets you outsource your graphic design work to your own personal designer for one flat monthly fee. All you have to do is email in your request (more on that later), sit back, and let our team get to work on your project!
The best part is that you will never have to worry about budgeting more time or money for design work; Design Pickle provides unlimited requests and revisions for one flat monthly fee. No matter how many projects you request or how many times you need to tweak your design, your Design Pickle designer will get to work and have your new project ready in 1-3 business days (depending on complexity; more on that here). Send in one project or 20 projects – Design Pickle's got your back.
Speaking Graphic Design as a Second Language
So you're a busy person. You've downloaded every calendar app on your phone to help you juggle multiple projects and your home office smells like strong coffee… even at 2 o'clock in the afternoon.
While you may think you're totally #crushingit at the bootstrap business game, there's always room to improve your processes and get even more done, faster.
Outsourcing a graphic designer to take some of your graphic design workload can be the ultimate hack for working smarter, not longer.
If you've never worked with a freelance graphic designer before, it can be difficult; time-zone differences, language barriers, and a lack of personal engagement can often leave you stranded with half-ass design work you've overpaid for (and waited way too long to receive).
Learning how to communicate with your designer the right way will save time and avoid unnecessary frustration for both of you.
Peep this scenario: You think your design request is completely straightforward. You want a graphic for your custom surfboard company's email newsletter. You envision the outline of a surfboard filled with splashes of color and the words "Cowabunga!" across a wave in the background in a whimsical font. Easy enough request, right?
But when you get the design from your outsourced graphic designer, it's just…. wrong. The surfboard doesn't have the right proportions, the colors are too muted, and the "whimsical" font looks like someone put Comic Sans in the dryer for too long. You're forced to start from scratch with a brand new design request, and your previously "straightforward" project is now costing twice as much time as you had budgeted for.
Scenarios like this are why it's crucial to communicate clearly and specifically from the very first design request.
A "cool font" means different things to different people. Does "cool" to you mean sans serif? Handwriting? Graffiti-esque? What seems completely obvious to you might not be so clear to your freelance designer. Showing examples of fonts you like or specifically asking your designer to stay away from certain fonts will save you and your designer tons of time down the line.
By taking the time to write a clear, detail-oriented design request, you'll cut down on the frustrating back-and-forth communication that takes up so much of your time. In doing so, you have a better chance at sticking to your timeline and your budget; plus, you're much more likely to work in harmony with your designer (i.e. no passive-aggressive emails or emergency meditation sessions).
Benefits of a detailed design request
Clarify expectations and goals
Reduce revisions
Stay on (or under!) budget
Meet your deadline
Stay sane (and keep your designer happy!)
Need a starting point for crafting your next request? Use this script as a template, adding the details of your specific project.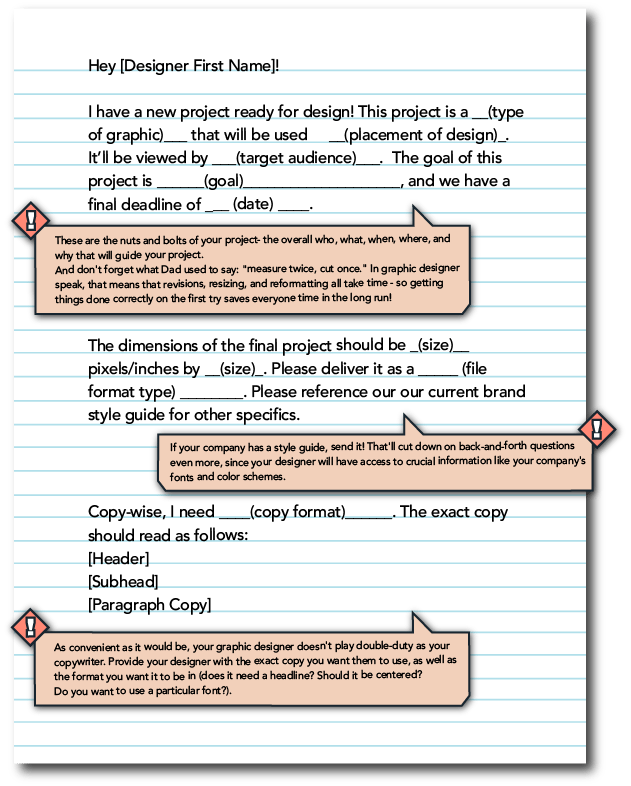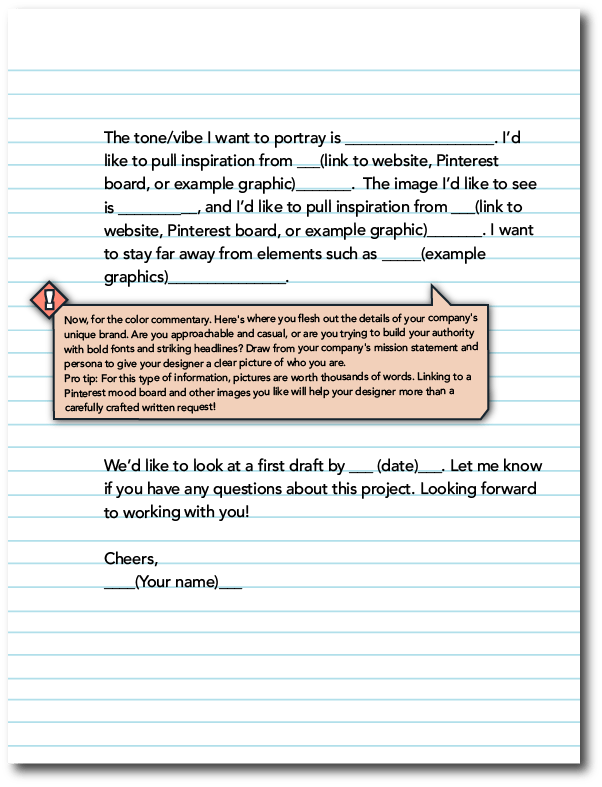 Marketing School for the Graphic Designer
Congratulations on building your very own DIY Graphic Design Toolbox!
You now have access to all of the tools you need to get the job done.
There's just one more safety check before you can start using those graphic design power tools…
You need to understand purpose.
Before you pick up any of the tools we've covered in this guide, you need to have a good understanding of why you are starting a project; what is the purpose of this design? Who is the audience? That is, who will see this graphic? What do you want them to feel when they see it?
Knowing the purpose of the design will help you create a graphic that resonates with a specific audience – your ideal customers. If your ideal customer is a middle-aged female with children, ad advertisement portraying a young, apparently single female using the product or service you sell might not resonate with your ideal customer at all. On the other hand, if you know that your target audience longs to feel like a young, single female again, that stock photo would be appropriate.
Knowing the purpose behind the design will also help you determine the correct sizing. For example, a square image designed for an Instagram post will look stretched or oddly cropped if not correctly resized for Instagram Stories. The same image will also have to be resized for Facebook, Twitter, and YouTube. If a customer sees an ad on Facebook that you've sized for another platform, important text or imagery might be cropped out of the photo causing your customer to not understand the ad and pass up an offer they otherwise might have been interested in.
You can get a lot further, a lot faster, in your marketing efforts by learning from businesses and entrepreneurs that have actually done it – and made a lot of money along the way!
This section is a list of the resources and knowledge bases you'll need to learn how to determine the purpose of your project and the best practices of implementing them in your marketing.
Ready to get schooled?
Even if your company doesn't use Hubspot as a CRM, you can benefit tremendously from their certifications. Hubspot has a course for every aspect of digital marketing you could imagine, from content creation (blog posts, infographics, and guides like this one) to website design and optimization.
Don't be surprised if you start browsing through their Marketing Library, only to look up from your laptop hours later with dozens of bookmarks. You want ebooks? They've got ebooks. Need a template? They've got templates. Looking for a one-armed, one-horned, flying purple people eater? You're probably in the wrong place for that… but Hubspot will be able to tell you how to create a buyer persona profile for said people eater.
For visual design specifically, try starting with The Essential Guide to Branding Your Company; The Do's and Don'ts of Infographic Design; or 195+ Visual Marketing Design Templates.
Digital Marketer is one of the biggest names in… well… digital marketing. Think of them as the unofficial clubhouse for all the cool kids in digital marketing – a place where marketers can come together to trade tips and brainstorm new strategies like Pokemon cards.
Digital Marketer offers courses, certifications, and execution plans for marketers at every stage of the game. Their execution plans cost as little as $50, while certifications are a little more comprehensive (usually about eight hours of video content, plus handouts and quizzes), and, therefore, a little more expensive.
If you want to take Digital Marketer for a test drive, their Beginner's Guide to Digital Marketing is incredibly helpful (and incredibly free). Alternatively, you can browse their blog for even more helpful tips and tricks at no cost to you.
Lynda is an online learning platform that covers tons of topics across business, design, web, marketing, and more. It's perfect for you, DIY amigo because you can find courses tailored to your exact needs and take them on your own time.
To level up your graphic design specifically, we suggest starting with the Become a Graphic Designer learning path. This learning path takes you through the FUNdamentals of graphic design and shows you how to use the major tools of the trade (like Photoshop and InDesign).
If you're a LinkedIn Premium user, you already have access to all of Lynda's courses. LinkedIn bought Lynda in 2015 and made Lynda's courses available for FREE for all of their Premium subscribers, under the LinkedIn Learning platform.
Lynda and LinkedIn Learning basically have the same content on different platforms, but different features. The biggest advantage to going through LinkedIn Learning is that when you've finished a course, you can easily add it to your LinkedIn profile for a nice little #humblebrag.
Like Hubspot and Digital Marketer, Smart Insights has a huge library of learning tools for digital marketing, from templates to ebooks to downloadable guides.
While you can get pretty far on their free templates and best practices, your boss will worship the ground you walk on if you show her one of Smart Insight's specialized Business Toolkits. These educational packages are customized for YOUR kind of business, whether you're an agency, a non-profit, an e-commerce site, or a B2B company.
Why take one-size-fits-all digital marketing advice when you can get an education tailored to you?
Like Lynda, Coursera has hundreds of online courses in a wide range of subjects, including graphic design. But while Lynda courses are led by industry experts, Coursera's are affiliated with universities; you can even earn a master's degree using Coursera if you're looking for a real change in career.
Choose a university-endorsed Course to dabble in, master a professional skill set like graphic design with a Specialization, or earn a full-on Online Degree with Coursera.
Worth noting: all Coursera offerings are priced a la carte, while Lynda goes by a monthly unlimited subscription plan.
Even the best DIY designers need a little help sometimes
That's where Design Pickle comes in!
DIY graphic design is a great way to save money while bootstrapping your marketing efforts, but the time it takes a DIY designer to finish a project typically costs more than hiring an outsourced professional graphic designer.
To showcase your vision and ideas without putting in the manual labor it takes to design professional graphics, try Design Pickle.
Design Pickle offers flat-rate, always available, ego-free, unlimited graphic design help. It's the perfect tool to keep in your DIY Graphic Design Toolbox for those times when you don't have, well, time. If you can request it in an email, we can take it from there.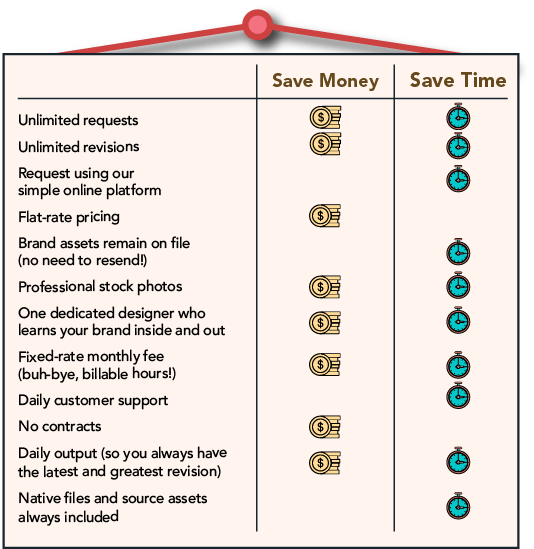 Take The DIY Graphic Design Toolbox Home With You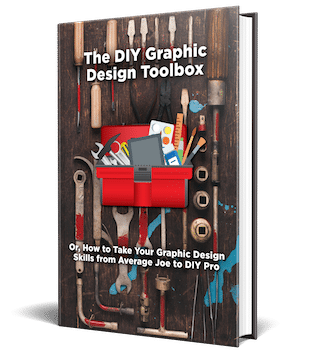 Enter your email address to download a free copy of the DIY Graphic Design Toolbox to always have it handy for your next project!