Updated Sep. 14, 2021
Published Jun. 6, 2018
9 Min. Read

You know why content creation is important for your business and marketing strategy, but how do you convince your audience to actually consume the content you create?
Two words: social media. According to Statista, over 2.62 billion people use social networking platforms worldwide. If you take our current population into consideration – 7.6 billion people – there's a pretty decent chance your audience is on a social networking platform (or two…).
Don't expect to open an Instagram account and gain a GaryVee-like following with DIY graphics put together using Google Draw, though. With 2.62 billion potential customers perusing social networking sites this year, your social media graphic design must stand out from the rest.
The good news is that you can create designs and unique illustrations to establish your online identity and a solid social media marketing strategy based on your business model by following the best practices and tips we discuss below. Let's take a look at the top 9 social media graphic design tips gathered from professional designers at Design Pickle to find out what it takes to a create social media graphics that your audience is sure to click.
Tip #1: Determine the Goal of the Design

Determining the goal for a social media graphic design is like drawing up blueprints for a house; the goal, or purpose of your designs, will set the direction for the entire creative (i.e. building) process.
Social media is filled with content competing for attention, so it's best to create engaging graphics that cater specifically to the audience you're trying to reach. No social media design will ever please all 2.62 billion networking site users, but that's okay; you only need to reach your target audience (a small fraction of the entire social networking population).
To determine the goal of your social media graphic design, ask yourself the following questions:
Who is my target audience? That is, who is my

ideal customer

?

Which social media platforms do my ideal customers use regularly?

What device is my target audience using to consume social media content?

What is the message I am trying to spread with this social media graphic?

What emotion do I want to invoke from viewers?

What action do I want users to take after seeing it?
Determining why you are creating a social media graphic design – i.e. the goal – is the first and most important step in the creative process. All design assets and elements will be chosen to reflect and support this goal.
"Learn what the audience needs and everything will follow." – Nicole, Design Pickle graphic designer
Tip #2 Size Matters.

The second step in social media graphic design (and the second tip from our designers) is to determine the exact size of your canvas.
Every social media platform – such as Facebook, Instagram, Pinterest, LinkedIn, and Twitter – require images with different specifications and different image types (e.g. image carousel, photo album, gifs). Identify which platform(s) you're going to share your designs on before starting the design process.
You'll have to resize the image to fit the specific dimensions of every platform you plan to share your social media graphics. It may seem tedious, but a quick size check could make the difference between cropping out the most important design element and a flawless user experience.
Social sites change the size and type of graphics they support from time to time, so familiarize yourself with the current specifications of each platform you're utilizing.
The best way to find the most current specifications and dimensions is to go straight to the source. Facebook offers an all-encompassing Facebook Ads Guide that highlights every type and size of image supported, LinkedIn has a handy image specification cheat sheet on their site, and Twitter provides a user-friendly list of advertiser creative specifications to reference.
Sproutsocial.com created an always up-to-date guide of image specifications on the top 8 social networking sites that can act as your one-stop-shop size guide, as well.
Tip #3: Tell Your Message Visually.

Most people scroll through social media channels slightly distracted and only for a few minutes at a time. Use visuals – such as real stock photography or detailed illustrations – with minimal text to capture attention and tell the story as quickly as possible.
Statistics actually show that humans recall information way more efficiently (about 55% more efficiency, to be exact) when paired with a relevant graphic. This makes sense because of the way our brains process text; each character of text must be processed as a separate image in your brain before the meaning of each word (or sentence) as a whole can be processed. On the contrary, it only takes a few milliseconds to recognize and process an image of an object or a snapshot of scenery.
Choose visuals that will evoke the specific emotion you want the audience to feel. Perhaps you incorporate a visual of the pain point your target audience is experiencing or a visual of that pain point being solved/relieved. Perhaps, instead, you simply want to invoke enough curiosity to make the viewer click through to your content.
No matter what story your social media graphic design is trying to tell, keep the information straightforward with highly visual content.
"The information should be bold and visually creative." – Judeel, Design Pickle graphic designer
Tip #4: Behind Good Design is Good Contrast.

The right balance of light and dark can bring any social media graphic design layout to life.
Combine contrasting colors (search contrasting color palettes for combination ideas) to make your social media feeds a scroll-stopper.
The most eye-catching color combinations are colors that oppose each other on the color wheel. A few opposing color pairs include pinkish-red with aqua blue, light green with magenta, and bright yellow with plum purple.
Avoid using colors that clash with the brand colors and identity of the social networking platform you're using, like the signature blue of Facebook. You're already competing for attention with the color schemes of other ads – don't compete with the colors of the social site itself, too!
"Create with balance. Develop your own style." – Ermaine, Design Pickle graphic designer
Tip #5: Study the Visual Identity of the Business.

Create a flawless user experience by studying the visual identity of the business before you begin choosing design elements.
The easiest way to study the visual identity of the brand is by referencing your branding guide. A branding guide is a collection of pre-selected fonts, color schemes, elements, logo variations, and sample graphics that accurately represent a brand.
Following your brand guidelines is the best way to maintain brand consistency or having such consistent imagery and  elements that your audience immediately associates those elements with your brand. Target has maintained brand consistency for years by designing all of their graphics utilizing their signature red font, ample white space, and bullseye-like elements.
Another way to study the visual identity of the business is by referencing the website and current social media pages. Which graphics received the most engagement? Investigate the image type, layout, and supporting elements of the top 20% of social media posts to guide your next design.
Tip #6: Keep it Simple.

The most widely agreed-upon tip for social media graphics from our designers is to simply keep it simple.
Having such a small canvas to work with (compared to larger works like ebooks and flyer designs) causes overcrowding to happen, fast.
Avoid overcrowding your social media graphics by:
Utilizing large, eye-catching graphics and illustrations

Limiting typeface to 2 font choices (one for the header/title and another for body text)

Sticking with 2-3 contrasting (or 'complimentary') colors

Using white space to contrast with a bold, colorful element
Be mindful of every element you choose and make sure each one reflects the message you're trying to tell.
"Know when to put the mouse down!" – Red, Design Pickle graphic designer
Tip #7: Have "Scroll-Stopping" Impact.

Building brand consistency is important, but sometimes you've got to break some rules to get noticed by your audience.
The only way to find out what will actually make your audience pause mid-scroll to take the desired action is by testing different social media graphic designs to see what actually works. Test out new techniques to figure out what makes your audience click (you may be surprised what they're into…).
Pair photography with color blocks to interrupt the flow of the image with important title copy. Alternatively, you can create the title using a knockout effect to add scroll-stopping drama.
Use textures or patterns to add an interesting contrast to product images. This works especially well on e-commerce platforms that have rows of "listings" like Etsy.
"Precise design elements and the right choice of a few words make an outstanding social media graphic." -Marc, Design Pickle graphic designer
Tip #8: Focus on What's Important.

Did you know it only takes the human eye 50 milliseconds to form an opinion on a visual? With only .05 seconds to get your message across, your social media graphic design must focus on what important (and only on what's important).
Create a visual hierarchy to make the headline text stand out from the body copy.
"Make your reader
FOCUS ON WHAT'S IMPORTANT
then add other information in smaller fonts."
-Elijay, Design Pickle graphic designer
Emphasize your message by focusing on the most significant phrases. The title text should have the largest size (or typeface weight), followed by subtitles or body copy in descending order of importance.
Highlight copy that compels the audience to take a desired action such as "START A FREE TRIAL," "GET UP TO 50% OFF," or "DOWNLOAD THE EBOOK".
"Emphasize the message with all your heart!" – Jose, Design Pickle graphic designer
Tip #9: Browse modern social media designs.
The best way to find graphic inspiration is browsing current trends on the platform you're utilizing. Take some time to look through the social media accounts of the top businesses or influencers in your industry and take note of the elements you liked.
Some of the best social media graphics come from a confluence of various design techniques, though, so don't be afraid to venture onto new platforms for inspiration. If you're designing a health and wellness graphic for Instagram, chances are you'll find some great inspiration by searching health and wellness on Pinterest, Facebook, or even Google Images.

If you're looking for a quick-fix of social media graphic design inspiration, download a copy of the Digital Design Library. The Digital Design Library is a collection of 200+ designs created for actual Design Pickle clients (completely free to you!).


Bonus Tip: Diversity is everything!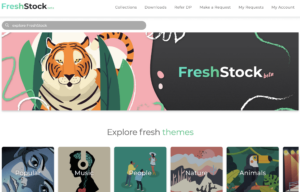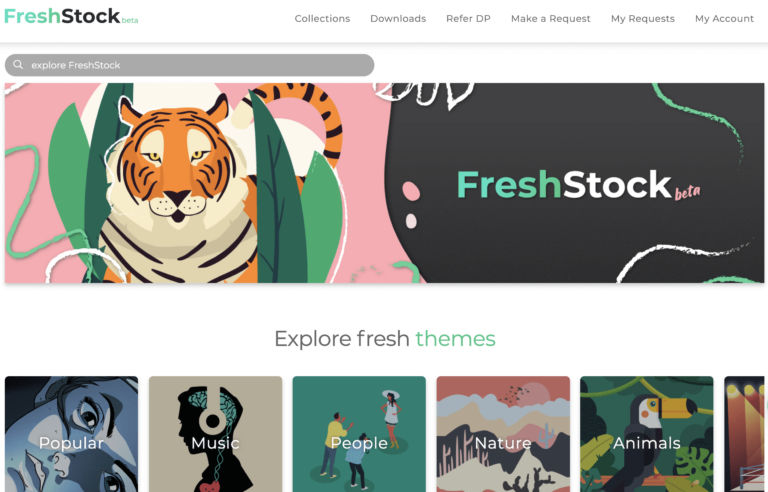 We recently released FreshStock. It's the world's most diverse stock asset library in the world. FreshStock is a stock asset library created with diversity in mind. It's the ultimate collection of premium stock vector illustrations and graphic templates made to be reflective of the world around us. Through original and inspiring artwork designed by world-class artists, FreshStock makes it easy to find and create social media graphics that better resonates with your audience because the world comes in all shapes and sizes.