As the economy slowly emerges into a new kind of normal, new design trends are also emerging. Some harken back to trends of the past — and we love what we're seeing!
Today's designs are a far cry from the minimalist hype of the early 2010s. We think it's a kind of organized chaos after years of minimal calm.
Minimalism taught us to prioritize clarity of communication and to overcome our fear of negative space. Now we're filling up the spaces again, combining our learned cleanliness with a fiesta of elements. As followers of Marie Kondo know, it's not cluttering if it sparks joy!
In other words, we're getting a tad maximalist again. Here are our top seven picks of the graphic design trends that will rule 2021.
1. Nature-Inspired Design
Already a trend and a timeless source of inspiration, nature is about to get trendier. The natural aesthetic is set to boom after some priming from 2020. How so? After a distressingly isolation-filled year, we're now hyper-aware of our relationship with plants and the outdoors. After all, many people exchanged hours at the gym for time spent outside and found reprieve from their four walls by taking more walks, going on picnics, etc.
Plus, as we grow increasingly sensitive to the damages caused by climate change, we cling more strongly to the idea of nature.
The nature-inspired trend also conforms to our current inclination to walk away from uber-clean minimalism. So watch out as the design world continues to increase in flora and fauna. We just hope it inspires us all to live cleaner and greener.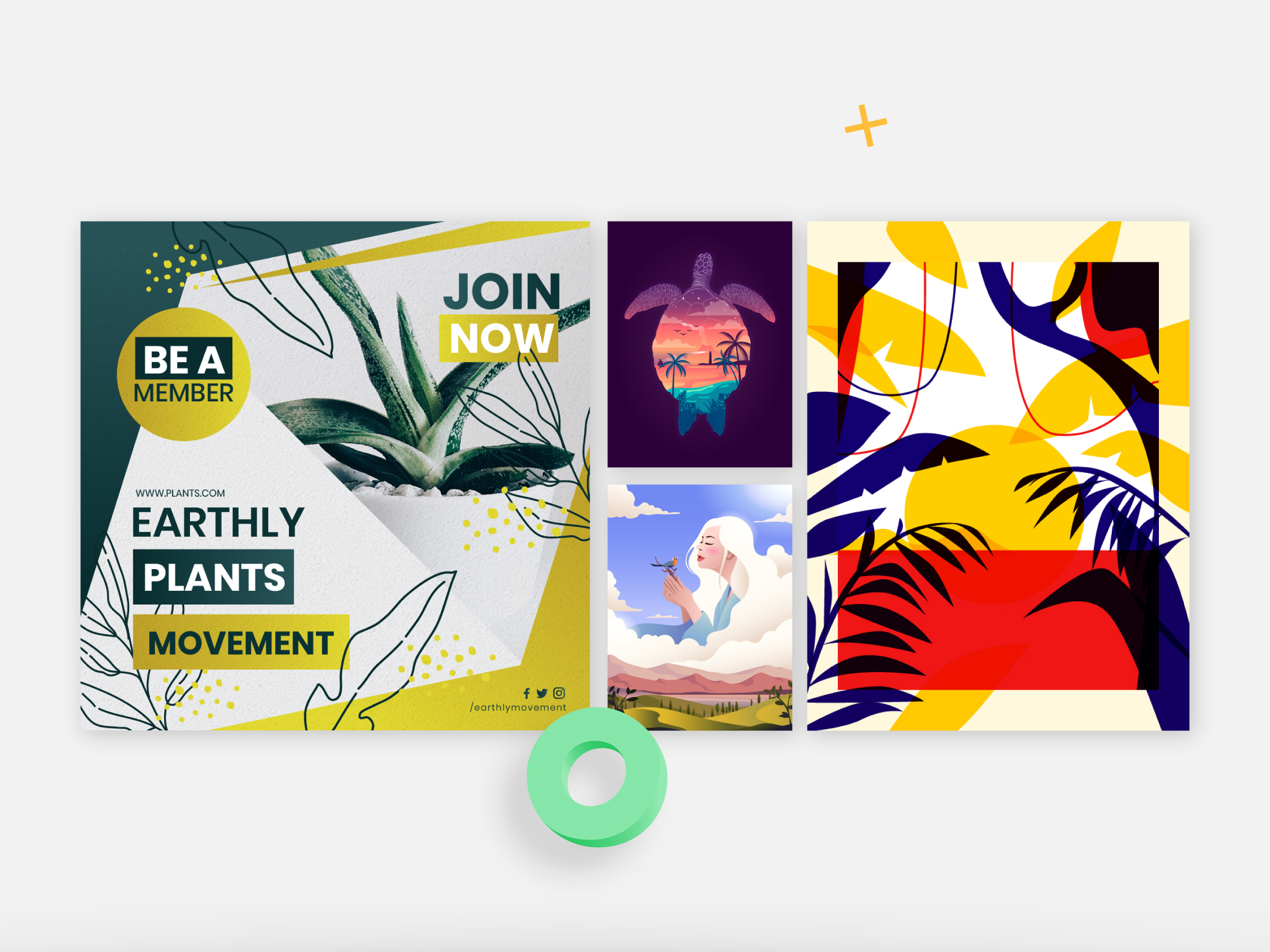 2. 3D Elements
In a further bid for freedom from the hyper-minimalist, the 3D trend has grown stronger. And it's no wonder: As tech rapidly evolves, what was once "high-tech" is now highly accessible. We create 3D with tools that have grown lighter and easier, and we consume 3D experiences with gadgets that have become more affordable for the average household. As augmented reality creeps into everyday use, 3D's place in media has strengthened.
We're also seeing more voxel illustrations. The style is inspired by games like Minecraft, blended with vaporwave and isometric art trends. It's retro but futuristic!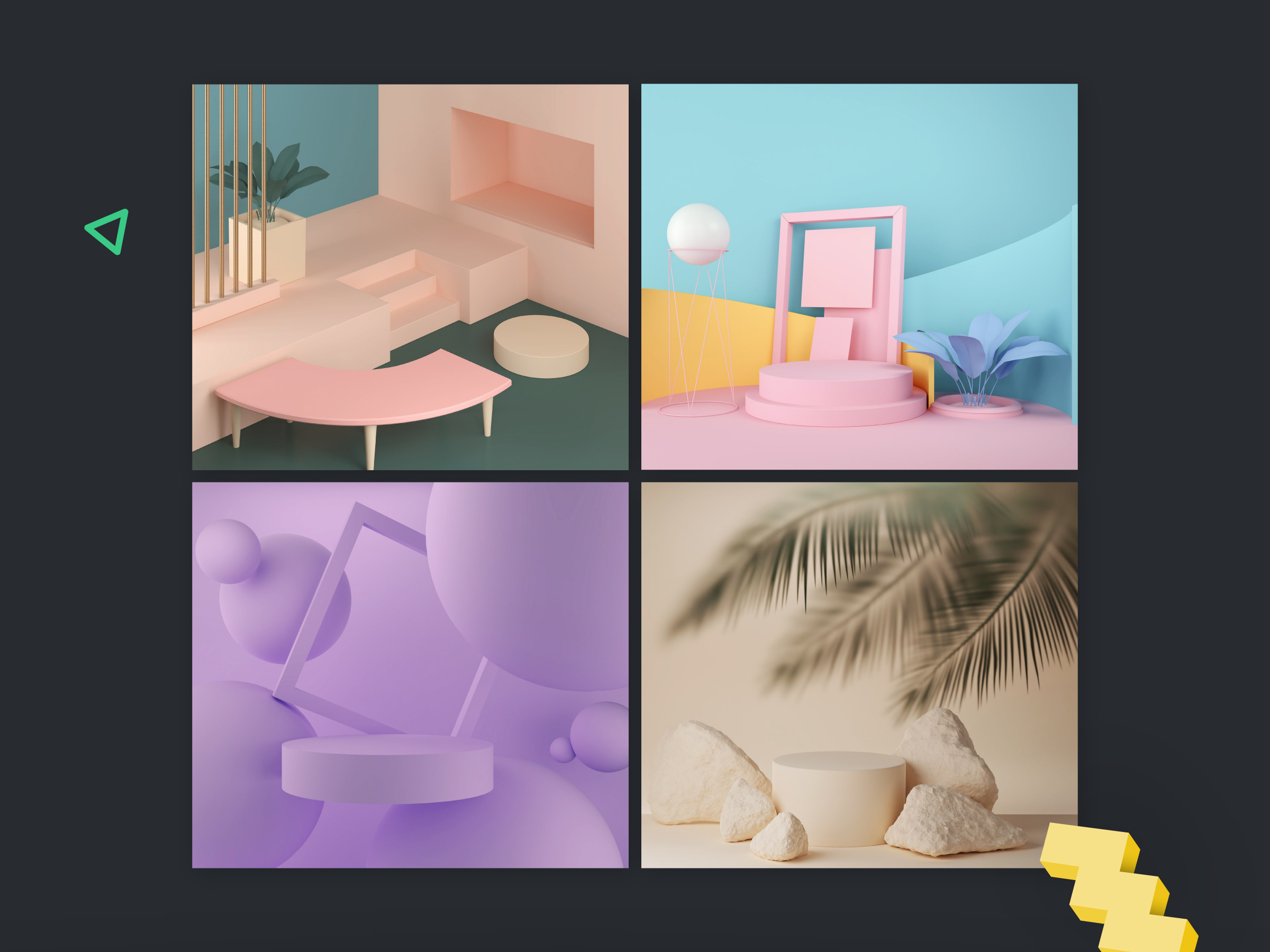 3. Surrealism and Optical Illusions
The outrageous and the artsy reign supreme in the worlds of surrealism and optical illusions, a trend we'll see more and more this year. Increasingly exhausted by ads, consumers have grown more attracted to eccentricity, which connotes freedom and authenticity.
Nostalgia is a factor as well, as this trend is reminiscent of art by Salvador Dalí and Andy Warhol.
Surreal photographic collages are usually simple but striking, consisting of mundane foregrounds pasted on unexpected backgrounds (think: swimming pools in outer space or a door opening to the sky). The resulting graphics are best described as dreamy. They can be dramatically high-concept or amusingly quirky, depending on what you need.
Optical illusions, on the other hand, are a tribute to the psychedelic trend of past decades. They have the power to arrest viewers with their hypnotic and sometimes eye-watering visuals. Optical illusions are like clickbait — the messaging may not be apparent at a glance, but chances are, you'll be paying attention long enough to hear the whole story!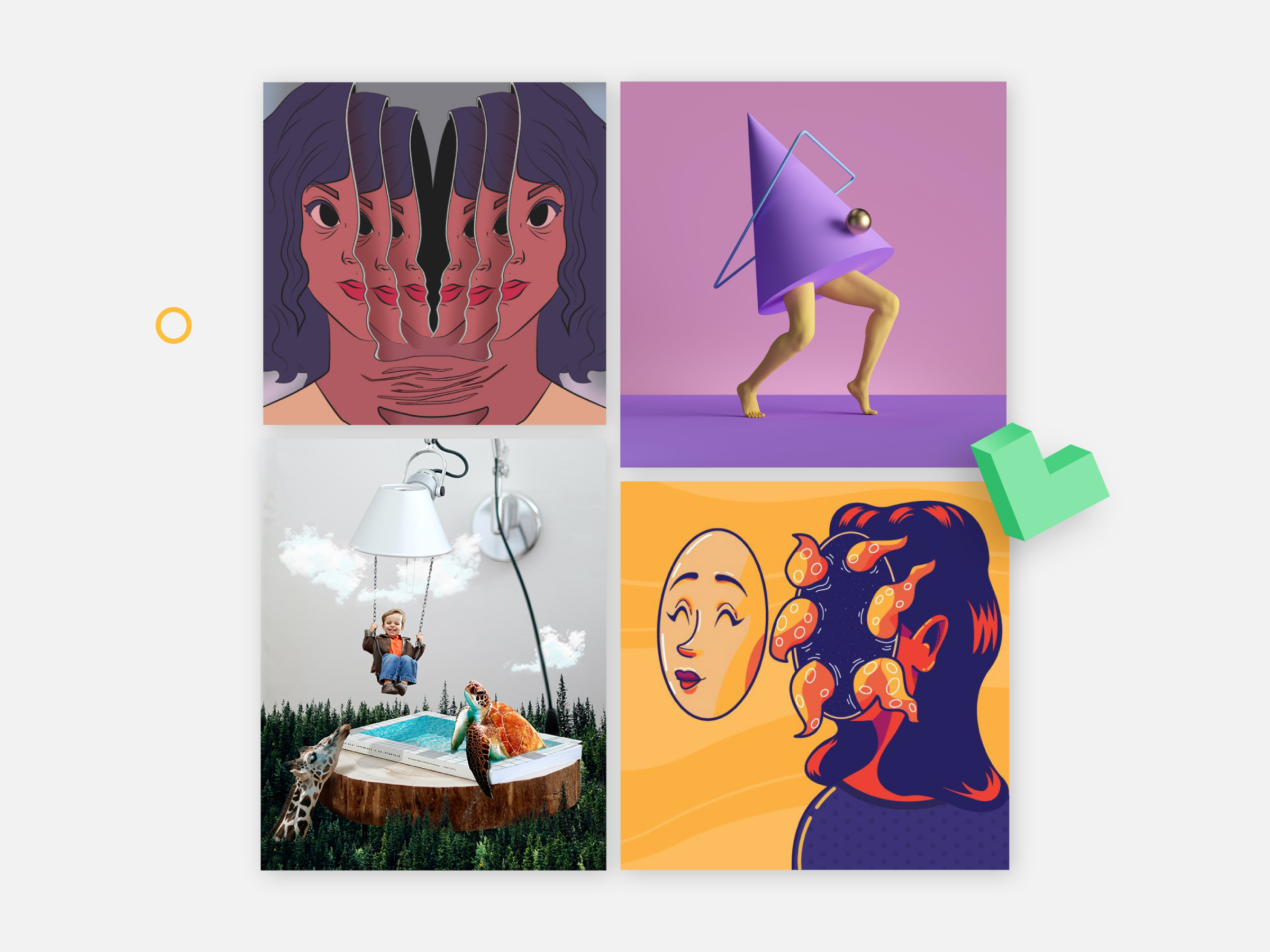 4. Abstract Geometric Elements
Abstract geometric elements are fantastic for book covers, album artwork, or any sort of title page.
This style is related to the surrealism and optical illusions trend mentioned above since geometric elements can be surreal and psychedelic, commanding double-takes by those who view them. They can also be minimal and striking, which is perfect for businesses that want iconic logos.
Combine this trend with the grainy vintage style described below, and you'll have a genuinely up-and-coming design that someone will share with the classic hashtag #mood.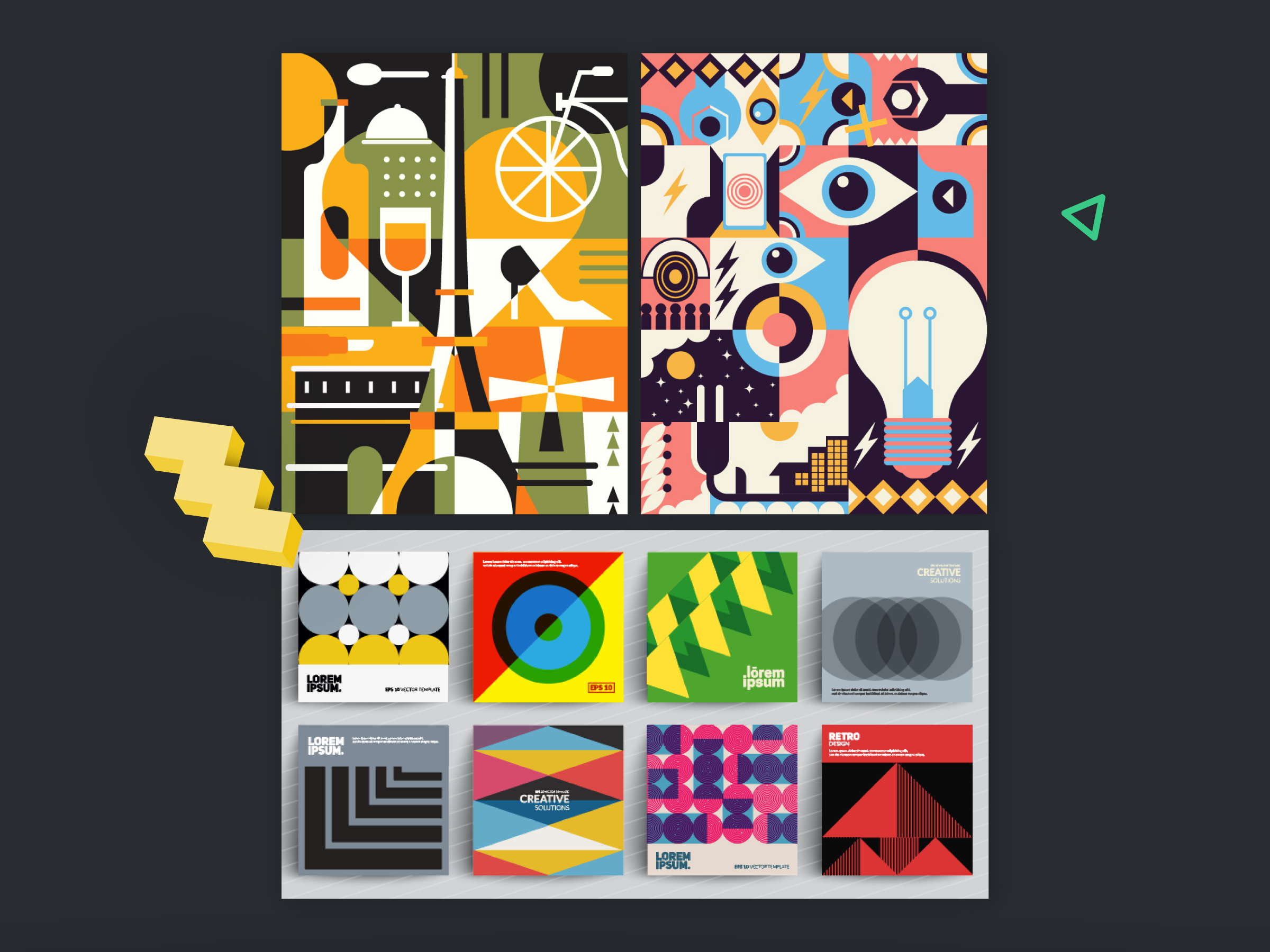 5. Grainy Vintage Finishes
The grainy vintage finish has been indispensable for years, and it's still going strong. For the time being, it seems to work with pretty much everything — previous trends of colorful gradients, 3D elements, and abstract geometric art.
As design inevitably becomes intertwined with socially conscious content, it looks like the grainy vintage finish isn't going away anytime soon. Gritty texture adds pathos to serious pieces and infuses nostalgia into more lighthearted designs.
Remember the grunge revolution of the '90s? Well, the vintage grain is one of its descendants — albeit with a more mature, classy, and dramatic flair. It's equally at home on both hipster vinyls in studio apartments and corporate press kits.
6. Emojis for UI
Like it or not, a huge chunk of life happens within the frameworks of apps. In the absence of face-to-face interaction (which increased exponentially during 2020), we express ourselves with emojis instead. Plus, our internet-soaked brains have lightning-speed attention spans, and brands have caught on to the fact that emojis work well to quickly convey a message or emotion.
You may wonder, "What's the difference between emoticons and emojis?" Some semantic trivia for you: An emoticon is made up of regular keyboard characters such as 🙂 or the more complex ( ͡❛ ͜ʖ ͡❛), while an emoji is an actual image like 🙂 or 🥒.
The world's library of emojis continues to expand. In 2021, the global emoji account is expected to reach 3,353! Usage has skyrocketed as well. In recent years, emojis have become more ethnically diverse, animated, and normalized in professional communication. And because apps proliferate for both users and creators of emojis, this year we expect to see a more imaginative usage of emojis — and maybe even more emojis on our keyboards!
For graphic designers and UI designers alike, the emoji world is full of opportunities. The Unicode Consortium reviews new emojis and approves them yearly, so if you're a designer, you can submit your emoji designs for consideration. Icons that don't make it to Unicode Standard can still come to life as app graphics, which can do things like tell you the weather on your smart watch or function as signifiers in e-commerce websites.
Overall, emojis can be used to add emotion to your graphic designs in a simple way. Plus, emojis can boost user experience by getting your message across in a unique way — and they are definitely here to stay.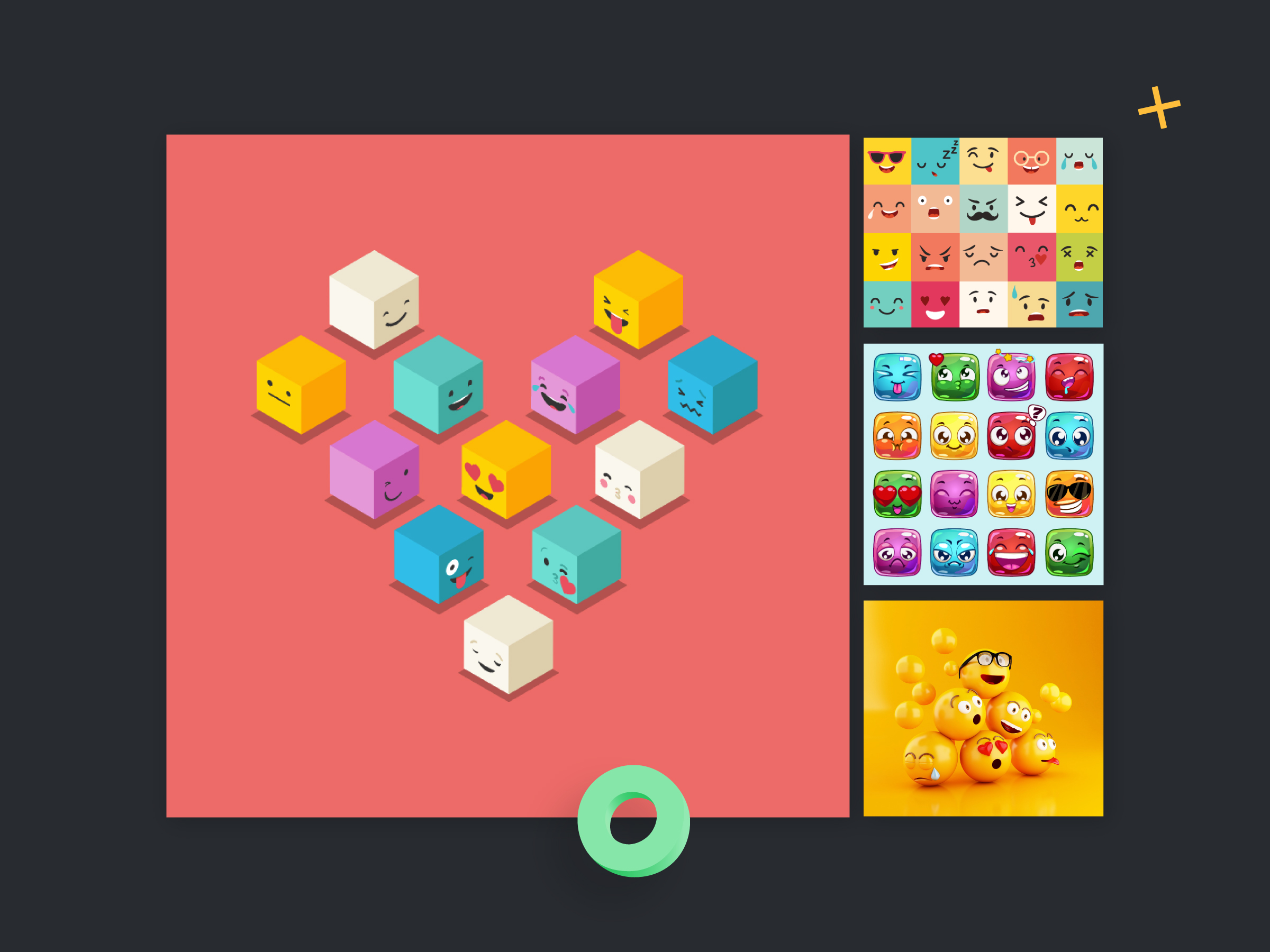 7. Simple Data Visualization
Like emojis, data visualization design is a response to our shorter attention spans. Our eyes flick through so much information every day — too much information. If you don't get your point across quickly, you might not get any attention at all.
Moreover, in the wake of a global pandemic, people have been fed a ton of statistics and technical details, more than they're usually asked to absorb. This makes it even more important for data to be easy to read. Whether you're providing your audience with ideas for home decor or best practices for hand-sanitizing, the solution is to create easily digestible data with thoughtfully designed graphs and charts.
Most of the design trends we outlined here focus on meaningful clutter. For the most part, we're trying to showcase a healthy departure from the minimalist trends of the recent past. In the case of data visualization, however, less continues to be more.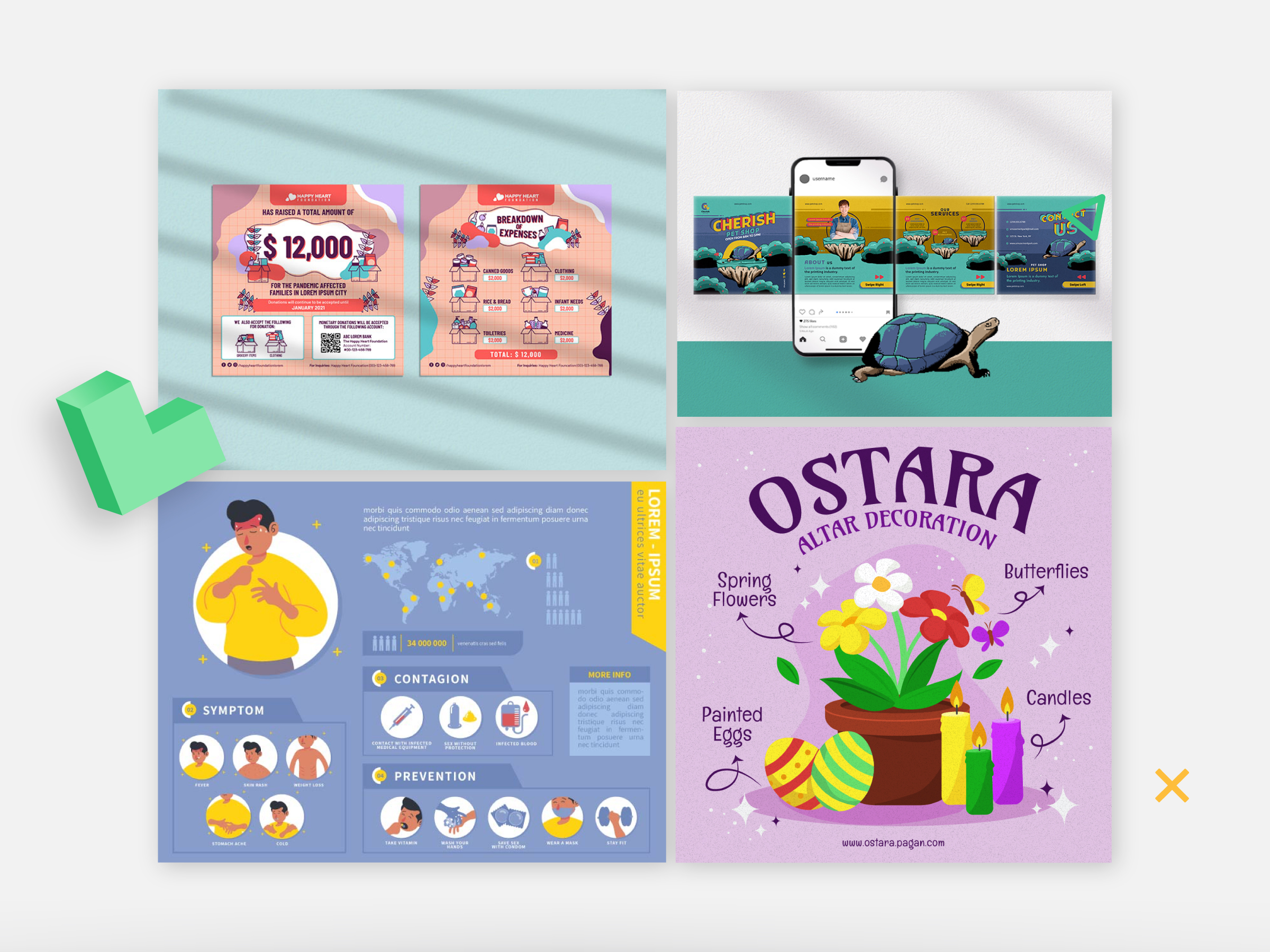 Design Your 2021 With Design Pickle
Graphic design can be quick, easy, and trendy — all at the same time. Design Pickle's ferociously friendly, helpful designers are marching into 2021 armed with the knowledge of current and up-and-coming trends. Check out our latest work done for Design Pickle customers, and see how our flat-rate graphic design services can help you do design better in 2021.