Ask 12 artists to draw the same thing, maybe a still-life or landscape. In minutes, you'll be handed a dozen artistic interpretations. Some might echo Picasso's cubist feel. Others may evoke minimalist overtones. A few might leave you scratching your head. But all will prove a single point: Everyone sees the world a little differently.
That's the beauty of art. It can also be a pitfall of business-related design. Without clear direction and communication, creative workers must rely on interpretation. It would be great if designers could read minds to see the envisioned end result, but that obviously is not possible.
There's good news, though: The stumbling blocks of the graphic design process aren't inevitable. If you're the client, you can avoid them by doing one thing really, really well: communicate with your designer. Yes, it's literally that easy.
Successfully Taking Graphic Design From Concept to Completion
Truly, the importance of effective communication when managing graphic design services can't be underestimated. Therefore, if you're going to work with a graphic designer, you'll want to follow a few steps.
Have a vision.

Want a dynamic infographic to pair with your gated white paper? A billboard advertisement you intend to plaster across town? Even if you're not a designer, you probably have some idea of how you'd like the finished product to look. Don't keep that idea to yourself. Share with your designer as many details as you can identify in your mind's eye.

Illustrate your vision with examples.

Rip pages from printed magazines. Take screenshots of logos you adore. Graphic designers thrive when they can visually see elements of what you love and loathe. The more visuals you provide, the easier it'll be for your designer to wow you.

Set clear expectations.

Be transparent about what you need for turnaround times and project status updates. There's no need for you to hold back. Then, offer detailed, constructive, and supportive feedback after receiving each design iteration to drive forthcoming drafts. For example, do you notice any errors? Are you balking at a color? Does the font seem out of alignment? Air your opinions, and use more visuals to initiate new directions for your design.
By the time you receive your finished design, you should be happy with the outcome rather than surprised. Why? In a nutshell, you communicated while allowing the creative graphic design process to take its course.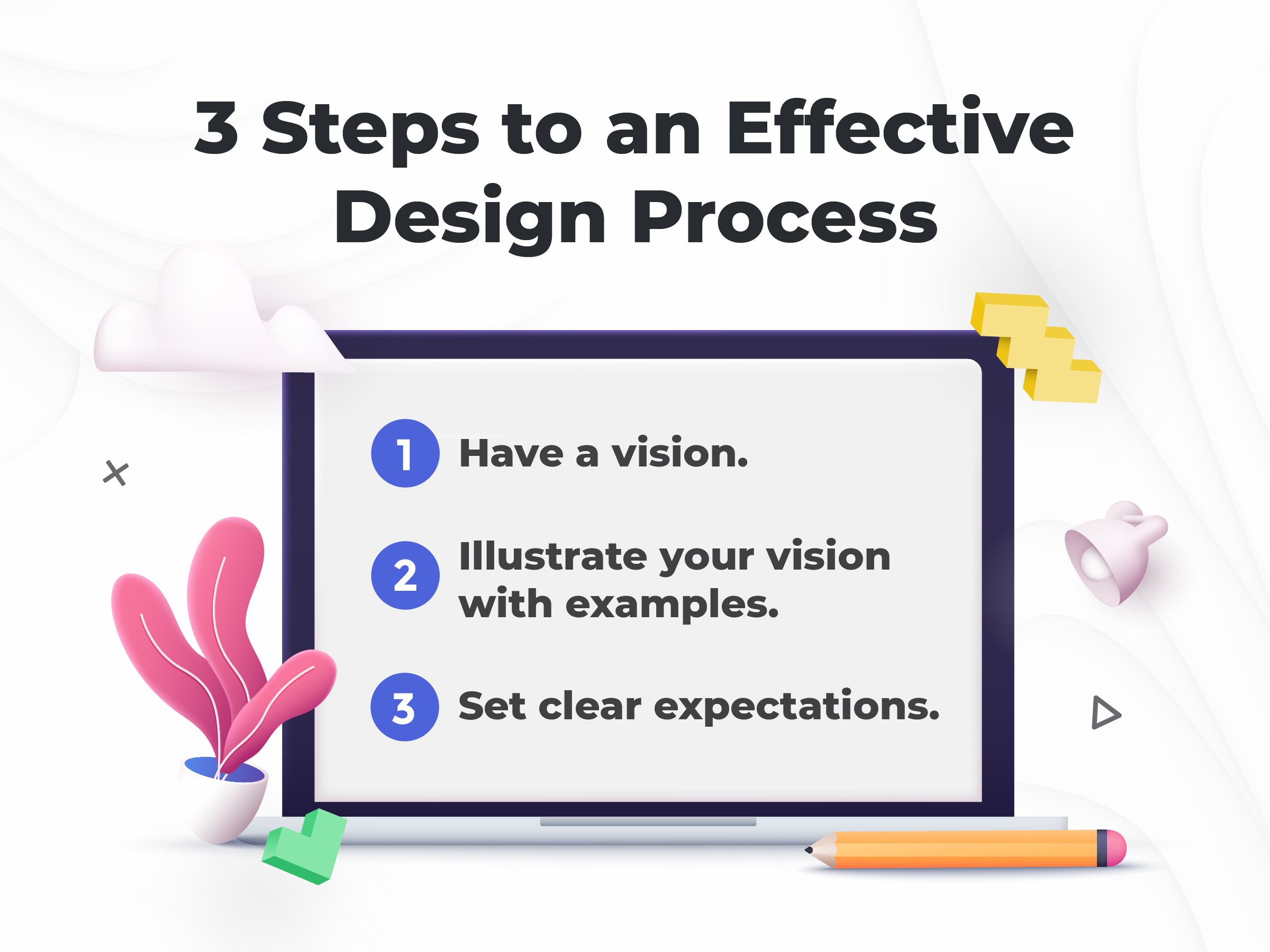 Extra Tips for Getting the Best Graphic Design Results
Are you looking for more nuanced ways to communicate with your graphic designer? Try these additional tips to avoid confusion.
🥒  Submit copy that's free of mistakes.
Graphic designers aren't content writers or editors. They'll take exactly what you give them, so make sure you provide accurate copy that's already been checked and rechecked for spelling, grammar, and other avoidable problems.
For the best results, send your designer your copy in a single document rather than piecemeal. When possible, mark up the copy to call out where you want headers, images, or bold text.
🥒  Provide your designer with the assets they need.
With the right graphic design services partner, you can free yourself up to focus on meeting your business goals while your designer generates the content you need. Make it easy for your designated designer to deliver value by giving them everything needed to get started.
Design Pickle makes this easy. In your Design Pickle account, you can create a Brand Profile, where you can upload and store your brand colors, logos, and any other collateral. In fact, you can create unlimited Brand Profiles, which is great for agencies who manage multiple clients. Here's the bonus: You'll end up saving yourself time because with each design request, all you need to do is select the correct Brand Profile with the click of a button — rather than having to upload assets with every request — and your designer can reference the information whenever they need it.
See our solutions for entrepreneurs to find out how to cut your creative costs by 70% and profitably grow your company. Already familiar with Design Pickle and want to become a power user?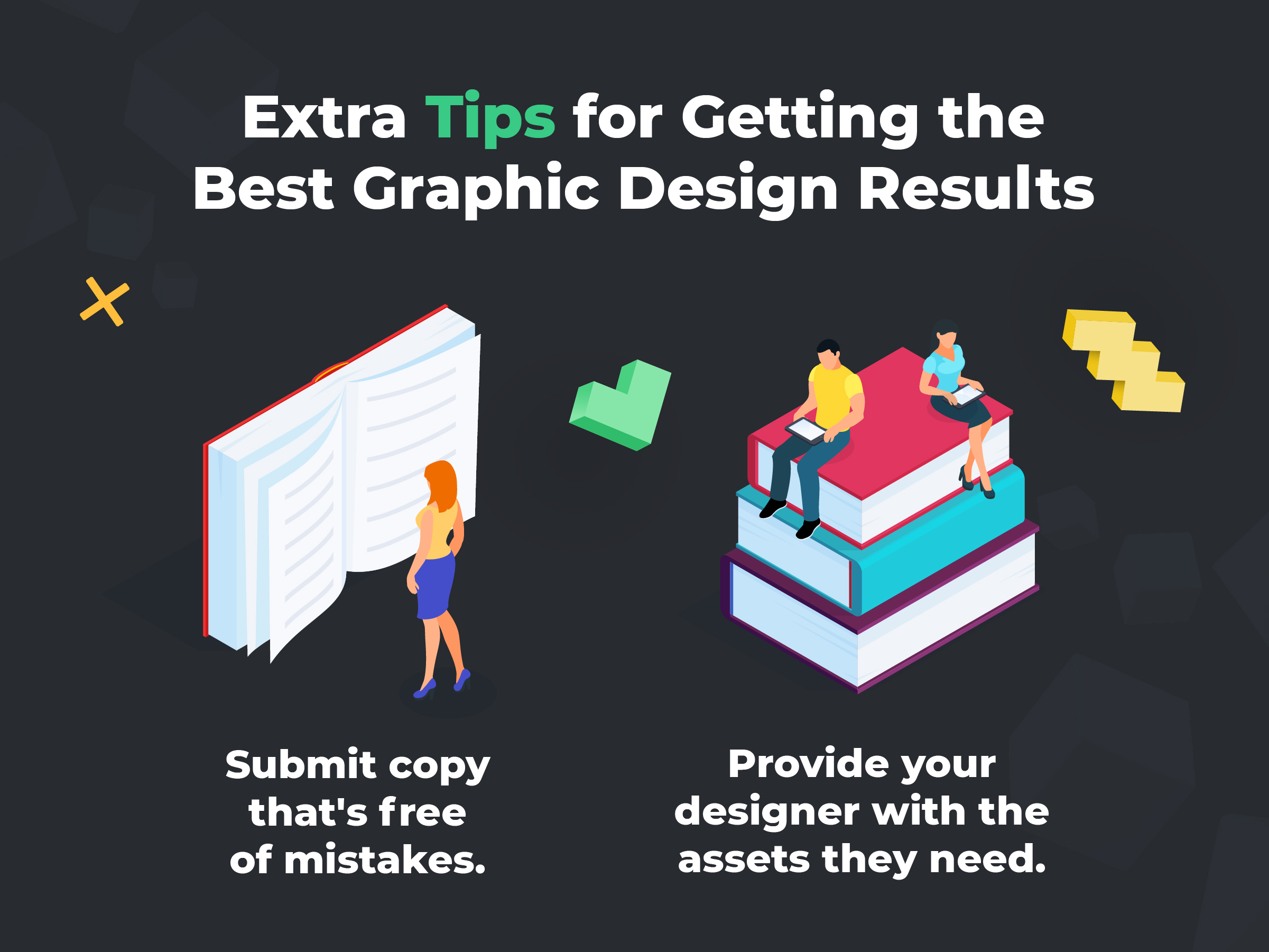 Final Thoughts
Communication doesn't have to be hard, but it does have to happen if you want your graphic design experience and output to be extraordinary. Remember: Your goal is to communicate what you need so your designer can make it happen.
Ready to explore a subscription-based graphic design model with Design Pickle? Set up a demo to learn about our no-surprises, budget-friendly graphic design service.