Working for a startup is all the rage these days. Tons of folks in various stages of their careers crave the excitement and experience of working for a tech company. Most people will never get that chance for any number of reasons.
My journey to the tech world wasn't the most traditional one. It had lots of twists and turns but started at a small liberal arts college in Philadelphia. I attended La Salle University.  I didn't study computer science or anything closely related. I studied Philosophy and History and after four years there graduated and got a job in admissions at a local university. I thrived there, learned a lot about how the real world works, and built up a love for working with and understanding data.
From there, I would work in a number of settings. I worked in secondary education reviving and starting schools, started (and closed) several businesses, worked on a few political campaigns, and began a consultancy for educators in need of help with all their data.
Over time, working in the tech space made sense. A business partner and I had a small startup that didn't go very far because we couldn't get the funding rock solid to pursue it long term.  A few years after we closed our doors, I joined Design Pickle graphic design team. This was back in the summer of 2017 and I couldn't enjoy my life more.
As a person of color, I didn't think my opportunity would come. I had the education and resume, but I lacked specific insight for one reason: there aren't many of us working in tech. Being a black man in the startup world poses many challenges, but the biggest hurdle is there aren't a lot of other people of color to mentor us.
Thinking about this problem brought me to a very simple solution. We've got to talk about our experiences more. We've got to share the insights we've gained from time in these circles. With that in mind, I curated a list of 3 Things People of Color Working in Tech Needs to Know. Here they are:
1. You belong.
No one had a better resume than you. Your internships, recommendations, and interviews blew everyone away. Being offered that position confirmed it. This means one simple thing. You belong there.
No one can take that away from you. Imposter syndrome may run rampant. You may not have the same cultural touchstones as a lot of your peers, but damn it, you're in the room where it happens! You get to be the captain of your fate. Own that. Celebrate that.
And when you get stuck, go get inspired by some of the stories, interviews, and articles POCIT (People of Color in Tech) has on their website.
2. Your VOICE can't be heard if you don't use it.
Belonging is the easy part. You can rock all the cool swag that's passed out like candy and give dap to all the developers and CS reps around your office, but if you don't speak up when it matters you're failing yourself and the company. You got hired to do a job. Do it.
Moreover, your understanding of tech and the way it interacts outside the mainstream is such a gift. You can see market viability that other folks can't see. I encourage you to hear the story of Arlan Hamilton. She's a Venture Capitalist that at one point was homeless. She slept in an airport for a year. She is definitely not like other VCs and she has learned to use her voice to create a new tech ecosystem.
3. Be YOU!
You have to learn to be yourself. Finding comfort in your literal skin makes all the difference in the world. Everyone wants you to succeed. From your grandmother back in your family's native home to the manager who hired you, they're all rooting for your success.
Success looks different for each of us. We shouldn't try and copy someone else. We don't need to be anyone else. We're here because our greatness was needed and we need to step proudly into the world before us.

Regardless of your job, your desire to succeed, remember that you are on this planet for a reason. YOU need to fulfill it. No one can take that from you, but you can damn sure give it away if you aren't careful.
A great resource for expanding the reach of people of color into tech is AFROTECH — I attended in November 2018 and highly recommend checking out their resources.
If you have any questions about working at a startup, or just want to chat, feel free to email me at [email protected]. Now go and be great!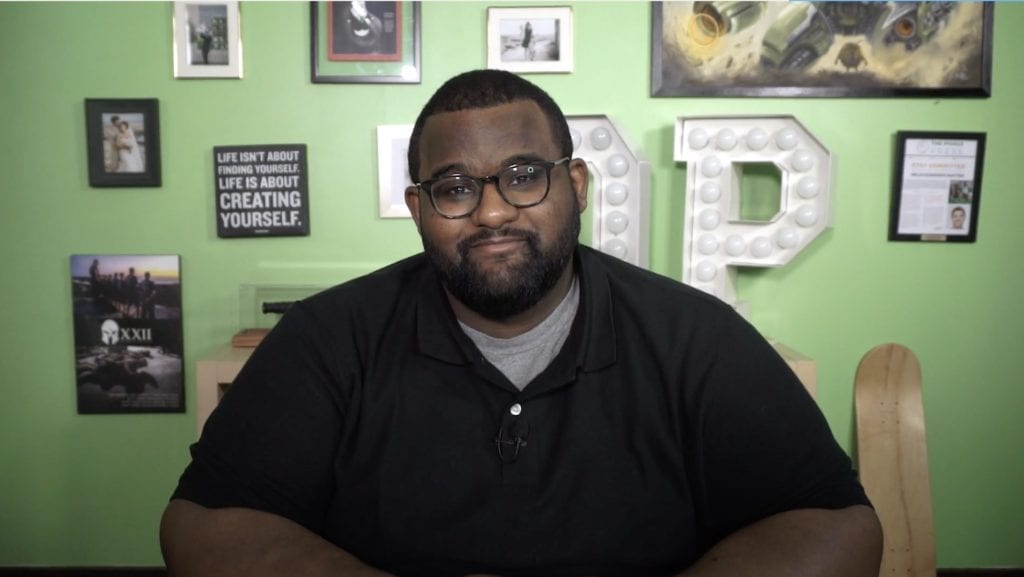 This post was written by Aaron Spence, the Data and Analytics Manager at Design Pickle. Aaron lives in the City of Brotherly Love, Philadelphia, PA. He's an amazing son and has a 5-star rating on Amazon to prove it! Aaron loves working in his community and mentoring. He also loves a bargain on delicious food from Whole Foods (and is a fantastic cook). Aaron's most frequent design request: Instagram Posts.