We're excited to share the latest updates and features in the Design Pickle Universe! Read on to learn about our new improvements.
[
NEW

] FreshStock

Finding imagery that effectively aligns with your marketing strategy can be a challenge. Recycling the same, generic photos, illustrations, and icons can create an impersonal brand experience for your consumer. And even when you do sift through the commonplace imagery, finding stock assets that reflect your brand and audience can feel impossible. For these reasons, stock imagery gets a bad reputation. FreshStock is our solution.
We let the perfect assets find you. As many as you need. For one flat rate.
The Most Diverse Library of Stock Assets
FreshStock is a stock asset library created with diversity in mind. It's the ultimate collection of premium stock vectors and templates made to be reflective of the world around us. Through original and inspiring artwork designed by world-class artists, FreshStock makes it easy to create marketing collateral that resonates with your audience.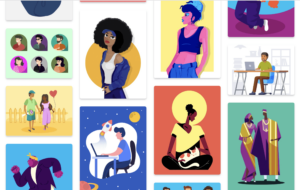 The new platform is a standalone service, complete with a Design Pickle integration. With both a Design Pickle and FreshStock subscription, you can easily request asset modifications from your designer. Without a Design Pickle plan, subscribers are able to fully download the design files for their own use. 
Assets for Every Project
With diversity as the driver for FreshStock's asset creation, you'll have ample options for your next creative pursuit. Each week, our designers publish vectors and templates that span a variety of topics and categories, making it an ideal resource for creators looking to diversify their content
Additionally, Fresh Stock features a powerful search engine that encourages browsing and discovery and is meant to inspire and provide a starting place for creative works. 
Implement Assets with Ease
If you're a Design Pickle customer, it takes just a few clicks to begin a new project using FreshStock assets. Once you find a vector or template you'd like to modify, use the "Request" button to send the file to your designer. You'll be directed to the Design Pickle Platform to explain your request. Your designer can scale the image up or down to suit your application. The asset can be edited to match your brand colors or can include other modifications that communicate your brand's identity. 
Collections
Collections is a feature to help organize your FreshStock assets. Perfect for planning future campaigns or building inspiration folders, this feature allows you to segment designs and save them for later use. For example, if you identify a vector that would be perfect for an upcoming marketing initiative, you can click the "Save to Collection" button on the asset page to add to an existing or new folder. Collections are also easily shareable, with asset links that allow for collaboration amongst team members.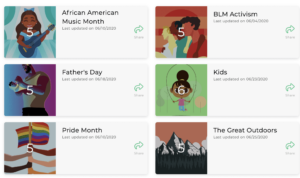 You also have the option to download the asset for use outside of Design Pickle. Files are downloadable as images in .png or .jpg format, as well as in their editable source format. Zip files are available for times when you, your designer, or developer need all of the above. 
Sign up now!
Whether used with Design Pickle or without, FreshStock will help set your overall branding and marketing projects apart from the crowd of competition. Your marketing collateral will be one-of-a-kind, genuine, and easier to create than ever before.
[
NEW

] Adobe Stock

We are proud to announce our recent partnership with Adobe, the world's premiere creative software company. As a result, we are now offering Adobe Stock, Adobe's collection of high-quality visuals, including vectors and photography!

With millions of high-resolution, royalty-free stock assets, this partnership is an exciting opportunity for the Design Pickle family. Starting June 30th, the Adobe Stock library will be available to Design Pickle customers who have a Premium stock subscription.
What does that mean for Getty Images?
Adobe Stock will replace Getty Images as our premium stock photography library. Any Getty images that have been used in past design requests will continue to be protected by our license agreement with Getty.
Do I need to do anything right now?
If you are a current subscriber to our Premium Stock add-on, there are no additional steps needed to receive access to Adobe Stock.
For access to the Adobe library, you can sign up for our Premium Stock plan for $25 a month.
[
NEW

] Add a Project Manager to your account!

Do you need help managing your design requests and queue?

You can now add a Project Manager to your account for just $495 per month. 

This subscription gives you access to a Design Pickle employee who will meet with your creative team and help you determine your team's design needs. Your assigned project manager will submit your requests, manage your queue, and work directly with our design team to ensure accurate completion and delivery of all assets.

Visit https://designpickle.com/pricing/ for more details!
[
UPDATE

] View old requests for canceled plans

In the past, once a subscription was canceled, you were unable to see and download files for the canceled subscription. With our new update, as long as you have an active subscription, you will be able to access files for plans that you've canceled.

Because of this change, it is no longer necessary to put individual plans on hold, so this will no longer be offered. If you want to keep your Custom Illustration plan and cancel your Graphic Design plan, you can do so while still maintaining access to your completed designs!
---
Related Articles
Introducing: Custom Illustrations
Introducing: Graphic Design Calculator
The Definitive Guide to Building a Content Machine Inside Your Business
---
[
NEW

] Referral Program

We are proud to introduce our new referral program! We have partnered with Viral Loops to provide you with incentives for referring your friends and colleagues to Design Pickle.

Simply click the "Refer DP" link in the Design Pickle navigation bar, and you are ready to refer.

Not only will you receive a $100 credit to your account for every customer you refer, but the referred customer will also automatically receive a coupon for $100 off their next invoice.

You will also have a referral link, as well as a mini dashboard that tracks the status of your rewards (found at the bottom of the "My Profile Settings" page).

Happy referring!

Any questions? Let us know by contacting our Customer Success team.

Any suggestions for ideas for a new product or improvement, click here!