March 28, 2018
6 Min Read
Today, Design Pickle launched Dayshift. Dayshift is a new product offering flat-rate, unlimited graphic design services that lets clients collaborate with their designers in real-time.
As a product manager, Dayshift has been a wild ride. I'm here to take you behind the scenes of what a product launch at Design Pickle is like – from ideation to delivery.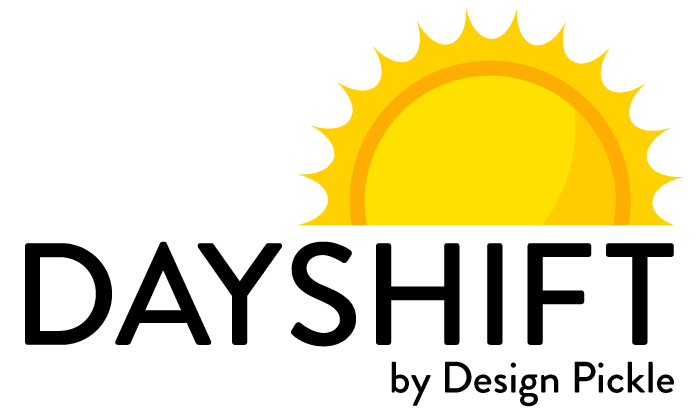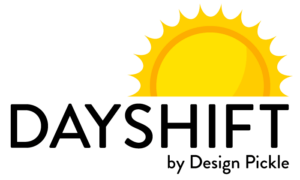 Listen to Your Customers for New Ideas
Browse through any startup guru's blog and we'll bet you a pretty pickle that somewhere in their walls of text about "failing forward" and "moving fast and breaking things", they tell you to "listen to your customers".
Even though we're not big fans of gurus here at Design Pickle, we'll have to give them credit on this one. They're right.
Listening to what your customers are saying is the best way to come up with new ideas. It is how we came up with the initial idea of Dayshift.
We kept hearing that customers who had recently canceled or were thinking of canceling didn't need our services anymore…not because they didn't like our services (on the contrary they loved our services), but because they had essentially outgrown us and were planning on bringing on a part-time designer to their staff. We're always excited for our clients when this happens, but we sensed an opportunity here.
Using this information that we kept hearing over and over again from clients, we began asking them if they would consider a higher-tier offering where their designer could get them more work every day and things would simply move along much faster. They were interested.
That's when we knew we were on to something.
Ask Your List
Now, there's a big difference between someone saying "hey, I'm interested!" and someone who is willing to put in their credit card information to really get the process started. The latter option is really what you're looking for.
So naturally, we put out the idea to Dayshift to our list of current clients to see who was interested and who was committed.
A quick intro and overview of how the service would work went out to our list. It was nothing fancy. Just a short and to the point email with some basic details, a quick overview of our founder talking about the service, and most importantly – a call to action to see if they were committed to the idea of Dayshift.
Here's what that email looked like: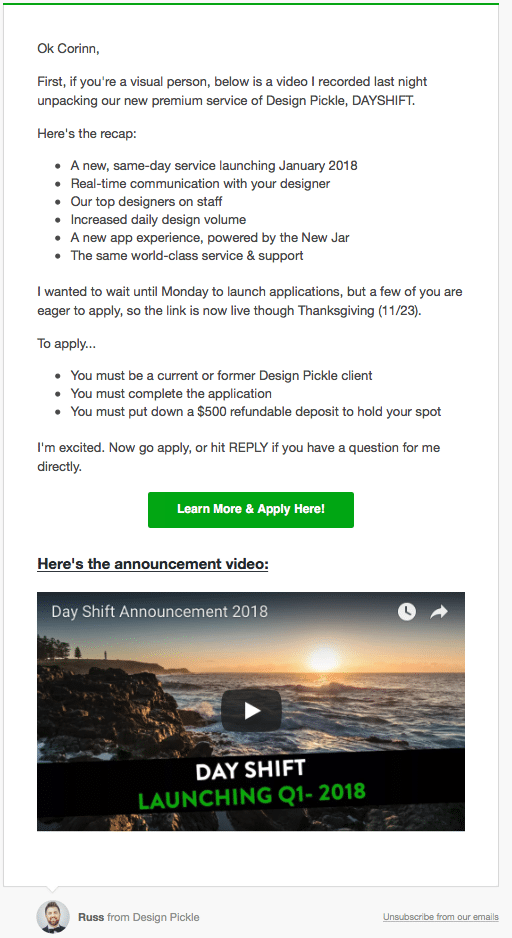 We asked them to put $500 down to reserve their spot.
Out of the couple hundred who originally said they were interested, we had a few dozen actually put money down to say they really wanted this service.
This was enough people where we would be able to cover the costs associated with the product. So, with this one email, we validated a whole new offering from Design Pickle.
It was now time to start figuring out how we would build this out.
Product Planning
We're all about moving fast at Design Pickle. I've never worked anywhere where things launched, changed, and improved so rapidly. This launch turned out to be no different.
There were some modifications that we'd have to make to fulfill the promises of Dayshift. Mainly:
• Getting a team of Dayshift designers ready to go to work at the new hours Dayshift promised
• Updating our signup process, payment plans, and workflows on the backend
• Getting all of our marketing collateral ready to go for new users
• Preparing new user guides, FAQs, onboarding, etc.
• Figuring out how new technologies like Slack would fit into the new process
• Updating our processes to account for all of these changes
• and more!
The whole process from initial interest email to our first user entering Dayshift took under two months. Everyone on the team did a great job of making sure everything was covered and the client would have a great experience even though this was our first go at offering this new plan.
Launching With a Beta
Now, that is not to say our first go at offering a new plan was perfectly seamless. We had a few hiccups here and there with things like user questions we hadn't thought of, user onboarding into Slack being more manual than expected, and ensuring that all emails from Dayshift clients were consistently routed to the same team members that needed them.
That's why having a beta group who already knew us was so important.
Our clients let us know what was going well and what we could improve. They were also incredibly patient and understanding as we were figuring out this new way to collaborate in real-time.
If you have a way to get beta users for a product launch who are already familiar with what you do, we would highly recommend it.
Logistics and Operations
Once the team felt comfortable with how Dayshift beta was going, it was time to start thinking about releasing it out to an even wider audience with a public launch.
So one week ago from the time I'm writing this is when we decided we would have our public launch.
Planning a public launch in one week is a little hectic, but totally doable. We had to make sure that we covered all our basis. Like making sure that:
• Our processes were well understood and our team knew how to handle Dayshift requests
• We had our marketing materials in order and ready to promote when launch day came around
• There was a landing page with a clear description of what we were offering
• New clients to Dayshift were greeted with an onboarding sequence tailored to the specific needs of Dayshift
• Our sales team knew how to answer common questions prospects had about the offering
• There was a way to sign up for the product that would be more automated than the old manual process we used in the beta group
• Our knowledge base was updated to include information and frequently asked questions on Dayshift
• We knew where and how we were going to share this with the world on launch day
• And more
Building Up to Launch
To build up to launch and test the response to the public launch, we offered subscribers on our list an opportunity to pre-register for the launch – which would give them an exclusive discount that otherwise wouldn't be shared with the general public.
This was a one-time email that went a little something like this: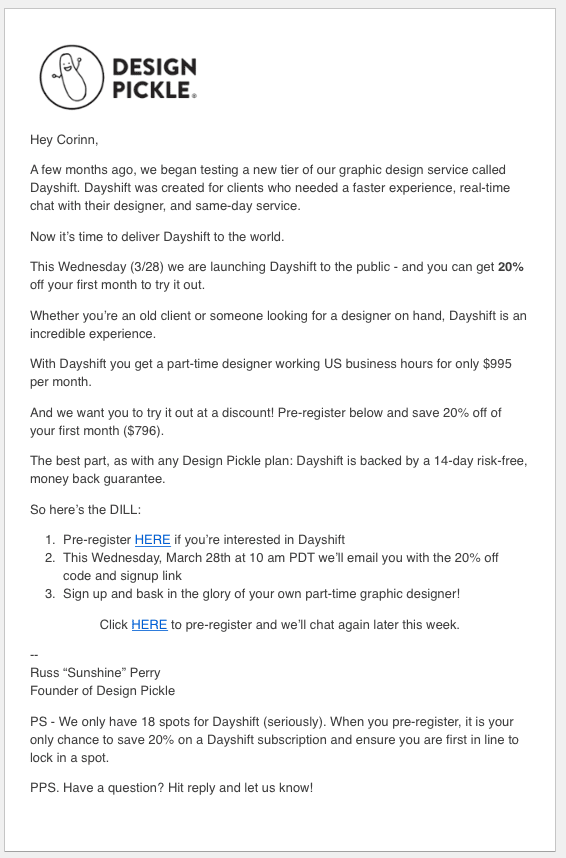 We had over 80 people pre-register for 18 slots. Not too bad!
Pre-registration gave us a good idea of how many people were ready to sign up for Dayshift.
We invited the pre-registrants to have the first opportunity to sign-up in an email that went out today (launch day).
We expect Dayshift to fill up pretty fast, so once we fill up those 18 spots, any overflow will be directed to a waitlist page where they could enter in their email to be next in line once we can bring on more Dayshift designers to meet demand.
Even if we fill up, we still plan on launching Dayshift to the world and capturing potential signups onto our waitlist.
Launch
That's today!
Since I'm writing this the day before, I sure hope it's going well!
Check back for reflections on launch and Dayshift at a later date!