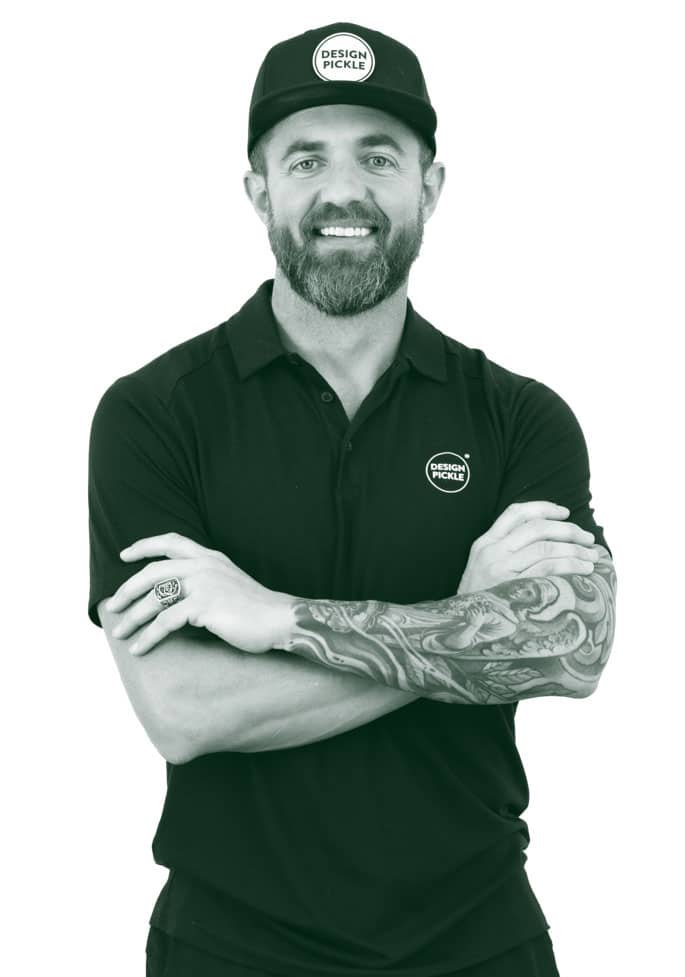 I am excited to announce Design Pickle has raised $25M in growth capital from Colorado River Partners. Typing that sentence is surreal. I have seen similar headlines written by companies I use, CEOs I am friends with, and businesses I admire from afar, but I'd never expect to write something comparable myself. As a bootstrapped organization, taking on capital was not a small decision. Fortunately, we found an investment team that shared not only our vision and values but deeply understood the massive problem we are trying to solve — simplifying creative services and technology for businesses worldwide.
For many of you, this may be your first time hearing about Design Pickle. I want to take you on a quick journey describing where we came from and sharing what's ahead with this investment for our clients, creatives, and teams.
Our Pickled Beginnings
Like many entrepreneurial stories, Design Pickle was started to solve a personal problem. I was a consultant with clients asking for more designs than I could reasonably produce. Marketplaces were a mess, employees were too expensive, and freelancers proved too unreliable. You could say I was in a pickle.
My solution was simple: Stitch together a combination of creative contractors, a ticketing tool, and lots of Zapier so clients could request designs and get them back in a streamlined manner. Miraculously, it worked. Clients were happy, and designs were flowing.
High off of reading the 7-Day Startup, I saw a new business opportunity. Recurring revenue was all the rage, so I wrapped everything inside a SaaS model, and on January 22, 2015, Design Pickle launched as the first-ever flat-rate subscription graphic design service.
Profitability came the first month. And the next, and the next. Three months in, I spent everything I had in our meager business checking account to sponsor the Infusionsoft ICON conference. Booths were sold out, so I crafted my own sponsorship. I would hand out pickles at lunch. With a pickle cart purchased last minute from Big Boy Ice Cream Inc., I suited up and got to work.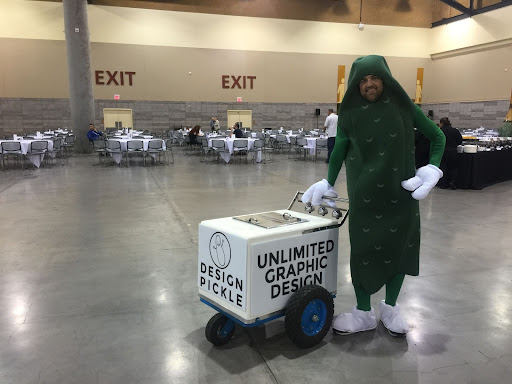 Seven years later, Design Pickle has become the secret weapon for thousands of clients to create the creative content they need, in a simplified, affordable, and reliable way. We've completed over 1.25M requests spanning graphic design, motion graphics, custom illustrations, and presentation design, still with the same, flat-rate billing model.
Why This Investment Now?
Creativity is not a simple business. It's so complex that, for the last several decades, the only innovations have been around the tools creatives use and the way people find creative help.
Our mission is to streamline and digitize the entire creative process, allowing creatives and clients to produce incredible work together. We've built a world-class platform to do exactly this, but there's still so much ahead. We want to improve this experience on both sides of the creative coin. It's not a small task, and it's never been done before, but we're ready for the challenge!
Realizing the scope of our vision, we set out to find a partner that cared about this problem and saw the enormous opportunity ahead. After many, many conversations, dinners, WeWork meetings, and Zooms, we knew Colorado River Partners could help us accelerate this outcome and allow us to build our solutions at a truly global scale.
What's Ahead
First, we believe a client shouldn't be in the weeds of the creative process or creative tools. Our platform simplifies everything from creating a request to finding the right creative and delivering the exact feedback required to get a project to the finish line.
Second, we believe creatives shouldn't be in the weeds having to find work, dealing with challenging clients, and feeling isolated behind a computer screen. Our company provides incredible opportunities for creatives to be a part of something larger than a faceless marketplace. We give them the resources to build their career and join a community of passionate peers. It is our goal to ensure they are endlessly supported by the experience we provide.
As we look ahead, here are a few plans I am excited to share:
To our clients – We will make an outsized investment in our product and engineering teams to build the tools you are asking for, expand the creative services offered, launch solutions to better ideate and create, and further streamline the creative experience.
To our creatives – There is no Design Pickle without the creatives that support our clients. We will invest heavily to improve the way your work is managed, strengthen the foundation and breadth of your opportunities, and expand personalized support inside the jar.
To our teams – Our growth will enable us to add 45+ positions to our roster, promote leaders internally, continue to grow our culture, and most importantly, support whatever you set out to accomplish both personally and professionally.
Onward
Looking back over the last seven years, we've faced many challenges, had huge success, experienced setbacks, and pioneered an entirely new business model. Tomorrow, it's back to work, but I couldn't be more thankful for everyone who has supported us through the years.
A big thank you to my executive team who guided us through this process, our first board member Chris Ronzio for his endless wisdom across thirty-seven unique channels of communication, our newest board members Brian Sharples and William Kuntz for the immense value they've given us from the start, and Colorado River Partners for investing in the vision and future we now share.
If you're curious about how to add flat-rate creative services to your business or team, let's chat. If our vision and mission strike a chord, check out the opportunities we have to join the team or become a creative. We'd love to connect.