No less than a dozen leadership books have expressed the importance of clearly communicating your company's vision. And there are lots of smart ways to do this. Approximately 8 years ago, I visited (the now rebranded) Infusionsoft's office and saw a big map they had created, visually telling the story of where they wanted the company to go. They had included sales targets, client targets, and a few other items.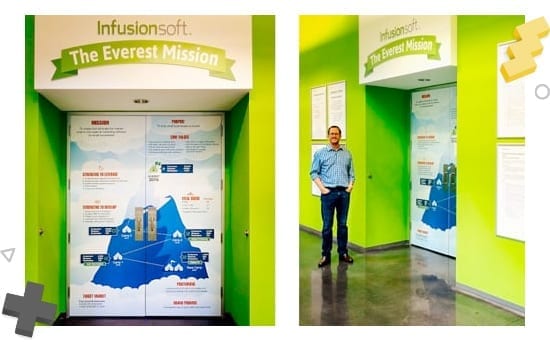 This graphic stuck with me. I loved that the direction of the company was visible and straightforward. It allowed everyone to stay aligned. Most recently, with the launch of our Custom Illustration service, I decided to create a vision map for Design Pickle. The process couldn't have been more straightforward.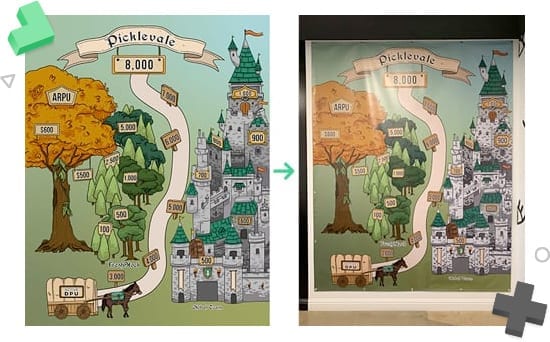 Before I walk you through my process, know this:
What is measured will grow, but if your metrics are invisible, they're impossible to measure.
Posters and graphics like these are meant to inspire and align. They are the summary of dozens or even hundreds of data points used to paint a clear picture of where your company is and where you're going.
I decided to go old-school and print out a HUGE poster that our teams can see, but this could work just as well in a digital format.
Step 1: Select Your Metrics
For the Design Pickle poster, we picked four metrics:
Average revenue per user (ARPU)
Growth of our new product, Fresh Stock
Total count of all our product subscriptions (as measured by our internal term, DPUs)
Our global team size
Metrics 1 and 3 are the core metrics of growth for our company. If we are hitting these milestones, the rest of the company is doing well across sales, retention, product, etc.
Metric 2 is critical for us in 2020 as we formally launch FreshStock, our stock asset library. I want to make sure we keep focused on its growth.
Metric 4 is the measurement of success for our global recruiting and retention efforts. We can't grow our clients if we don't have the designers ready to work!
Step 2: Determine Your Growth Targets and Time Horizon
Next, select how much you want to grow these metrics and set goal dates. Do you want to double sales in 2 years? Increase your team size by 30 in 3 years? Whatever your metrics are, make them a stretch. This poster needs to inspire and motivate for many years to come.
For Design Pickle, by 2025, we want to:
Grow our APRU to $600
Have over 5,000 Fresh Stock subscribers
See our total subscriptions reach 8,000
See our total global team hit 1,000
Notice these metrics are simple and to the point. They are time-bound, and everyone knows what we are focused on! Download our High Growth Checklist for CEOs to learn more about how to accelerate creative growth.
Step 3: Pick Your Creative Style and Sketch It Out!
For most, this step will be the hardest part. But you can do it! Before you can design your map, you need to clarify the idea or concept that everything will be based around. Infusionsoft had a mountaineering/Everest theme. Design Pickle uses a medieval theme. You can choose whatever you like!
Here are some ideas:
Westworld (the HBO series)
The Office
Space/Solar System
Route 66/Road Trip
Under the Sea
Car Racing (NASCAR, Indy 500)
Pro Sports (Baseball, Basketball, Soccer)
When all else fails, pick something you're personally into.
Next, decide how your metrics can be mapped to your theme. If you picked space, perhaps your metrics are represented by the distance from the sun. In Design Pickle's map, I chose a tree, a forest, a path, and a castle. My growth is measured at points along the way in those four areas.
Truthfully, don't overthink this. Here's my original sketch: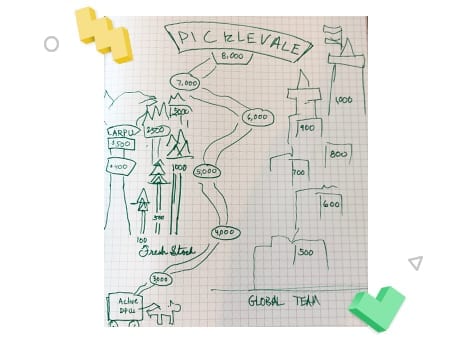 Step 4: Design Your Poster
Once your idea and sketch are complete, send it off to your Design Pickle Custom Illustrator. The process is insanely easy.
First, let them know if this will be digital-only or if you want to print something as big as our poster. This will make sure they set up the file correctly. I knew I wanted a printed version next to our conference table, so I sent those dimensions to my illustrator.
A day or two after you submit your request, your illustrator will come back to you with some ideas and sketches. Give them feedback and collaborate on the layout.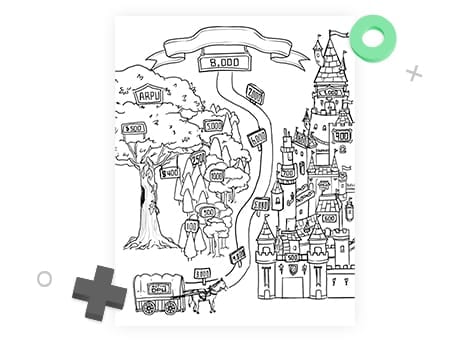 When everyone is on the same page about the concept, your illustrator will bring your vision map to life with color, texture, and anything else you've requested.
The entire process can be as fast as a week (maybe less), depending on how precise your concept is. You'll receive the high-resolution files as well as the original Adobe design source files.
Step 5: Share Your Poster
Now that you have your designs ready to go, it's time to share them with your team!
If you want to print your poster as well, we recommend Printmoz. We've used them for years, and they get the job done.
Soon we will be adding markers to our poster to indicate our progress towards our goals. These will also be designed by our Custom Illustrator!
What you do from here is entirely up to you, but the more you use this new asset as you communicate with your company, the more alignment and excitement you'll create.
I hope this helps create alignment with your vision. Please share your creations with us. Tag @designpickle on any social platform when you're done. Best of luck!
Ready To Start?
We'd love to see what you create. Get started on this project today with an unlimited Custom Illustrations plan! To get a full-on, business-savvy creative experience, check out Design Pickle's solutions for entrepreneurs.