Creative demand never slows down. How do you prepare to scale your creative output as your brand scales? While there is no perfect equation or one-size-fits-all solution, there are a few factors that are key for determining a right-sized creative team. Whether you use an in-house team, freelancers, or something else, it's important to start with a base line evaluation of where your creative output is at now, so it can be compared with where you need to be (and when you need to be there).
What does your creative team and process look like right now?
As you read each question, consider the three options we've provided and see which one you most closely align with. If you don't align with any of those answers, note that, too.
When I budget for creative: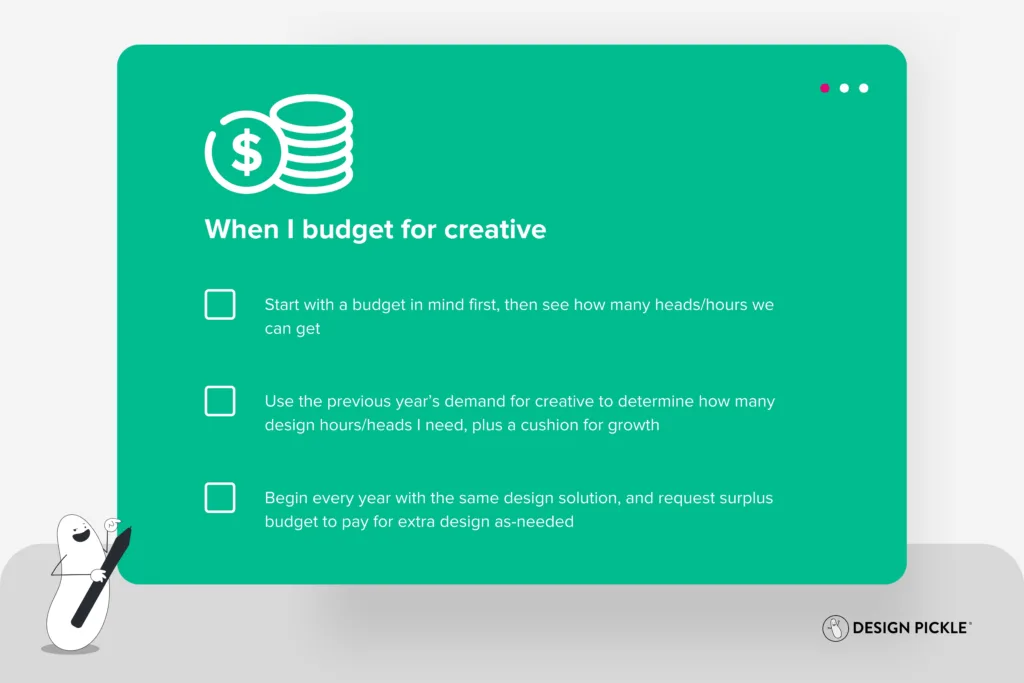 When I need creative delivered: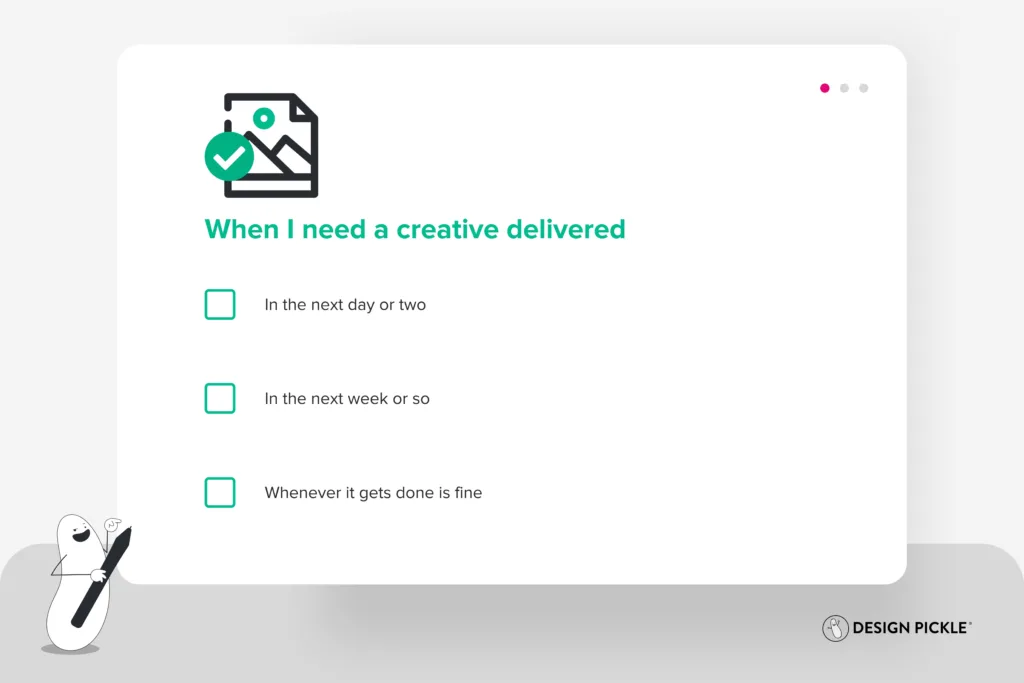 When I need creative, I usually need: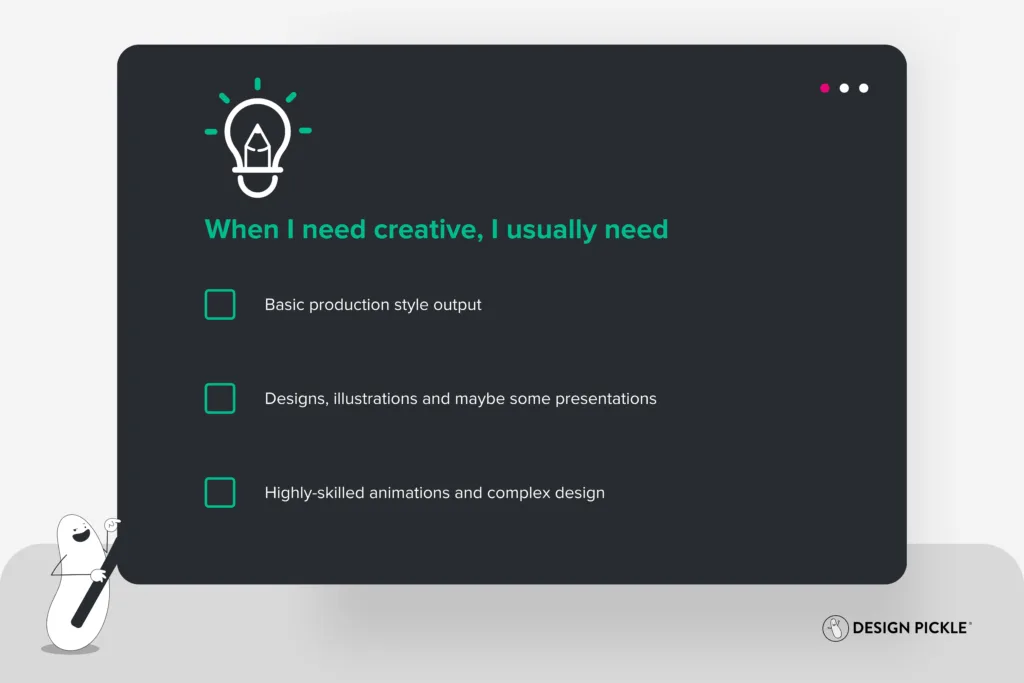 When I need creative, I typically ask for: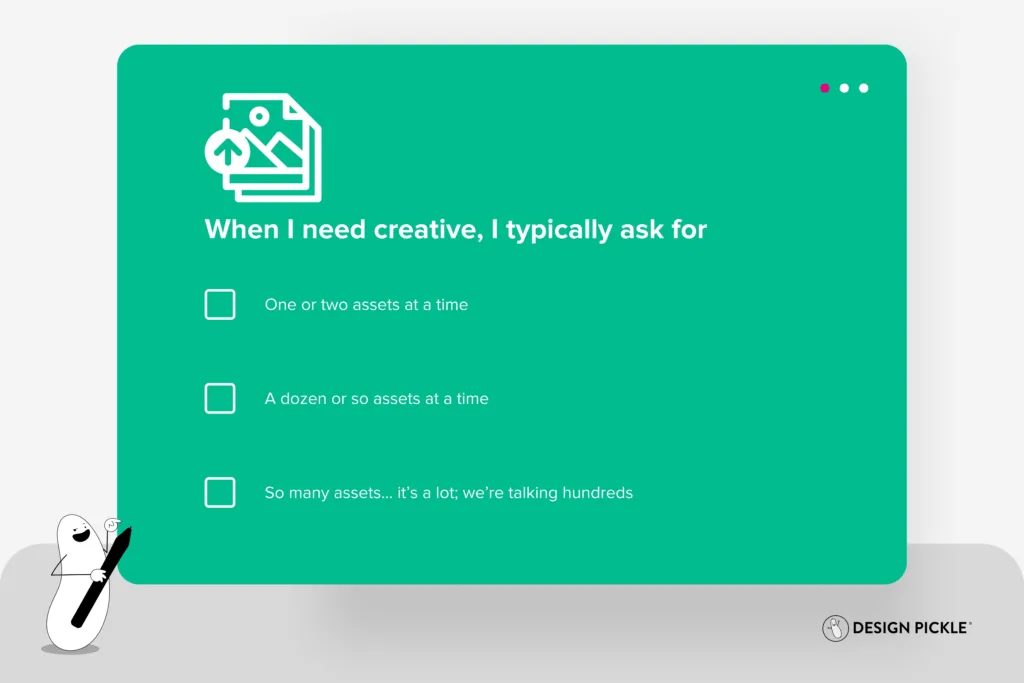 When a creative is submitted: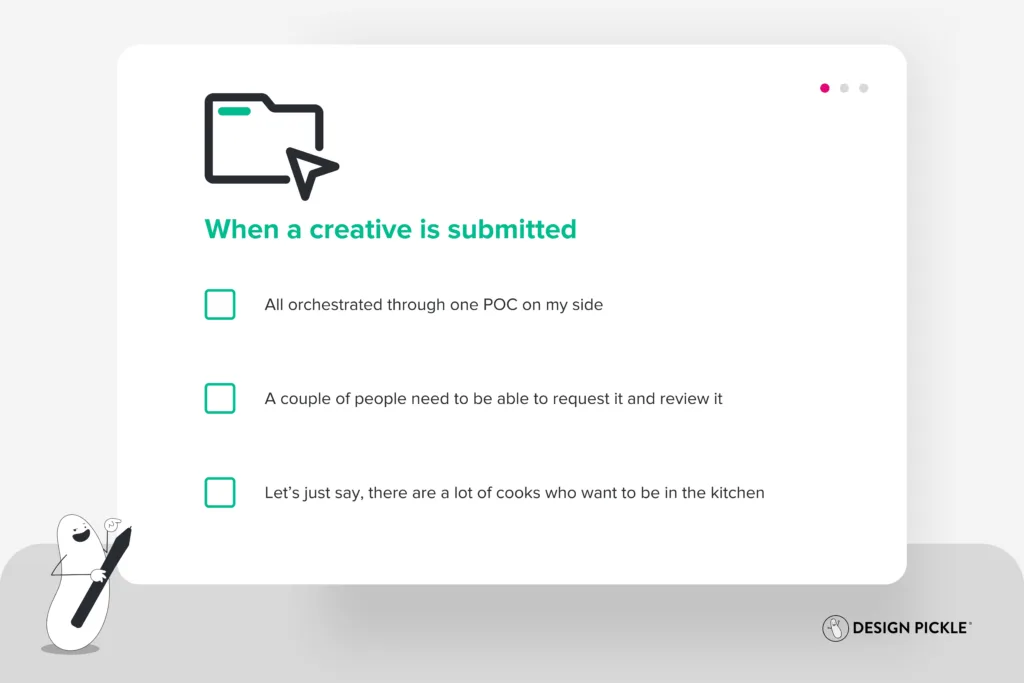 When it comes to technology: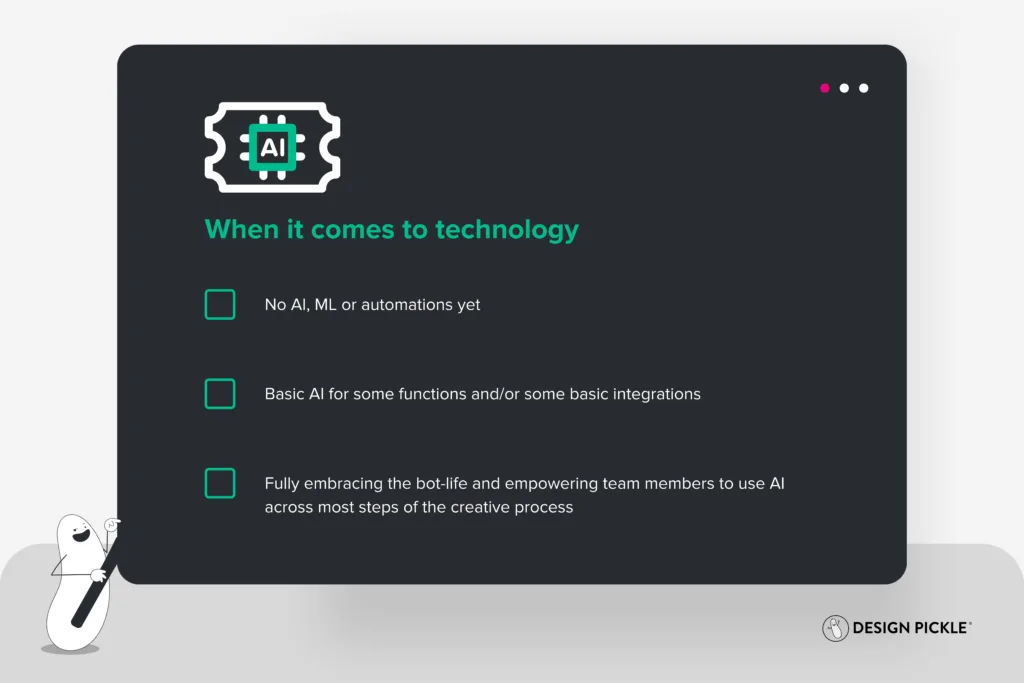 And The Results Are IN… (Insert Drum Roll Here, Please)
Reflect on the way you answered the questions above. These answers directly determine the gap you have between where you currently are and where you need to be. The good news? No matter how you answered the above questions, Design Pickle can plug right in and help you scale. No matter if you scale quickly or slowly, if you only want basic design or you need lots of advanced and complex design, we have a plan to help get you there. Our creative service model ensures you get one flat predictable rate for the plan that works for your creative delivery goals.
While we can help your team scale regardless of your answers above, the answers still matter because they help us ensure how you'll be best supported to meet your design needs with technology, services and people.
What Your Answers Reveal About Your Needs
Design Pickle's solution layers right and meets you where you're at. For each of the above 6 questions, read on below to see how Design Pickle meets the need.
When I budget for creative, I usually:
Start with a budget in mind first, then see how many heads/hours we can get

If you have a starting budget number in mind, we can help you pick the plan that gives you the right design skills and still fits your budget. Your design output will still fluctuate depending on complexity of each design request, but your budget will never fluctuate again!

Use the previous year's demand for creative to determine how many design hours/heads I need, plus a cushion for growth

We can help you sort through previous year's data to determine how much power you need from Design Pickle based on how many total assets you needed in the previous period. We'll gauge this based on the type of design (and its complexity) among a few other factors, and help you pick the plan that ensures you have enough design capacity for growth based on your real data.

Begin every year with the same design solution, and request surplus budget to pay for extra design as-needed

Keep your current design solution, but tap Design Pickle every time your design team gets tapped. That means, we can be a go-to solution for overflow so you never have to worry about your internal team being a bottleneck for your marketing flow.
When I need creative, I need it delivered:
In the next day or two

Depending on the complexity of the asset, we can do 24-hour turnaround, with other more complex assets taking days (not weeks) compared to traditional sources.

In the next week or so

Complexity and number of revisions are the two major factors, and yet we still blow our competition out of the water with asset speed to market!

Whenever it gets done is fine

Wait. Is this a real thing? Do some teams really say this?! 🕵️ 😆
When I need creative, I usually need
Basic production style output

Whether we're cropping the backgrounds out of every photo your photographer has ever taken, or vectorizing hundreds of logos for a sponsorship event, we add some serious horsepower.

Designs, illustrations and maybe some presentations

We've got you covered for all of these design types and more – from social to email to web to print, most teams can get exactly what they need, and fast.

Highly-skilled animations and complex design

We've even got the hard-to-find artists you need! (No literally, we have all of them. Look no further, they're our motion graphics and video squad!) Get animated explainers, live action video editing and post-production help, all for a flat-rate and no portfolio sifting required.
When I need creative, I typically ask for:
One or two assets at a time

Graphics or Graphics Pro plans are perfect for low-volume and low to medium complexity asset delivery

A dozen or so assets at a time

Our Power Plans crank up the design volume to the next level – no matter the asset type.

So many assets… it's a lot

We might be talking a custom plan, and we're happy to help you with that. We have dozens of clients who need so many designs, it would make your head spin. (Looking at you, Yahoo!) Once we learn how many assets you need to be moving concurrently, we'll recommend a plan that enables that flow. You'll get an idea of a typical day or week's output for each plan, and ensure that you get the design capacity that meets your brand and team's needs.
When creative is submitted, it's usually:
All orchestrated through one POC on my side

Design Pickle clients can have as many brand profiles and users as they need to make our platform work for them. Each design request can be submitted by one power user for simplicity's sake. This user on your side can input requests for multiple brands easily, and prioritize the queue(s) accordingly. This power user is also responsible for providing design feedback and communicating with designers.

A couple of people need to be able to request it and review it

We don't mind when brands share the platform, in fact, we encourage it! That's why we introduced user roles and permissions to make it super easy for you to lock down who can manage the design priority queue or add new users, while ensuring team members are all empowered to create requests or leave feedback, for example.

Let's just say, there are a lot of cooks who want to be in the kitchen

While we don't recommend infinite users in the Design Pickle platform, we do have lots of clients who need dozens (upwards of 50 in a few cases) of users to be able to submit requests simultaneously, and they manage it very well! Separate instances of our platform can be initiated to further keep your design needs streamlined.
When it comes to technology, our creative output is supported by:
No AI, ML or automations yet

No pressure! If you're looking to step your game up here, we can help introduce you to what might make sense.

Basic AI for some functions and/or some basic integrations

Design Pickle offers easy and straightforward integrations and automations for basic and repeated parts of your creative process that can be streamlined. This saves human error and time for a wide variety of tasks. Think Zaps from Zapier and other easy to connect options that don't involve an IT ticket and code.

Fully embracing the bot-life and empowering team members to use AI across most steps of the creative process

Technology has always been part of Design Pickle's DNA; from the platform that enables super effective and efficient creative request and review processes to evolving and pioneering generative design. We can meet your brand where you're at, and help you push the boundaries of what's possible when it comes to improving your creative process. How much more efficient and effective could you and your team be? How much more design output could you get from the same budget if you had the right tools and systems? We'd love to dig in and find out.
Ready to take our platform for a test drive or speak with one of our experts? We're excited to hear about all of your design needs. Let's chat!