Being part of a global team is enriching and fun. It signifies a company's willingness to accelerate in a global economy. Plus, if you're willing to hire outside your locality, you have a huge pool of talent to choose from.
However, it's not without its challenges, though. So for 5 Things Thursday, our Director of Global Growth, Nico Moore, reveals how we work with a culturally and geographically diverse team. Give him a listen in the video below.



---
Video Overview:
5. Be Friendly
This is an easy one for us at Design Pickle—it's one of our core values. Though you and your teammates are from entirely different backgrounds, it's always possible to find common ground. Learn about each others' interests outside of work, and don't forget to smile.
4. Over-Communicate
Even when working in small teams, things can get lost in translation. Imagine communicating with a global team, working from home, across more than two different countries! Call or check-in daily to start with. As you build more trust, you can check in less often.

3. Own Your Outcomes
You'll make a few mistakes and that's okay. Own up to them. Learn from them. And, ultimately, teach from them. Even though we're working across the globe, there's one thing we can agree on: we're all human.

2. Learn About Cultural Differences
People in different countries may not have the same work styles, laws, and regulations. Study and Google as much as you can. Ask a lot of questions. Follow these other rules as much as you can, and if you can't, try and find a middle ground culturally.

1. Get Out Of Your Comfort Zone
Try to learn the language, even if you're definitely going to make some mistakes. If they correct you, learn from it, and have fun! That will definitely break the ice in a humorous way and ultimately result in your team lowering their guard and trusting you more.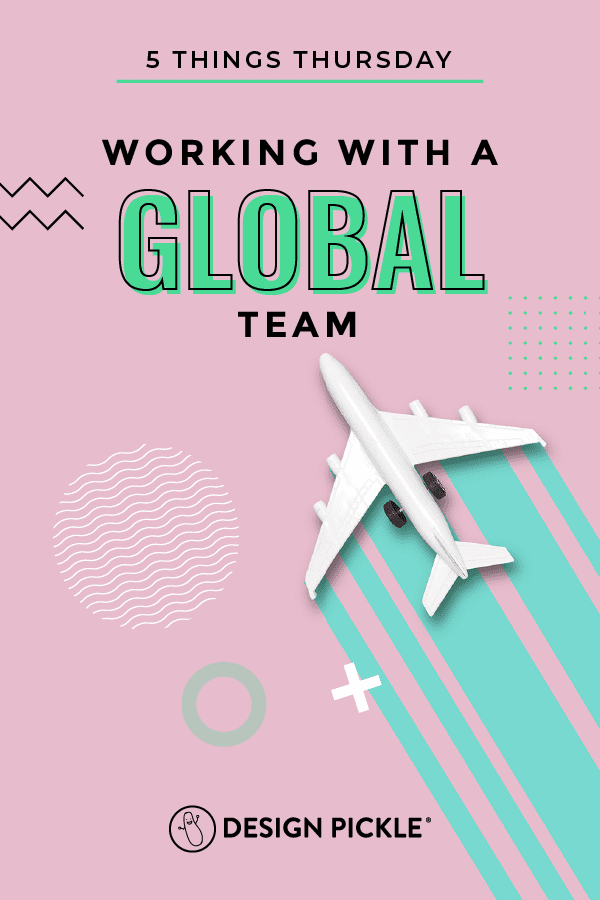 ---

Sign up for Design Pickle today to get instant experience working with a truly global team. We've got designers all across the world. You might learn a new language. You'll get a friend out of it, and you'll have fun.
Or maybe you're part of a global team, too. What do you do to keep your workplace productive and engaging? Let us know in the comments.
Till next Thursday!