At Design Pickle, we believe in the power of great design. And, we're on a mission to change lives through creativity.
We're also all about creative collaborations. So we were tickled green when, earlier this year, we linked arms with Adobe to deliver innovative solutions — together.
Our collaboration is two-fold:
 Our global team of over 500 designers and illustrators are fueled by Adobe's full creative suite. Yes, that includes the softwares you may know and love like Photoshop and InDesign but also ones you may not be as familiar with like Animate and After Effects (or the alternatives). Plus, our global team receives ongoing professional development, growth, and education thanks to Adobe.
Our clients are now able to access Adobe Stock within their Design Pickle accounts (at an additional monthly rate). This gives clients even more options to find high-quality stock images to use in their creative content.
Together, we are in the business of bringing others' ideas to life on the page and on the screen. The full breadth of Adobe's Creative Suite can't be captured in a single blog post, but there are some tips and tricks to help make your work more streamlined and — you guessed it — more creative.
Read on to find out how to work smarter and power up your projects with Adobe (and Design Pickle!). And peep at the BossBabe collateral designed by Design Pickle and powered by Adobe below. ⬇️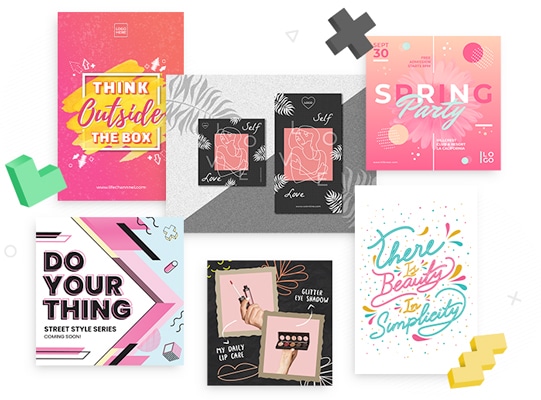 1. Automate Repetitive Tasks
We're all about automation. After all, life is chaotic enough! Plus, creativity is easier to focus on when tedious tasks are made more efficient.
With Adobe, there are a plethora of tasks you can automate (known as "actions") as well as keyboard shortcuts to streamline your job. Actions automate repetitive tasks and can save you a lot of time, especially if you're working with a large number of files.
Photoshop Actions
Photoshop actions allow you to record a set of steps that Photoshop will repeat when you trigger that action. Simply create a Photoshop action to make your image processing run on autopilot. This will save you time and repeated clicking when you're recreating the same type of task over and over (as designers are wont to do!).
For example, if you publish a lot of images or your customers require different formats for each image, you can create a Photoshop action. This is helpful if you have print-ready files (300 dpi/large format) but need them sized down for Instagram, a website banner, or any number of other sizes and specifications.
You can also create an action for enhancements like white balance, exposure, and retouching skin as seen below (so long, #nofilter!).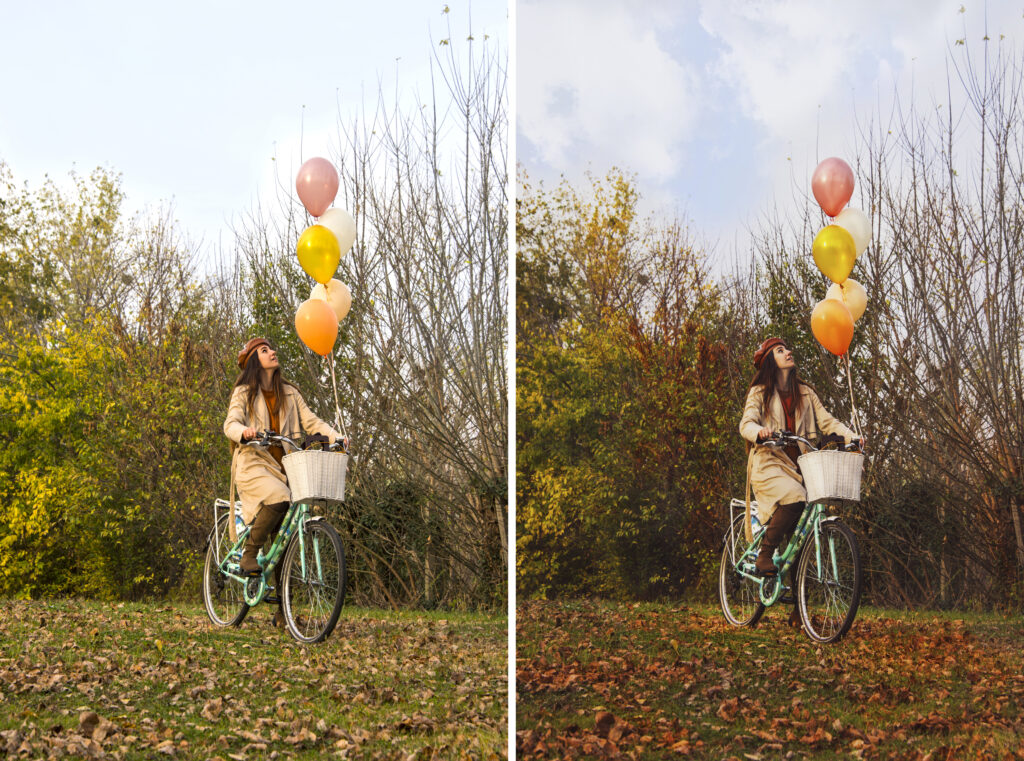 InDesign Quick Apply
Another Adobe automation, Quick Apply, is in InDesign. This productivity feature offers the fastest way to apply menu commands, scripts, styles, and more that are found on the Keyboard Shortcuts dialog box. Learn the nitty gritty of how to use it here.
But, TL;DR: Typing "he" will locate styles such as Head 1, Head 2, and Subhead, as well as Help menu commands such as Help Menu. Once you get the hang of it, try using Quick Apply to launch scripts, find obscure menu commands, and apply object styles.
Bonus tip: Design Pickle can be set up to automate with Zapier and API integrations so you can connect it to the apps you already use.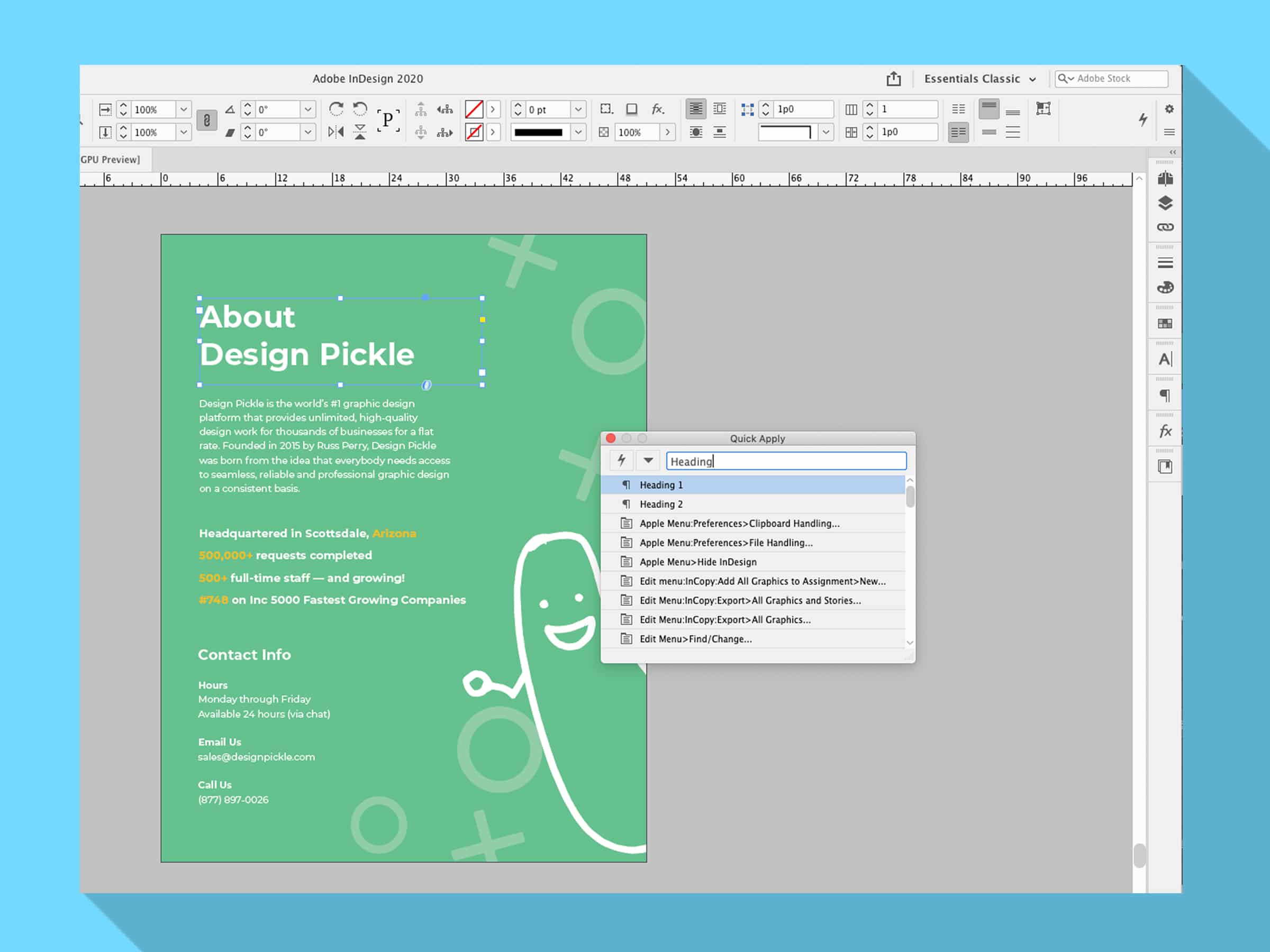 2. Collaborate With Your Team
With so many businesses now working remotely — or if you're a global workforce like Design Pickle — you need to be able to virtually collaborate now more than ever. Adobe's Creative Cloud Libraries allows teams to share resources, ideas, files, and more so they work more efficiently.
Adobe's Creative Cloud makes it easy to access your libraries and folders, which can then can be shared using the Creative Cloud website, mobile app, or and desktop app. This way, your team members can view, edit, rename, move, or delete contents of the shared folder (if they've been granted the access rights and permissions).
Similar to Design Pickle's brand profiles, Creative Cloud Libraries let you gather design elements for specific projects, clients, or teams (colors, images, audio, and more) for use within any of your Creative Cloud apps. This ensures that you and your team can access the same elements for a project throughout its lifecycle — from editing images in Photoshop and creating artwork in Illustrator to mocking up graphics in InDesign or a website in XD.
You can also share public links to Creative Cloud files, folders, and libraries with others — even if they don't have a Creative Cloud subscription. This read-only access allows anyone with the link the ability to view the assets from a browser, comment, and download copies.
3. Capture What You See and Create Magic
We've all been there — you see something you like and wish you could recreate it. Maybe it was the colors of a stunning sunset or font you saw in a magazine. With the Adobe Capture app, it's possible.
You can transform images on your mobile device (like that sunset!) into creative building blocks for your content. So how does it work, exactly?
Basically, your mobile device acts as a vector converter to turn photos into an array of creative tools such as color themes, patterns, textures, type, brushes, and shapes. Then, those assets can be used in Adobe apps including Adobe Photoshop, Illustrator, Dimension, XD, and Photoshop Sketch.
We especially love how custom color swatches you create will move seamlessly between Adobe apps with the click of a button. For example, if you create a custom color swatch in Illustrator and you need to use Photoshop to continue working on an image, you can import your color swatch and use your custom palette there.. Simply save the unique colors as a color theme in a Creative Cloud Library to seamlessly transition them between apps!
Check out how Adobe Capture works for color swatches here:
For fonts, Adobe Capture uses Adobe Sensei technology (artificial intelligence + machine learning) to recognize the shapes of the font and suggest similar fonts. You can then save them as character styles to use in Photoshop, InDesign, Illustrator, or XD.
Check out how Adobe Capture works for fonts here:
4. Try New Techniques
Don't be afraid to experiment with different design styles. Adobe Illustrator is especially effective at giving you creative freedom for artistic expression and creating something truly unique.
With Illustrator, you can try techniques including watercolor, sketching, ink drawing, and vector art. Each has its own nuances and best practices. For the artistic mediums that have their roots on paper (watercolor, sketching, and drawing), Illustrator provides an easier way to edit and experiment.
For example, with digital watercolor, you can capture brushstrokes and aesthetic of traditional watercolors but with more control and precision — and less hassle when editing. Some key tips: You'll want to create a natural, artistic brushstroke and formalize a color palette. If the hues get muddy, you can always edit them.

You can also use InDesign to give texture to your designs using the "effects" window. This window allows you to add advanced effects to any object on your layout, whether it's a text frame, a vector shape, or an image. You can manipulate different settings to create almost any kind of effect imaginable to help your designs stand out.
The popsicle shown above uses an inner glow effect that gives a grainy noise texture. The result? A  soft-focus, vintage-inspired look.
On the left side of the illustration, a screen transparency and gradient feather to a white rectangle add a highlight.
You can preview your chosen effects before finalizing them so that it's a risk-free way to try out different styles. Fun fact: With our 14-Day Satisfaction Guarantee for quarterly and annual plans, Design Pickle is a low-risk investment as well!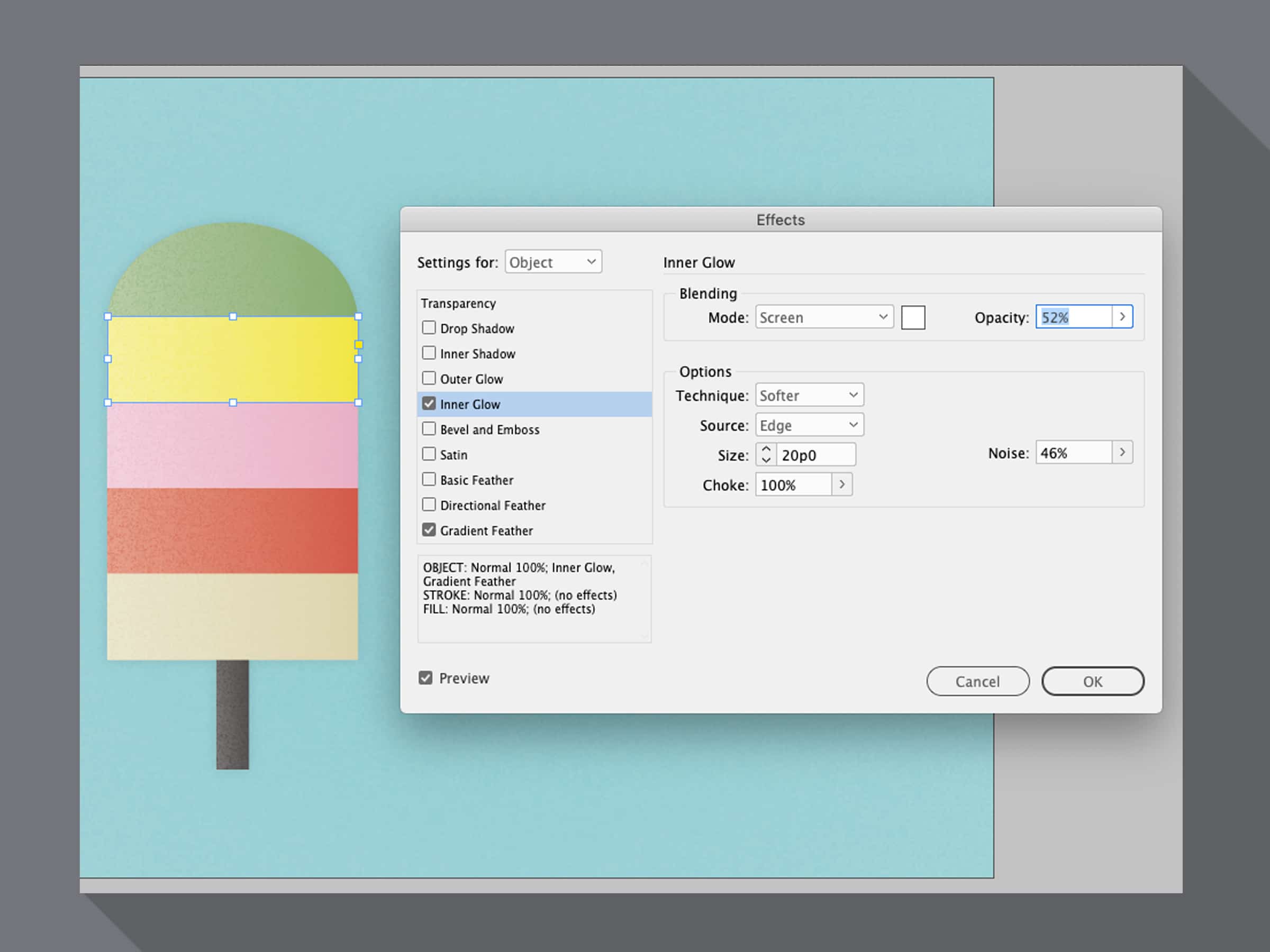 Searching stock photo websites is time-consuming. Cut down the time you spend hunting for the perfect images to complement your graphic design with Adobe Stock.
Much like Adobe Fonts, which offers subscription access to the Adobe's stock of fonts, Adobe Stock offers built-in access to Adobe's own stock photography. You can license your images right from within your Adobe libraries and applications.
Beyond royalty-free photos, you'll also get access to royalty-free videos, illustrations, vector graphics, 3D assets, templates, and music tracks. While you can, of course, access it with a Creative Cloud subscription, there are also different levels of subscriptions based on your creative needs.
If you're already a Design Pickle customer, you can peruse Adobe Stock yourself! As an add-on to any Design Pickle subscription, we offer more than 85,000,000 premium photos, professional illustrations, and vector graphics. Even better: With your subscription, you can try it out for free for 30 days!
Here's a helpful article on how to make the best use of this awesome creative resource — right from your Design Pickle account. An example of the Adobe Stock search function in a Design Pickle account is shown below.
In collaborating with Adobe we can ensure our customers software compliance so you can use these graphics for commercial or personal purposes. Here are some helpful things to know about copyright and licensing — two very important things for creatives to keep in mind.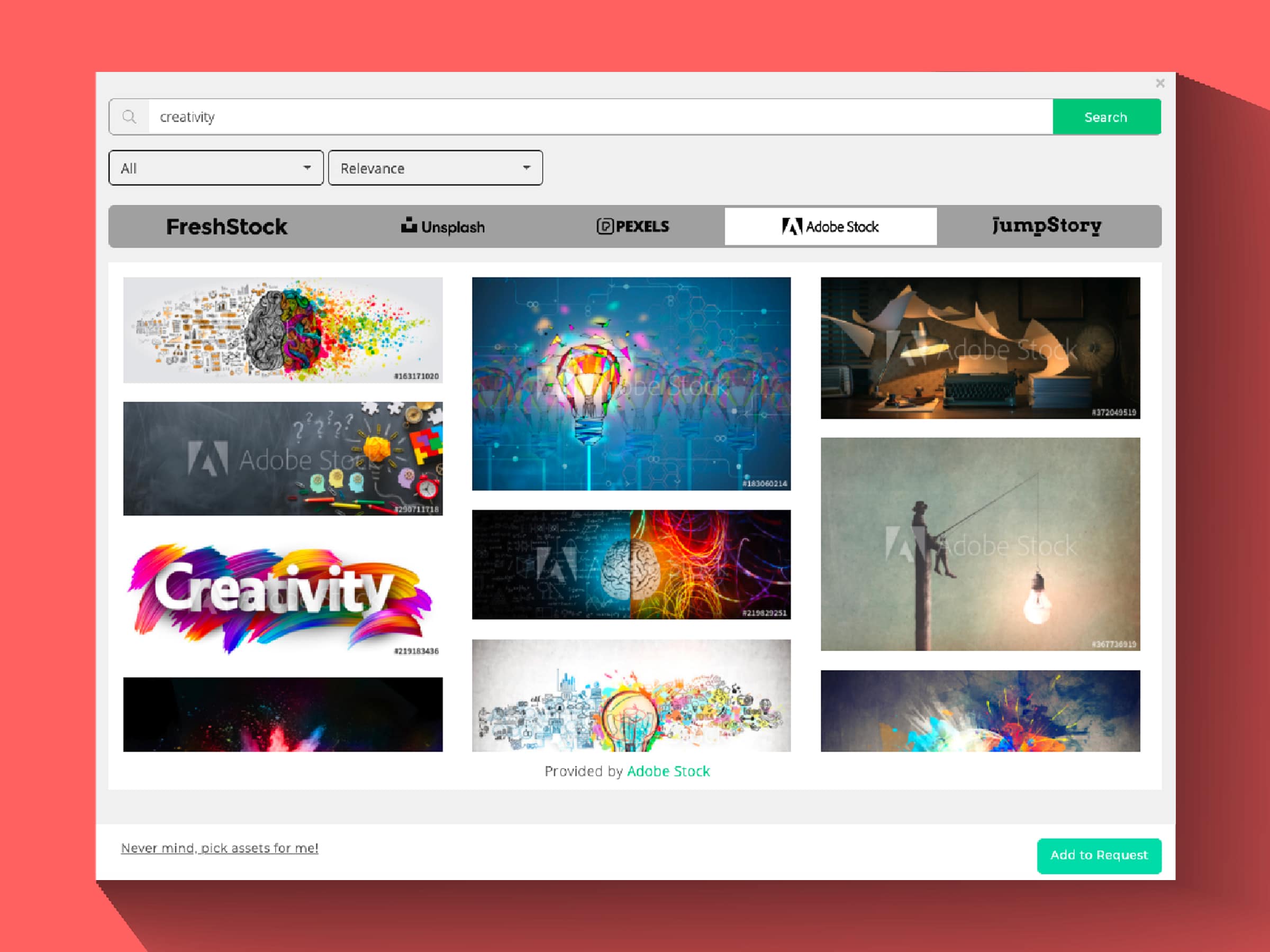 Final Thoughts
The beauty of creativity is that the limit does not exist. There are so many ways to be creative, especially with Adobe and Design Pickle at your fingertips. What will you create next?
If you struggle with creative block, we invite you to join the 7-Day Creativity Challenge! You can also check out our design samples to see what creative, entrepreneurial minds like yours can achieve with Design Pickle's help.