Entrepreneurship is notoriously tough, especially in a business' early days. A startup entrepreneur has to wear many hats: salesperson, marketing director, customer support specialist, accountant, hiring manager … the list goes on.
Beyond the technical skills needed to keep a business running, an entrepreneur needs the tenacity to keep their head up in the darkest moments. Sometimes, nothing can keep a startup going except the strength of its founder's vision.
That's why staying motivated is the name of the game. They say you can't pour from an empty cup. Unfortunately, people often learn that the hard way.
Sometimes you wake up inspired, but most times? You have to work at creating inspiration. The wise entrepreneur is intentional about absorbing media that fuels their hustle.
Podcasts are an incredibly convenient medium for easy-to-digest information. They are usually conversational in tone, which makes for easy listening — and because listening to podcasts is a hands-free activity, it's perfect for enriching hours of travel or solitary workouts. Here are five of our favorite podcasts for getting into that "boss" mood.
1. How I Built This With Guy Raz
NPR's "How I Built This With Guy Raz" features a wide variety of startups, including those in food services, cosmetics, tech, manufacturing, and more. That means it's a great way to peek into the ins and outs of other industries while finding inspiration for your own niche. All the stories are about starting small and building scalable businesses that sell tens of millions a year.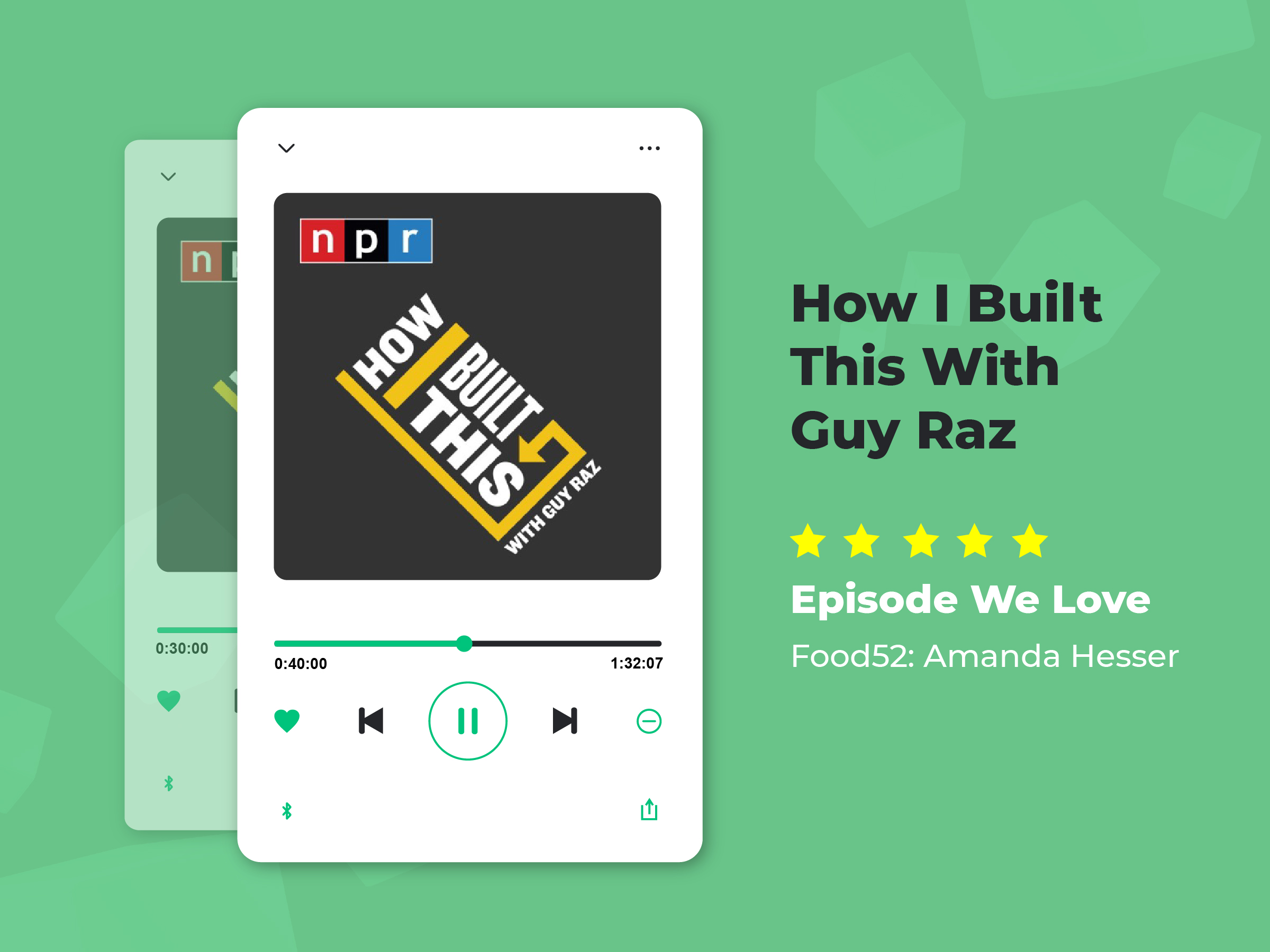 Episode We Love
A listen to "Food52: Amanda Hesser" will leave you feeling inspired, and maybe a little hungry. This episode explores the joy of food and the highs and lows of forging your own path with Hesser, who was a chef in Europe and wrote for The New York Times before diving into entrepreneurship. Her first business failed, but Hesser wasn't about to let that stop her. She eventually launched Food52 — a food blog and e-commerce site for the kitchen and home — that's now valued at $100 million. Its first year of profitability was, perhaps not surprisingly with more people cooking at home, during the 2020 COVID-19 pandemic.
2. The EntreLeadership Podcast
"The EntreLeadership Podcast" offers a thoughtful mix of leadership coaching and entrepreneurship. It focuses more on the leadership qualities needed to scale a company, delving into the personal development of each entrepreneur.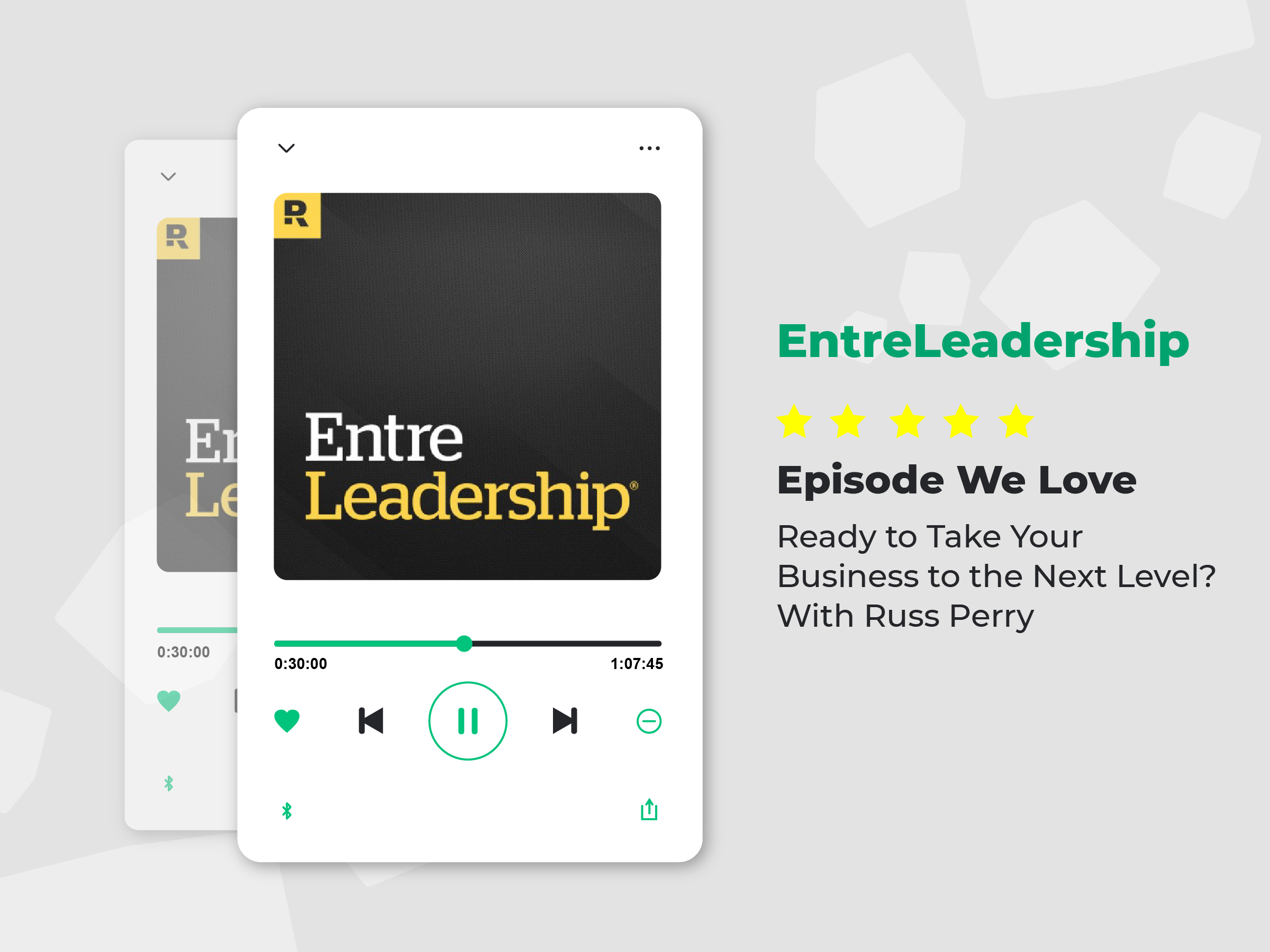 Episode We Love
*Shameless plug alert* In "Ready to Take Your Business to the Next Level? With Russ Perry," listeners get a peek at the world behind Design Pickle from our founder and CEO. Since its inception in 2015, Design Pickle's flat-rate creative services have expanded to support thousands of customers around the world. In this episode, Perry discusses the personal breakthroughs he experienced before becoming a leader who could spearhead a global company's rapid growth. Today, Design Pickle has grown to over 700 global team members. Read more of Design Pickle's story and check out how we can help you fulfill your creative needs.
3. This Week in Startups
"This Week in Startups" by Jason Calacanis (angel investor to Uber, Calm, Robinhood, and more) features founders, investors, and innovators. These lively discussions and incisive interviews reveal the complex world of technology-based startups — you'll find yourself listening for the next billion-dollar secret.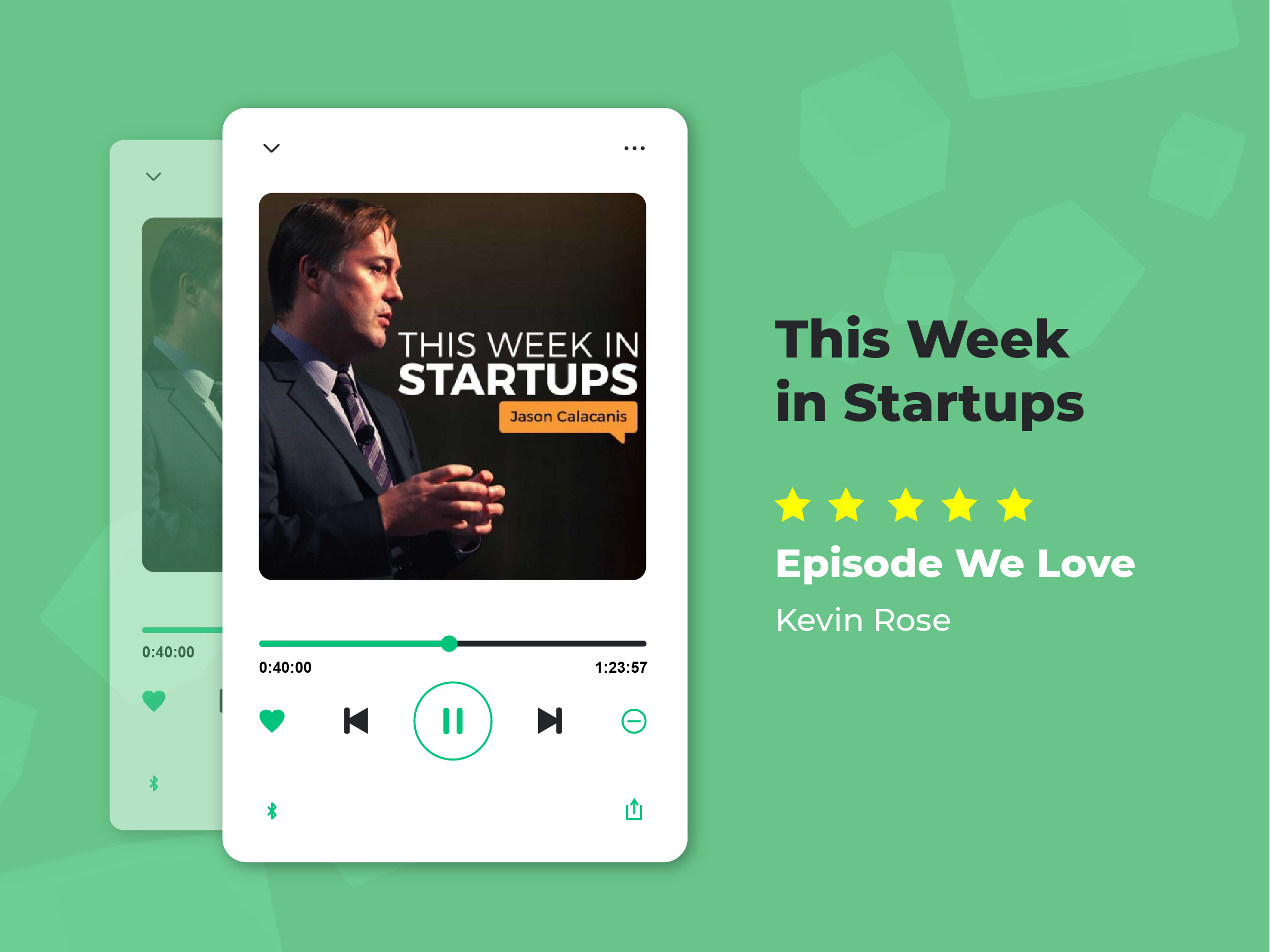 Episode We Love
An in-depth and refreshingly human episode features Kevin Rose, who discusses product philosophy, innovation, leadership, and of course, funding. Rose is a serial entrepreneur and partner at True Ventures, a venture capital firm with a passion for creativity and tech. By discussing the "ultimate rush" of launching a product along with hiring struggles and money woes, he gives us a particularly telling glimpse into the high-stakes world of tech startups.
4. How to Start a Startup
"How to Start a Startup" is a series of lectures by seed funding community Y Combinator at Stanford University. Its "how-to" topics are powerfully simple, exploring basics like creating culture, enabling growth, designing products, and talking to investors in a format similar to video lectures. Best of all, these words of wisdom come straight from the founders of tech giants like LinkedIn, Airbnb, Twitch, Pinterest, and more.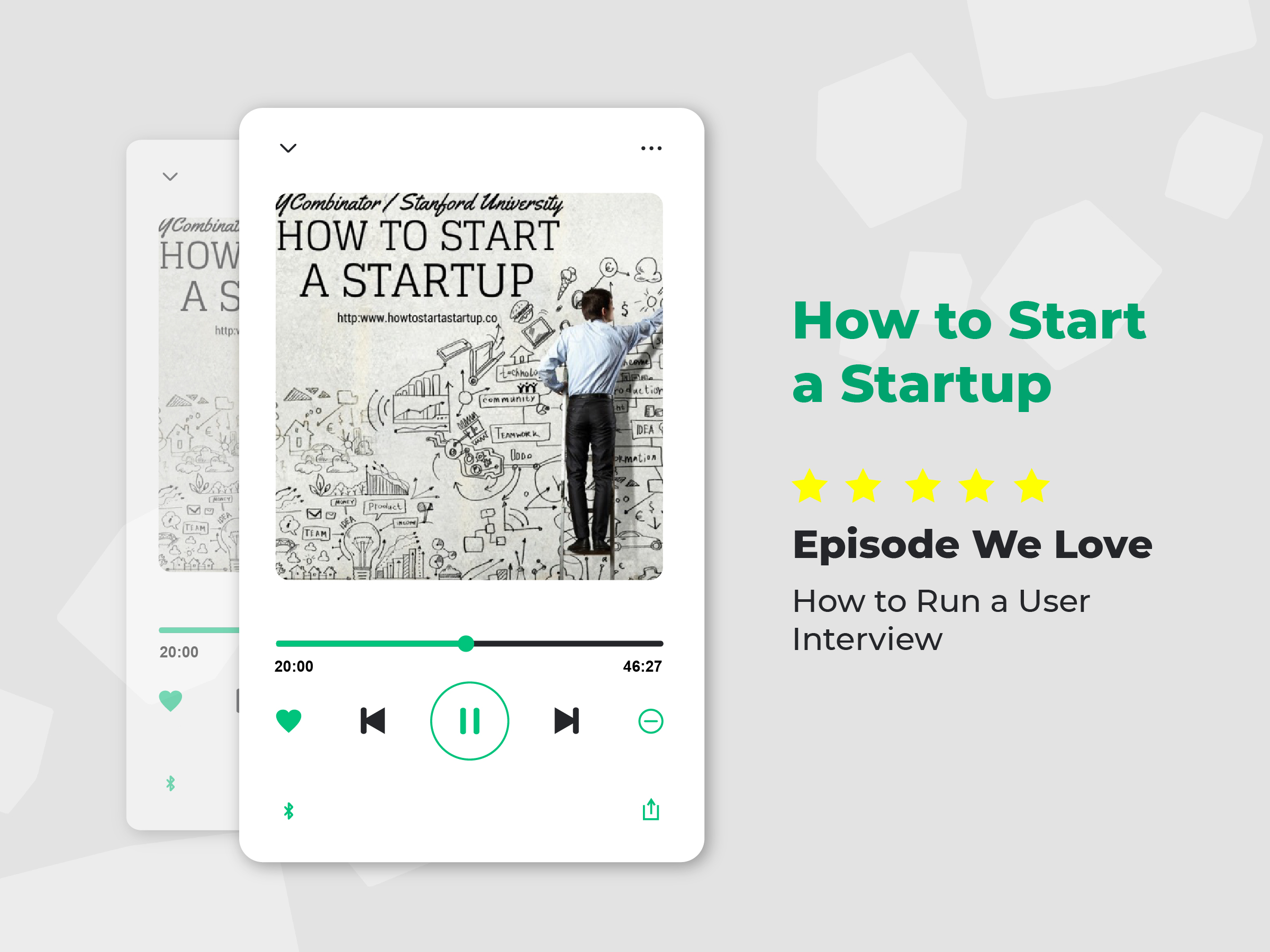 Episode We Love
In "How to Run a User Interview," Twitch founder Emmett Shear talks about how his first startup, Justin.tv, had an amazing product, but missed its shot at greatness by neglecting to talk to users. Today, Shear attributes the wild success of streaming platform Twitch to the hundreds of user interviews they did in its early days. Shear describes why who you talk to is just as important as what questions you ask, and how these user interviews were the reason for Twitch's success.
5. Startup Stories
Last but certainly not least, in "Startup Stories – Mixergy," Andrew Warner has done more than 2,000 interviews with highly driven and successful entrepreneurs who share how they overcame their hurdles. Warner's challenging questions help bring listeners closer to the heart of each startup story. The topics are wide-ranging, from outsourcing, to tech products, to those who bought a dying business and brought it back to life.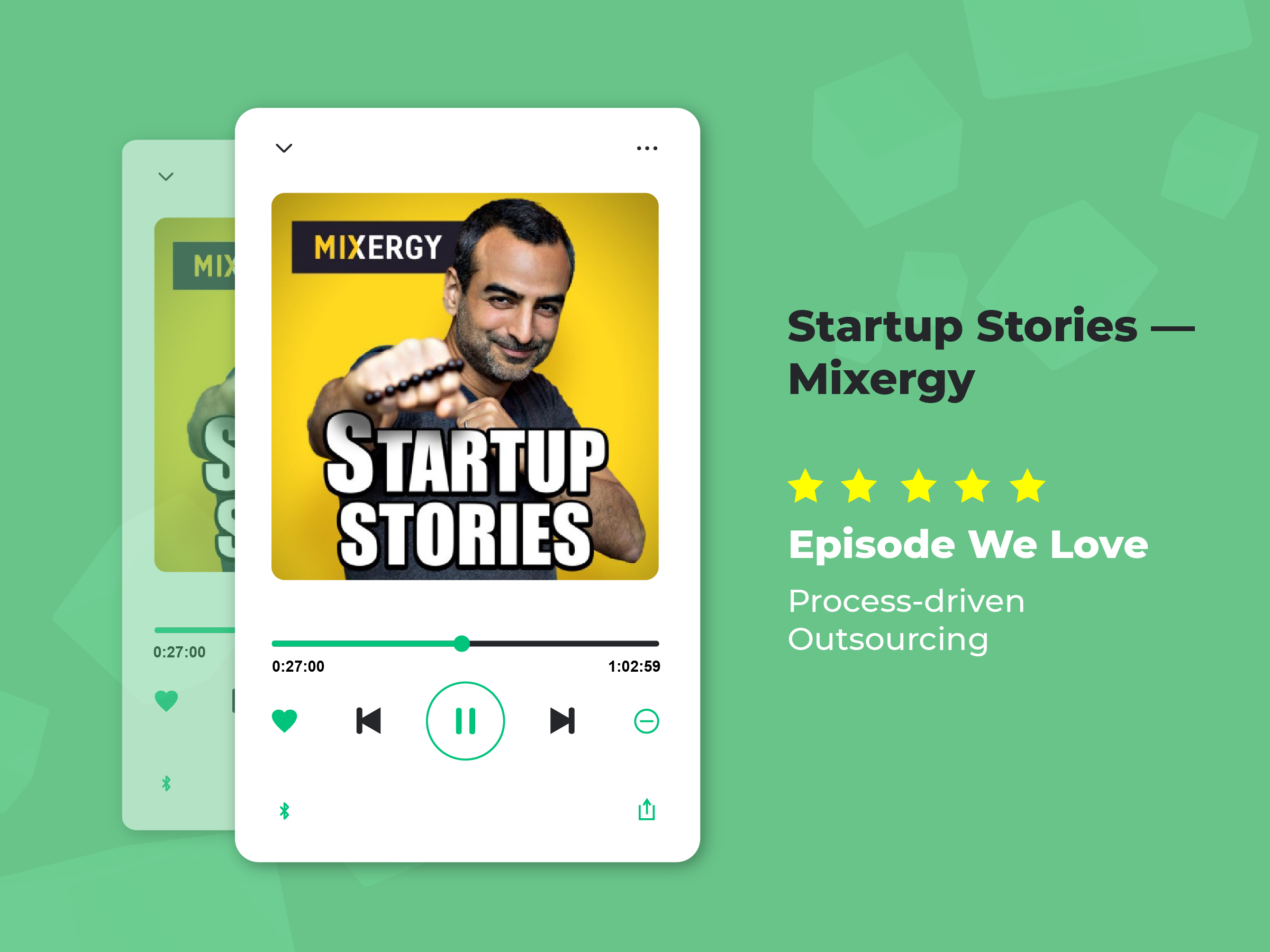 Episode We Love
Warner brings on Barnaby Lashbrooke, founder of virtual assistant company, Time etc., in "Process-driven Outsourcing." Now that the company has accomplished over 2 million tasks for its client base, Lashbrooke looks back on its initial challenges.
Who doesn't love the sound of success?
Podcasts are like mentors that you can take anywhere and listen to anytime. No matter where you are in your entrepreneurial journey, they offer valuable insight and inspiration. While it's inevitable that many of your hardest lessons will be experienced first-hand, you can better avoid mistakes and learn how to handle the tough times by listening to successful entrepreneurs who have truly "been there, done that."
As you're exploring new ideas, why not check out what Design Pickle's subscription workforce has to offer? The High Growth Playbook for CEOs is an in-depth discussion of strategic steps entrepreneurs can take to minimize risk, stay flexible, scale, and profitably grow by outsourcing creative production of graphic design. You can also check out our solutions for entrepreneurs to learn how to cut your creative costs by up to 70%!
And for those times where your business brain could use a break from the seriousness of the grind (because we all can from time to time!), check out Design Pickle's very own, not-so-serious podcast: Creatives Are The Worst. Exploring the lives of famous creatives to ask the all-important question of "are creatives really the worst," it's definitely not your average business podcast!