Brand image is everything in a world of oversaturated markets. Having a recognizable and loved brand helps differentiate yourself from the competition and captures the attention of potential customers.
But building a strong brand identity isn't as simple as having a logo and a color palette — there is so much more involved. Your brand is an experience communicated through your messaging, visual representation, marketing, and customer service (to name a few).
In order for your business to succeed, you have to foster a strong identity that accurately conveys your brand's essence. Of course, this doesn't happen overnight — but with some tactical planning, practice, and ongoing effort, you'll be able to create a winning brand persona that results in long-term relationships with customers.
This week for 5 Things Thursday, Design Pickle's Marketing Director, Kate Rooney, offers 5 tips for fostering a strong brand identity (okay, okay, it's me…). Watch now to learn some key ways you can strengthen your brand's persona and grow its reach:
---
Video overview:
5. Define your brand
If you are just starting out with a new brand, you'll need to begin with some market research. Through surveys, competitor analysis, and internal brainstorming, you'll begin to shape your company's overall identity.
Some questions to ask yourself:
Who is my ideal customer?
What pain points does my business solve?
What makes my business unique?
Who is my competition?
What is my brand's mission?
4. Think of your brand as a person
Picturing your brand as a living, breathing human is a simple trick that can help you conceive your brand personality. Each individual has their own unique personality, beliefs, and traits. So what kind of person is your brand? What does he/she look like or sound like? Are they funny or serious? Creating well-defined personality traits also allows customers to relate to your business on a more personal level.
3. Use a consistent tone of voice
Choose a brand voice that aligns with your brand's personality — and stick to it. For example, if you're a high-end brand, you opt for a more professional or formal tone. If your brand is more laid back, you may choose to be more conversational. Regardless of what kind of business you have, it's important to maintain the same tone and messaging across all forms of marketing communication.
2. Be your brand's biggest advocate
No one knows your brand better than you — and being an advocate for your brand helps reach more customers. It's up to you to get the word out by sharing content and consistently championing your business.
Get your employees on board too: By empowering your team to become thought leaders with their own personal brands, they can help spread further awareness.
And of course, your customers can be a valuable tool for brand advocacy. When your customers love your product and feel valued by your organization, they are more likely to be brand evangelists.
1. Be authentic
Your customers don't necessarily just want another cookie cutter experience. They're looking for something that will solve their problem and fill their needs — but adding a personal touch is a surefire way to foster a strong brand identity. Here are just some of the ways you can let your brand personality shine:
Use a conversational voice when communicating with clients (unless you're sticking to a formal persona!)
Show behind the scenes footage of how your business operates
Describe or demonstrate your product/service in a quirky manner (pickles, anyone?).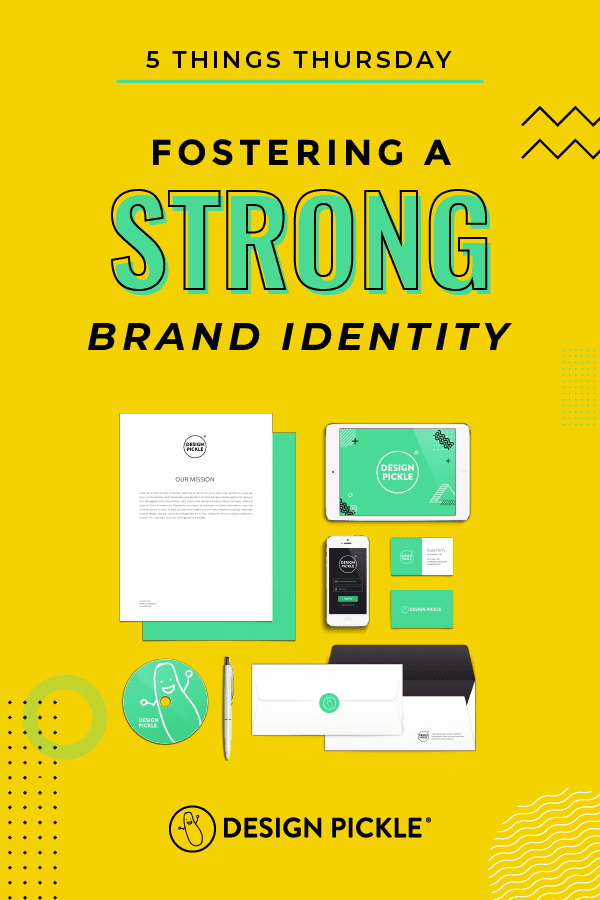 ---
Do you have any tips for fostering a strong identity that wasn't mentioned here? We'd love to hear it! Let us know in the video comments and don't forget to subscribe to catch the next episode of 5 Things Thursday.