Want to increase your marketing agency's margins? Think outside of the standard in-house or freelancer box and instead, arm your agency with a subscription-based service like Design Pickle. A Design Pickle subscription will not only provide your agency with unlimited graphic design content to meet your clients' demands, but it will also help you cut costs while growing your revenue. Yes, a subscription-based service allows your margins to grow beyond what you might have thought possible! Read on to discover how Design Pickle can increase your margins by up to 50%, risk-free — and for additional insight, download this white paper.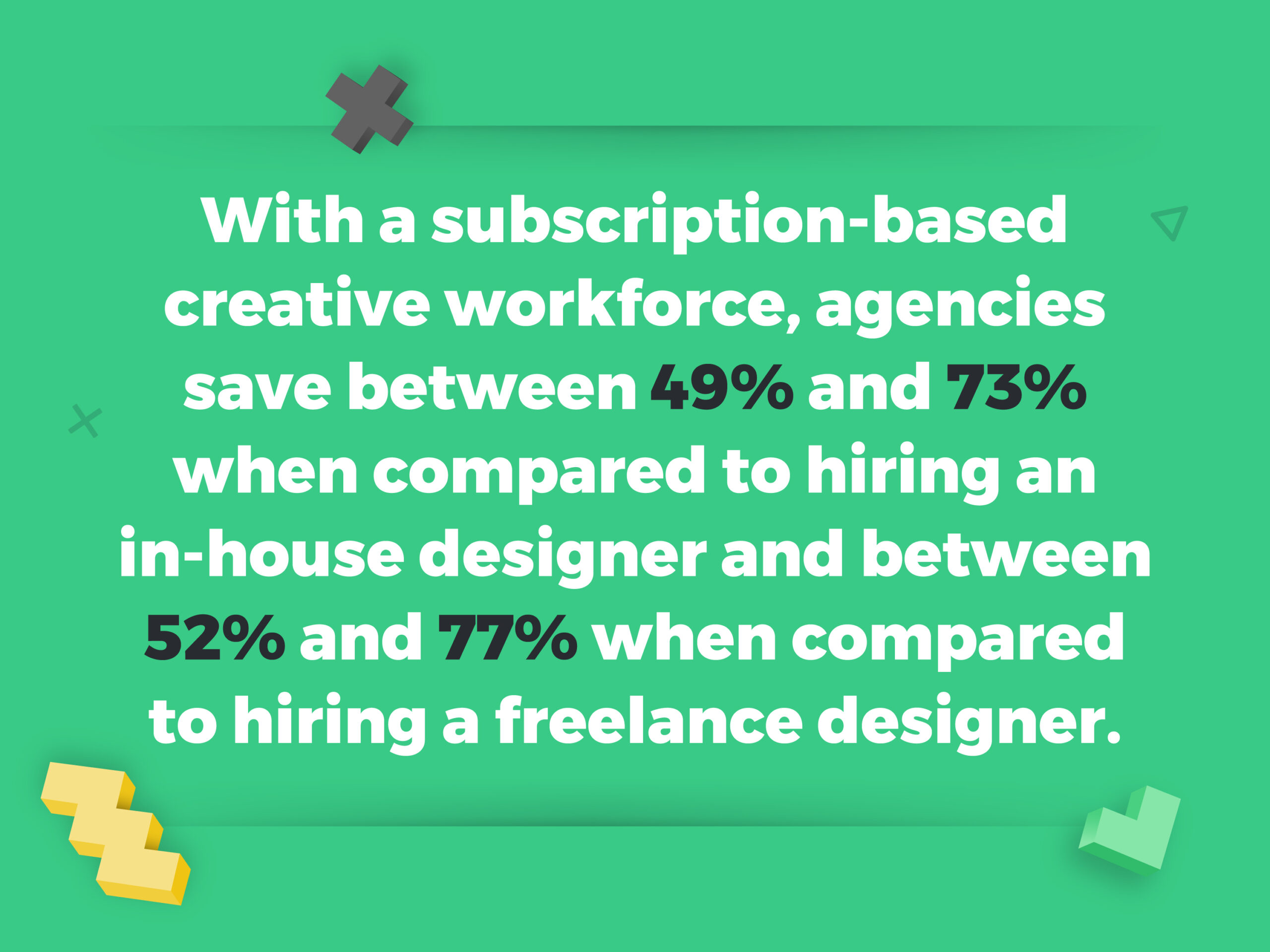 Cut Your Costs 
With a subscription workforce model such as Design Pickle, you significantly reduce the cost of high-quality design work. Compared to an in-house designer, you save between 49% and 73% using a subscription-based creative workforce, whereas compared to a freelance designer, your savings are between 52% and 77%. These numbers say it all: A Design Pickle subscription enables you to receive high-quality designs and save money at the same time.
So, how is this possible? Think of it this way: By subscribing instead of hiring, you save all the extraneous costs involved with onboarding a full-time or freelance designer. Between creating a job posting, searching for a candidate, and conducting interviews, the hiring process itself takes up valuable time and money. In-house designers also require employee benefits, which cost an average of 30% extra on top of base pay. With one flat-rate subscription to Design Pickle, these expenses disappear.
In addition to cutting design costs, it is crucial to remember that a Design Pickle subscription provides the same high-quality design work that an in-house designer or freelancer would provide. With Design Pickle, agencies receive the best of both worlds — professional designs and cost savings — in one subscription. This combination creates the ideal circumstances for profit margin improvement.
To demonstrate the impact of a Design Pickle subscription, consider how it would improve the margins of an average marketing agency. Most agencies generate net profit margins of 18%, according to Promethean Research's 2019 Digital Marketing Agency Industry Report. With the costs saved by subscribing to Design Pickle, that number can be increased by 50%, resulting in margins that are between 30% and 40%.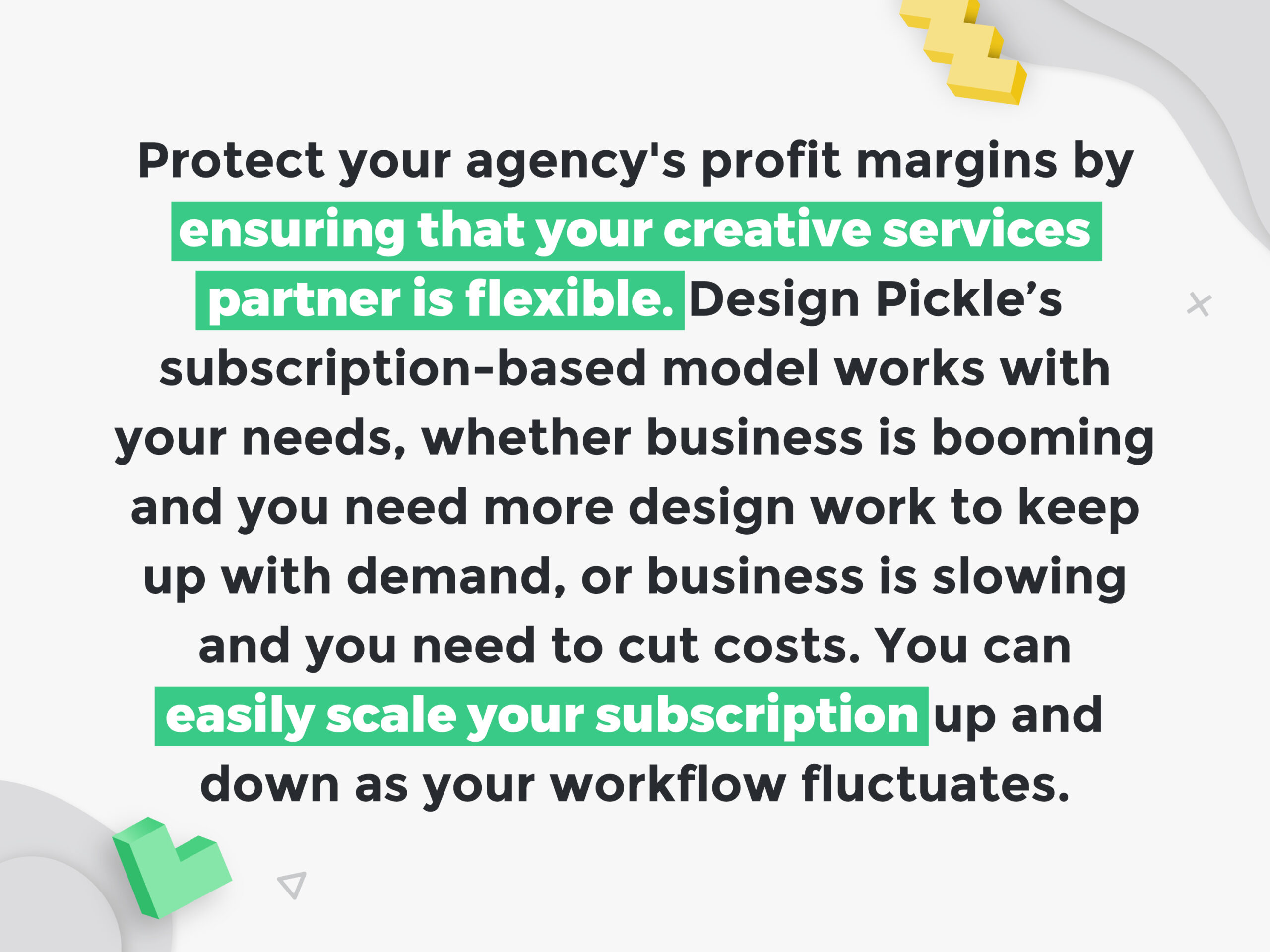 Protecting Your Profit Margins 
It is easy to see how margins improve if your sales grow and your costs are low. But, what if sales drop? In the marketing industry, it is well-known that budgets are flexible and depend on the health of the market itself. Because of this, agencies expect margins to be negatively impacted when business slows down.
With the uncertainty of the market, agencies know they're taking on significant risks when they hire in-house designers. When demand decreases and agencies have fewer design projects to complete, agency owners can find themselves stuck with payroll that is not fully productive. They tend to stick it out, hoping for sales to improve rather than firing employees, which is never easy. Unfortunately, agencies can easily end up burning through cash reserves doing that.
With a workforce subscription model, this issue is solved. A Design Pickle subscription is flexible, which means agencies can decrease their subscription (and even put it on hold for a nominal monthly fee) when demand for designs slows down. This way, agency owners can stop worrying about overpaying designers for low output when the market fluctuates.
This provides the best of both worlds, no matter the current market. In both high- and low-demand times, a Design Pickle subscription works to help agencies improve and protect their margins. Whether business is booming and you need more design work to keep up with demand, or business is slowing and you need to cut costs, Design Pickle's flexible subscription-based model works with your needs.
Final Thoughts
Agencies know first-hand that marketing is a highly competitive and unstable industry, a fact we discuss in detail here. As an agency in this fluctuating environment, it is important to minimize risks wherever you can. A flexible subscription service like Design Pickle eliminates the risks involved in obtaining high-quality design work, while enabling you to cut costs and increase your margins. Plus, it's at no risk to agencies to try, with Design Pickle's 30-day satisfaction guarantee.
Want to learn more highly effective strategies for scaling a marketing agency and improving margins? Download this white paper to read an in-depth explanation of the strategies you can implement to increase your margins by up to 50%.