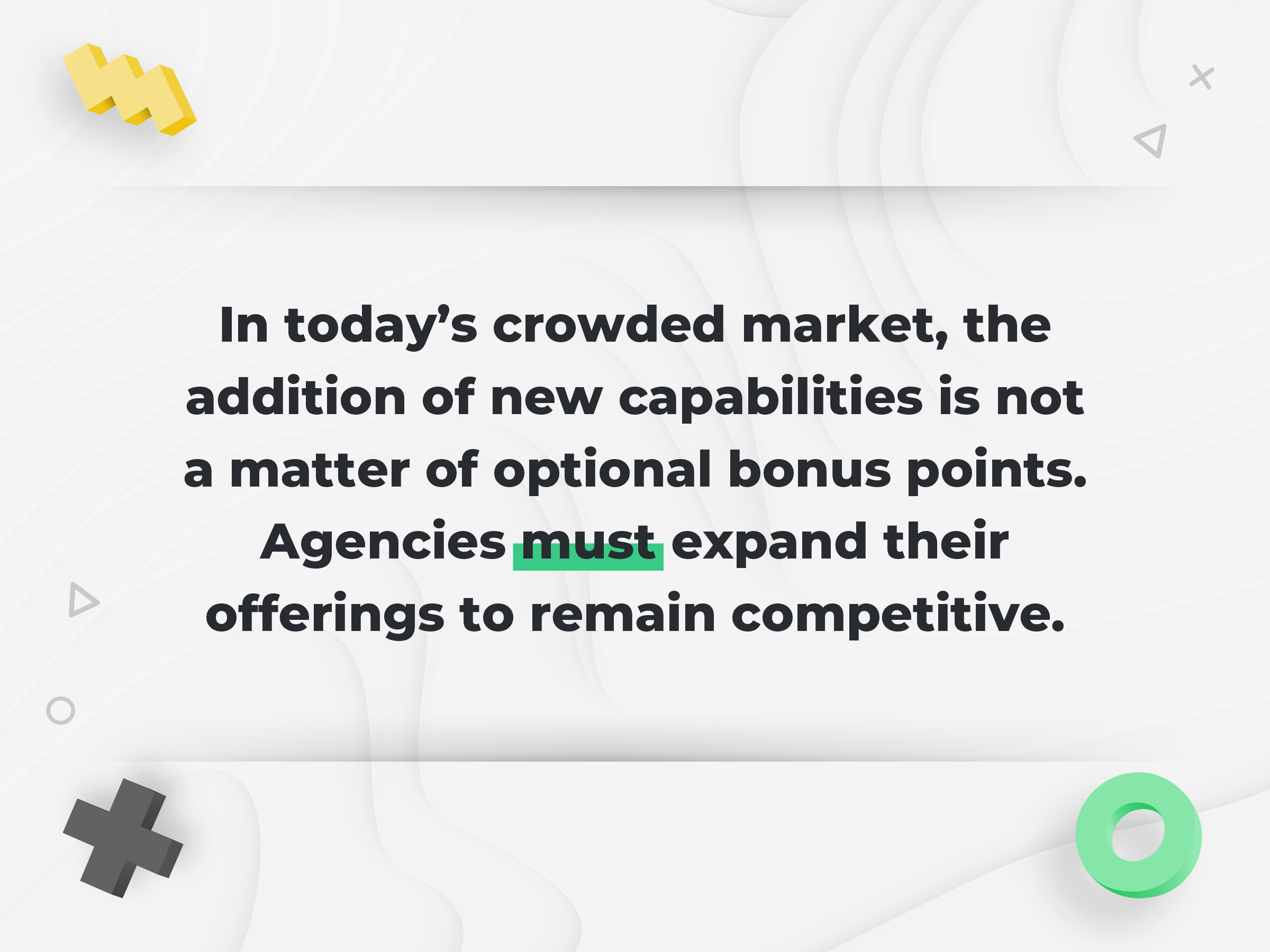 With new technology, it's easier than ever to start a marketing agency. In fact, the 2019 Promethean Research Report on the Digital Marketing Agency Industry estimates a 23% increase in the number of agencies since 2019 alone.
With new marketing agencies showing up all the time, clients enjoy a wealth of options to choose from for their marketing needs. While this is good news for clients, it can be quite the opposite for agencies. For agencies trying to scale in this crowded market, it is more important than ever to stand out against the competition in order to attract new clients.
The Challenge: Attracting New Clients While Retaining Existing Clients
To start, let's lay out a few problems agencies need to solve in order to scale in this crowded market.
60% of marketing agencies agree that finding new clients is the most pressing obstacle to growth, according to a 2018 survey conducted by HubSpot.
16% of agencies report client retention as their most pressing issue, as we discussed in our Challenges in Scaling a Marketing Agency blog post.
According to Promethean Research's 2019 Report on the Digital Marketing Agency Industry, brands have been building their internal marketing capabilities in recent years, which presents a threat to agencies that rely on these brands as clients.
Faced with all of these challenges, agencies must find a solution that enables them to expand  their clientele and increase current client satisfaction at the same time. Read on and download this white paper to discover key ways to expand your agency's offerings.
The Solution: Expanding Offerings
The solution is simple: Add services that appeal to new and existing clients. According to the 2019 Promethean Research Report, agencies that have fewer capabilities than competitors are falling behind in the current market. By expanding the solutions available to clients, an agency can serve new clientele. At the same time, new services show existing clients that your agency is worth the price. In today's crowded market, the addition of new capabilities is not a matter of optional bonus points — agencies must expand their offerings to remain competitive.
For example, an agency that starts offering custom illustration services will tap into a new base of clients that benefit from illustrations. This opens the door to new markets, including publishing companies and educational organizations. Companies like these will be drawn to an agency that can provide them with the custom solutions they need. Additionally, existing clients with similar needs will be encouraged to stay, rather than look elsewhere for custom illustration services.
All of that sounds great in theory, right? Add new offerings, attract new clients, and keep existing clients — it's as simple as that! In practice, however, agencies might worry that bringing a specialist onto the team is a risky move. For an agency with a limited budget and a small team of employees, hiring someone specialized in a new service is a huge expense.
On the other hand, an agency could devote time and resources to teaching a current employee a new skill, but this is an expensive investment. And, as the old adage goes, practice makes perfect; it takes time to become proficient in a new skill, especially one like custom illustrations. It could take months for an employee to reach the skill level of an experienced illustrator, if ever. So, even though new services would differentiate an agency from competitors and expand its clientele, it may seem too risky for agencies to commit to the cost of an in-house specialist.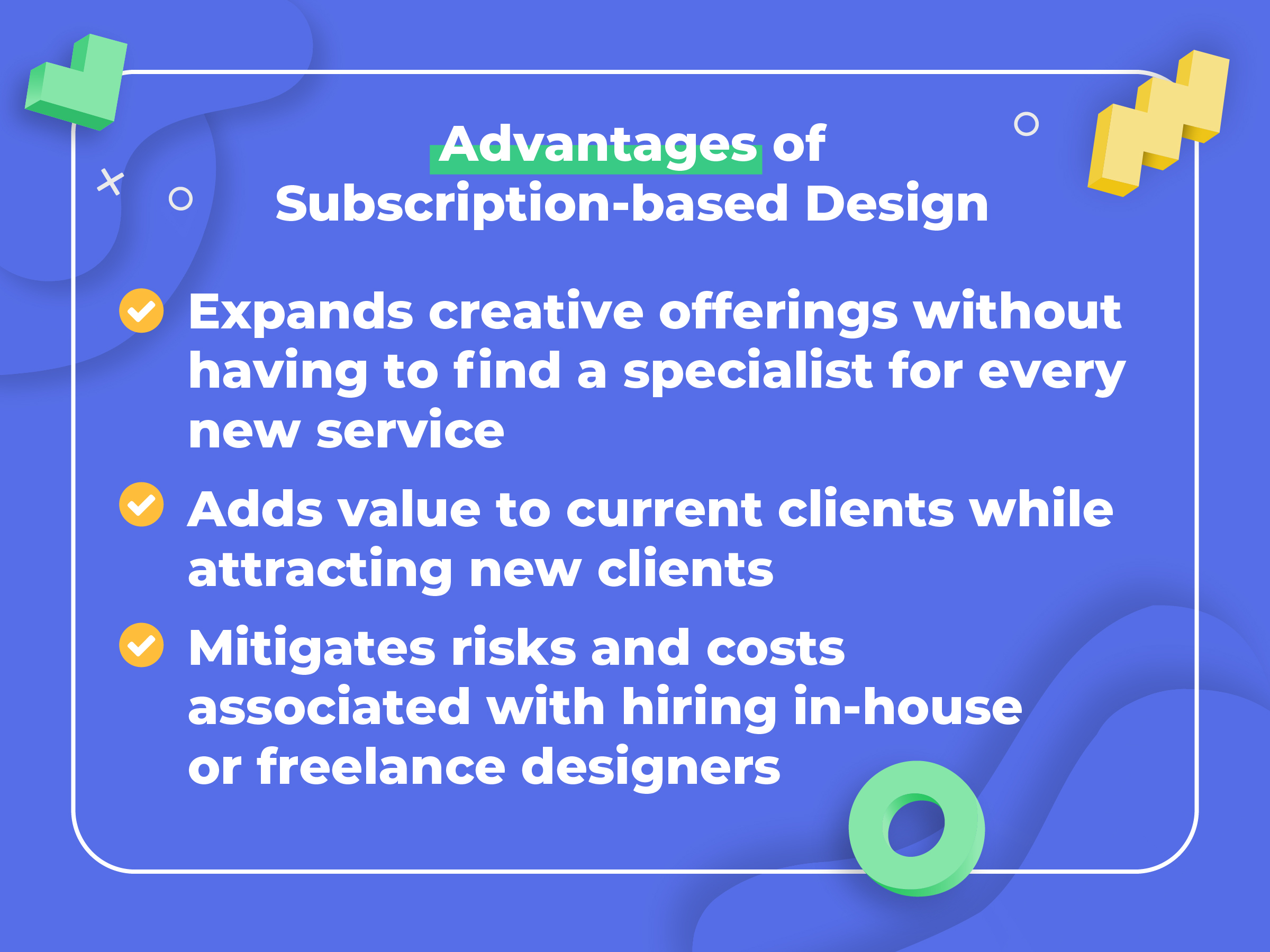 How Agencies Can Expand Offerings Without the Risk
With Design Pickle, it is possible for agencies to provide clients with new design capabilities without the risky expense of hiring or training an in-house specialist. With a subscription to Design Pickle's Graphic Design Pro and Custom Illustrations services, an agency instantly gains access to high-quality designs and illustrations tailored to suit their needs. Agencies can then sell these services to clients at a markup, instantly creating new sources of revenue.
Subscribing takes just a few clicks, allowing an agency to increase its offerings in a matter of minutes. Compared to the weeks it takes to hire or train a specialist, a subscription saves a huge amount of time and effort. With a Design Pickle subscription, agencies instantly get the benefits of an expanded client base and new sources of revenue while saving both time and money.
Above all, a subscription eliminates the risks associated with hiring an in-house specialist. Market fluctuations can have disastrous consequences on the demand for illustration, which will lower an in-house specialist's output. In this situation, an agency can easily end up overpaying for low output.
Thankfully, Design Pickle subscriptions are flexible. For example, if demand for custom illustrations increases, agencies can increase the subscription. And, if demand decreases as the market inevitably fluctuates, agencies aren't obligated to pay a fixed rate for lower output. They can simply scale their subscriptions down — and then back up when demand increases. Agencies can rest assured that they are providing clients with professional-level design work, as opposed to novice work done by a recently trained, in-house employee.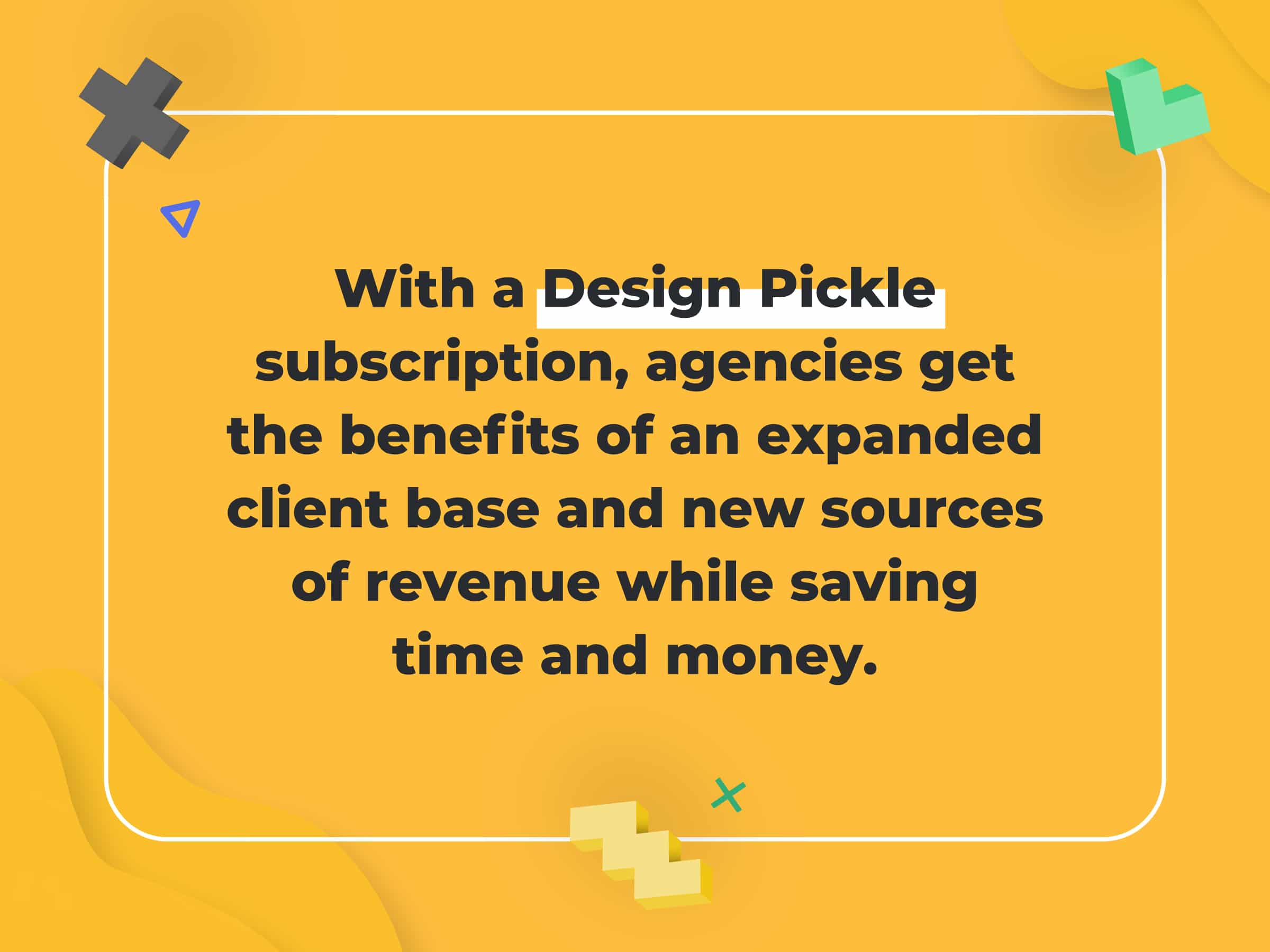 Final Thoughts
When an agency subscribes to Design Pickle, they instantly expand their offerings to include high-quality design services, without going through the expensive and time-consuming headache of finding a specialist for each new function. With each new service, agencies expand their client base and add value for current clients. The flexibility of a subscription also mitigates the risks associated with hiring or training an in-house specialist to provide a new service. A Design Pickle subscription is the risk-free way for agencies to expand offerings and remain cutting-edge in a constantly evolving industry with just a few clicks.
Want to learn more highly effective strategies for scaling a marketing agency? Download this white paper that explains how agencies can improve margins by up to 50% or more and reduce the time and money spent on expanding offerings.