We all know that creating engaging and memorable content can be one of the most powerful ways to reach your audience. That's why motion marketing is such an important tool for brands today. With the help of Design Pickle, you can create stunning motion graphics for any brand!
Here are 10 reasons why motion marketing is a must-have for brands:
Motion Graphics Grab Attention Fast
Whether it's an animated video or an eye-catching infographic, motion graphics grab viewers' attention faster than static visuals. This makes them ideal for any brand looking to engage their audience quickly.

Motion assets have the ability to "stop the scroll" by harnessing movement. In Design Pickle's own testing on Meta, for example, we see 43% more impressions and even better, 3x the clicks with motion!

They Differentiate Your Brand
Motion graphics allow you to show off your brand in a creative and unique way. With the right visuals, you can tell a story with your brand messaging that resonates with viewers.

94% of marketers claim that video has improved customer knowledge of their goods or services (Wyzowl), and 88% of consumers claim that seeing a brand video has influenced them to purchase a good or service 1.

They Keep Your Audience Engaged
Not only do motion graphics grab attention quickly but they also keep viewers engaged for longer periods of time. By using captivating visuals, you can ensure that viewers stay engaged with your content.
Motion Graphics Work in Multiple Platforms
With motion graphics, you don't have to worry about formatting for different platforms. Animated videos and infographics can be easily repurposed for multiple channels, including social media and email campaigns.

Talk about scalability – when one asset can live on multiple platforms, you're immediately increasing your asset's ability to return. 83% of survey respondents say video gives them a good return on investment on a variety of platforms (Wyzowl).

They Deliver Your Message Quickly
Motion graphics are designed to deliver your message quickly and effectively. Whether you're introducing a new product or showcasing the features of an existing one, motion graphics can help you get your point across in no time.

96% of consumers watch explainer videos to understand more about a product or service 4. Even complex concepts are easier to comprehend with a great explainer video.

They Add Variety to Your ContentMotion marketing helps break up monotonous content with its dynamic visuals and sound effects. Adding variety to your content helps keep viewers engaged and enhances the overall experience.

All static images or all links all the time won't allow for a dynamic, magnetic brand presence. What works for one target persona may not work for another, so it's important to mix up your assets.

They Help Build Trust
By creating professional-looking motion graphics, you can build trust with your audience. This increases the chances of them engaging with your content and taking action on it.

Websites are 53x more likely to organically rank in the top 10 when their homepage features motion assets like a Lottie file or an embedded video 5. When you rank in the top 10, your page authority helps prospects trust you faster.

Motion Graphics are Cost Effective
Compared to other types of marketing, motion graphics are more cost effective for creating engaging content. Plus, the design and animation process can be done quickly, making them an ideal option for any budget-conscious brand.

Check out this guide for budget-friendly high return motion assets. The right partner will make motion graphics fit for your brand.

Motion Graphics are Easy to Track
With motion graphics, you can easily track who is viewing your content and which parts they're most engaged with. This helps you create better content in the future by understanding what works and what doesn't.

We cover key KPIs in this guide to high-performing motion graphics assets. Checking on watch time, average percentage watched, as well as other ROAS metrics will help your team iterate until you find the best combination!

They Make Your Content Shareable
Motion graphics are more likely to be shared across social media, increasing your reach and engagement with potential customers.

We mentioned above that motion assets like videos increase social sharing up to 1200% 6, which organically increases your visibility without having to pay for those extra impressions.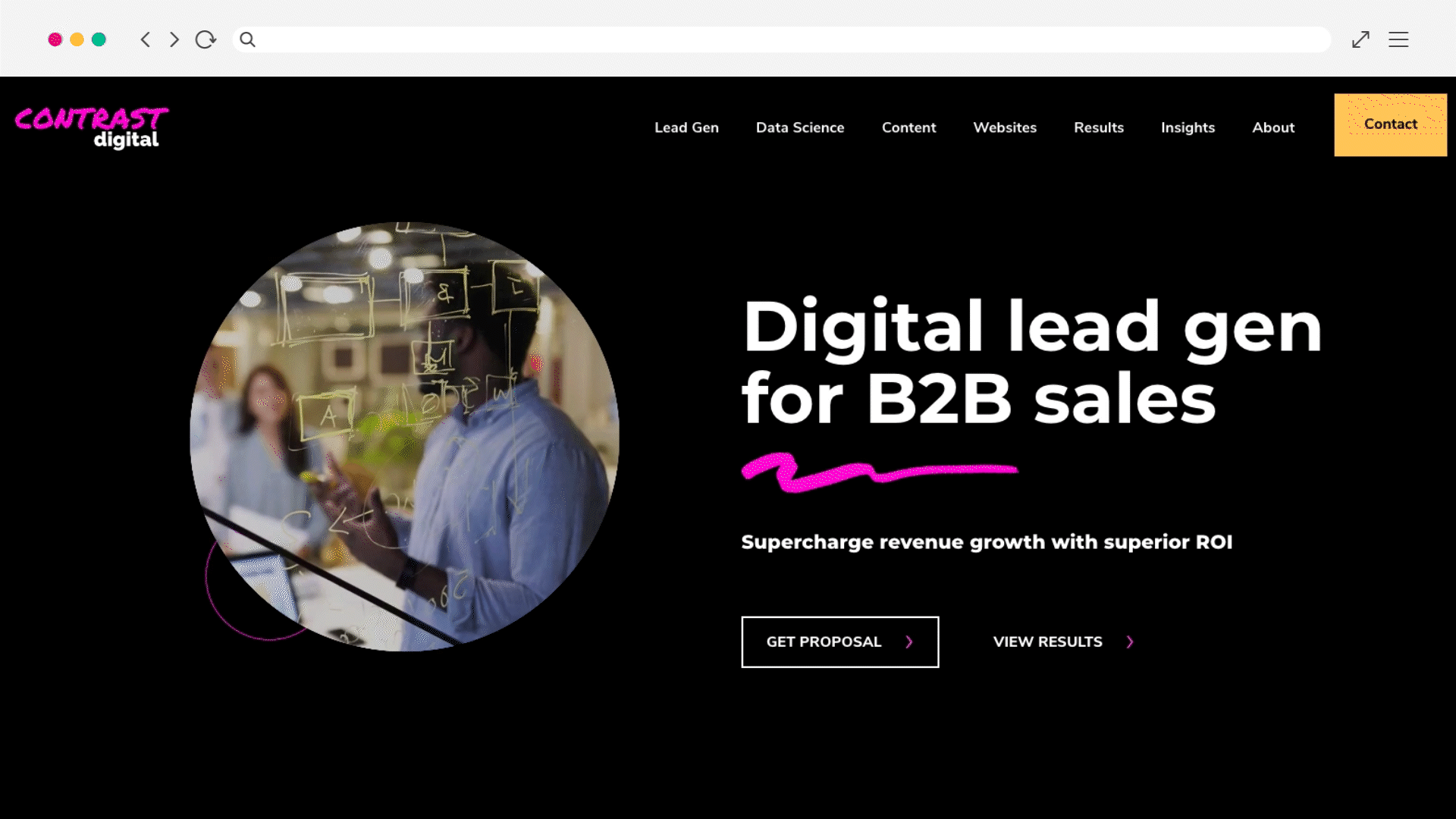 More Reasons Marketers Use Video Marketing in 2023
There are 8 reasons marketers believe video is one of their best investments in marketing in 2023 according to our friends at Demand Sage 7.
94% of marketers believe video marketing helps increase understanding of product or service.
93% of marketers believe video marketing helps increase brand awareness.
87% of marketers believe video marketing helps generate good ROI.
87% of marketers believe video marketing helps increase traffic.
86% of marketers believe video marketing helps generate leads.
82% of marketers believe video marketing helps increase dwell time.
81% of marketers believe video marketing helps directly increase sales.
49% of marketers believe video marketing helps reduce support calls.
Number One Reason Marketers Say They Don't Utilize Video Marketing in 2023
Marketers are super busy people, but they rarely have time for everything they want to or need to do. Notorious for biting off more than we can chew (those opportunities are just screaming at us), the number one reason marketers say they don't use video (yet) is not because they don't think it will work or have high ROI. Their reason for NOT using video is a "lack of time." In the survey, 23% of marketers said they're still not using video for this reason, but wish they could.
Did you know motion graphics and video marketing don't have to be super time-consuming?
At Design Pickle, our team of highly-skilled motion designers are ready to create your custom animated videos and motion graphic assets quickly and efficiently. We offer both shortform and longform video options depending on your needs, so you can get the most out of your budget — without compromising quality. Simply write a brief (you can even provide a storyboard, examples and inspiration, or use our AI tool to help you craft the perfect request), and then let your designated designer work on it. Once they have a draft for you to review, use our platform to provide quick, actionable feedback and get out of those pesky endless review loops. Once your asset is done, you'll receive a source file and final files in as many dimensions as you need, and your designer can move to your next request in your queue, all for one flat monthly (or quarterly) rate.
Ready to start creating some killer motion graphics for 2023?
At Design Pickle, we understand the power of motion marketing and how it can help bring your brand to life. With our experienced designers and animators, you can create unique and captivating motion graphics that capture your audience's attention. So what are you waiting for? Get started with Design Pickle today and let us help you bring your motion marketing ideas to life!